Eats
Green tea that is. More on that later…let's start with breakfast.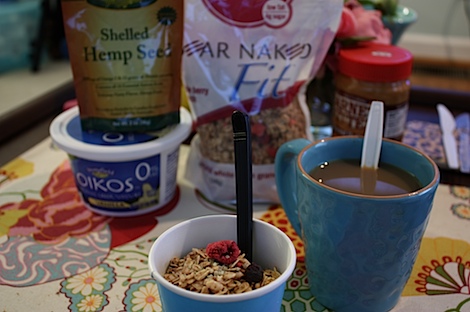 I did another no-cook breakfast (thanks to my continued lack of kitchen, which prob won't be done till Monday at the earliest).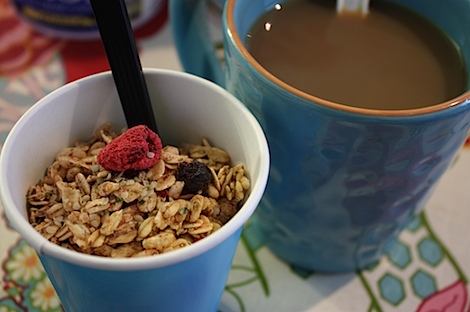 I also had 1/2 Christmas Blend + 1/2 Peppermint Creme coffee to drink.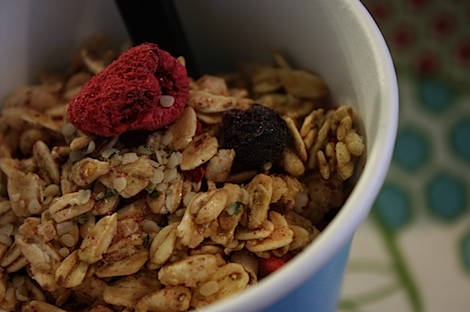 For the eats, I made a quick yogurt parfait with Stonyfield OIkos Vanilla Greek yogurt with Bear Naked Fit Triple Berry Crunch Granola and some hemp seeds. Though I do miss my hot oatmeal quite a bit, this stuff is the shiz-nit! I am really loving it!
I basically noshed and sipped tea all day at work – food/drink-wise. (I worked my hiney off!)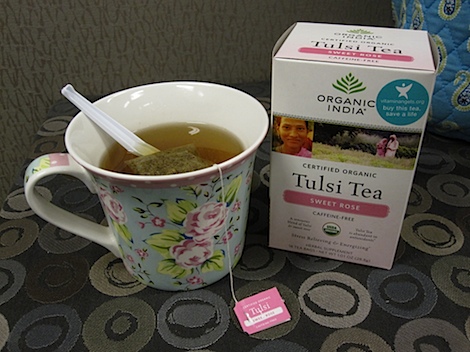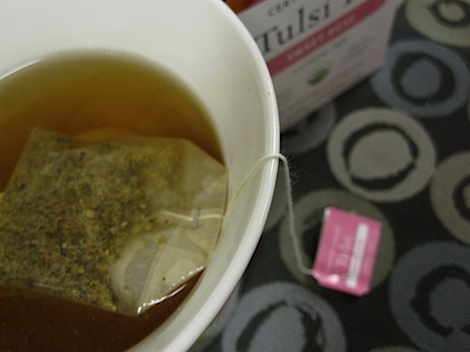 I tried a new tea – Organic Tulsi tea by Organic India in Sweet Rose. It was fabulous! The tea was gentle and the rose was more of an aroma to me than a taste. I really enjoyed it.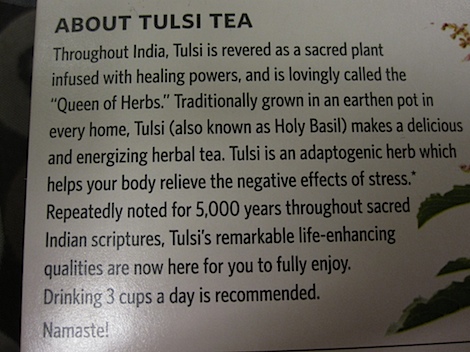 Have you heard of Tulsi tea before? Tulsi is the new Green (tea).
My co-worker, who is Indian, told me that tulsi is supposed to be anti-stress and help prevent colds. I don't know if it's true, but I'm hoping it is!
According to the tea box, "Tulsi is revered as a sacred plant infused with healing powers….(and) helps your body relieve the negative effects of stress"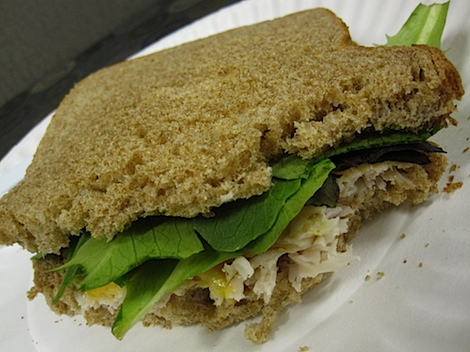 For lunch I had a hickory smoked turkey sandwich with co-jack cheese, baby romaine, toasted on Great Harvest Honey Whole Wheat.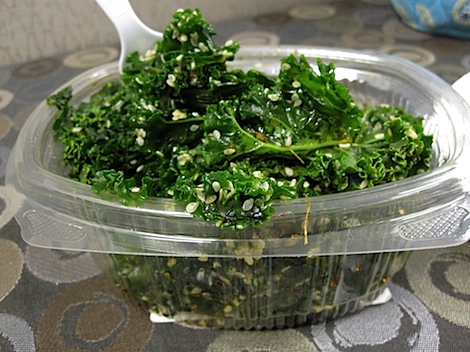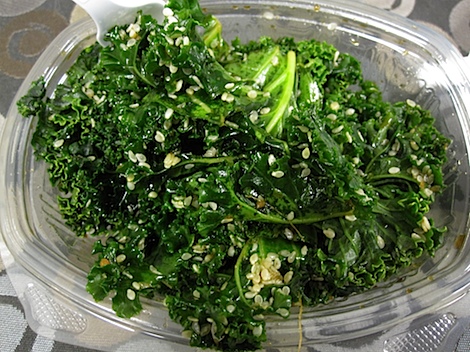 I had a half container of marinated kale with lots of sesame seeds. It was soooooo good! I think I liked it better than the sammie!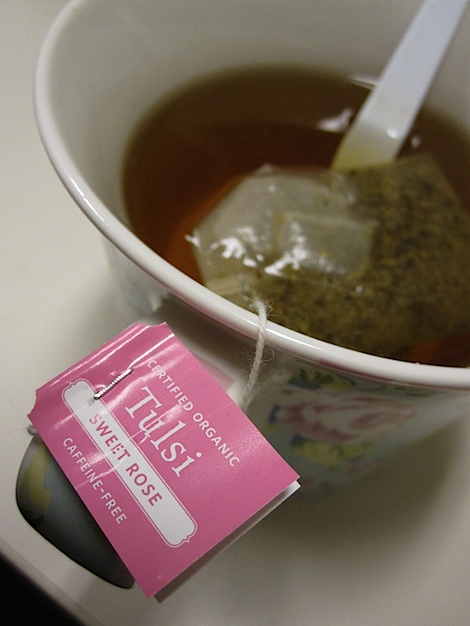 Later in the day, I was feeling the stress of the work day and brewed up some more Tulsi tea. I took just a couple quick minutes between conference calls to savor my tea and take some deep breaths. I felt much better for it.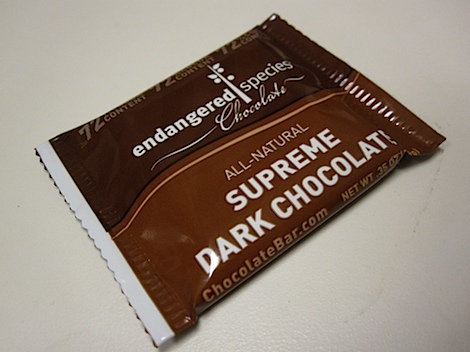 Some dark chocolate helped, too.
For an afternoon snack, I had some more snacks.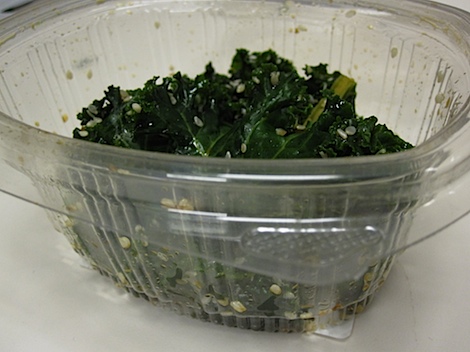 I was kind of saving the rest of my kale for lunch tomorrow but decided to go ahead and eat the rest today.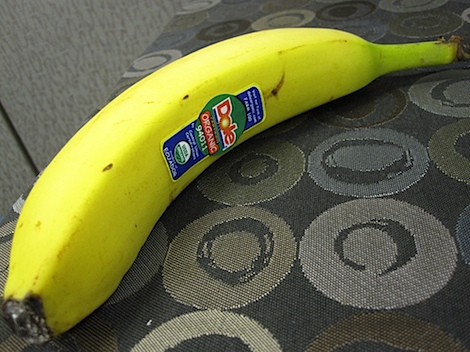 I also had an organic banana….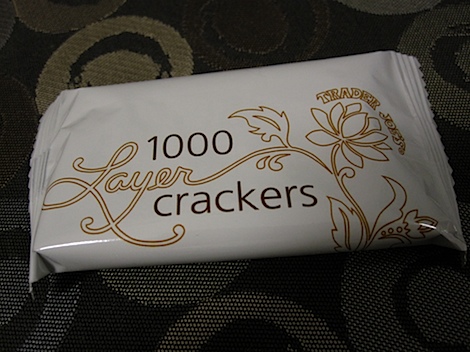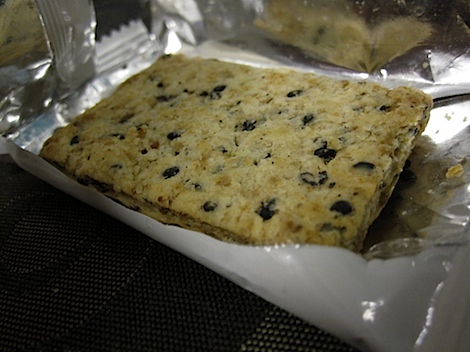 …and a 1000 layer cracker.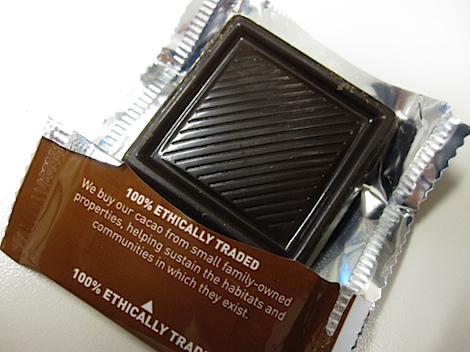 Oh and another mini piece of dark chocolate.
I cheated on EIM again for dinner and went back to Earthfare. The way I see it, I could prepare food somewhere random like in the bathroom or the sunroom and wash my plasticware in the bathroom sink whilst attempting to let as little food as possible go down the drain…OR, I could let Earthfare handle the dishes. I chose the latter.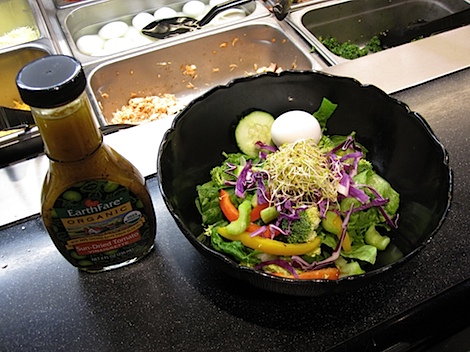 I've been getting tired of the balsamic dressing I've been using but luckily the nice people at Earthfare opened a new salad dressing (Sun-Dried Tomato) for me. Yay!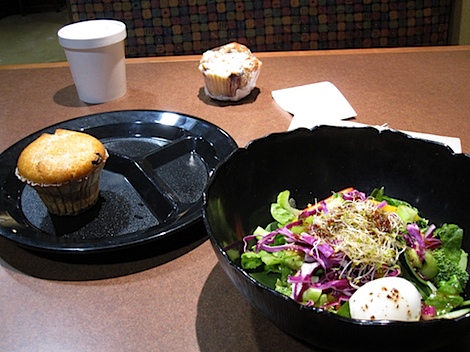 Hubby and I got some random stuff and shared it: vegan chili, salad (romaine, babyspin, purple cabbage, carrots, sprouts, broccoli, cucumber, hard-boiled egg, bell peppers, celery), a blueberry mini loaf and a vegan chocolate chip muffin.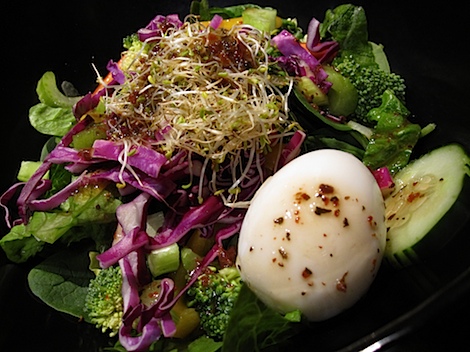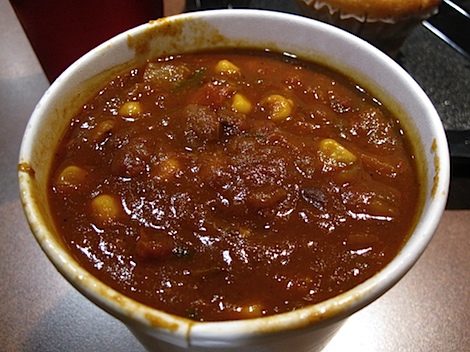 Nom nom…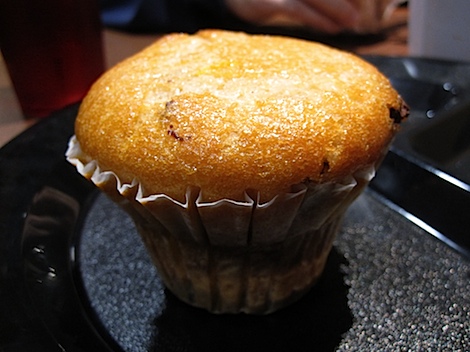 NOM! The vegan muffin was amazing! I totally loved it!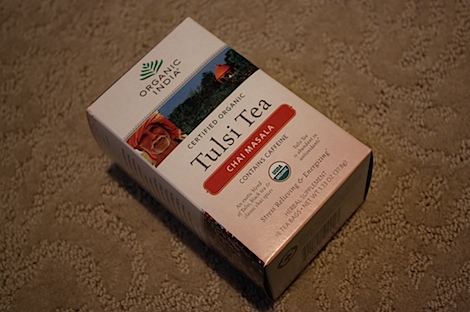 Since I loved the Sweet Rose flavor so much, I decided to get another Organic India hot tea – Chai Masala! The $1 off coupon I found at Earthfare was pretty awesome. I can't wait to try this new flavor! Cold, cold, go away, come again another day!
Kitchen Update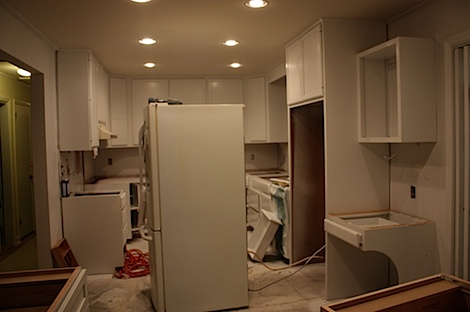 Here's the latest on the kitchen. Our contractor stopped by today and sanded down some spots where the paint was off on the cabinets. He put the mini desk back in place, and they put the drawers back into the cabinets.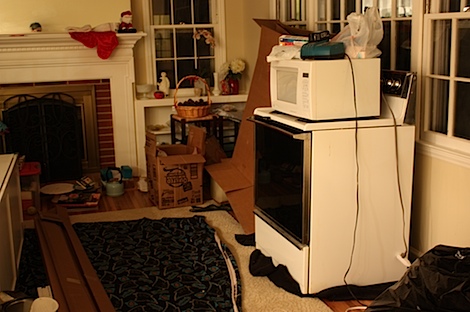 Here's why I can't cook. My stove and microwave are in our freakin living room! Ugh…sorry for the mess people. Things will look better once our cabinets are installed and we can get things organized.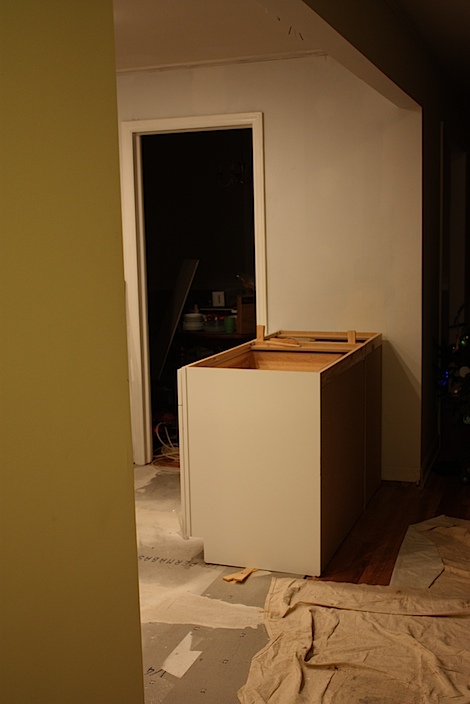 They also started installing our "peninsula". It's basically a kitchen island, but it's attached to a wall, so we're calling it a "peninsula." lol
We have a lot more work lined up for the weekend. I'm hoping things are complete by next week! So exciting!
Bake Sale Update
The amazing Fran Costigan of The Natural Gourmet Institute, dairy-free baker extraordinaire, has joined the Online Bake Sale for Haiti! I first heard about Fran when I saw her Chocolate Cake to Live For (vegan) on the Get Fresh with Sara Snow show. Her recipe was the first vegan recipe I was thrilled to try and I knew as soon as I saw it that I had to try it some time. I haven't tried the recipe yet but I hope to soon. In fact, whenever I finally make a trip to NYC, a trip to the NGI and a class with Fran will be on my agenda.
Thanks so much for joining the bake sale Fran! 🙂
Have you ever baked anything vegan? If yes, what's your favorite vegan thing to bake? If no, why haven't you tried any vegan baking recipes yet?