Before I dig into today, can I point out that last night…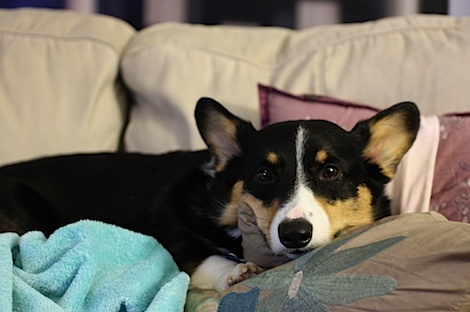 …Bailey and I got cuddly on the couch and watched TV.
Guess what was on?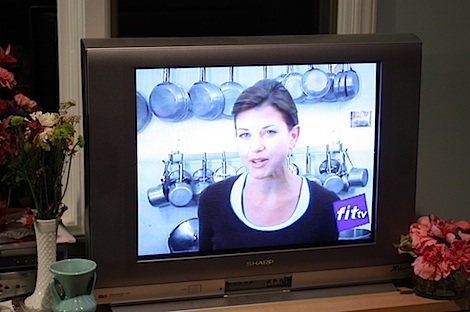 Only my very favorite Get Fresh with Sara Snow episode…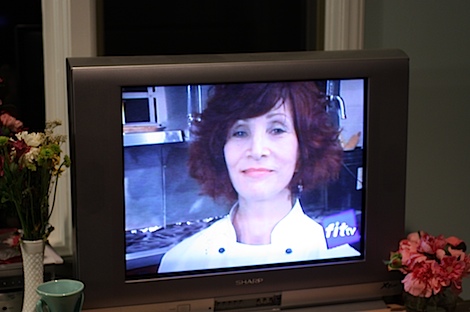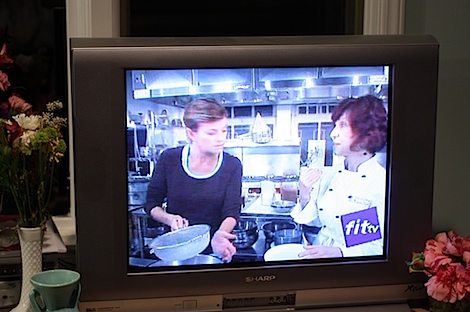 …the one where I learned about the National Gourmet Institute, Fran Costigan, and her Chocolate Cake to Live For!
I still can't believe I won her delicious biscotti and mini cakes in the Bake Sale for Haiti and that she's featuring my photos on her web site.

*
*
*
Ok, moving on to today.
Chocolate Oikos Review
I was really feeling like oatmeal today (the hot stuff, not muesli style) but I didn't quite wake up early enough.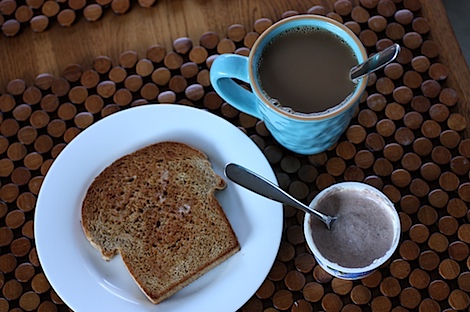 Luckily, I was pretty excited to bust out my new Stonyfield Chocolate Oikos yogurt.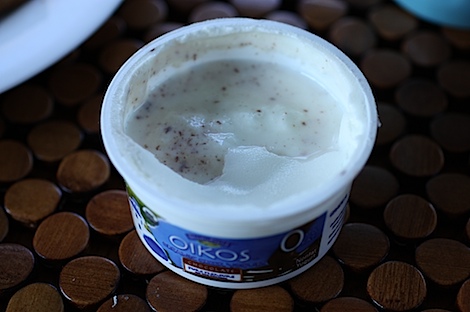 For some reason, I was thinking the yogurt would look sort of like pudding. I don't know why because it says "chocolate (pure pleasures) on the bottom" on the container. Anywho, this is what it looked like when I took the lid off.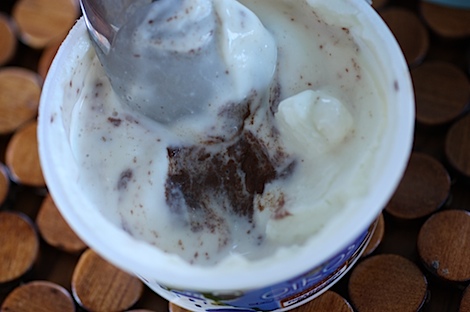 See – chocolate on the bottom – just like the box said.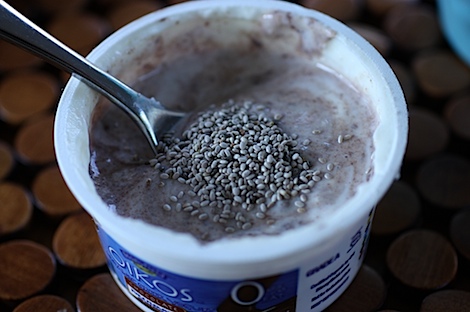 I mixed up the yogurt and then mixed chia seeds in for extra nutrition.
The flavor was definitely chocolate-y but not overpoweringly so. There was of course the tangy taste of yogurt present too. The yogurt basically tasted like what you might expect if you mixed chocolate syrup into plain greek yogurt, except you don't have to run out and buy chocolate syrup to make it happen.
As with most flavored Oikos yogurts, the taste was sweet but not too sweet.
If you like how honey transitions to Honey Oikos, then you'd probably like how Stonyfield brings chocolate to greek yogurt. Just don't expect pudding. 😉
Overall, I really liked the yogurt and would definitely buy this again.
Breakfast was rounded out with butter honey whole wheat toast and Larry's beans coffee.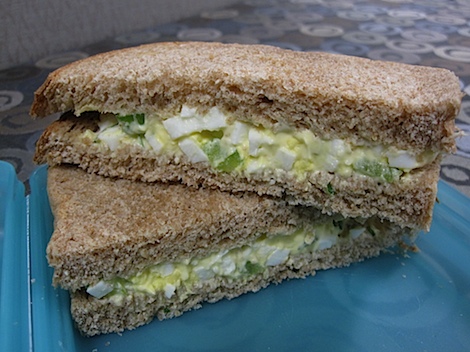 More egg salad for lunch.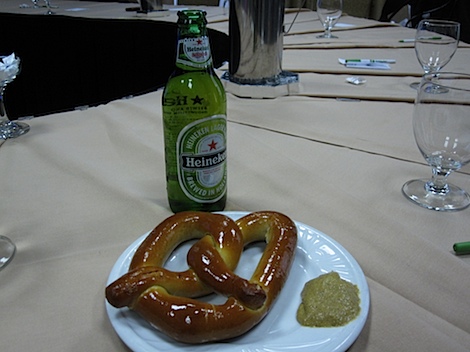 I grabbed a giant hot pretzel with mustard and 1/2 a Heineken at my company's quarterly meeting today. Hubby and I actually have some frozen pretzels ready to bake in our freezer. I picked them up at Earthfare, and I'm eager to try them!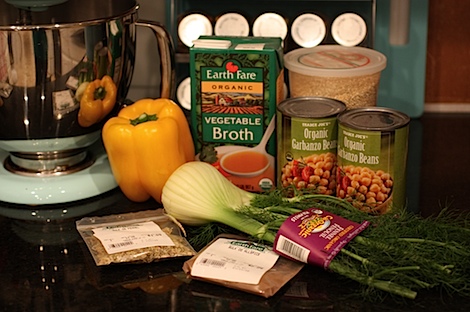 I decided to try out an Eat Drink and Be Vegan recipe for dinner tonight. I know I said I'm going meatless, not vegan, but one can be non-vegan and enjoy vegan fare.
For our second Meatless for Lent dinner, I tried the Quinoa Chick Pea Confetti Casserole.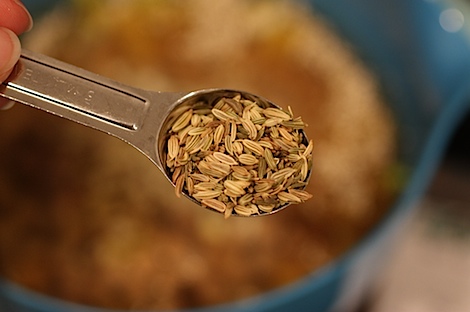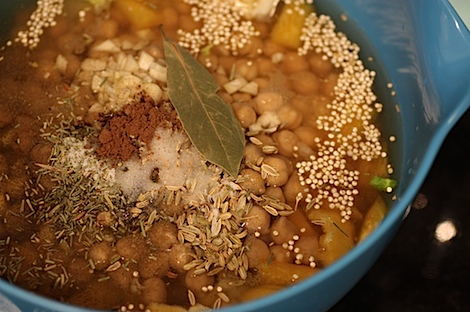 Lots of good stuff in there: bell pepper, chick peas, fennel, quinoa and lots of spices.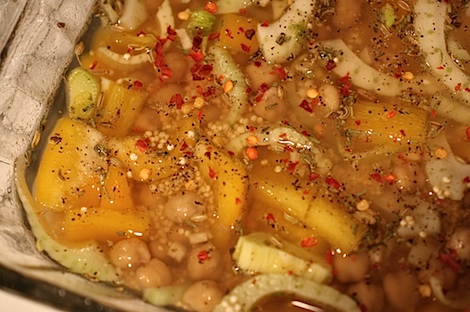 I multi-tasked while the casserole baked away.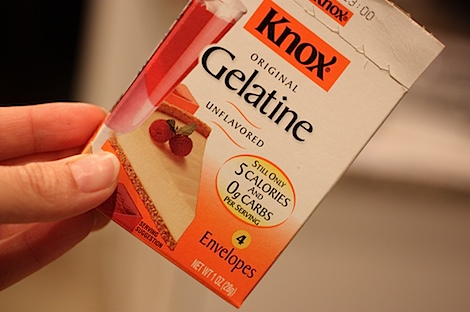 I took a moment to throw away some Gelatine from the pantry. Ever since I found out gelatin is made out of animal cartilage and bones…I can't eat it. Ew! 😯
Here's an explanation from fitsugar.com:
Gelatin is a translucent, colorless, odorless, and nearly tasteless substance that is made by prolonged boiling of skin, cartilage and bones from animals. It's made primarily from the stuff meat industries have left over – we're talking about pork skins and cattle bones. Yummy.
Just ew.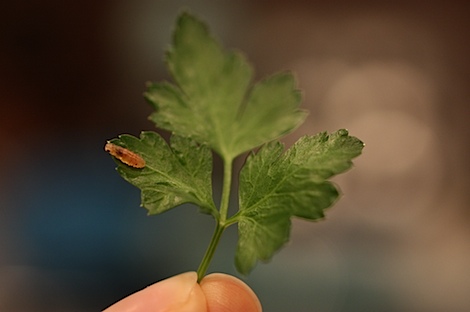 Check out this little guy I found on my parsley plant. I put him outside.
I also wrote a post on Tripod Shopping Tips for Food/Craft Bloggers for you food and still-life photographers out there.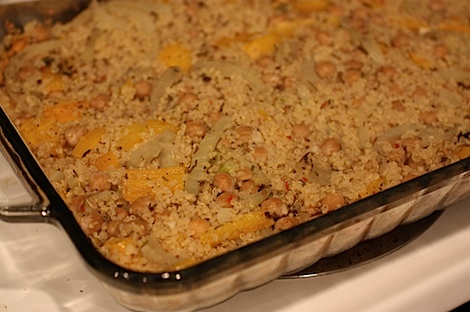 Soon enough, dinner was ready.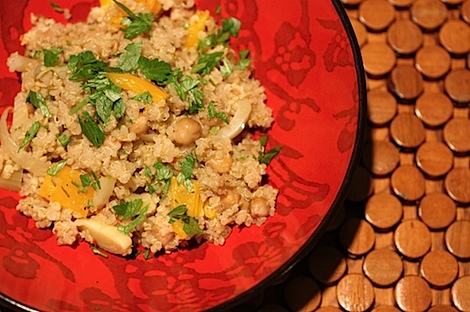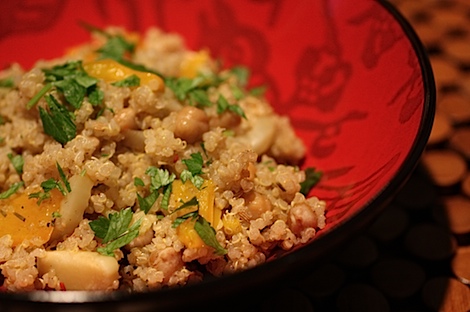 I was really worried hubby was going to hate it, but he seemed to like it ok.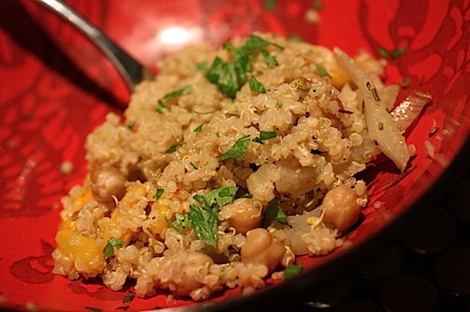 Seconds.
I thought the entree was really good. I liked the play on fennel bulb paired with fennel seed flavor-wise. I also liked the texture combination of tender quinoa and firm chick peas.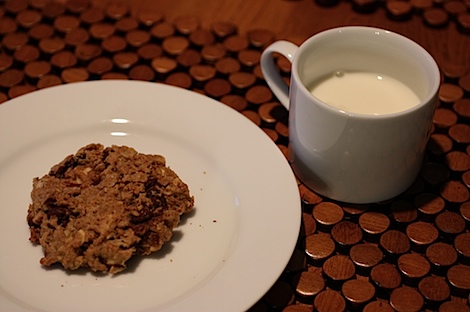 Sweet hubby not only picked up some groceries for dinner but also surprised me with an Earthfare whole wheat chocolate chip cookie. My how I adore these!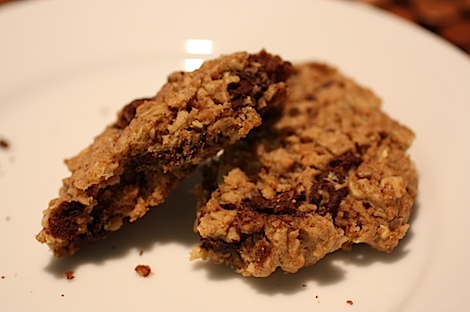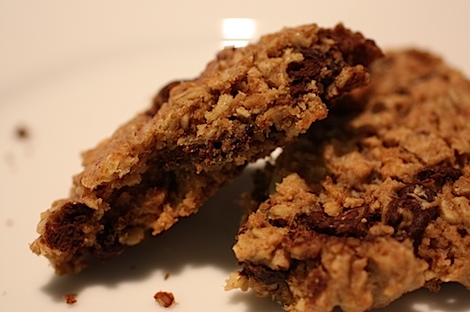 Oh yea! So good with some organic 2% milk.
Remember to send me your heart photos for the Heart Yourself Campaign .
I'm off to watch Men's Figure Skating.
Reader Question: Which Olympic star are you most pulling for in Vancouver?