Those who follow my other blog, Shopaholics Anonymous, know that I'm a BIG fan of shopping! My announcement will probably come as no surprise…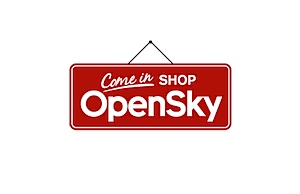 Hello Lovely The Chic Life Readers!
I'm very excited to announce that I've decided to open an OpenSky shop!

For those unfamiliar with the concept, OpenSky allows people to open shops online so they can share the products they love, available for purchase, all in one tidy package. While this is very convenient, to me, the best part about an OpenSky shop is that it allows me to share WHY I love the products that I hand-selected to go into my shop. As someone who personally always looks for the recommendation of those she trusts with good judgment for her purchases, I'm happy to be able to share my knowledge, research, and personal experiences with you. On top of that, you guys know I'm a total Type-A perfectionist, so I'm always evaluating and on the hunt for the best of the best. Now I can share my greatest finds with you!
An important thing to note is that OpenSky does not put a bunch of stuff in my shop and slap my name on it. When I got my OpenSky shop, it was completely empty, and I had the opportunity to select only the items that I use and trust and really wanted to share with you all on my own accord. I've even selected a couple items for my shop that will generate $0.00 profit. Why would I do such a crazy thing? Because if I really like something, even if there's no financial incentive, I still want to share my recommendations with you and there are simply some things that are too good to not share. On top of that, I have spent the last week doing massive research on all my favorite things and have submitted a handful of product requests so I can add even more of my faves.
While there are tons of fabulous products that I love, it will take some time to get them all in my shop. I've maxed out my product requests with OpenSky for now and have a list of goodies I'm planning to request as soon as possible. In the meantime, I've selected a small number of my favorite products as a sneak peek for you guys.
Click here to take a looksie, and I'll be updating you as more of my favorite things are added to my shop.
Oh and if you ever are on the hunt for a particular product, please feel free to email me at thechiclife at gmail dot com or use my Contact page and I'll do my best to let you know what my personal recommendation is. If I don't currently use something to fit the bill, I'll do some research to try to track down a great solution.
Have a great week everyone!
🙂 Diana