Eats of the Day
When I found those dried black currants , I decided to also pick up some dried, pitted dates. Such good oatmeal mixins, no!?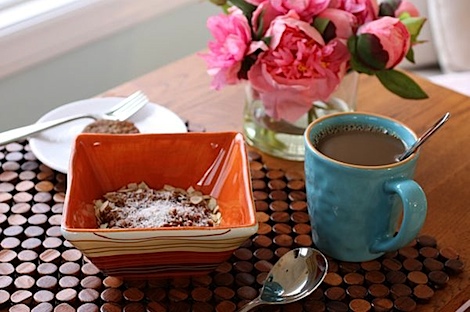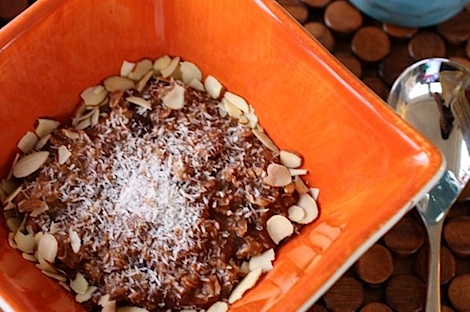 I rounded out the sweet oatmeal with a savory Morningstar "sausage" and some Earthfare House Blend coffee.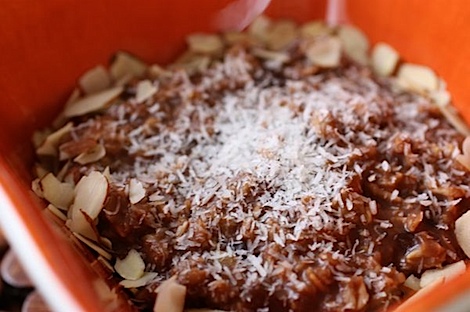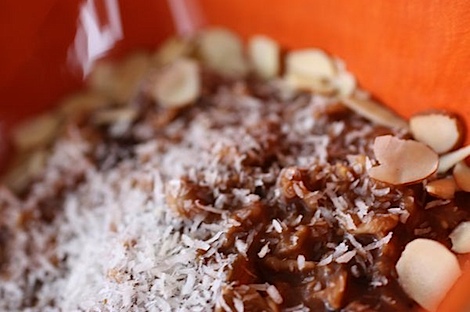 Choco-Coconut Date Oatmeal
Add to a pot:
1/3 cup organic skim milk
1/3 cup water
1/3 cup rolled oats (so much better than quick cooking or instant – for real!)
1/2 tsp chia seed
1/2 tsp flaxseed
1 tsp unsweetened cocoa powder
Cook stove-top until thickened (over medium low heat)
Stir chopped dates (about 4) into the oatmeal after done cooking but leave in pot to warm through.
Toppings:
sliced almonds
about 1 tsp unsweetened organic coconut
And you guys have said it before, but I'll say it again, yes this looks decadent, but take a looksie at that ingredient list. No added sweeteners! 🙂 I just used the natural sweetness of the dates to sweeten the bowl.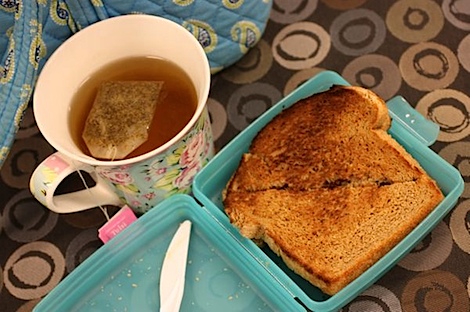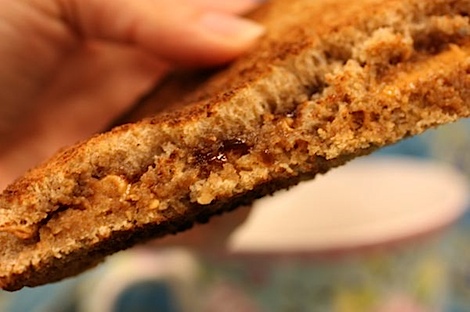 I had an early lunch #1 of a toasted AB+J (almond butter – Barney Butter and jelly – Earthfare organic pomegranate jelly)
So good toasted! If you like PB&J, you must try it toasted! I just put mine in a toaster oven on 2 toasting cycles, but your time will probably vary. You could probably also use your oven to toast it.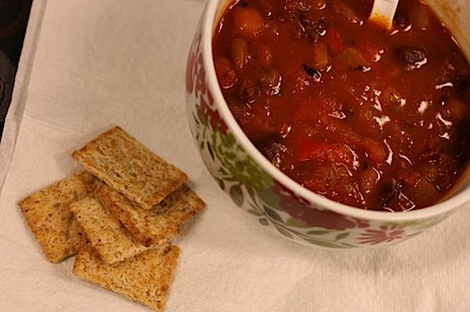 Lunch #2 – more healthy veggie 3-bean chili with some Kashi honey sesame crackers.
Lunch dessert – endangered species supreme dark chocolate – my last mini bar.
Work was really hard today, but nothing a good photography class couldn't cure…
*
*
*
Last Photography Class
Tonight was my last photography class. 🙁 I don't want my classes to be over! So the sad part is that they are but the good part is that I know I will take more in the future. I may not take classes again soon (only because of financial constraints), but I will.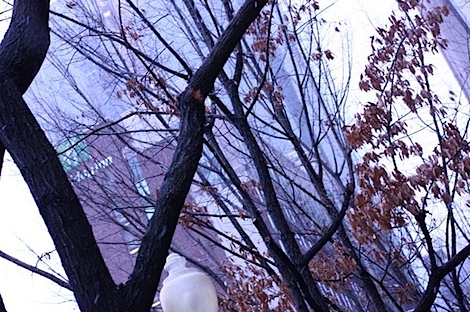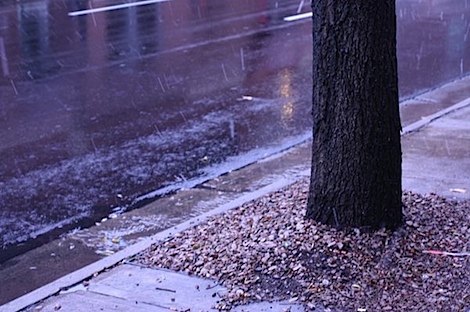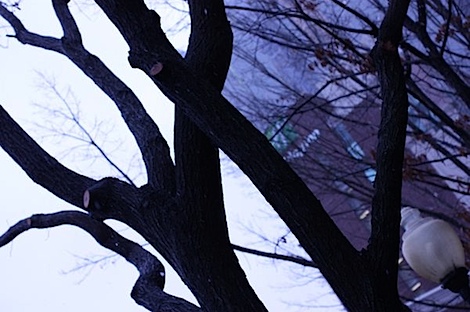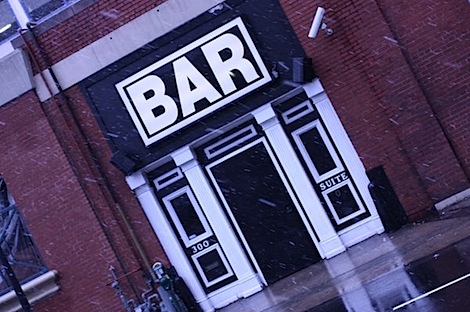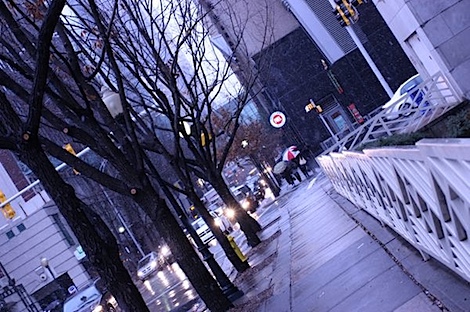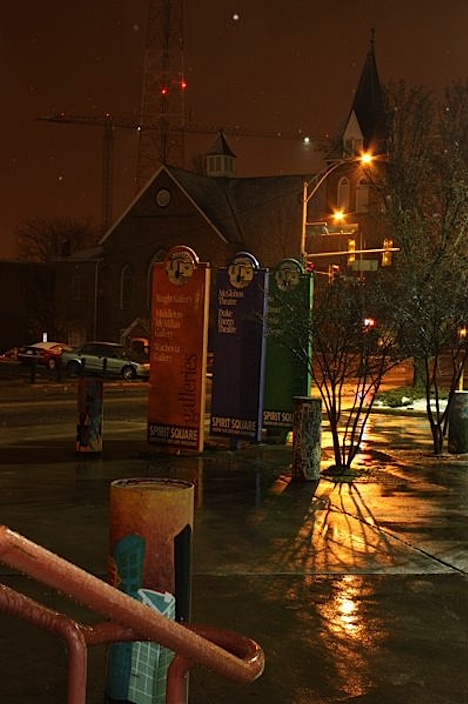 I did some of my homework this weekend (subject = composition), but figured a couple more shots wouldn't hurt.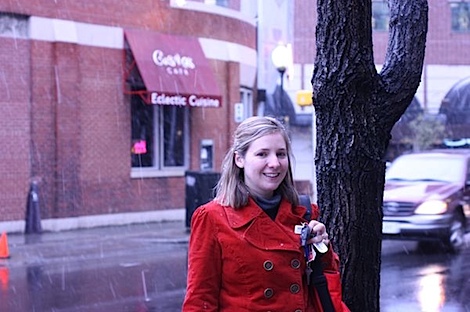 I met up with Kate to grab dinner before our last class (she's taking the class with me).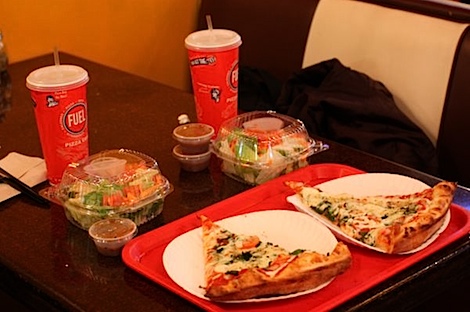 We hit up Fuel pizza and got exactly the same thing! Great minds Kate! 😀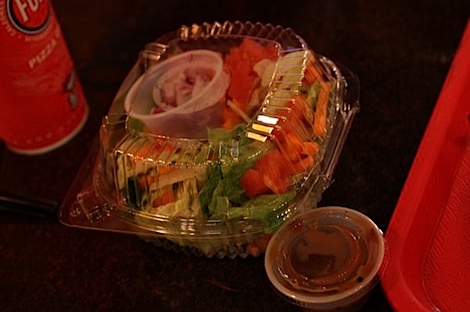 Side salad with balsamic dressing.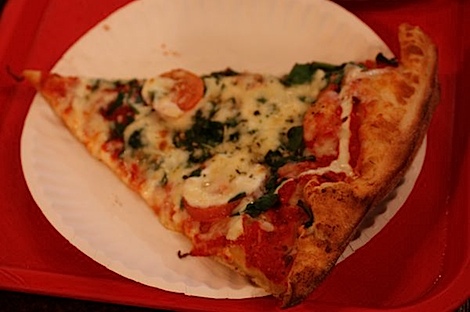 Spinach-tomato pizza.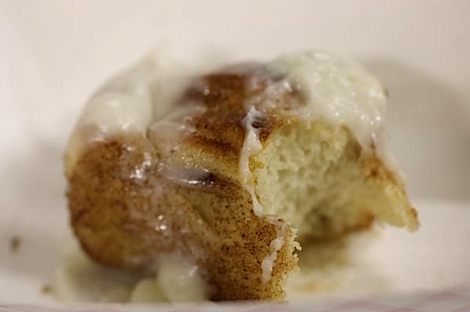 And a cinnamon knot. So bad but so good. 😉
Tonight, for our last class, we learned about how to use the flash properly. A lot of people say never use the flash. A lot of other people say, it's ok to use the flash if you know how to really use it. Me, I'll probably stick with no-flash until I can get the Canon Speedlite 430 EX II I have been lusting over for the last…oh…3 years. I don't know how people purchase the big ticket items on a whim, but me…I need to save up (and forego the flash when other things like…I don't know…the house? come up).
Anywho, after learning about flash, seeing our teacher do some example photos and taking our turn at practicing, our last and final class was over.
Wow, these 8 weeks of photography classes have FLOWN by! I can't believe they're over already. I really am sad about that. My Tuesday classes were something I looked forward to every week.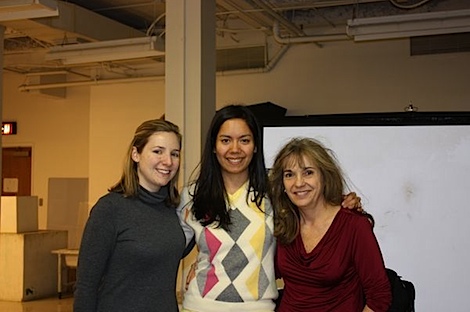 Kate, me, Emilie (our fabulous photography instructor)
Thanks to Kate for doing the class with me.
And thanks to Emilie for being an awesome instructor!
*
*
*
Stonyfield Oscar Prize Pack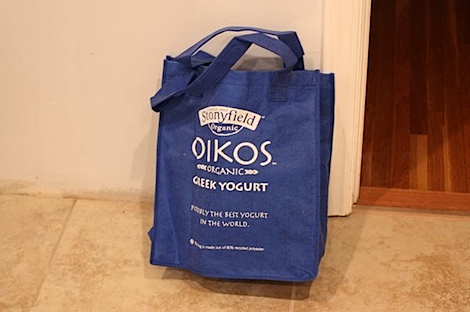 I got home to find a package waiting for me. My Stonyfield and Food Inc Oscar prize pack (won on Twitter) was here! Hooray!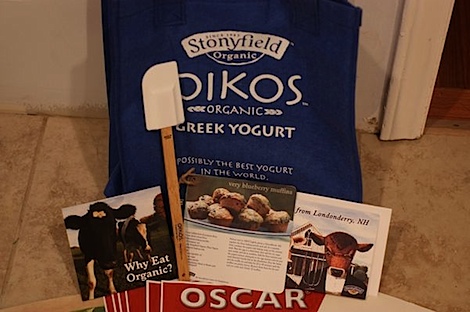 Inside the package, I had lots of goodies: a reusable tote, a spatula, recipes, a card, a $25 gift card to Whole Foods, a Why Eat Organic CD (or DVD?)…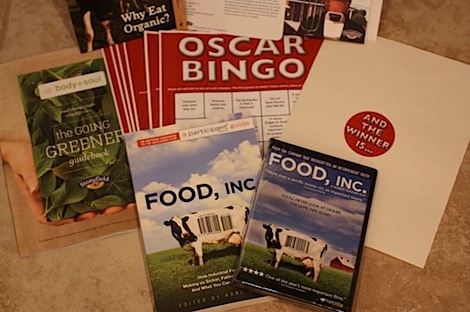 …a the Going Greener Guidebook, Oscar Bingo sheets, Oscar party tips, Food Inc the book, Food Inc the movie and coupons for Oikos…hooray!
I haven't seen Food Inc yet, but I can't wait! I'm hoping to have a Food Inc party once our house is ready…with lots of yummy vegetarian and vegan snacks.
Thank you Stonyfield for the fabulous goodies!
*
*
*
More Q&A Updates
Have you seen my Zumba page yet?
Also, I've been working on my Formspring questions and answers, so here are some updates:
I just found a studio in town that offers Zumba. What advice would you offer to a beginner? Is it better to take the zumba class, a dvd, or a zumba light class if your just learning.
If you're extremely nervous about going to class for the first time, then you might want to look up some videos on youtube to get an idea of what a class is like. Or, you could practice for awhile on the DVDs. BUT…honestly, I would just leap headfirst into a class. And remember to not worry about what others think – just let loose and have a good time. Do the moves as best you can – it doesn't matter if you don't do them perfectly. It doesn't matter if you do them completely wrong – especially the first time. You'll get them at your own pace. Where I dance, we say "If you're moving, you're doing it right." 🙂
Was it difficult to house-train Bailey?
Not really. He's a really smart dog (corgis in general are a smart breed) so he learned quickly. He was also really good about not chewing on things.
If someone gave you a million dollars with the restriction that you could not spend it on yourself or anyone close to you, what would you do with it?
If it was given to me to decide (as in I had to decide, not a joint decision with hubby), I'd donate money to charity, set up a vegetable garden in at least one local school (b/c I think it's important for kids to know where their food comes from), and set up a scholarship in my parents' names (because the older I get, the more I appreciate everything they've done for me). But, that's just off the top of my head. If someone really gave me a million dollars, I'd spend a lot of time researching my ideas before committing the money.
*edited here on the blog to add that if I were really given a million dollars, I would also consult hubby to decide what to do with the money*
Do you like to travel? And if so, where would you like to visit?
Yes! There are SO MANY places I want to go! I'd really like to go to Paris, San Francisco (and wine country), and New York City some time this year, but I'm not sure that will be feasible since we're new homeowners. I'd also really like to see Hawaii, Italy, Spain, other areas of France, Canada, The Virgin Islands, Colorado, Sedona (AZ), Fiji, The Philippines (where my mom is from), and I'd like to go back to the Bahamas (where Hubby and I got married). 🙂 I'm sure there are more places I just can't think of right now.
If there was one thing in your life you wish you could be better at, what would it be?
I'm a pretty Type A, analytical person, so I'm always working on being better at different things. If I could choose one, I think at this moment in time, it would be "organization." I'd like to get my schedule, house, and life in general more organized. I think if I were more organized, I'd be able to focus better on other areas of my life and on those around me (hubby, family, friends).
What/who inspired you to start blogging?
I started my first blog as a means to promote my jewelry business – an idea passed around by an online group of jewelry artists I belonged to. No one read it (it was pretty boring…lol), so I converted it to a fashion blog (separate blog from TCL). I started TCL as a new blog to blog about my life and left my fashion blog to clothes/shopping/outfits.
Where did you get that yummy looking burrito?
Which one!? I eat a lot of burritos. I got one from a place called Cantina 1511 and one from a place called Energy Cafe most recently.
You asked about our fave restaurants-we live near Raleigh, we love Napper Tandy's IRish pub, love Ella's seafood in Calabash, the Crab Shack in Tybee Island, GA
Neat! Thank you! 🙂
What are your top three favorite stores to shop from?
I don't know that I can just pick 3. I like different stores for different things. 🙂 I grouped some here…
3 Favorite Grocery Stores:
Earthfare
Whole Foods
Trader Joes
3 Favorite Clothing Stores:
Banana Republic
J Crew
Nordstrom
3 Favorite Places to Shop for Plateware:
Crate and Barrel
Pier 1
TJ Maxx/Marshalls/Etc.
You always have the cutest coffee mugs and tea cups! Where do you find these? 🙂
Thank you! 🙂 I made a page with info on where I found some of my favorites: https://thechiclife.com/plateware
Thanks for all the great questions guys!
Have any more questions? Post them here on my Formspring page (click).
Reader question: What's your fave way to eat PB&J? With almond butter instead? A special flavor of jelly? Toasted?