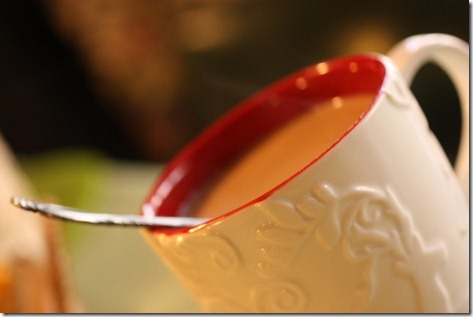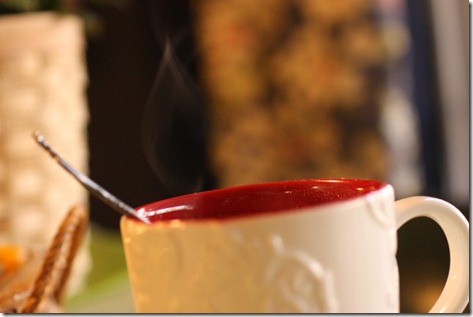 I managed to catch some steam in a photo from my coffee at breakfast Saturday.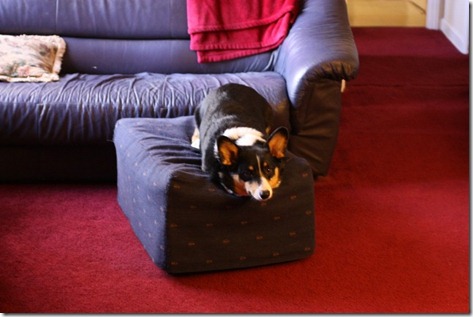 We made Bailey sit off to the side so he didn't inch up while we ate.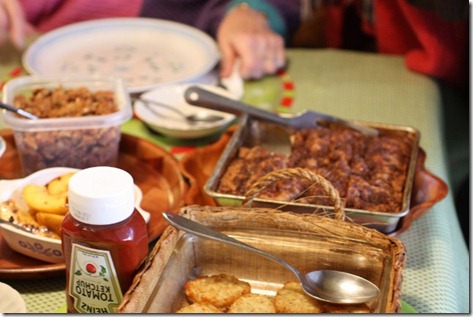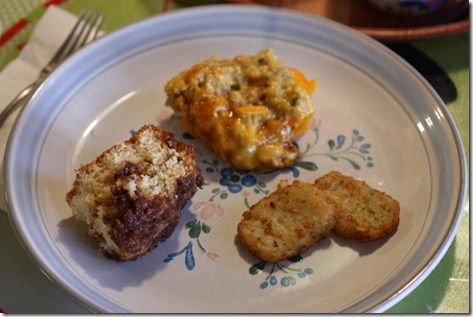 I had some stuffed yellow bell pepper casserole, mini hash browns and coffee cake.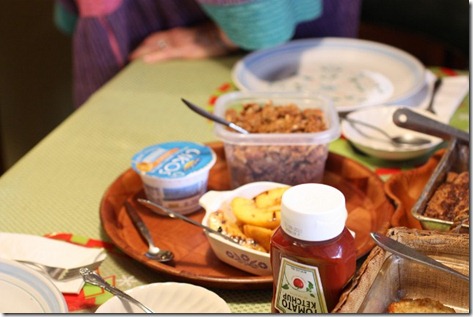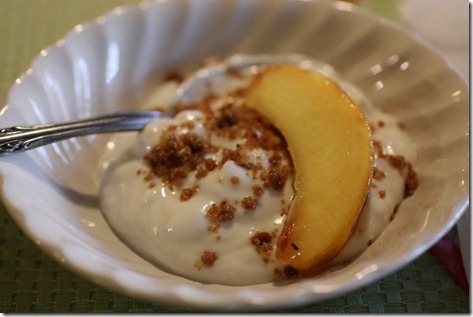 Plus some Stonyfield Oikos in honey with a slice of peach.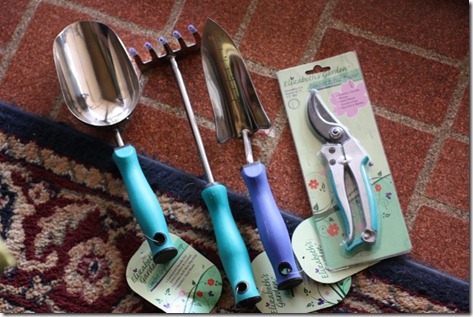 I went out shopping with hubby's mom and picked up some stuff at TJ Maxx: garden tools (I  hope to put these to good use soon!)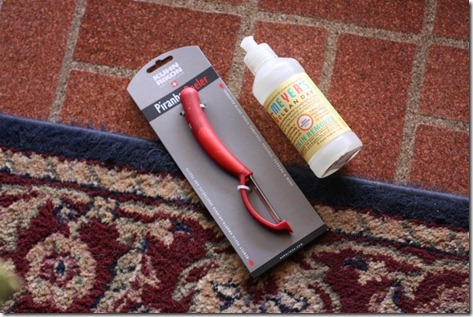 A vegetable peeler and some Mrs. Meyer's stain remover.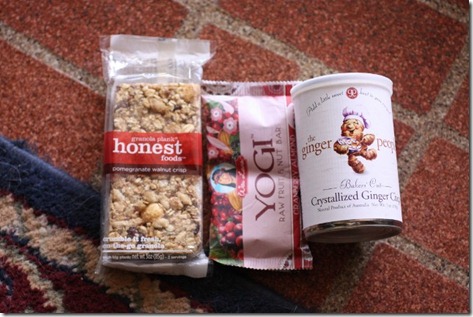 Surprisingly, there were some good food items there: an honest foods bar, a Yogi raw fruit & nut bar, and some The Ginger People Crystallized Ginger Bits (going to bake some cookies with these…yum!).
But by far my best find was the one I almost didn't get. I spotted this on one of those stands near the checkout as I was waiting in line and snatched it up. It's so pretty and I LOVE the color!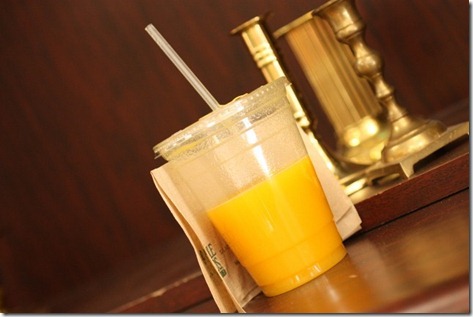 Shopping fuel = whole foods juice. I got the one with (I think) tangerine, mango, and pineapple. It was so good. Drinks like these make me wonder why companies feel the need to put extra sugar in drinks. This was SO sweet and all natural.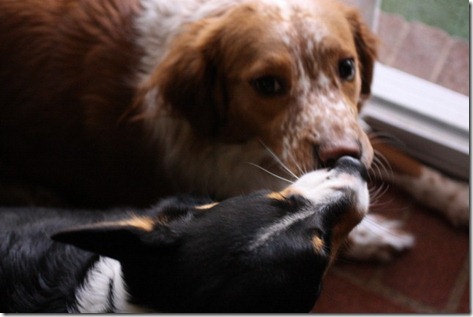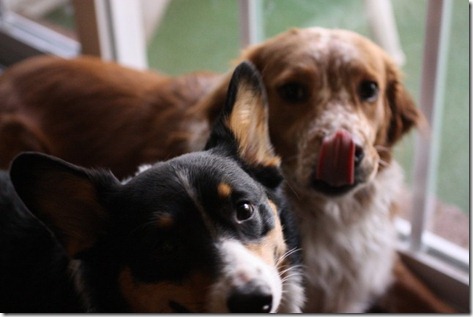 The dogs are, of course, having a blast. I'm having my blast in the form of shopping and a bloggie get-together!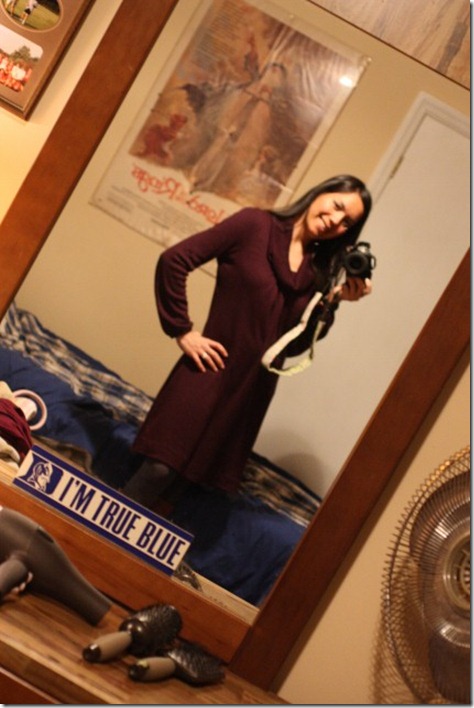 I got ready for dinner and put on my fave (ok only, but I still love it) sweater dress. Can you tell I'm in hubby's childhood bedroom? 😆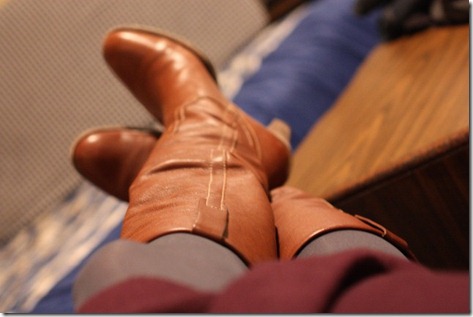 I paired the sweater dress with some of my fave slouchy boots and some tights.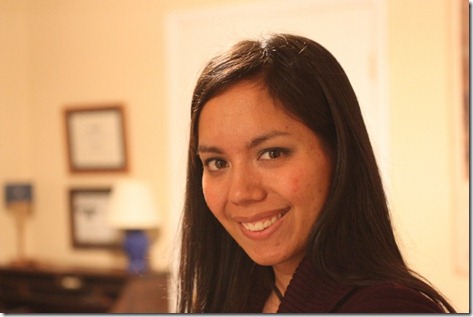 Ready to go!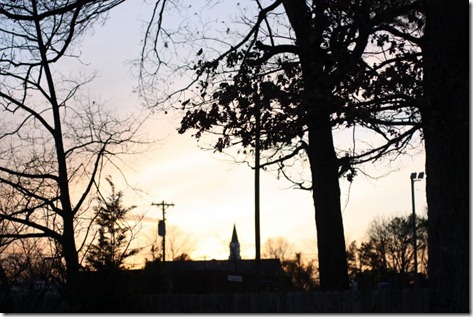 Just as the sun was setting, I set out to meet up with some Durham food bloggers for a bloggie outing.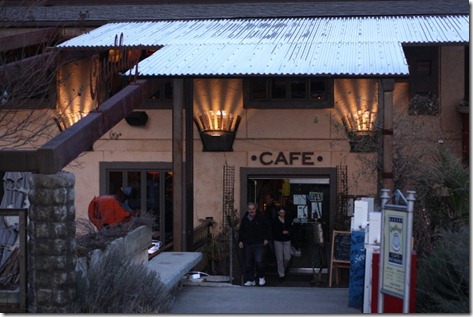 We headed out to Guglhupf, a local bakery and cafe that recently started serving dinner.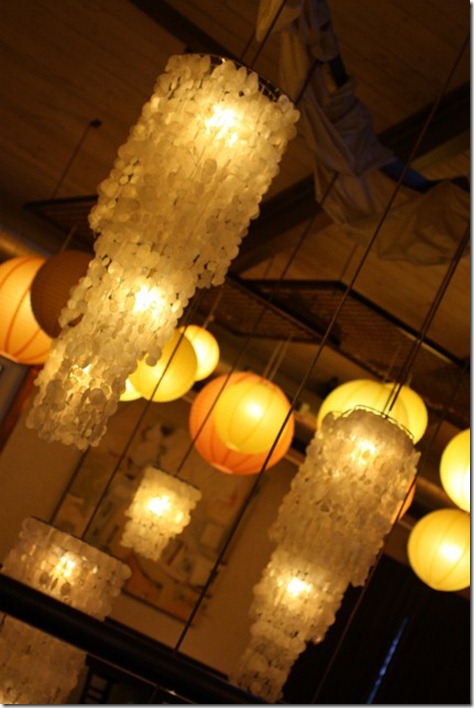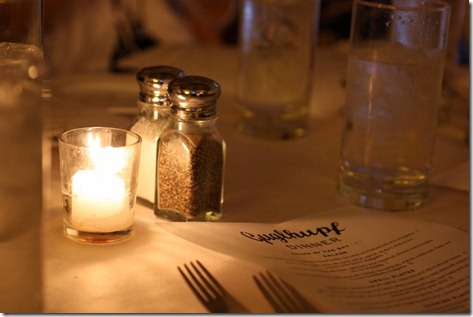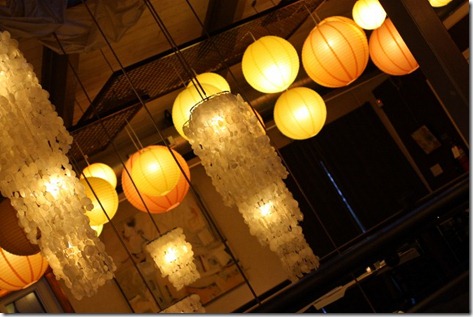 I loved the interior of the restaurant – so elegant and fun. Nice ambient lighting.
I scoped out the dessert tray while I waited for the table in front of me to be seated. The tray was right by the front entrance, so I got a great preview. Then, it was on to the table…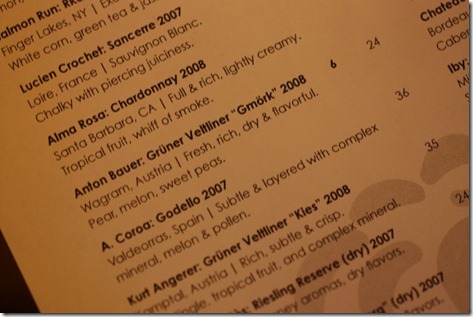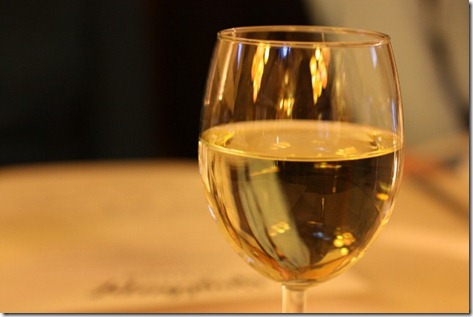 I started with a glass of the Anton Bauer: Gruner Veltliner "Gmork" 2008. I thought it was interesting that the flavors included "sweet peas".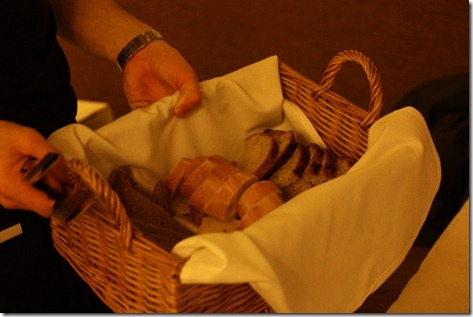 Our waiter let us select a slice of bread from a large bread basket from 3 options.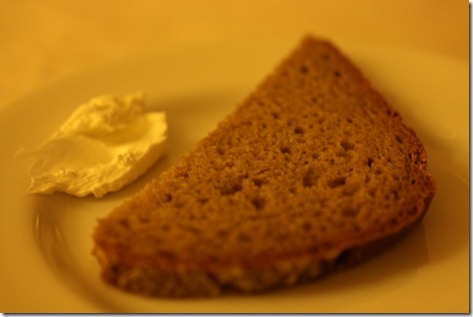 I chose a piece of their house-made rye with some whipped butter on the side.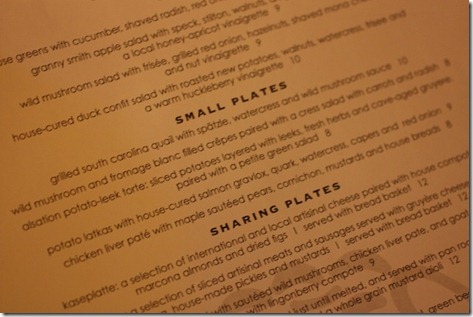 For my entree, I selected a "Small Plate": alsation potato-leek torte: sliced potatoes layered with leeks, fresh herbs, and cave-aged gruyere paired with a petite green salad. $8
Some of the regular entrees looked really good, too, but I was determined to save room for dessert.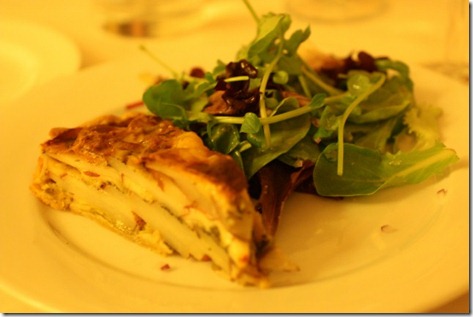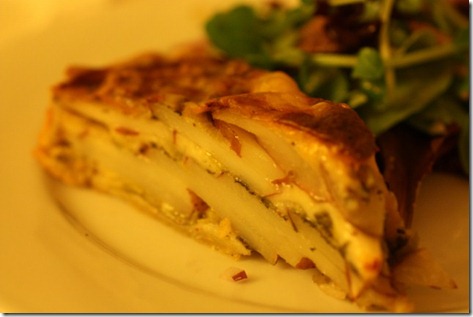 I kind of expected a mini torte (like a 6" round or something), but it came out in slice form, which was just fine with me. I like my tortes in all shapes and sizes. 🙂
The potatoes were the perfect texture – soft but not too soft. The overall flavor was nice and I especially liked the lightly crispy top layer.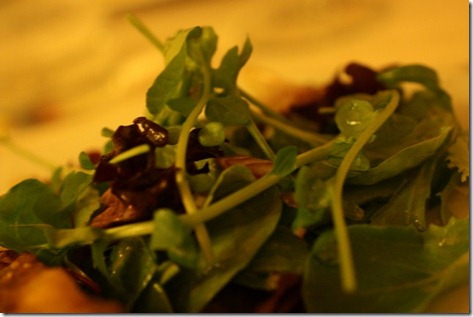 The greens were a nice mix with a light vinaigrette style dressing.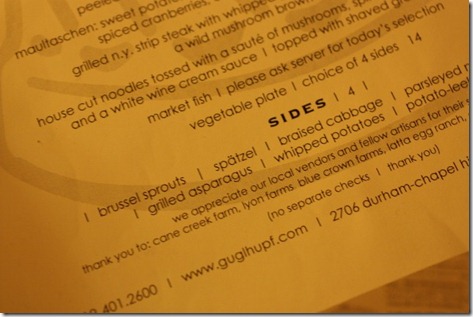 Me and 3 others at the table ordered a side of brussel sprouts. Gotta love eating with food bloggers – we have such similar tastes! So nice to have friends who appreciate brussel sprouts.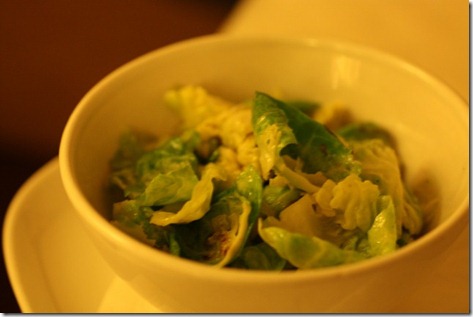 The restaurant peeled the leaves off the brussel sprouts and sauteed them in oil, then finished them with butter. They were quite tasty cooked this way, though I usually just roast mine. I'll have to try cooking brussel sprouts a la Guglhupf sometime soon.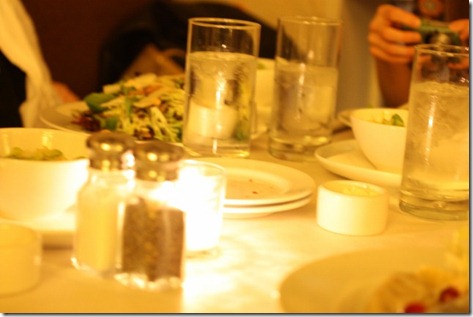 Food bloggers in action.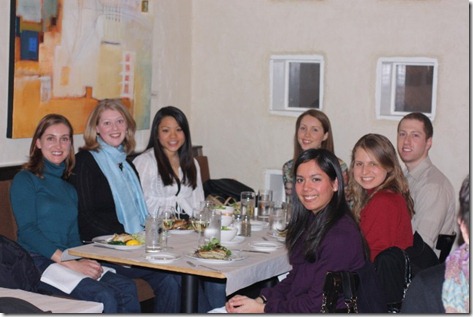 Our waiter snapped a group shot for us. From left and around to right: Kelly of Whole Belly, Jessica of Johnstone's Vin Blanc, Allie of Live Laugh Eat, Caroline of The Broccoli Hut, Seth, Margaret, and moi.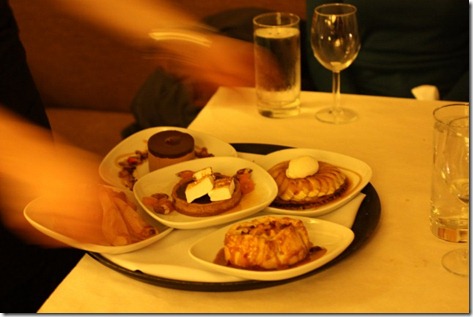 After we finished our entrees, our waiter brought out the dessert tray. Ooh la la! There were five delicious desserts on display, any of which I'm sure I would have loved.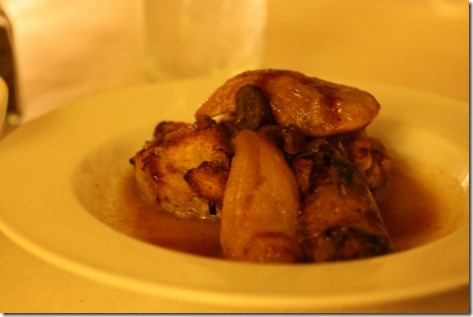 Margaret got the croissant bread pudding, which had a really elegant description that I can't remember. She shared a bite with me so I can say it's definitely delicious.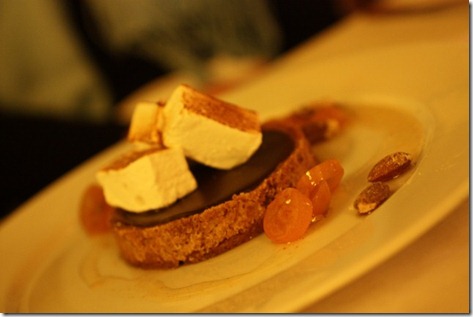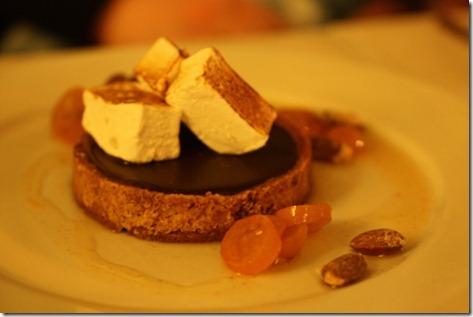 Jessica got the dessert I almost ordered: chocolate torte with homemade marshmallows, kumquats, and candied nuts. Jessica also let me try a bite and boy was this stuff rich! Delicious, but rich. The waiter described this one as almost like candy, and he was so right. I loved the combination of flavors, though.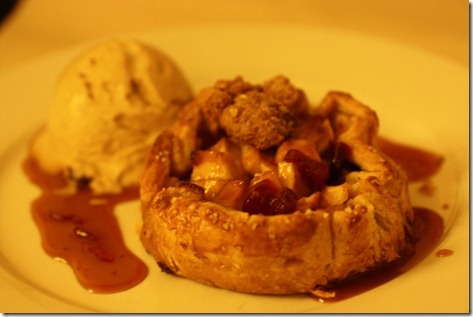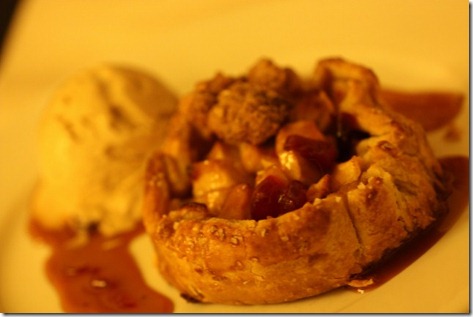 I ordered the apple tart. A rustic crust filled with diced apples, topped with candied pecans and served with a cinnamon ice cream. The tart was sooo delicious. I was super happy I saved room for dessert, because I was able to enjoy every bit of this – ok, minus 2 bites, which I shared with Jessica and Margaret in exchange for samples of theirs.
It's no wonder Guglhupf has won awards. I loved everything about this place: the ambiance, the food, and the service. The mood was cozy and intimate, there were tons of great, fresh food options, and our server was extremely knowledgeable and helpful.
I also had a great time seeing Jessica again and meeting some new food bloggers in person!