One more post and I think we're caught up! I actually stayed up till like 1 am yesterday trying to catch up on all my Key West posts…phew!
Wanna guess how many photos I took on my Key West trip?
100?
500?
Try more like 1100!!!! Geez I'm a photo-geek! 😆
Anywho, before leaving for Key West, I contacted my friend Dana about coming over for dinner. We decided to eat in to save money, but I had to host. I LOVE having people over and the whole dinner party thing, but to date…I haven't really had a lot of dinner parties. For the last couple years my excuse was my small apartment. Now, my excuse is my mid-reno house. It's kind of a hot mess right now.
Recently, I read an article in Real Simple about how the older you get you really have to work at friendships and I've definitely let too many fall through the cracks. I'd like to work on this by reaching out to my friends more often. I know friendship is a two-way road and some of those lost friends could easily have reached out to me, too, but in the game of friendship, I think it's important to work at it rather than going with the flow.
So, messy house and all, I had Dana over Tuesday night for dinner. The house was extra messy since we got into town so late Monday and I didn't have time to pick up or unpack (I may still need to unpack…hehe), but a good friend doesn't care about your messy house – they just are glad to have some QT. Lucky for me, Dana is a good friend. 🙂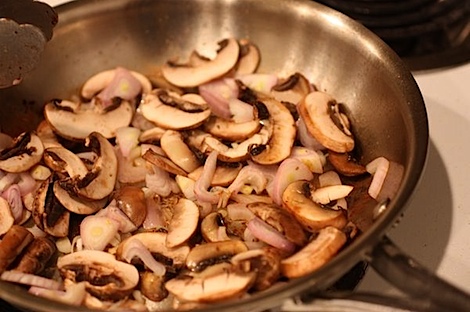 She and I work near each other, so I picked her up from work and we swung by the grocery store. I wasn't sure what to make, but I ended up thinking a chicken marsala type meal would be good.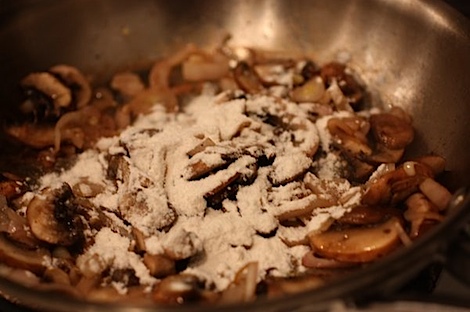 So, chicken marsala it was.
Since the chicken part was semi-complicated and I didn't want dinner to take all night, I stuck with a simple angel hair nest (3 minutes in boiling water…it doesn't get much easier) and steamed broccoli and carrots (another no-nonsense side).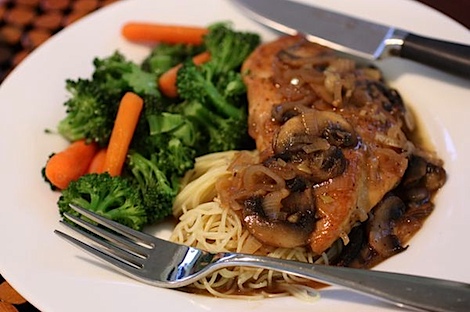 Not sure I'd call this true Chicken Marsala, but it was darn tasty.
Chicken, Cremini, Shallots in a Marsala Wine Sauce
Ingredients:
3 boneless skinless chicken breasts, pounded to same thickness (I didn't get mine very thin, I just tried to even it out)
1 small carton cremini mushrooms, cleaned and sliced
1 large or 2 small shallots, sliced
2 tbsp EVOO
2 tbsp flour
2-3 cups marsala wine (I free-poured…not sure exactly how much it was…sorry!)
salt pepper
Directions:
Heat 1 tbsp EVOO in a saute pan over medium heat. Season chicken with salt and pepper and saute for 4-6 minutes per side, until browned outside and cooked through. Remove cooked chicken to a plate and cover with aluminum foil.
Heat other tbsp EVOO in the same saute pan and add the shallots and mushrooms. Saute for about 4-5 minutes, till vegetables become tender.
Add flour to the pan and stir and cook for 1-2 minutes.
Add wine to the pan, stir, bring to a boil, reduce heat to simmer, add chicken back to pan and cook till sauce has reduced in half, about 5 minutes.
Serve chicken over pasta and spoon sauce over chicken. Add a veggie side for a complete meal.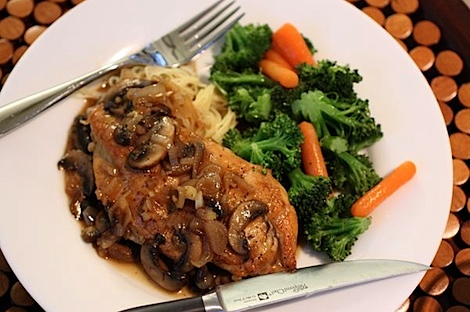 Enjoy!
Anywho, it was so great catching up with Dana. I need to have more impromptu friend-dates more often.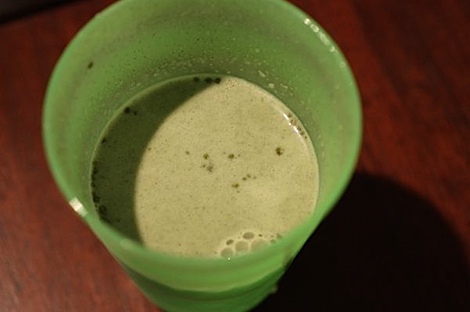 I don't know about you, but I have a hard time getting as much nutritious food when I'm traveling as I do when I'm home. While I had a blast in Key West, I was feeling like I could use a boost of nutrients, so I had a mini Vega Whole Health Optimizer mixed with vanilla hemp milk for dessert.
Reader question: How do you stay in touch with your friends?