After our adventurous day touring Key West, enjoying a Cuban lunch, and visiting the beach, we were ready to slow down a little with a romantic dinner for two at Louie's Backyard. The restaurant had great reviews on Yelp and was recommended by the waitress at Pepe's.
Hubby was smart and called ahead to make a reservation but all the patio seats (recommended by the Yelpers) were taken, so we had to get a table inside.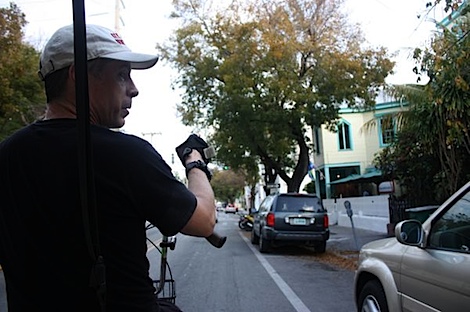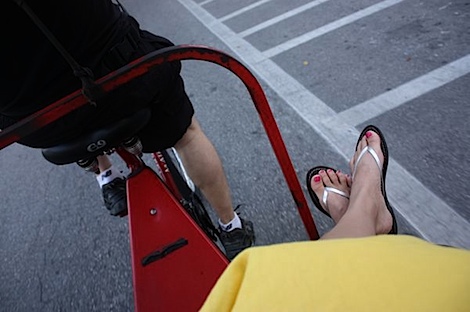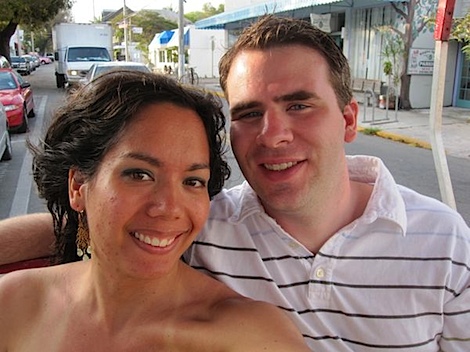 We took one of those bike-carriage thingies over. Those things are expensive! It was $18 for the ride over, but it was pretty nice. Plus, we got a great recommendation for a restaurant we had actually spotted on our Conch Tour – a dessert spot called "Better Than Sex."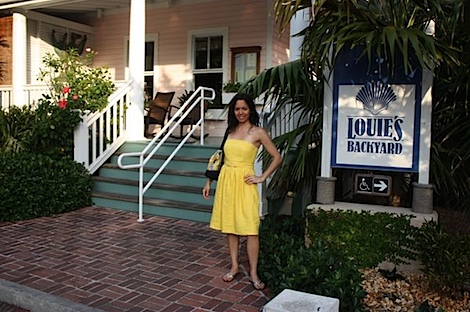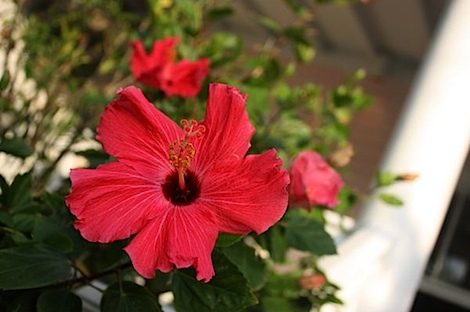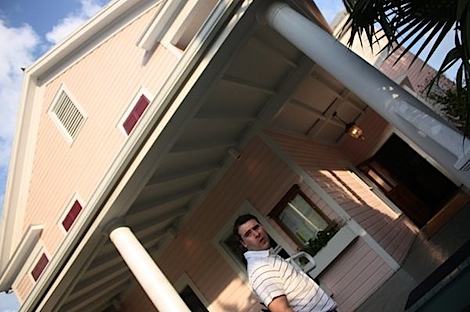 We got to Louie's early and they already had our table ready. Score!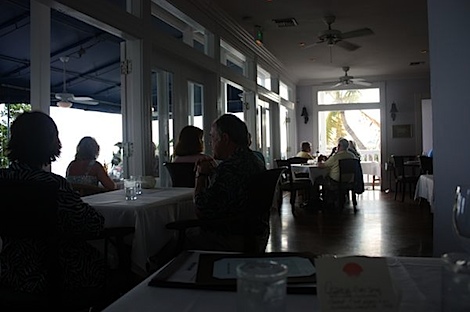 Inside was nice and airy and the doors were all wide open.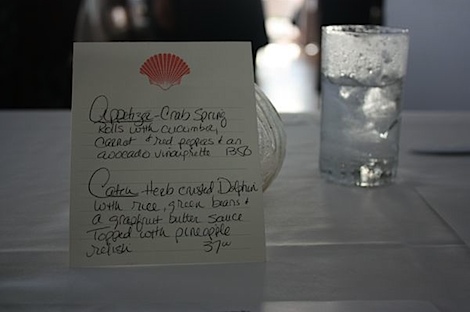 They had some great specials and I actually ended up selecting one.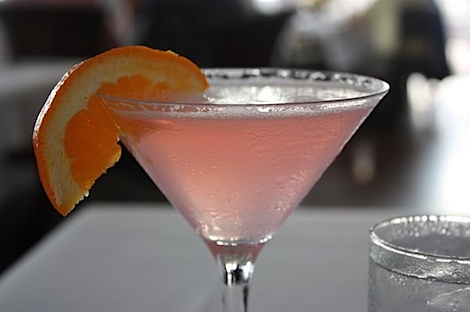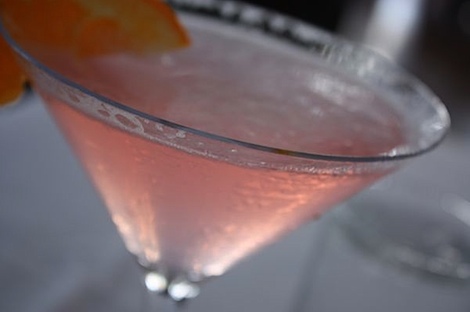 To drink, I tried their cosmo made with house-made pineapple infused vodka. It was the best cosmo I've ever had!
Bread and butter.
The entrees were a little more expensive than I anticipated. The special was $37.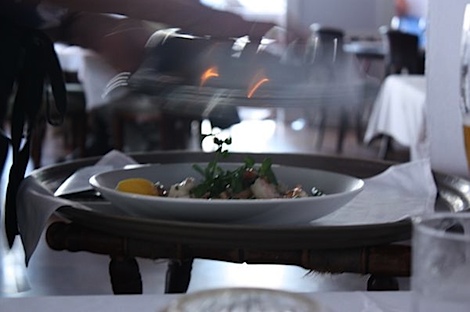 Our entrees came out with silver lids.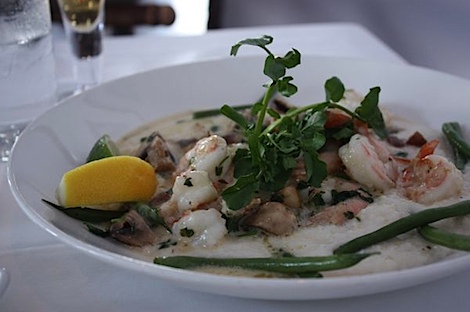 Hubby got the shrimp and grits.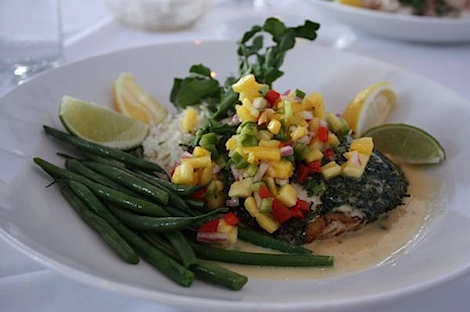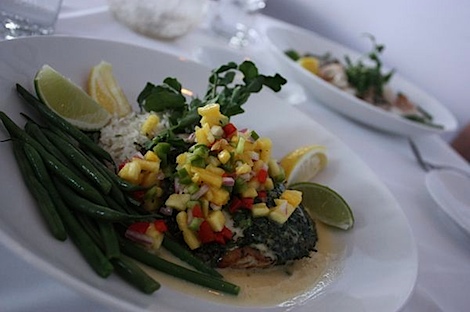 I got the herb-crusted mahi mahi with pineapple salsa and grapefruit butter sauce, green beans, and rice pilaf.
The citrus was not just for decoration – they really enhanced the flavor of the fish. I was a little disappointed with the herbs – I didn't taste them at all! Not sure if they were just parsley and therefore should have had a mild flavor, which might make sense considering how flavorful the citrus and pineapple salsa are. The fish was cooked nice and the green beans were nice and crisp-tender.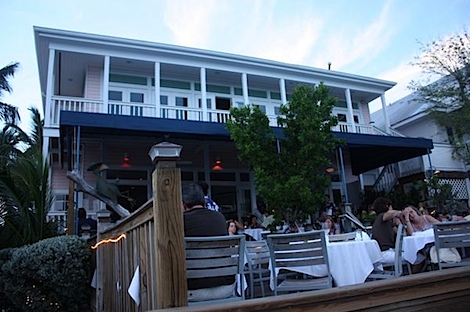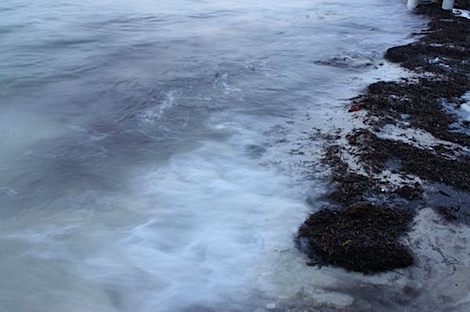 We actually finished eating just before sunset so I headed outside to snap some photos.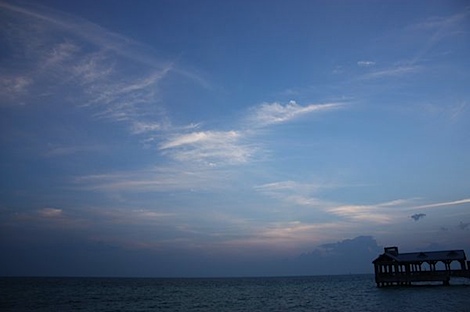 Turns out you actually can't see the sunset from Louie's! I don't know why I thought you could…I guess I mis-read the Yelp reviews, but I was sort of disappointed.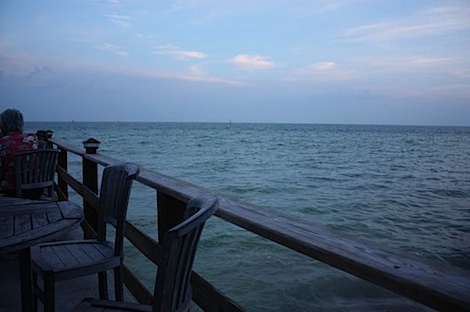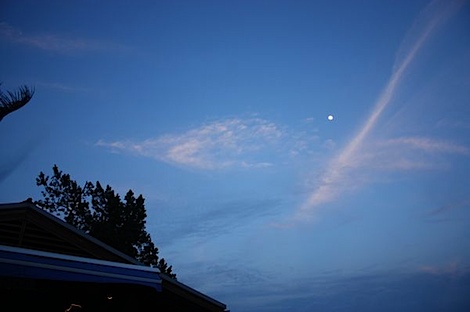 Still, the view from Louie's was quite nice – an open area of water and sky.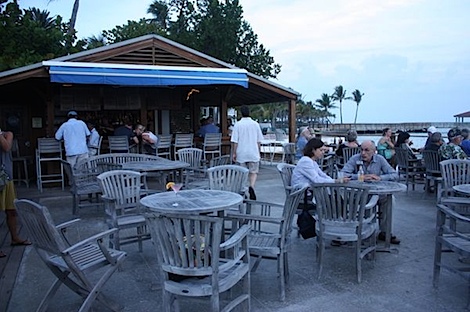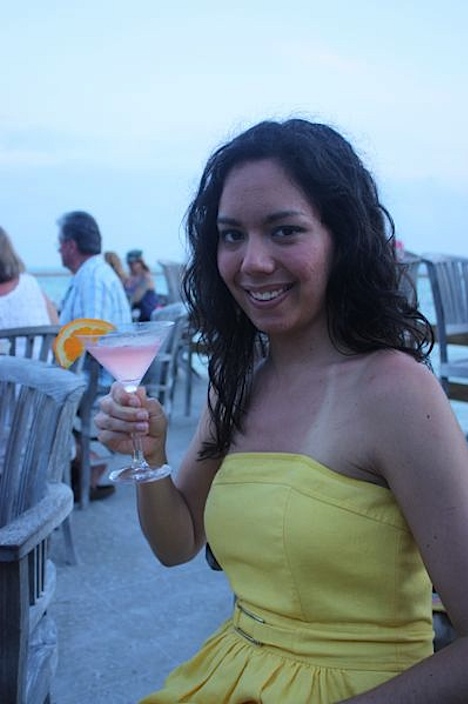 Hubby and I hung out on the back patio for a bit before deciding to walk to the dessert restaurant.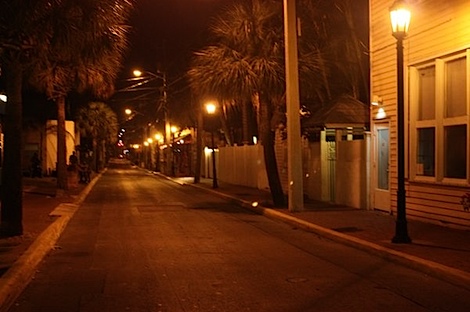 The dessert restaurant was down a side street from Duval (one of the main streets in town).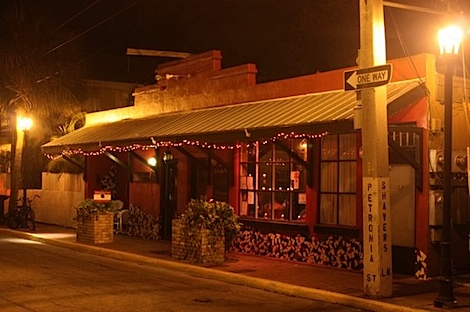 I don't know what was going on with the lighting, but I really liked it and thought it added to the ambiance.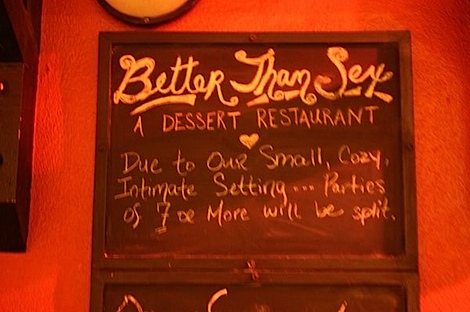 So what's better than sex? Apparently this dessert restaurant! 😉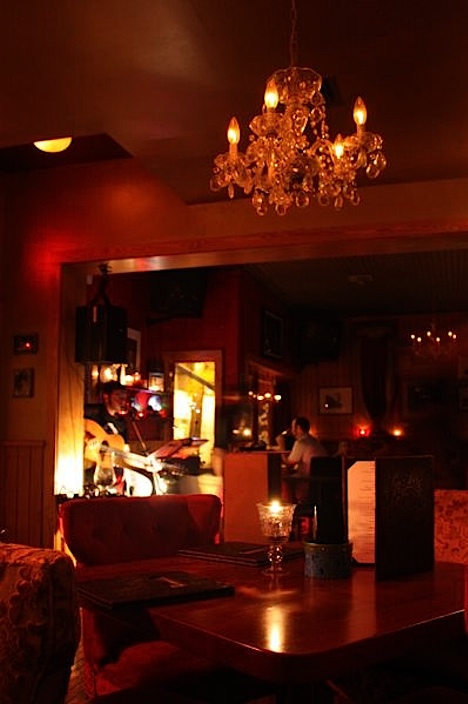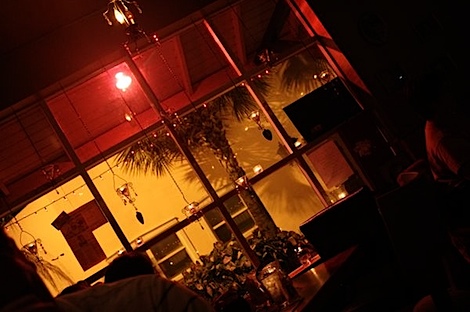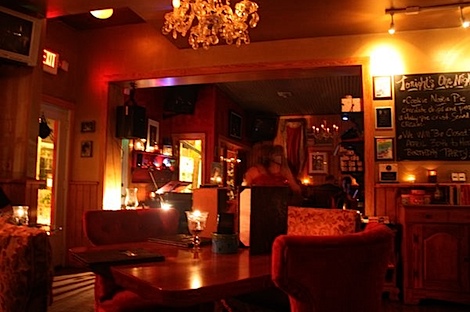 Inside, the scene was right up my alley – cute, cozy, intimate. They had a man playing the guitar and singing laid-back version of popular songs.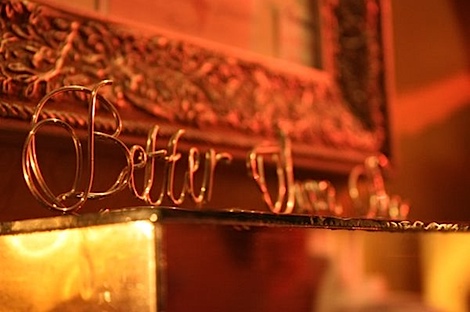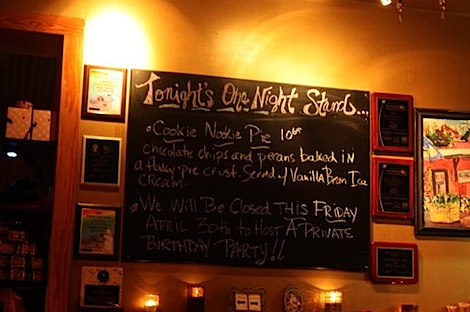 The decorations and wording on the menu tied in nicely with the theme. For example, instead of a "daily special", they have a "one night stand." 😆
They also had books and games on the various tables for some fun tableside games.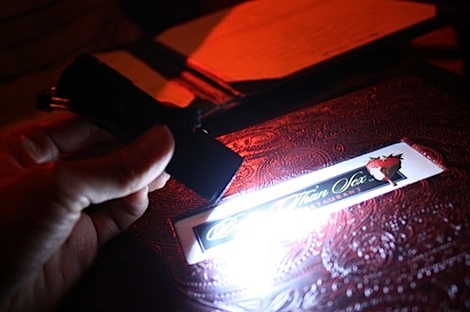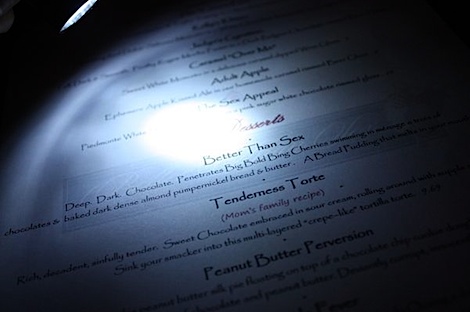 Each table gets a flashlight to read the menu – it's very dark inside.
You could pretty much see the menu without the flashlight, but the whole flashlight thing was neat.
Check out those menu item names!
Kelly was our waitress and she was great. She was very personable and attentive. She even has a menu item named after her – a drink called Kelly's Klimax.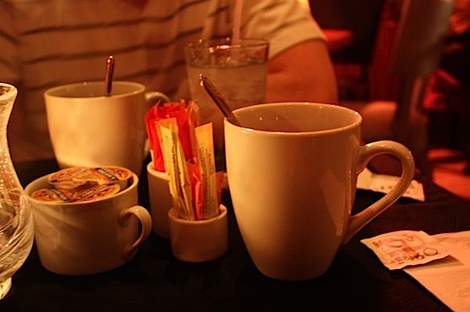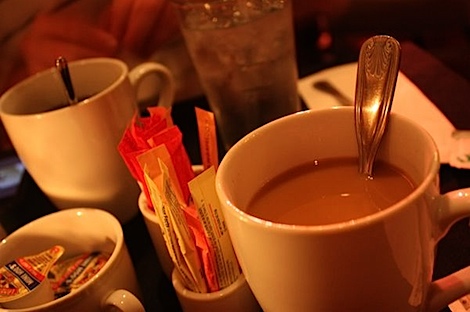 Hubby and I got decaf versions of the restaurant's secret house blend. The coffee was lovely, but it would have been extra nice if the restaurant offered liquor drinks (Bailey's and coffee anyone) or espresso drinks (mmm…cafe latteeeeeeee). The coffee was really so good, I didn't miss the liquor or froth.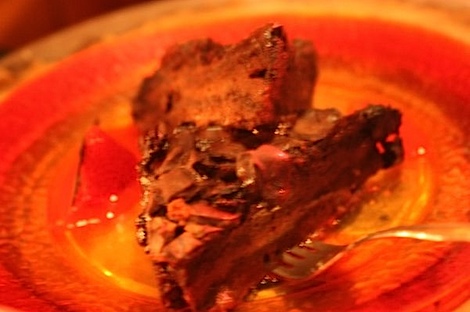 The lighting was so dark, I couldn't get a photo of hubby's extra-dark dessert – the Better Than Sex chocolate bread pudding.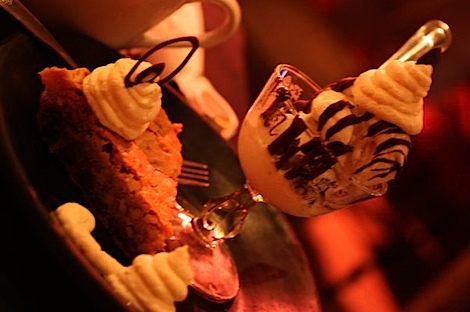 I had the special – the Cookie Nookie pie. I was a little worried about ordering this because a chocolate chip cookie pie is one of my fave desserts at a coffee shop in my home town, but this version was different yet equally tasty. It hit the spot!
The dessert restaurant was my favorite restaurant of the whole trip! I loved their quirky, fun, and intimate ambiance and their desserts were fantastic, too!
*
*
*
We hit up the hotel's breakfast bar Monday morning to fuel up before a long day of traveling.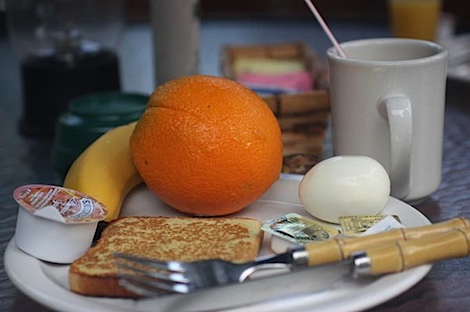 I had a hard-boiled egg, a piece of French toast with a little syrup, and a I grabbed a banana and orange to eat on the ride home.
We had a long day planned:
4 1/2 hour long shuttle ride
2-3 hour wait in the airport
2 hour flight
1 1/2 hour drive to / from SC to meet sister to pick up Bailey
Our shuttle driver, Tom, showed up right on time at 9:30am and in a very cheerful mood. He was a nice guy and told stories to us and another rider for most of the trip.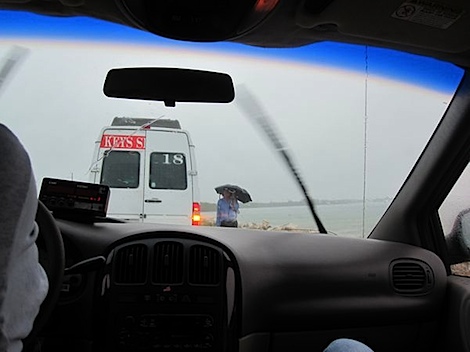 Things went awry about 3 hours into the trip when the windshield washer of the van broke off and Tom had to pull over to the side of the road. About 5 feet to the left was a one lane highway with cars and trucks speeding by. About 5 feet to the right – rocks and water. I was so worried we were going to get rear-ended or something because the road was pretty narrow and there wasn't really anywhere to go. Not to mention, we were in the middle of a torrential down pour with lots of thunder and lighting. It was pretty scary.
Out shuttle service ended up calling a taxi for us after waiting for about 40 minutes for a cab to arrive, we took off. Tom stood in the rain to watch us off. I felt terrible for him. His day had just started and without a windshield wiper, I wasn't sure he'd be able to finish his trip that day. That meant an average of about 3-5 groups missing…and also missing – their tips! Some of the other shuttle riders were kind of angry, so they weren't going to tip Tom, but we still did. Poor guy – it's not like he broke the windshield wiper off…I hope he got home safely himself! And I wish people could be more understanding!
We got to the airport late and had enough time to scarf a snack down before running over to board our plane.
Once our plane landed, we took a shuttle to our car and drove half way to my parent's house to meet my sister to pick up Bailey.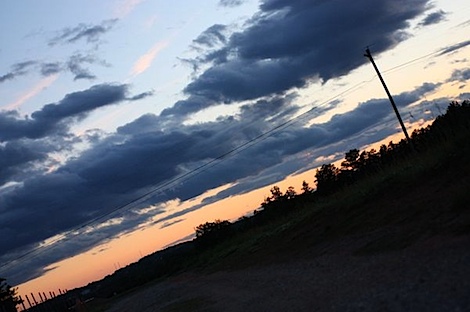 The weather back in the Carolinas was thankfully nice and clear.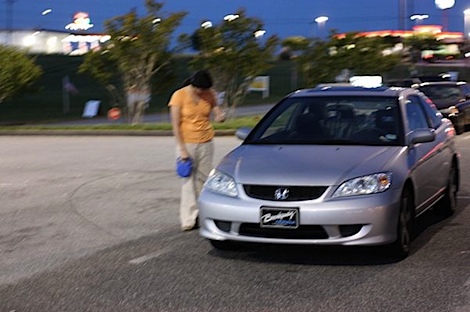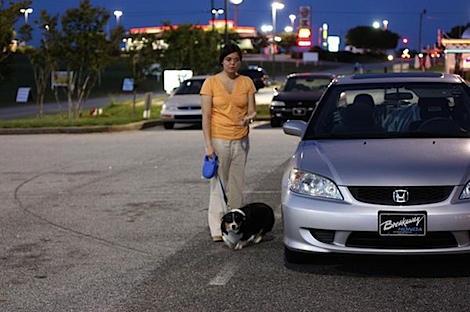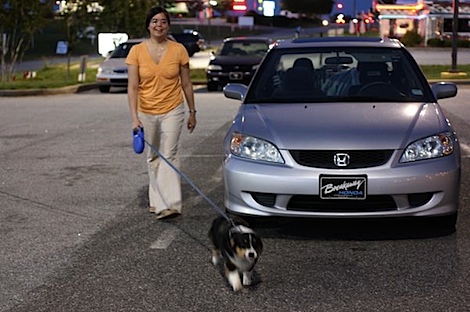 Bailey was really excited to see us and we were really excited to see him, too. 😆
We had dinner with my sis at Cracker Barrel before heading home.
We didn't get back till 10:30pm!! That's like 12 hours of traveling! Phew! Long but successful trip. Being somewhere so tropical made me think of the Bahamas….we haven't been in the 2 years since we got married, but I hope we can go back soon. I miss it!
Phew again! Ok, I think I'm all caught up but I have a post from last night's dinner to share still…eek! Plus, I've gotten some really cool samples over the last couple days and can't wait to share!! 🙂
PS I'm selecting the winner of the Nasoya Tofu Press tomorrow, but there's still time to enter!