Before I start the blog post, can I ask…how is it May already!? This year is flying by!
After our fabulous dessert (click), we hit up the grocery stores to get food for dinner and the work week ahead. I didn't photograph everything, but here are some interesting finds: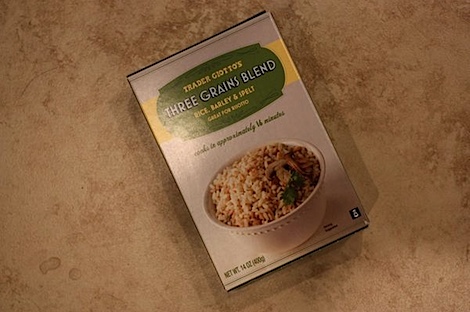 Per the usual, I bought one of the Trader Joe samples I tried: Three Grains Blend. I love the mix of grains in this and how quickly it cooks up.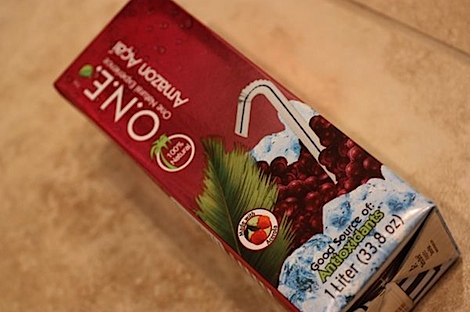 O.N.E Amazon Acai drink. I can't wait to dig into this. The container is large enough that I think I can drink a little every morning all week! Woohoo!
By the time we were done shopping, after some quick errands in the house, it was time for dinner.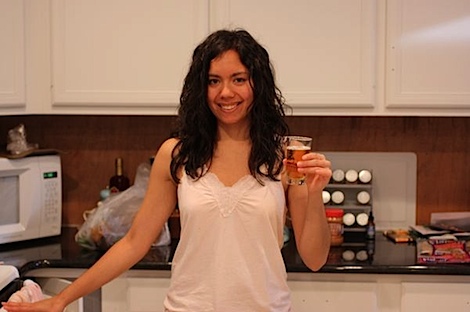 Hubby poured me a Diana-size brewski. I'm not a big beer drinker, but I like a little. This tiny sample size was perfect for me for tonight and I sipped on it whilst cooking up dinner.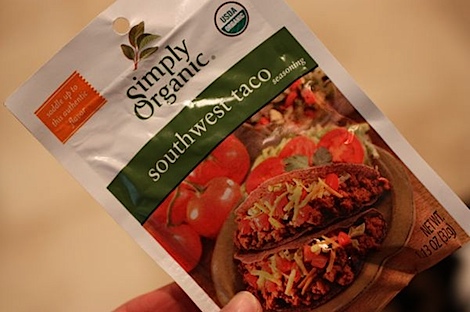 On the menu – TACOS! I cooked up some grass-fed beef with some Simply Organic Southwestern taco mix.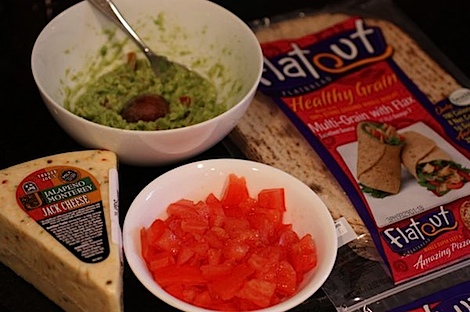 Other ingredients: jalapeno monterey jack cheese, homemade guacamole, tomatoes, and multi-grain with flax Healthy Grain Flat Out wraps.
We decided to try these Flatout wraps instead of traditional tortillas so we can use the leftovers for sandwiches later in the week.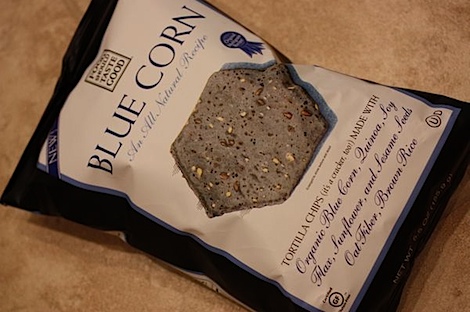 I also decided to bust out a new Food Should Taste Good sample bag (*) – one of their new ones – Blue Corn. I adore blue corn chips, so I was really excited to try these. (note – these are a new flavor, which are just rolling out into stores – they may not be available at your store yet, but you can purchase them online)
Chip info: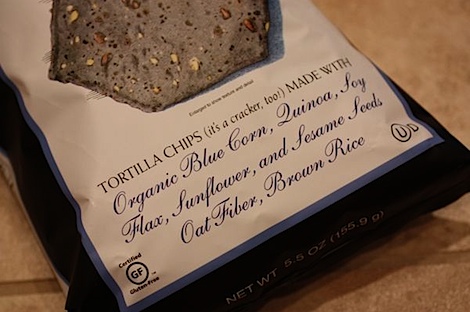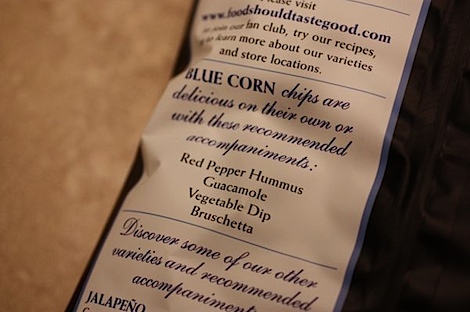 Suggested accompaniment – guacamole?! How convenient since I just whipped some up tonight!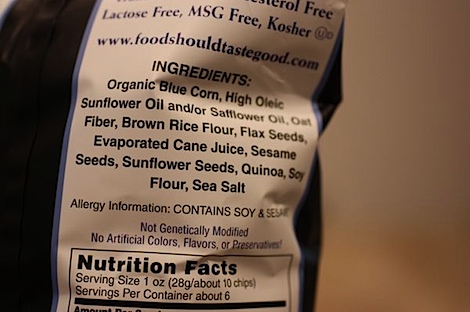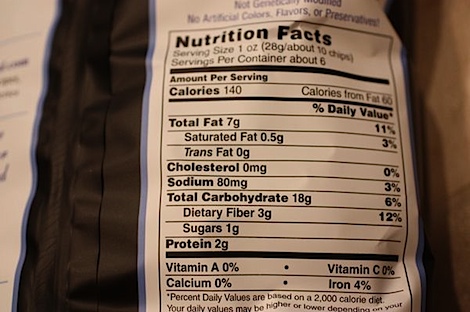 Great packaging – great product info.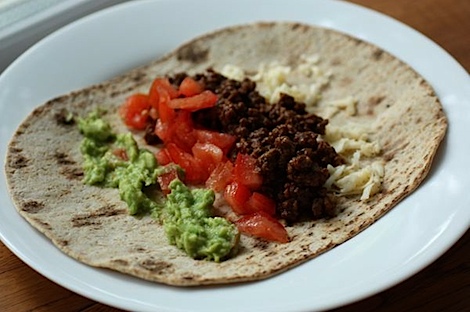 I layered up my Flatout – grated cheese, beef, tomatoes, homemade guacamole.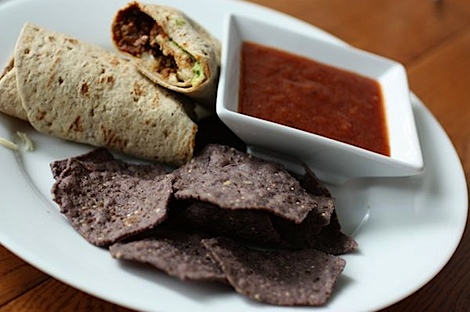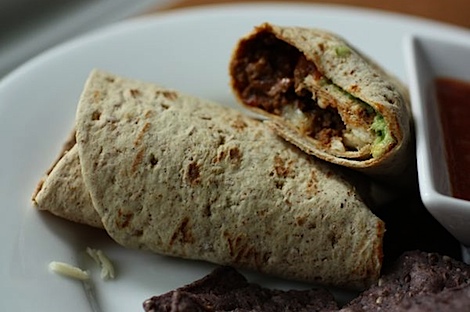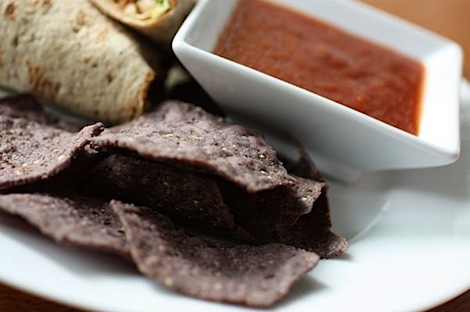 I thought I'd eat more salsa…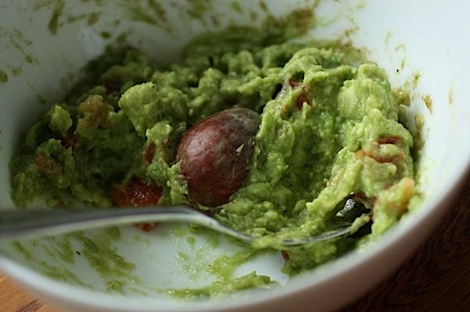 …but I was too busy polishing off this bowl of guacamole! I think I ate almost a whole tomato and whole avocado tonight between the taco and the guac. 😆
Tidbit alert! Oh, and see the avocado pit in the bowl? That helps keep it from turning brown! Use it to keep your guac green when you're taking it to dinner parties, etc. It's a totally neat trick.
As for the chips – I really liked them! They are decidedly less oily and much lighter tasting than others I've had before. I liked the crispy texture and the salty taste. The blue corn flavor is perfect for a tex-mex themed dinner party or to take to a summer barbeque with your homemade guac, pit included. 😉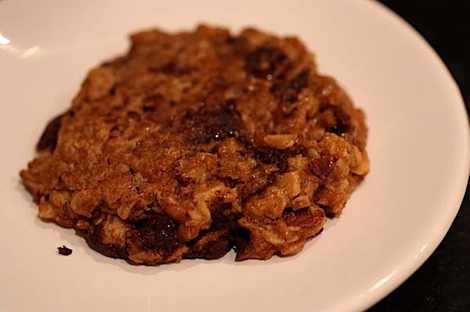 Well, it's been a long day, so Ima going to enjoy this Earthfare whole wheat vegan chocolate chip cookie whilst catching a double header of Cold Case. Score! What's better than Cold Case? Back-to-back episodes of new shows!
Ecto tried to eat my page, but I re-wrote it.
Click here to check out my latest page – Garden!! 🙂
Have a great week everyone! Anyone interested in celebrating Starbucks Monday with me? I'm already looking forward to my vanilla soy latte tomorrow…mmm!