Sometimes you want to have your cake and eat it, too. This morning, I wanted dessert for breakfast. Actually, I just wanted to find a fabulous use for those amazing blueberries I picked up at the farmers market yesterday and when I think of berries, fruit crisps are one of the first things that pop into my mind. They're simple and pretty healthy compared to most desserts.
This morning, I challenged myself to make a berry crisp that was a little more styled for breakfast than dessert. The goal – cut out some of the sugar and fat.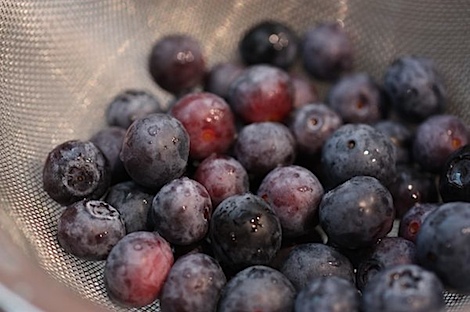 I started with those beautiful blueberries. THIS is a perfect example of why I like to get my produce from local farmers markets. When I buy blueberries from the grocery store, I am constantly disappointed at the quality. In a carton of fresh blueberries, it seems like every other one is sunken in or old looking. I guess that's just what happens when your product is being shipped across the country…or even from another country!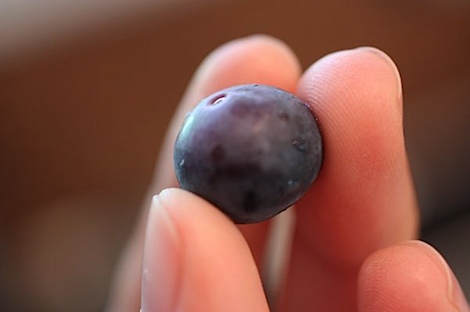 In this carton, every blueberry looked like this – perfectly round and plump. Love! 🙂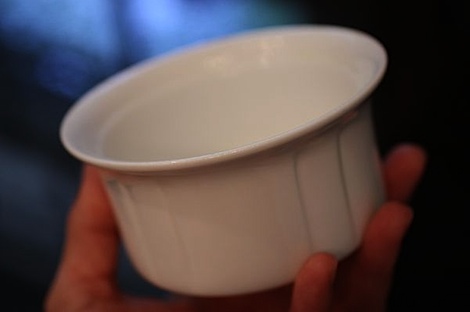 Hubby isn't a fan of crisps, so I decided to make the crisp for one by using a 4″ round ramekin as my baking dish.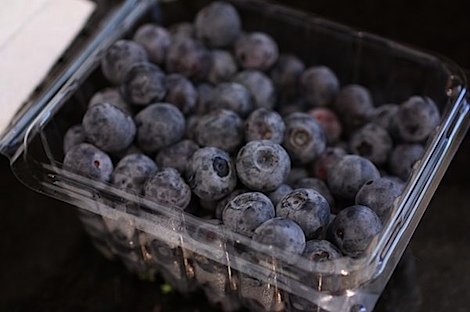 I used a whole 1/2 cup of berries and barely made a dent in my carton!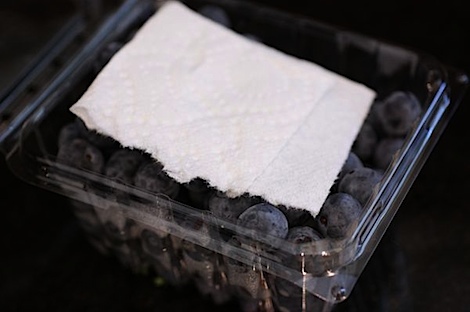 Blueberry storage tip: I like to place a small piece of paper towel in my blueberry carton to help keep them from molding. It's the same reason you don't want to wash your berries until immediately before using – they can mold easily from the moisture!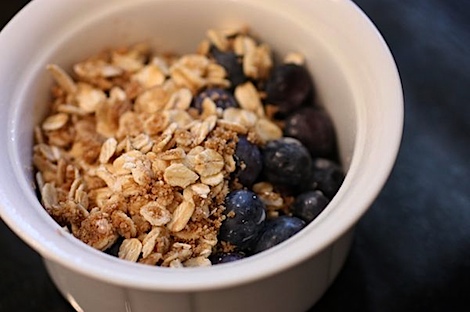 My crisp came together easily and quickly.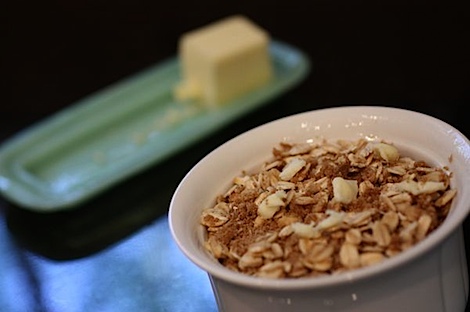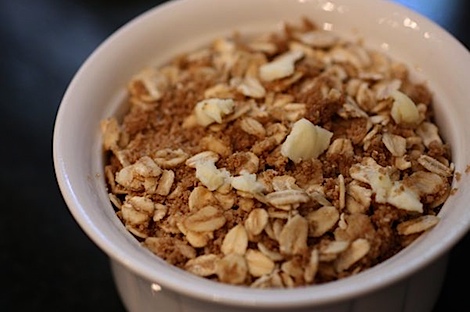 I added a wee bit of butter on top to help it brown, just dabbing small pieces here and there. This is totally optional, but I really only used about 1/4 tsp.
Then, I popped my crisp into the oven to cook.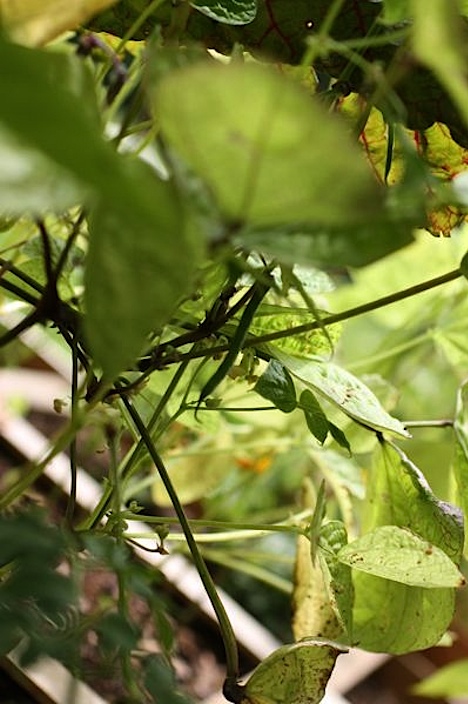 My favorite thing about cooking things in the oven is that it frees you up to do other things. It may not be the fastest cooking method, but it usually lets you multitask. While my crisp cooked away, I stepped outside and watered my garden. Dad said to water it in the morning, not at night. By the time I was done watering, my breakfast was ready!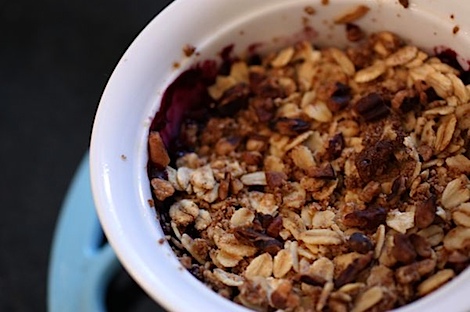 Look for the fruit to just start bubbling at the sides. When the top is lightly golden and the fruit is bubbling, you know it's done!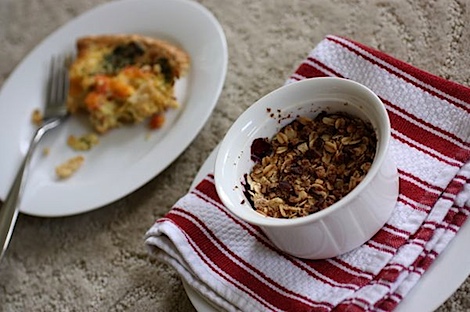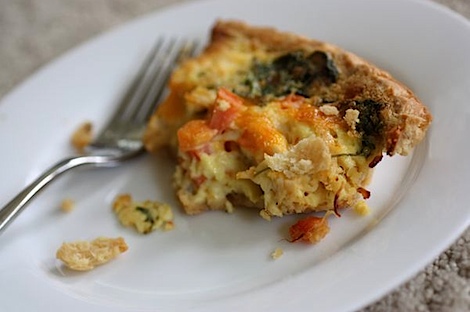 I enjoyed my crisp with the leftover quiche I couldn't finish yesterday.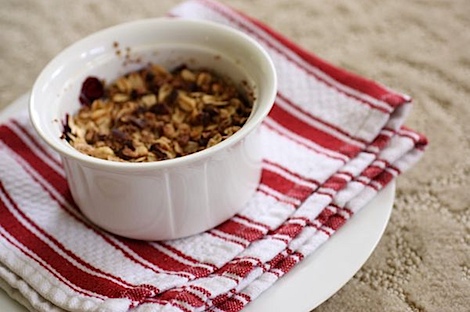 All baked up.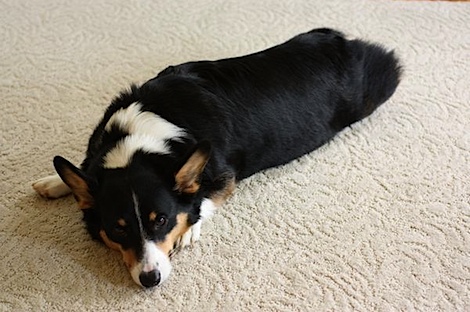 Bailey hung out while I photographed breakfast.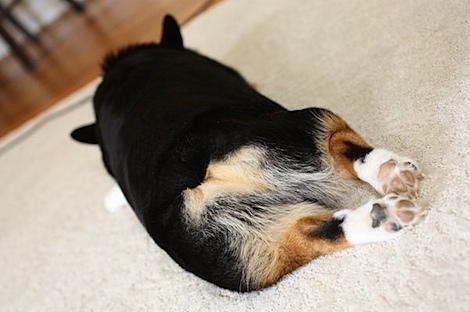 Love how his back legs can stretch straight out behind him.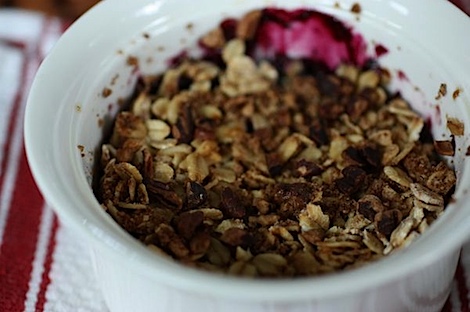 I enjoyed breakfast whilst catching up on a DVR'ed 5 Ingredient Fix – the beef brisket episode! Looked totally yummy – except for the whole dipping the bread into the sauce. I don't like soggy bread. But I guess if the sauce is thick enough it's ok. I would try it.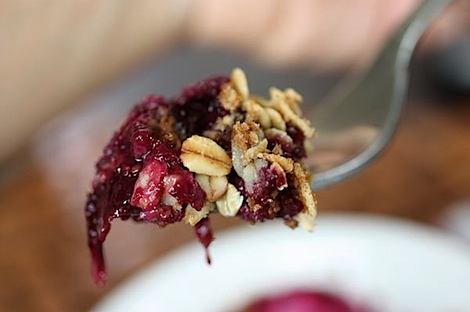 As for the crisp, it was brilliant! The top was a little crumbly since I barely used any oil to bind it, but I didn't mind at all. I didn't add any sweetener to the blueberries, so I got to enjoy the full, natural sweetness of the berries sans sugar. The tender berries with the crunchy topping was a nice combo. Basically, this was like an amped up oatmeal with extra…double-extra berries!
The dish was not as rich as a dessert version would be, but that was the point! I was trying to make it on the healthier side! I think my experiment was a success and can't wait to try out some other flavor combinations!
Individual Breakfast Berry Crisp
Ingredients:
1/2 cup berries – cleaned and chopped, if needed (I used fresh blueberries, but you could use frozen)
1/4 tsp tapioca starch (or corn starch)
1/4 cup rolled oats
1 tbsp flour (I used spelt, but any will do)
2 tsp sucanat (or brown sugar)
1 tsp canola oil
pinch salt
dash cinnamon (optional)
bit of butter (about 1/4 tsp – optional)
sprinkling of chopped pecans (about 1 tbsp)
non-stick spray
Directions:
Preheat oven to 350 degrees F. Prep baking dish with non-stick spray (I used a 4″ round ramekin).
In a medium bowl, mix blueberries and tapioca starch. Pour into baking dish.
In a medium bowl, mix oats, flour, sucanat/sugar, oil, salt, cinnamon (I rinsed out my mixing bowl and reused it for the topping – one less dish = easier clean up!). Pour topping over berries.
If you're using it, dab small pieces of butter over topping and sprinkle nuts over topping.
Bake for 20-25 minutes, until top is lightly browned and berry mixture just bubbles at the sides.
Enjoy!