My yard and garden surprise me every day! It seems like there is always something new going on.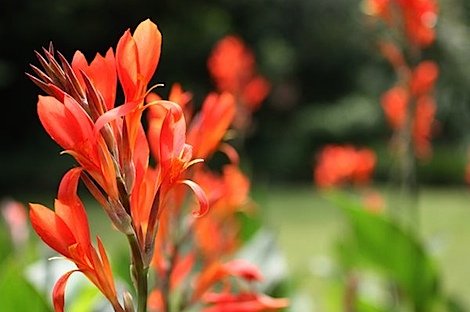 We have these tall leaf plants that started sprouting big, bright, beautiful red flowers!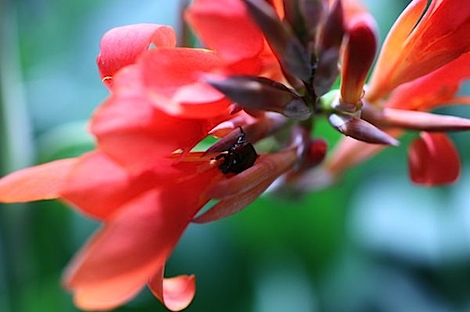 Check out the beetle on this one. Apparently the beetles really like this plant – I saw a few of them on there.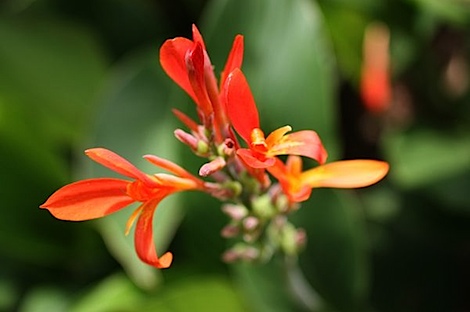 I feel so lucky the lady who lived here before us liked plants because plants are expensive! It would cost us a small fortune to add all the plants that were already here. I didn't appreciate that when we were house-hunting but I sure do now!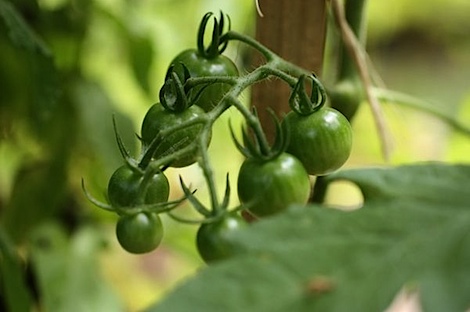 My cherry tomato plants are going crazy popping up lots of little green guys everywhere.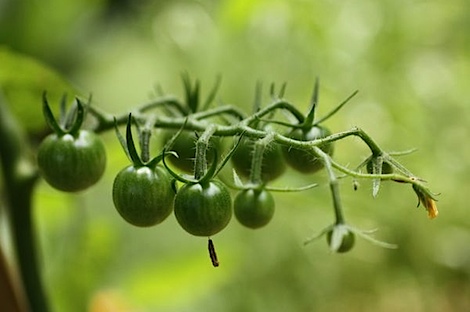 I think I could eat all the tomatoes my garden is currently growing in a week. I think I may need some more square foot gardens next year.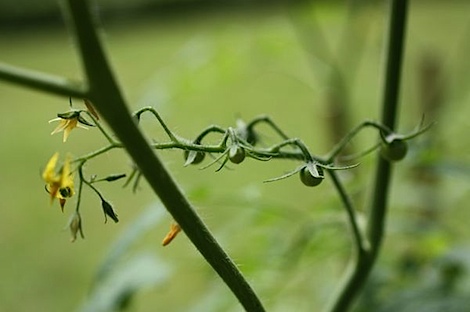 Baby and future tomatoes!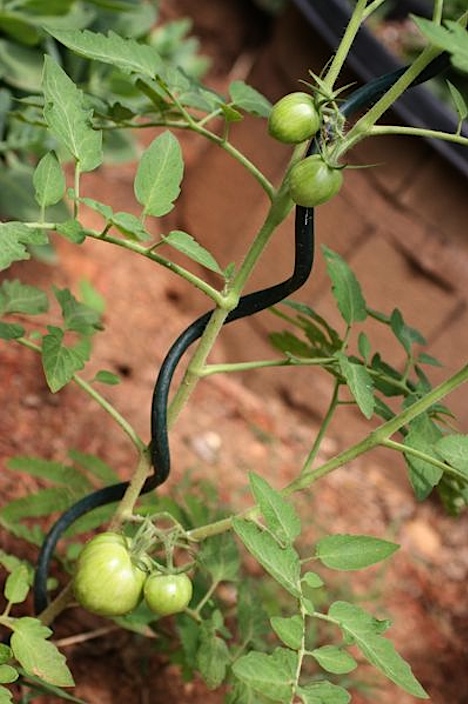 Baby green zebras.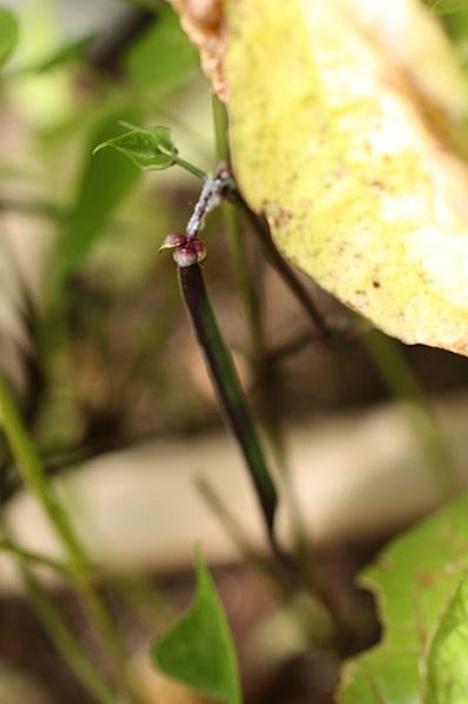 And I spotted something really cool over the last couple days…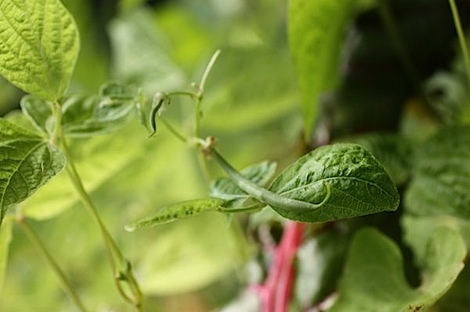 baby green beans! Look at that tiny one near the top!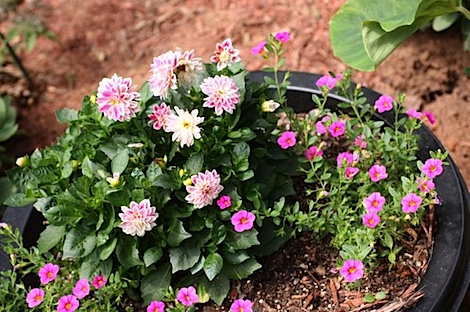 And I'm so glad my dahlia plant is looking nice and happy. At least I think blooms = happy plant. I love these little pink guys beside the dahlias.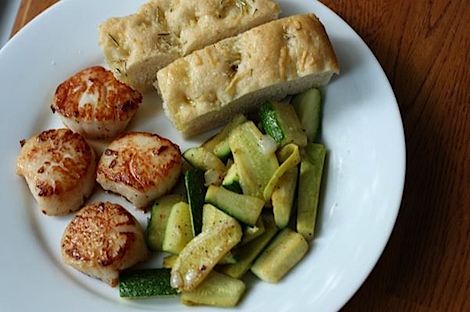 I whipped up some pan-seared scallops for dinner.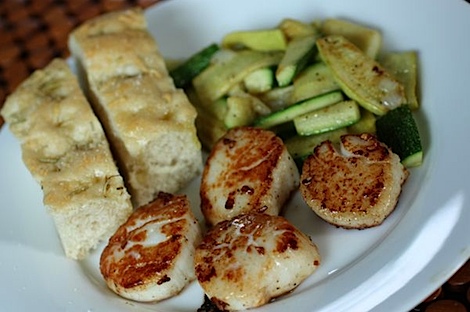 On the side – sauteed squash, local zucchini and onion, plus some of the rosemary asiago foccacia purchased at the farmers market earlier. I had a 60% (guestimate) local plate!
I'm still new to cooking scallops so I haven't really figured out the best way to cook them. I found a fabulous Ellie recipe for grilled scallops online, but tonight I went simple – seasoned with salt and pepper, topped with a squeeze of fresh lemon juice at the end of cooking. Sadly, they were a little gritty?? Not sure what that means but I heard it could be the fish monger and I should try to get diver scallops? What are your scallop cooking tips/tricks?
The squash was tender and lovely. I almost could have stopped cooking them early – I like them a little crisp tender.
The foccacia was really tasty. I re-heated it in the oven for a fresh-baked taste, then drizzled it lightly with EVOO and added a sprinkling of salt. Is anything better than fresh-baked bread!?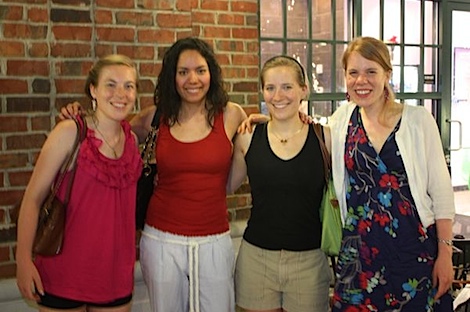 I met up with friends from earlier for dessert at TCBY – Caroline, Moi, Kath, + Sarah (plus Karen and Matt, not pictured)
I was a little late joining the group because Google Maps totally failed me. It said the froyo place was really close to my house so I didn't allot enough time for commute. Oops!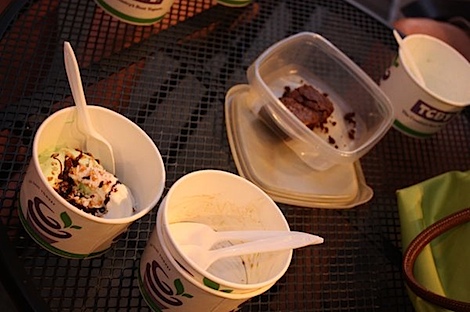 For my froyo I got pistachio and white chocolate mousse. On top – nuts, coconut, and chocolate syrup.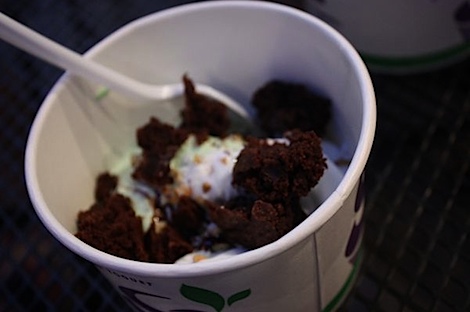 The star of the evening was the brownie Kath gave me to top my froyo – so yum!
We enjoyed some fresh air outside. The night was so hot, my frozen yogurt didn't stay frozen long. A lot of it melted before I could finish it, but I still slurped it up. I definitely think I like Yoforia better (more flavors and better toppings), but I did really enjoy something Yoforia doesn't have – the pistachio flavor! Plus, dessert with friends is always an awesome time.
I leave you with a fun video:
I saw this on TV today and it was too cool! I hope they get their own Vegas show! Good luck Fighting Gravity!