I was hoping to get into work early this morning, but alas…it didn't happen.
When it comes to mornings, I typically am very pressed for time. I never seem to wake up as early as I'd like and I always end up rushing around. I used to skip breakfast completely, then I started eating at my desk (meal bars and instant oatmeal) and then I graduated to cooking breakfast at home and eating it there.
Today I decided to take breakfast with me.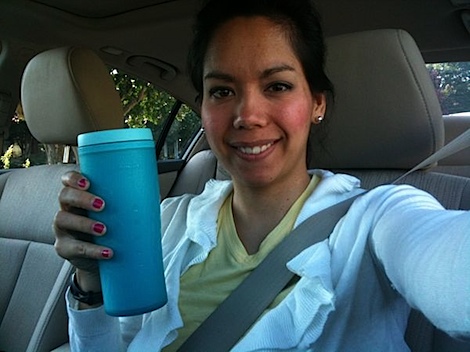 Coffee to-go in my Tupperware thermos. Not as good as sipped slowly while I catch up on emails on my iMac, but not too shabby either.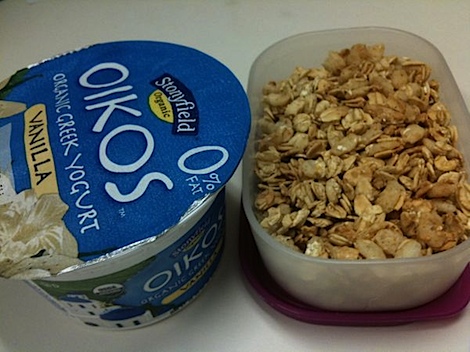 My no-cook, pack and go breakfast was a Stonyfield Oikos vanilla yogurt (*) and Galaxy Granola in Not Sweet Vanilla (*). (btw, you can get Galaxy Granola either 20% off or with free shipping through July with these coupons: july20pct or julyfreeship in my OpenSky shop. Click here for details.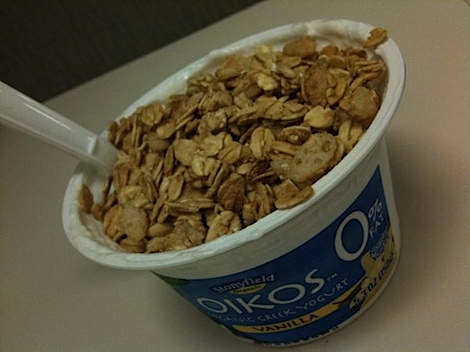 My quick yogurt parfait made for a delicious breakfast and met my usual requirements: protein + whole grains. I like to add fruit when possible, but decided just to bring a banana for later. Anywho, the parfait totally kept me full till lunch. Nom!
What's your favorite grab and go breakfast?