It was humid and rainy here, so I thought the weather called for cozy food.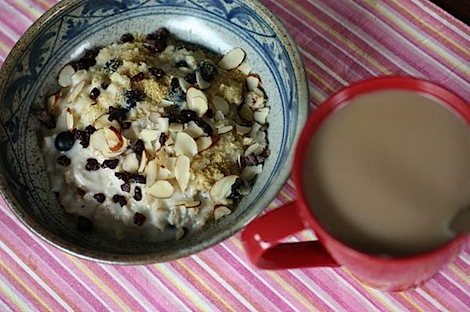 First up – OATMEAL! Plus nice, hot coffee, of course.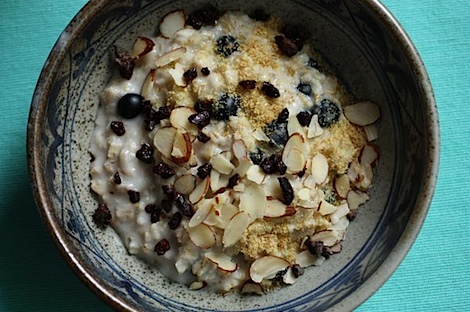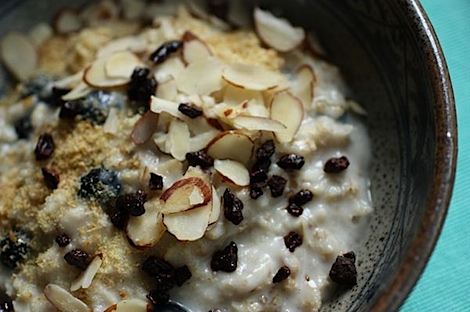 Pre-cooking:
1/3 cup coconut milk
1/3 cup water
1/3 cup rolled oats
1 tsp chia seeds
Cook stove top till thickened.
Post-cooking:
handful of blueberries, stirred in at end
flaxseed on top
sliced almonds on top
cacao nibs on top (so glad to have these back in the rotation!)
Remember you can get cacao nibs (or anything else in my OpenSky shop) either 20% off or with free shipping with these codes (july20pct or julyfreeship) in my OpenSky shop. Click here for details.
Lunch was sort of random.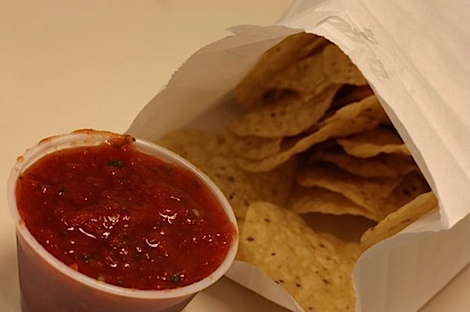 Chips and salsa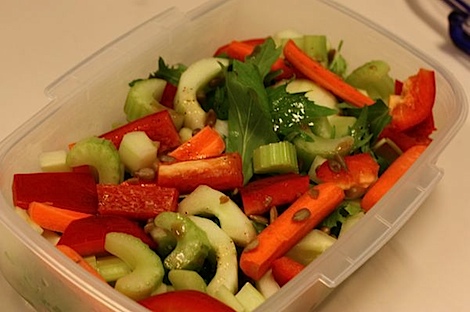 Giant salad:
baby spinach/lettuce mix
organic celery
organic red bell pepper
organic baby carrots
farmers market cucumber
sunflower seeds
TJ's balsamic
I got stuck in meetings and didn't get to the rest of my lunch till 4pm. Luckily (or not so luckily), I had a 5-6pm meeting. So, I used my snack tide me over till dinner.
My snack was related to a recent package I got – Barney Butter!!!! Yes! Barney Butter sent me some individual packages of almond butter for me to enjoy! Woohoo! 🙂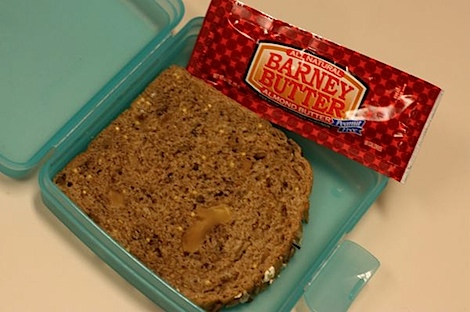 Yep…Barney Butter + Whole Grain Goodness = fabulous-o snack!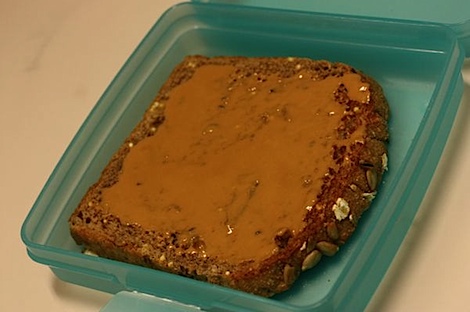 I toasted the bread and spread the BB on top. Love the way the heat makes it nice and gooey.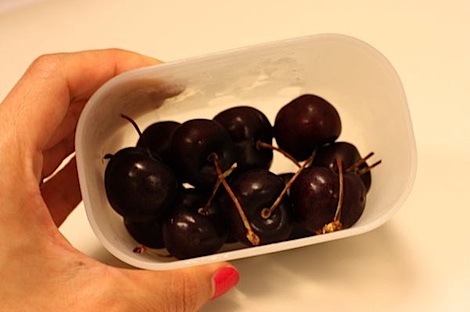 And for a little something sweet – organic cherries!
***
No workouts for me today. I worked out Sunday, twice on Monday and taught zumba on Tuesday. I think it's time for a rest day. 🙂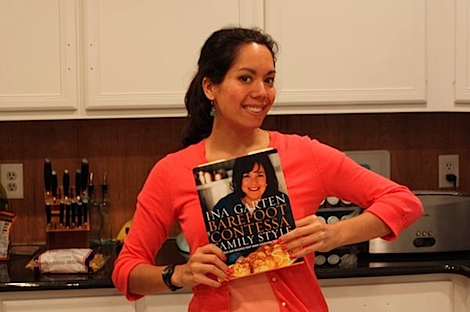 Like I mentioned before, I'm still working on cooking more recipes from my cook books, starting with the 3 Ina Garten cookbooks my mom got me recently.
Since declaring my desire to try some of Ina's recipes, I've already made one recipe – Ina's Strawberry Country Cake – a real winner!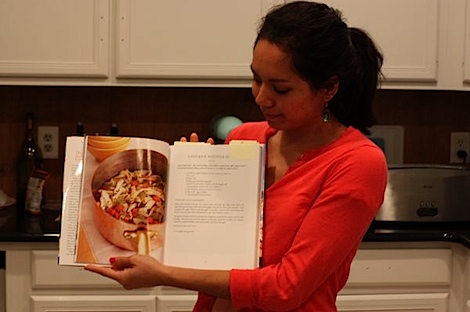 One of the recipes I selected was Ina Garten's chicken noodle soup.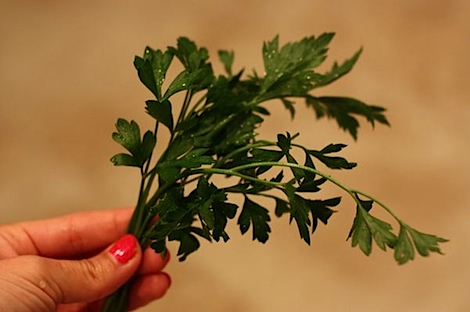 I used parsley from my garden in my soup.
And to save time, I roasted extra chicken breasts when I made dinner last night and used the leftover chicken to make tonight's soup!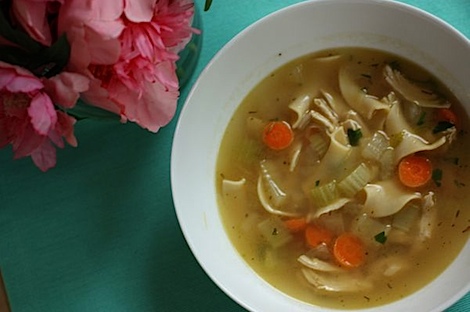 I adapted Ina's recipe because I like sauteing my veggies and I wanted to add onion.
Chicken Noodle Soup
Adapted from Ina Garten's recipe from her book Barefoot Contessa Family Style
Ingredients:
1 whole (2 split) chicken breast, bone in, skin on
Extra virgin olive oil (EVOO)
Kosher salt
Freshly ground black pepper
dash garlic powder
dash dried rosemary
2 quarts Chicken Stock
1 tbsp EVOO
1/2 large onion chopped
1 cup medium-diced celery (2 stalks)
1 cup medium-diced carrots (7-9 baby carrots)
2 cups wide egg noodles
1/4 cup chopped fresh parsley
Directions:
Preheat the oven to 350 degrees. Place chicken breasts on a parchment paper lined baking sheet. Drizzle chicken with EVOO and rub into skin. Top chicken lightly with dashes of salt, pepper, garlic powder and rosemary. Roast 35-40 minutes (you may need to cook longer if the chicken breasts are really big). Set aside to cool. Note: You can also cook the chicken the night before like I did this week – cook extra for dinner one night and more for the soup – use the leftover meat for the soup.
When the chicken is cool enough to touch, remove meat from bones and skin and pull into smaller pieces. Set aside.
Heat a medium pot over medium heat. Add onion, celery and carrots and cook till onions translucent – about 3-5 minutes.
Add chicken stock and bring to a boil.
Add egg noodles and reduce to simmer. Simmer for 9-10 minutes or until pasta cooked al dente.
Add chicken and parsley and cook to warm through.
Serve with crusty bread.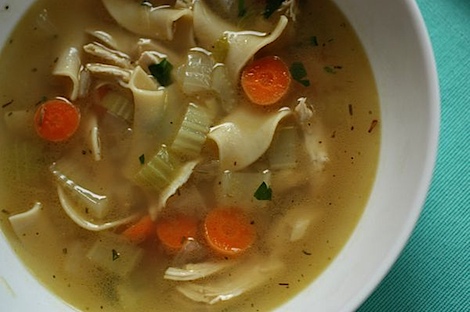 Very easy and tasty!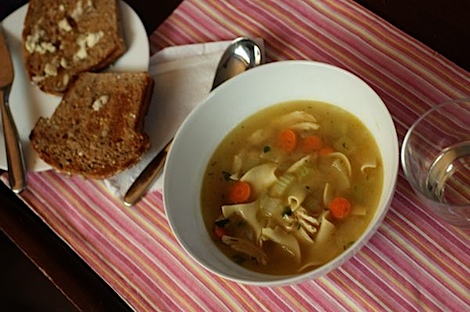 Hubby and I enjoyed our soup with Great Harvest Whole Grain Goodness toast and a dab of real butter (his had a lil extra butter).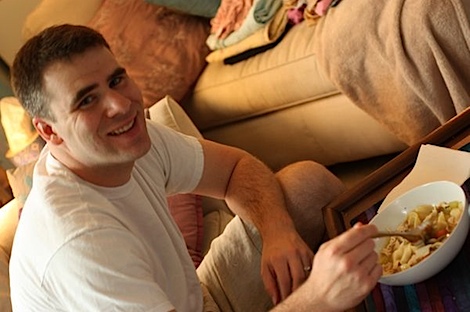 Hubby got his hair did today.
And dessert – hubby picked up 3 mini cinnamon rolls from GH when he was getting bread. They aren't nearly as good as one large cinnamon roll, which is what he was going to get me until the 2 ladies in front of him ordered the very last 2! Bah! I'm not mad – 3 cinnamon rolls in mini size are way better than none. And they're pretty darn tasty on their own, too – just not as tender.
***
Remember I scored you guys some deals on my OpenSky shop (20% off Galaxy Granola anyone? What about cacao nibs?) – click for details
And check out my latest recipe – marinated kale! Nommm
Do you like to eat anything in particular when it rains? I always seem to think comfort food – oatmeal, soup, casseroles, cobblers…you?