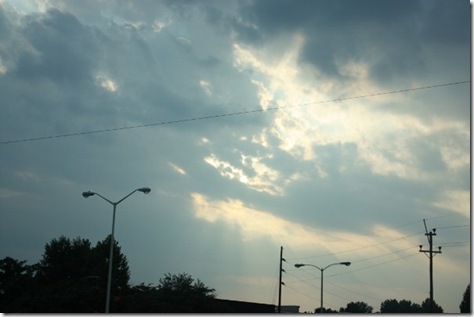 Yesterday was absolutely gorgey!
After some work on the computer for some upcoming bloggie projects that have been in-the-works far too long, hubby and I headed out to meet some friends for dinner at Yia Yia's.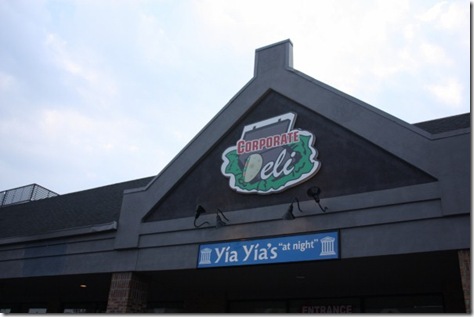 No, we didn't go to someone's grandmother's house…we went to Yia Yia's "at night" – a dinner version of the Corporate Deli.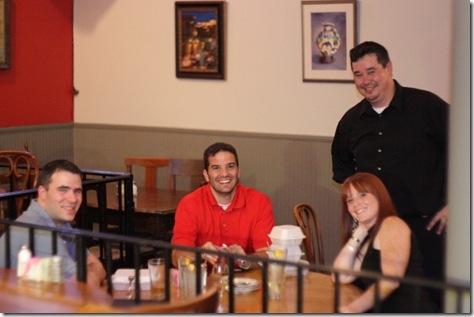 Hubby and I met our friend Beth + Peter there.
Also pictured is our waiter John – a really funny guy if you happen to eat here. He'll take good care of you and is great at helping you make the perfect dining selections.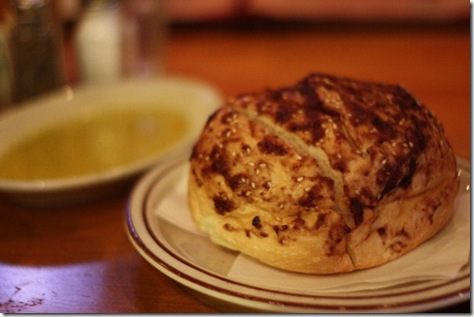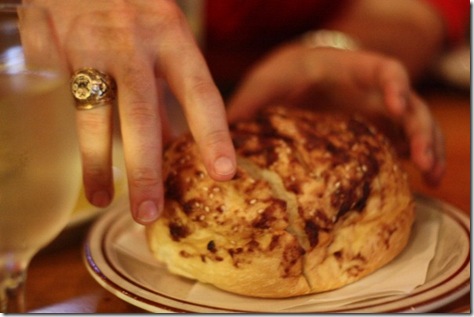 We started with some really yummy bread with olive oil dipping sauce. The bread was nice and crunchy on the outside but uber tender on the inside. The topping was (we were guessing) olive-based.
I started with a glass of the house pinot grigio and a couple pieces of that yummy bread.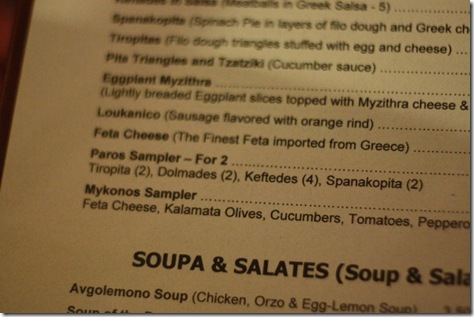 Hubby and I got an appetizer combo to share so we could sample a lot of flavors: the Paros Sampler for 2: Tiropita, Dolmades, Keftedes, and Spanakopita.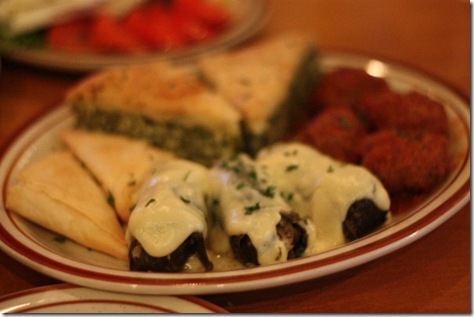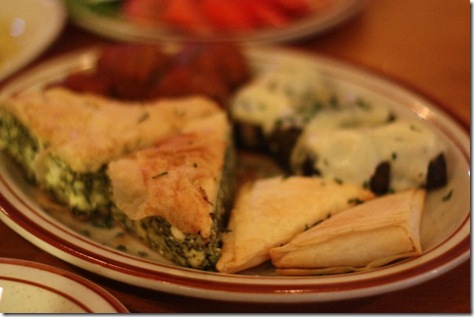 I had half a spanakopita, one whole cheese triangle, one dolmades and a meatball. Very  yum!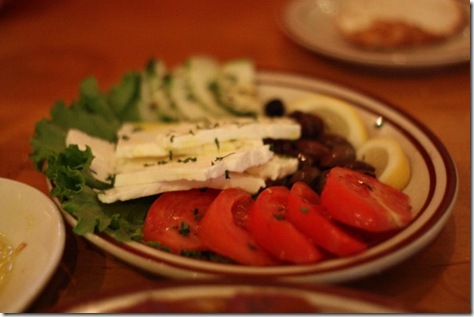 Peter and Beth went for a healthier starter with tomatoes, olives, cucumbers and the creamiest feta I've ever had!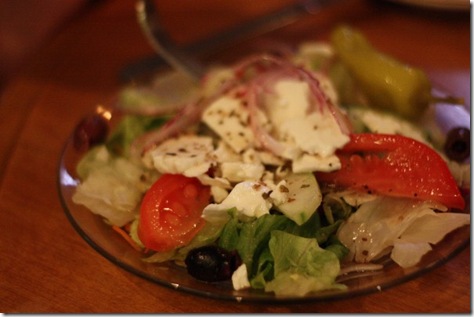 Hubby and I got our veggie fix with a Greek salad with more of that delish feta.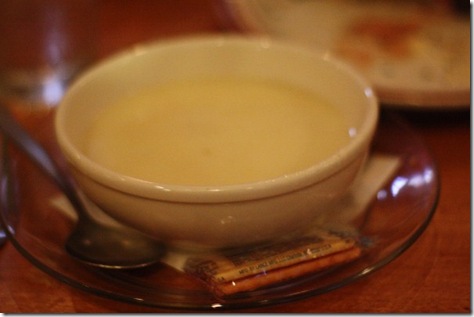 Plus we tried a cup of the soup of the day – orzo, chicken, and lemon juice. The soup had great flavor.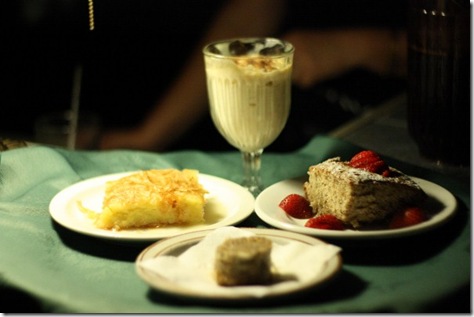 Beth and I sneaked up to the bar area mid meal to check out the dessert tray. 🙂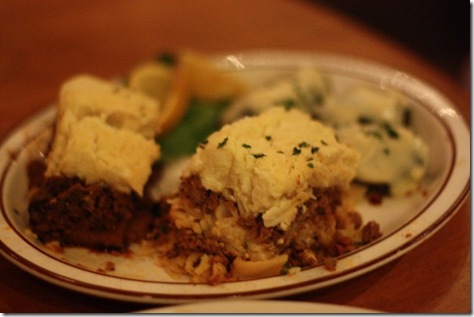 And then it was time for the main event. Beth got a combo platter with pastichio, mousakka, and dolmades….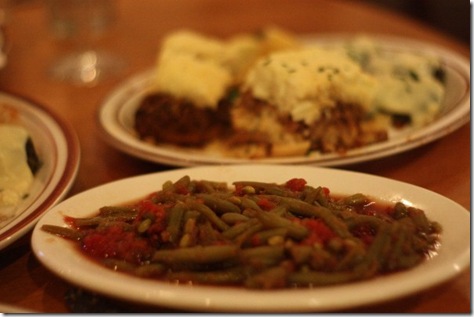 …along with some green beans cooked in tomatoes.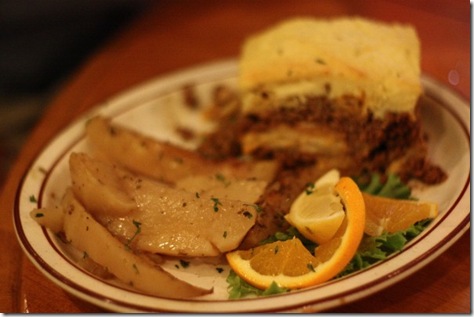 Hubby and I were going to get some shrimp dish but John talked us into the pastichio, which is like a Greek lasagna. We ordered that with a side of Greek potatoes. I kind of wanted some more veg, but couldn't resist Greek potatoes – I'm a big fan.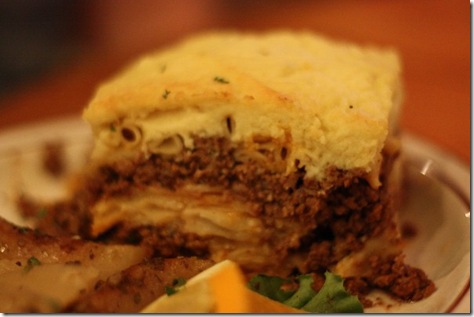 The pastichio was like a cozy comfort food dinner – nothing like a hot casserole.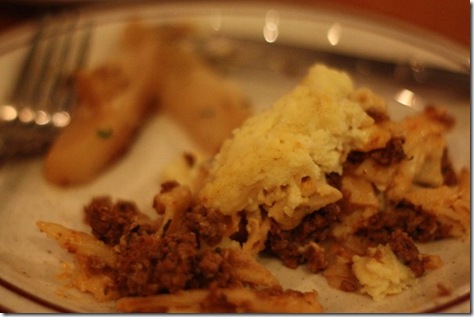 I portioned off a small bit along with a couple pieces of potatoes because I wanted to save room for dessert!
Beth and I split some rice pudding and…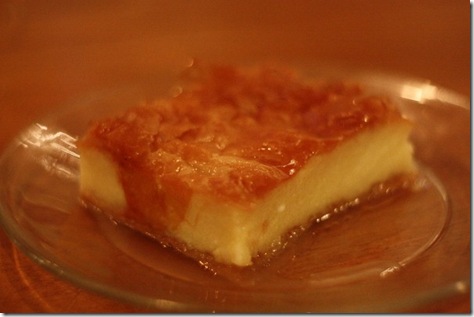 …some Galactic Booty Call.
No, that's not the real name…it's just what Beth and friends (and now hubby and I) call this dessert because they can't remember or pronounce the real name. 😆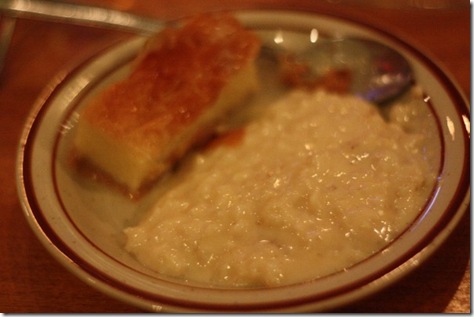 I was a happy girl to have enjoyed such fabulous eats, ending on such a sweet note!
I so enjoy finding little local spots like Yia Yia's. Peter said the food was really authentic and was like a Greek family spot. Love that! Not to mention we got to see our friends whom we haven't seen in foooorever!
Karaoke next time guys…promise!
Do you have any funny nicknames for food? What are they and where did the name come from?