One of the perks of our impromptu trip to VA was a stop by the Roanoke farmer's market for the Zumbathon for Breast Cancer, where I was told there would be local produce, yummy eats, and The Healthy Cake Man.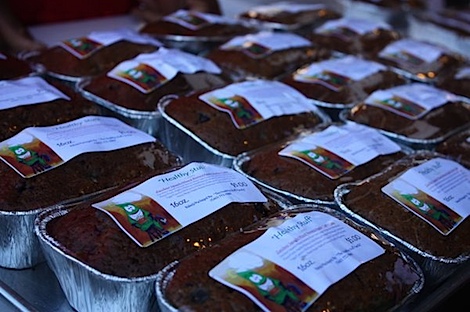 As someone who likes to healthify desserts myself, I was intrigued by said Healthy Cake Man.
The market was busy when we got there with lots of shoppers, vendors and a live band. We headed straight for food first. We had worked up some serious appetites!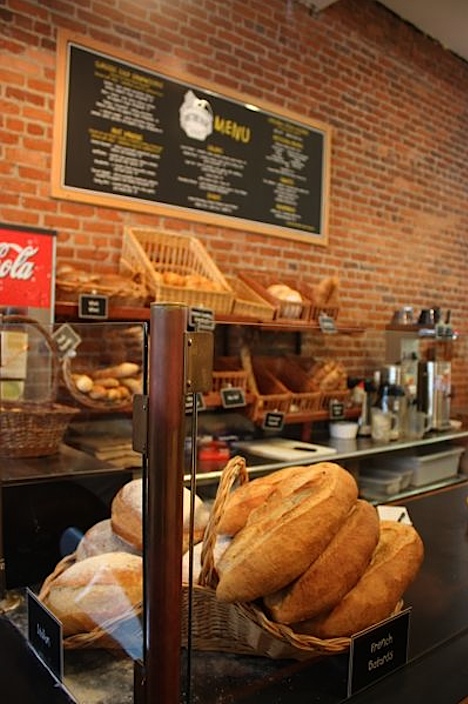 We stopped at one of Sara's fave spots in town (forgot the name!).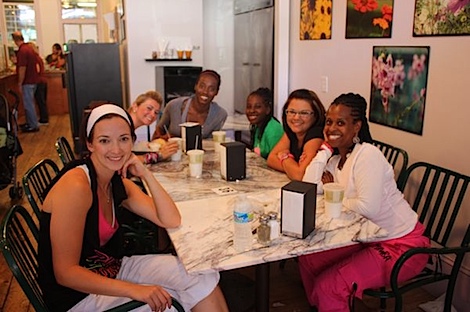 Group shot!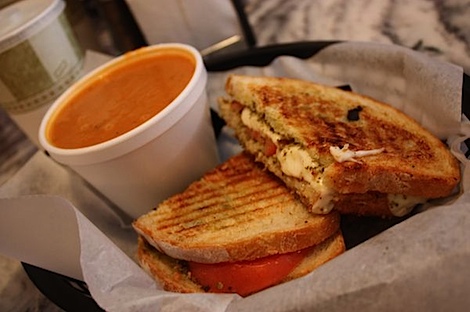 I got the Margherita panini with carrot ginger soup. It was all very tasty and fresh!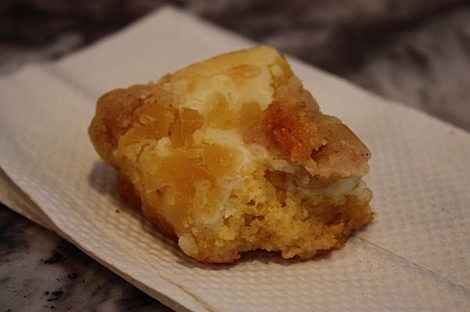 And Erica even let me sample her pineapple cream cheese bar, which was really buttery and delish.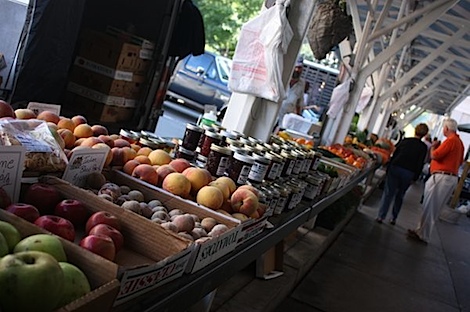 After lunch, we wandered around the market a bit.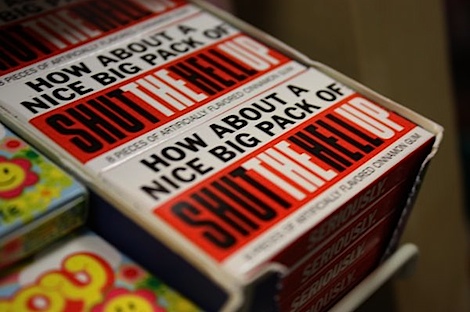 We stopped in a couple boutiques, too, where I found interesting stuff like this gum. 😆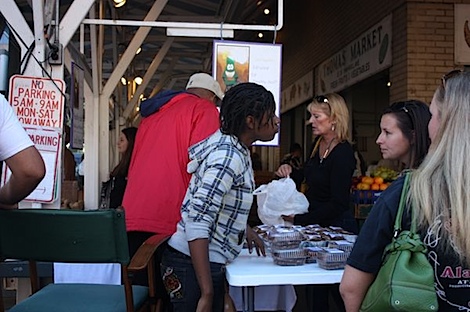 But our favorite stop of the market was at the "Healthy Stuff" table where we found the Healthy Cake Man himself! My friends had been raving about him for the last 24 hours, so I was really excited to visit his table in person.
I sampled a piece of cake with frosting and some of this navy-bean-chocolate-brownie type thing with ganache. Everything was, as my friends said (they know me so well!), delicious…and yes, healthy. My favorite part of the healthy desserts was probably the use of real ingredients – real butter, etc. Yessss!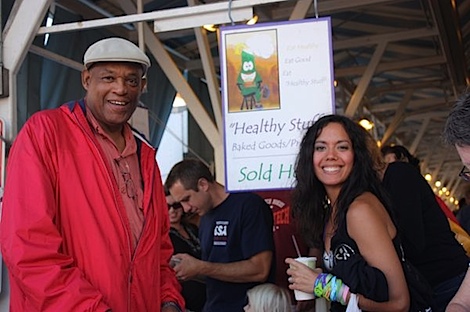 It also turns out the Healthy Cake Man is quite nice. So, if you're looking for yummy stuff to eat, please be sure to stop by his booth – he'll let you sample some of his tasty baked goods, which you're sure to love.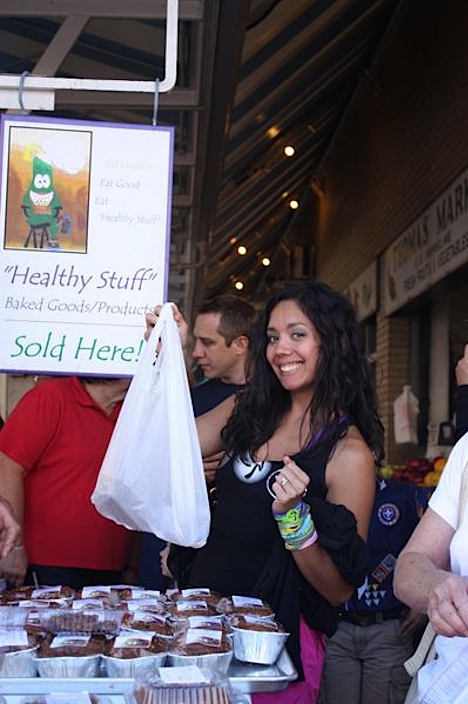 Happy to be coming home with some goodies.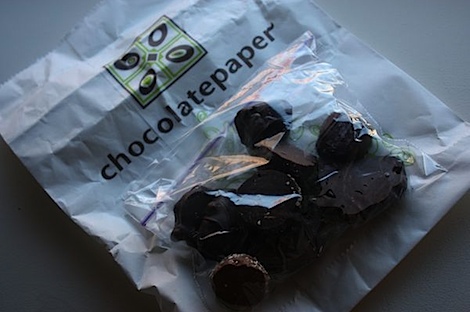 I bought some chocolate for me and hubby from chocolatepaper…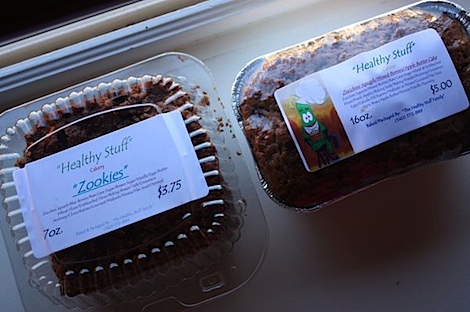 …plus some Zookies (cookies made with zucchini and other healthy stuffs) and Healhty Stuff bread (from the Healthy Cake Man)…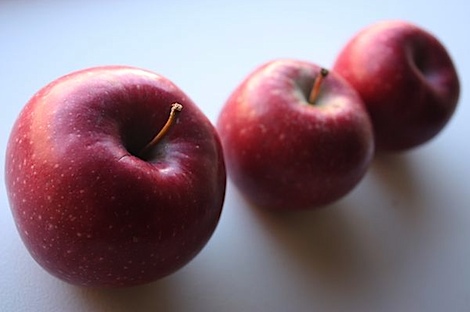 …and some local apples.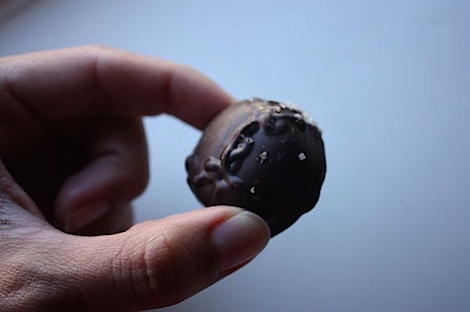 I had to dig into the salted dark chocolate caramel immediately, though and boy was it fantastic!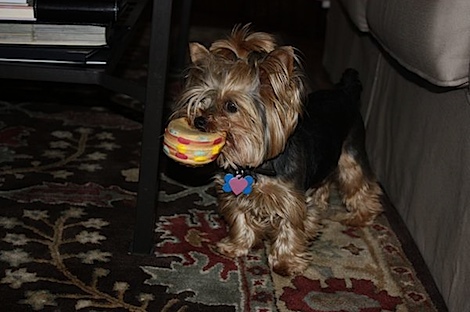 Then it was time to relax and unwind and spend some QT with Soph-Dog…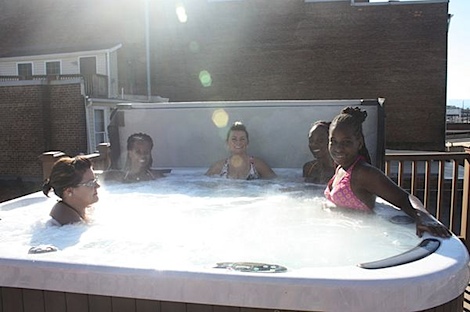 …and the hot tub. Oh yea!
After 2 hours of zumba, we definitely deserved this! 🙂
Who's your favorite vendor at your local farmer's market?