After our trip to the farmer's market, it was time to get gussied up for dinner! The 7 of us managed to all get ready early with only 1 bathroom…score!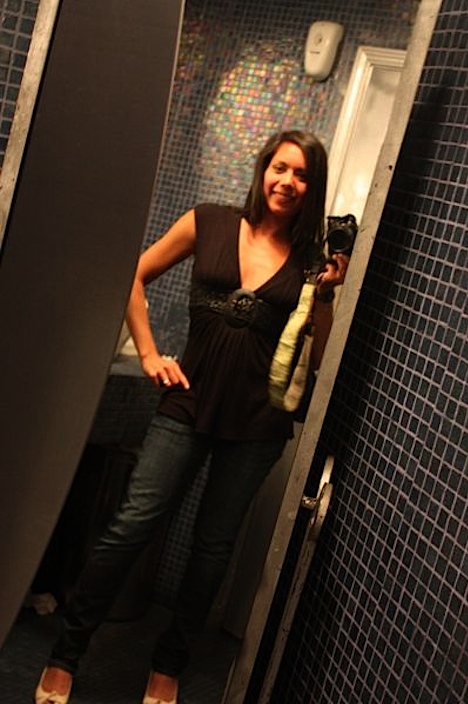 Thanks to my friends, I ended up actually dressing up and feeling fabulous for the first time in awhile. I used to love to get dressed up and put pretty clothes on, but I've gotten pretty lazy as of late. Anywho, Sara let me shop her closet and wear this gorgeous Sky top (which I'm currently trying to find online because I desperately want one, too now).
But, back to getting ready…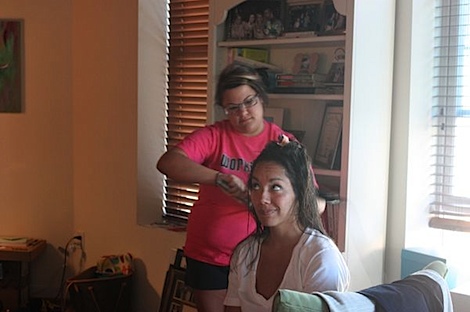 …we had quite the group effort going on tonight. Bethanie, hair diva extraordinaire, did my hair…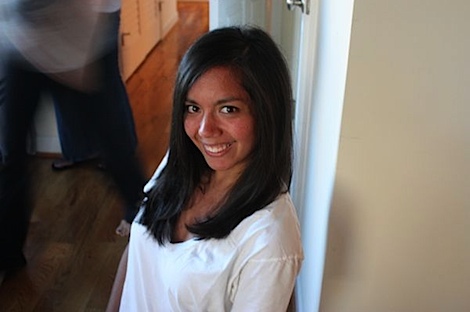 …which ended up looking awesome! Thanks Bethanie!
And Erica did my make-up, which I seriously adored. I'm currently trying to collect some of the products she used because I loved it so much.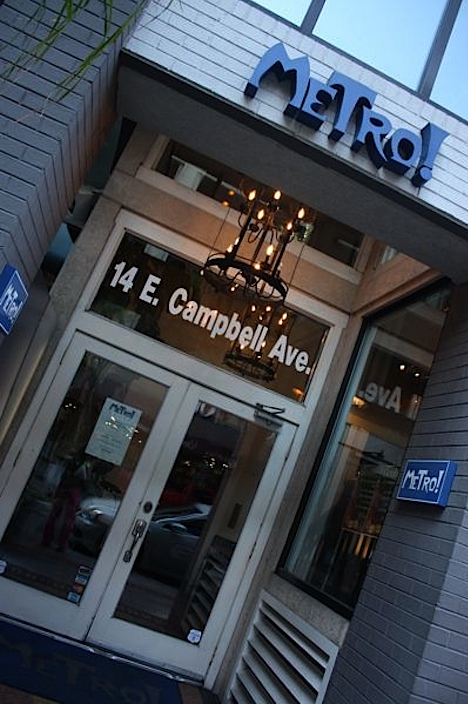 We hit the town for dinner and went to Metro! where my friends said I would LOVE the food. Just like before, they were right again.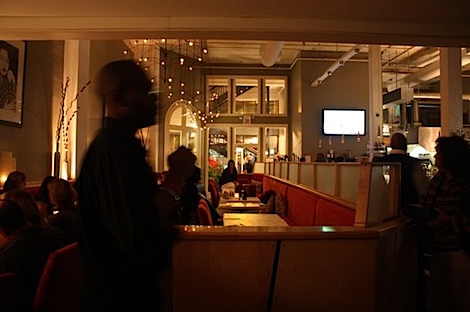 The interior was really fresh and upbeat.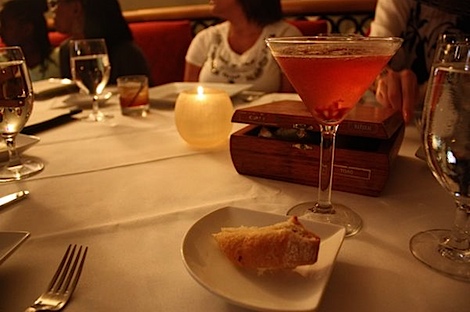 Erica and I got matching Pama Bottoms…or something like that. They were basically pomegranate martinis…YUM! We wanted to order the Samuel L Jackson or the Goombay Smash, but only because we wanted to be able to say, "I'll have 3 Samuel L Jacksons" due to the limit of 3 per customer as listed on the menu. lol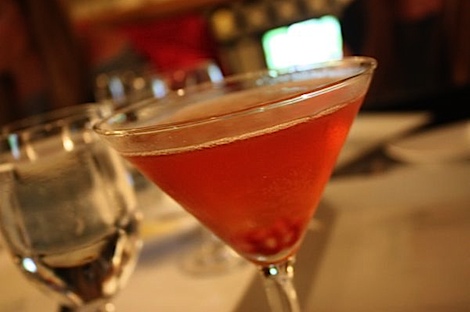 The pomegranate drinks were sooo good, though…we definitely got the right thing!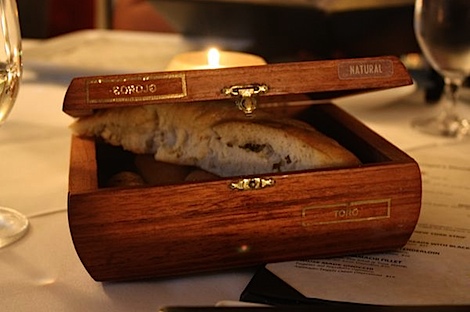 Loved the whole bread in a cigar box thing.
I ended up splitting a bunch of eats with Sara and Erica, which was really fun!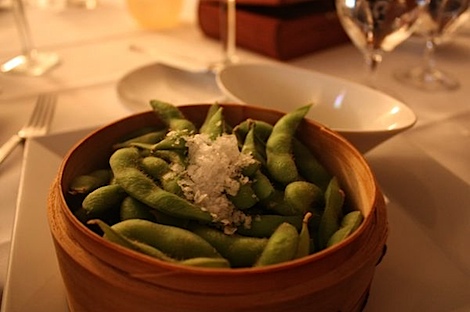 We started with some edamame with a squeeze of fresh lime juice, which was unexpected but really nice.
Then, we got the Japanese Iceburg Salad with a uber-yum miso-sesame dressing that I'd really like to re-create some time.
We got some sushi – the Metro Roll (crab, avocado, cucumber with soy wrapper and creamy spicy sauce)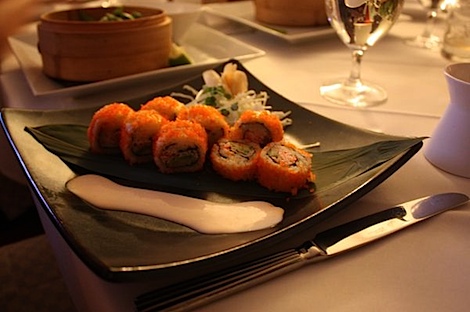 …and a California roll.
I was really surprised how much I liked the Mtetro Roll. The soy wrappers have always intimidated me because they look so different than the traditional seaweed wrapper, but they're really tender and much easier to bite into than the seaweed. I'll definitely be ordering soy wrapper sushi again. Anywho, as for the Metro Roll, the flavor combo was really nice!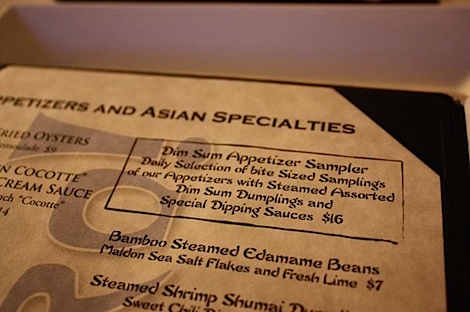 We also split a Dim Sum Appetizer Sampler (you guys know how much I LOVE dim sum!).
Check it out: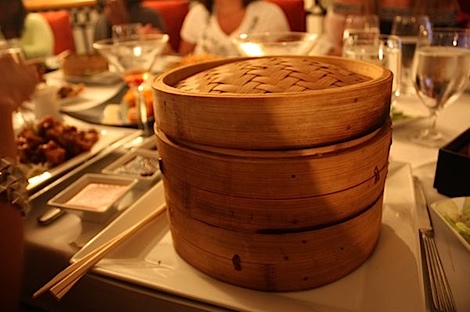 Nice presentation.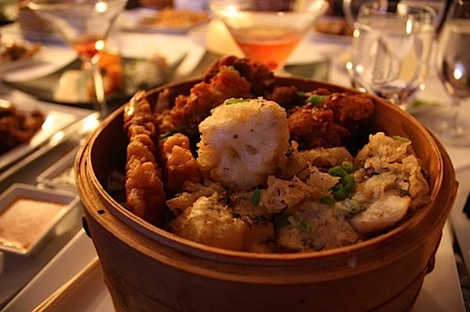 Top layer.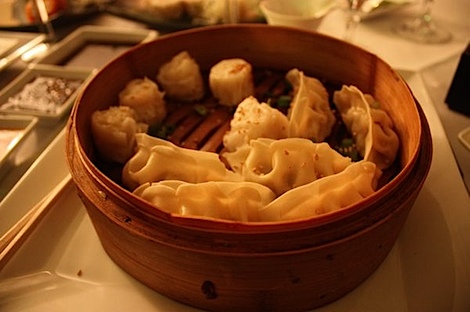 Bottom layer.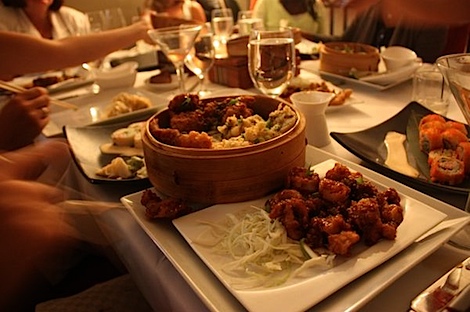 We had a lot to share between the 3 of us (including calamari!) and it was all so darn good! I loved every bite!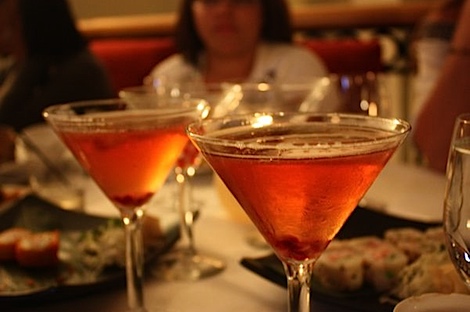 Round 2 pomegranate martinis.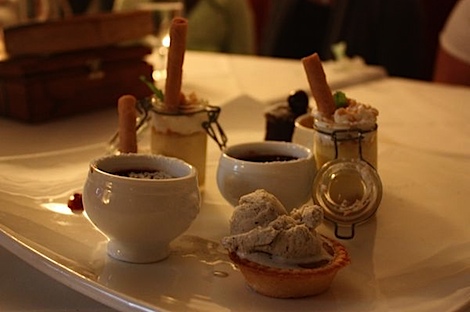 And check out the cutie-pa-tootie mini desserts. Sara ordered a sampling of different ones for the table to share…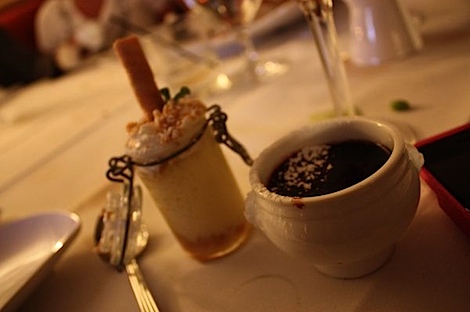 ….and I tried the peanut butter creme brulee and the chocolate custard-type dessert. They were both HEAVEN!
If you're in Roanoke, you're in luck to have such a fabulous restaurant. I would totally go here all the time if I were a local. Good choice Sara!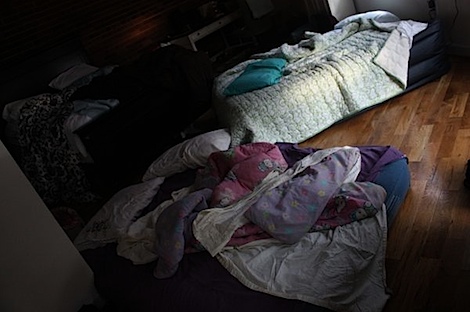 My friends and I were all pretty tired from the early trip, the 2 hours of zumba and the delicious dinner, so we all headed back to Sara's to crash, slumber-party-style. Holla! 🙂
What's the biggest slumber party you ever had?