I've been there. You're so hungry you can't think straight, but you're stuck at your desk. Either you don't have any break time left or your schedule is so jam-packed you literally cannot sneak away from your desk for even five minutes to grab something nearby. Not to mention if you're working at an office where the nearest snack is a 30 minute there-and-back-drive. Forget about it.
You try to tell your growling stomach to keep quiet, but it wants food and it wants it now. Sure, you could get some crap food at the vending machine, but who wants to eat that? Not to mention, there's little in a vending machine that will a. be good for you, b. give you energy, or c. satisfy your hunger / keep you full. (More on this some other time)
If you're like me, you don't like to be hungry. So what do busy people do when they don't want to run into situations where they have to go hungry? They stay prepared.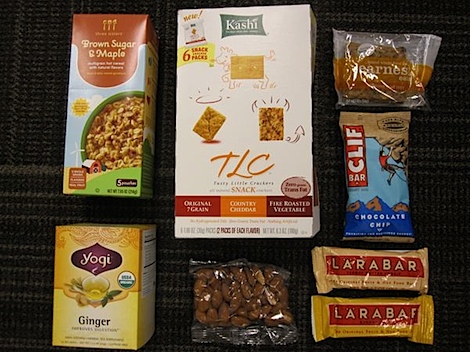 The best way to combat office hunger is to keep a stash of your favorite snacks at your desk. There are plenty of good non-perishable options, many of which will last quite some time in your desk drawer waiting for that moment you need it.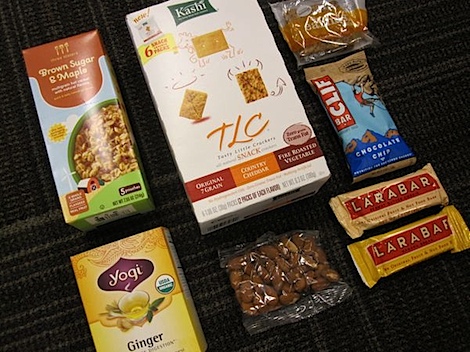 Here are my suggestions for heathy snacks to keep at your desk or cubicle:
Snack bars – they usually have extremely long shelf lifes and come in a variety of flavors and types – full of vitamins, full of protein, full of whatever you want. I like to keep bars in a variety of sizes so I can use whichever best fits my hunger level. Bars are great, too, because unlike dried fruit and nuts that go bad relatively quickly, bars typically last for quite awhile. There are tons and tons of brands of bars out there, so just pick up a couple and experiment. I like to look for bars with short ingredient lists (yay clean food!) or vitamins-added (yay energy!).
My favorite snack bars:
***
Nuts – they make for a great source of protein, which will help you stay full and will give you longer-lasting energy. I also like that they're a non-sweet snack since most snacks seem to be on the sweeter side.
Nut tips:
My fave snacking nuts are: almonds, cashews, Brazilian, and nut-mixes.
You can purchase them in individual portions at Trader Joe's for convenience and so they last longer.
***
Crackers – they make for a great carb snack. Now listen, I'm not a no-carb or even low-carb type of person. I love carbs! If you're on a no/low carb diet, this snack won't work for you. If you're like me and you like carbs, I recommend choosing the ones that provide whole grain servings.
Cracker tips:
Crackers can also help fill out a meal if, for example, you bring a small sandwich or soup to work and need a little something else to fill out the meal.
I really like the Kashi TCL crackers (the Honey Sesame…yum!) for the ingredients and flavor options.
I like to store my crackers in air tight containers or even better, purchase them in individual packets.
If you want a bigger snack, consider a cracker topping, like cheese, which you can keep in the office refrigerator. (More on perishable snacks another time)
***
Oatmeal – this item will serve double-duty for you – breakfast for days you skip it or miss it at home or a comforting snack. Oatmeal is a healthful whole grain. You can purchase individual packets that you only have to add hot water to. I used to eat those all the time because they're so darn convenient. Now, if I have the option, I prefer the microwavable kind because they're less processed than the instant version.
My favorite oatmeals:
Quaker Oats and Kashi make great instant oatmeal options – the kind you just add hot water to.
For a not-quite-as-convenient but more healthful option, Three Sisters offers oatmeal with great ingredients like flaxseed.
I believe Trader Joe's also has some nice oatmeal options, but I haven't tried them. I typically like the foods at TJ's, though, so I'd probably like them.
***
Tea – Ok, it's not a "snack," but I do like to keep some of my favorite teas at my desk, and I usually store them with my office snacks. Most offices have water coolers with a hot water option, so you can just add the hot water to your tea bag and sweeten, if you'd like. Of course, the microwave is always an option to get your hands on hot water. Which reminds me…sometimes I keep honey in my desk because I find most offices only have sugar and fake-sweeteners.
My favorite teas:
What are your favorite office snacks?