I'm so thrilled that everyone liked my Work Chic article on the Best Healthy Snacks to Keep at the Office…or your desk…or your cubicle. I've been thinking a lot about the type of niche that The Chic Life has and one thing I've been ignoring (as far as content for TCL) is my knowledge related to work. From best practices at work (tips you can use on the job) to balancing a healthy life style with work, there are tons of tips and ideas that not only I can share with you guys, but fellow readers can share via comments. So, please be on the look out for more Work Chic posts…I'm hoping to do about one a week or as the inspiration strikes. If you have any questions related to work that you'd like me to cover, I would LOVE to hear about them! Please use my Contact form or email me at thechiclife at gmail dot com.
Also big thanks to everyone who has started using the new buttons I added so you guys can share TCL content with your friends and stuff. I've had my first Facebook-Like (yay!) and I'm so happy you guys are able to more easily share my content on twitter, etc. Click here to learn how you can share TCL with your peeps.
On to Thursday…
So I totally meant to post last night but this week has been kind of crazy, especially yesterday.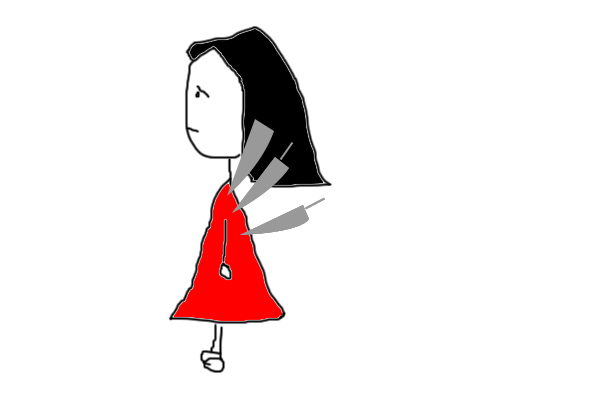 For the last week-ish, I've had the worst pain in my neck and shoulders. I actually got a really bad crick in my neck about 2 years ago when I twisted my head funny in a dance class and couldn't turn my head for a few days. Normal, right? Well, hypochondriac-me thought that surely I had somehow dis-lodged a disc in my spine and was one hair-flip away from needing serious surgery. It's been a fear at the back of my mind for the last couple years now, but I've always tried to ignore it and brush it off as me being too worried. As for the pain recently, I think the stress of work has been getting to me. Last week, my shoulder and neck muscles just tightened up so badly, I felt like I had knives in my back!
Well, I let the pain go on for the last week thinking it would sub-side. I don't like seeing doctors unless I absolutely have to, so I waited a long time before finally seeing one yesterday.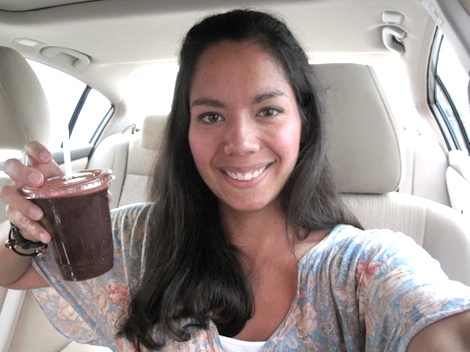 But first, I had a big veggie juice in the morning hoping that a nice dose of nutrients would help me out.
I got really flustered on the way to the office because when I showed up where I thought the office was (because I'd seen this doctor before) I realized the entire office had moved! So I drove over to where the new office was but there are seriously like a million other offices in the same place. I got so confused. I parked in the wrong parking deck, walked out of the deck and started to realize…hey, I'm in the wrong place. So, I found someone in a car with an official-looking logo on the side and asked where the office I was going to was located. Turns out it was a block or so away and across a busy street. At that time I was supposed to be AT my appointment. Doh! I'm usually early for appointments, so this got me more flustered…not to mention the chance of missing my appointment! I called the office to tell them I was lost and running late (and I'm usually so good at directions! grr) and they said the doctor could still see me. So, I walked back into the parking deck and around to my car, drove down to the correct office, parked, signed in, and got to twittering in the waiting room. Ten minutes later, the woman doing the check-ins informed me I went to the wrong office (gah!) and that I was supposed to be upstairs on another floor. I was starting to panic a little at this point. What if I missed my appointment? Crapola! The nice lady upstairs must have sensed my high stress levels because she was very calm and friendly. Lucky me, the ladies downstairs called my nurse upstairs so they knew I was even more late, so at least she knew what happened instead of wondering why I was so darn behind.
Finally, I get to see the nurse who wanted to take x-rays. X-rays?! But I wondered…what if I find out terrible news that something is major-ly wrong with my spine? What if I really did hurt myself a couple years ago?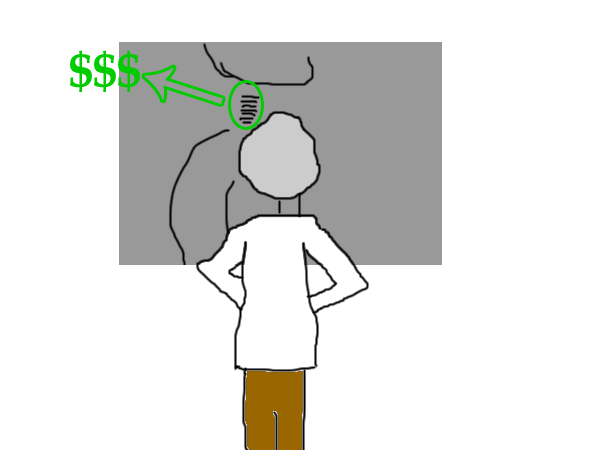 What if that old sports injury would cause something like…some ridiculously priced surgery that my insurance wouldn't cover or I couldn't afford? Or worse…what if something is so wrong that I may have some sort of damage that may soon render me unable to workout? GAH! My paranoia was telling me to not get the x-ray, but my logical side said I should. After all, some things can only be treated if caught early enough, right? Better safe than sorry.
So…I got the x-ray.
Aaaaannnddd….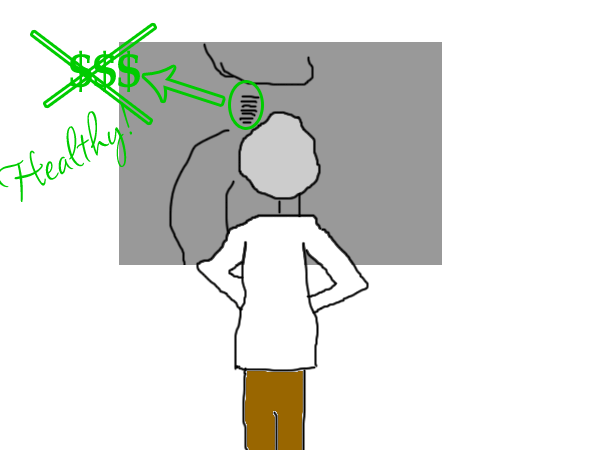 The verdict – everything was healthy!
Yay! No secret seriously issues. No expensive surgeries! Hazzah!
Turns out I'm having inflammation and muscle spasms in my shoulders. Very painful…especially when I'm trying to sleep, but nothing major. I'm so, SO thankful!
My doctor prescribed some medicine, but I'm also considering trying out some alternative solutions. My friend is a masseuse who apparently specializes in therapeutic massage. Not to mention, there's always the possibility of acupuncture! Guess I need to research my options.
So far I'm thinking massage > acupuncture > pills
I mean…an excuse for a massage would be fantastic!
So after my frenzied afternoon, I still had to teach Zumba. Yikes! Luckily, other instructors were there to help (thanks Ang & Chauna!). And as for the tutu in the photos? We're getting everyone to dress in costumes for classes Thursday-Sunday to get in the Halloween spirit, so I figured I should be festive. I taught class as a delinquent ballerina. lol I really just wanted to wear my friend Erica's tutu. 😀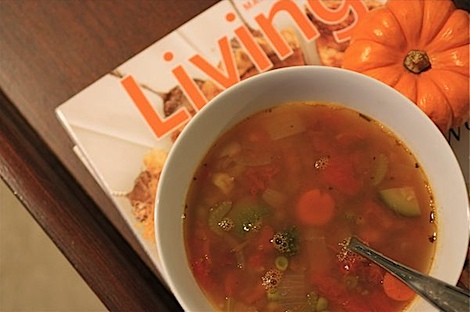 And post class I came home for a comforting bowl of veggie-3-bean soup (re-heated from a batch I froze awhile back). Ahhh.
Have you tried acupuncture? What did you think? Did you like it?