I was never a big fan of Barbies. When I was a little girl, you didn't find me dreaming about my wedding or playing dollhouse. I remember when I used to play pretend, I would be the owner of my very own restaurant, creating various specials of the day and entertaining my customers with delicious eats. My friends knew how much I wanted my own restaurant one day so much that one of them got me one of those little receipt holders for my birthday one year when I was about 10. You know, those sharp, tall pole-like things that you stab receipts onto once they have been entered into the register. Yea…not a doll. Get me something restaurant-themed instead. lol
I remember days spent watching Martin Yan on TV before Food Network became what it is today. Oh yes…Yan Can Cook. And so can you. I was so fascinated by his super-fast chopping skills with the giant cleaver, and I used to try to make stir fries just like him. I also experimented with some of my mom's favorite cookbooks, and apparently, I wrote my own recipes.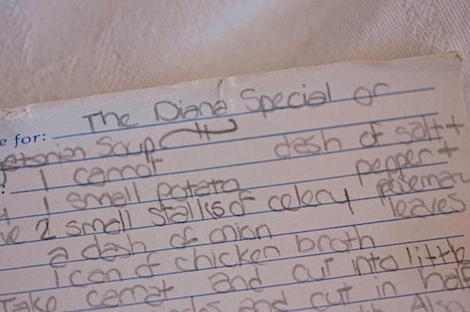 I found this recipe for "The Diana Special" or "Vegetarian Soup" when I was looking for recipes from my grandmother in an old recipe box. There was no year on this, but I think I wrote it when I was around 10 or 12 years old.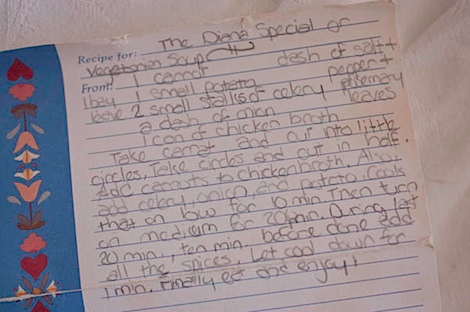 Yep…that's my handwriting. I guess I've always had a thing for writing recipes. 😉
And I guess I've always liked ending my recipes with "Enjoy!" lol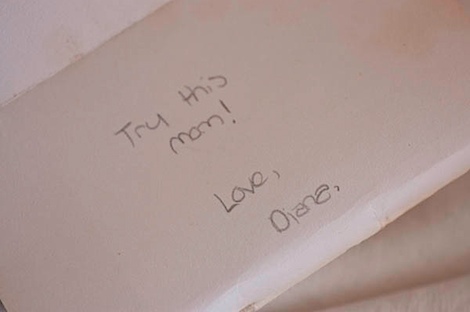 I especially like the long-winded description of how to cut the carrot and how I put notes for my mom to try this recipe. 🙂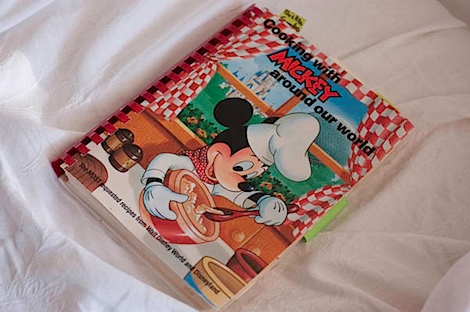 This is the first cook book I can remember really using – Cooking with Mickey around our world. I think I was drawn to this one because I was such a theme park baby due to my spending roughly 7 years growing up in Orlando, FL.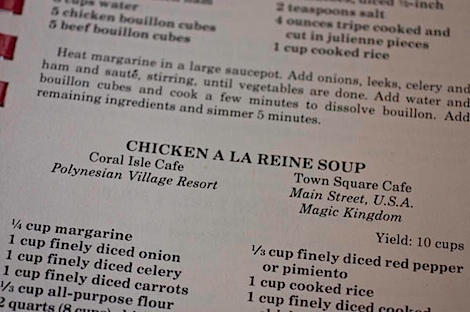 The two recipes I remember the most are – Chicken a la Reine – a creamy chicken soup with red bell pepper…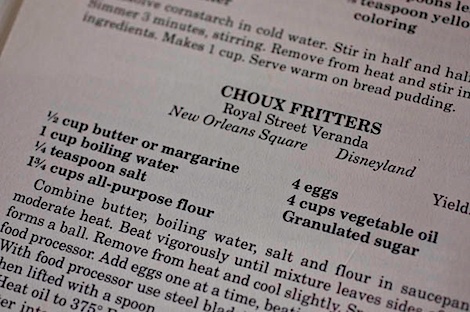 …and Choux Fritters. An obvious choice for this sweet tooth. I'm a little surprised I made this one, though. I read the recipe today and thought it sounded pretty tough! I must have had some good help from my mom. 🙂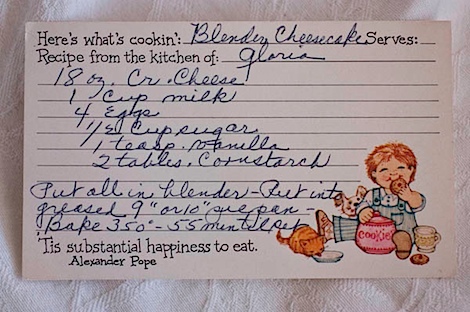 I did find a few family recipes in the old recipe box, but only a precious 4 or 5 from my grandmother. Maybe there are more somewhere else?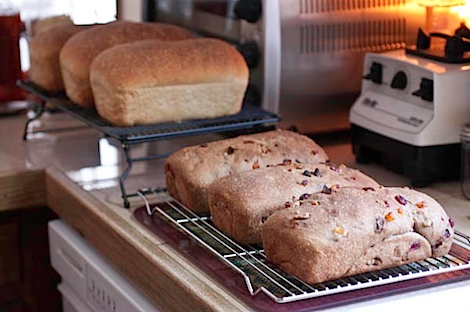 Mom has been big into baking bread in recent years. She's gotten really good at it, too!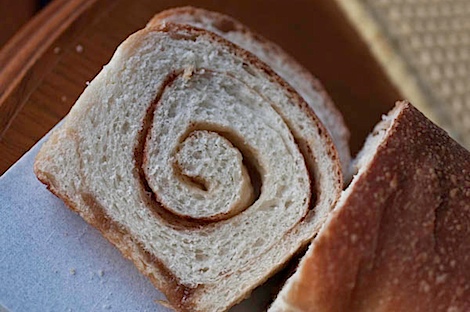 I woke up to the smell of freshly-baked sweet bread wafting up to my bedroom today.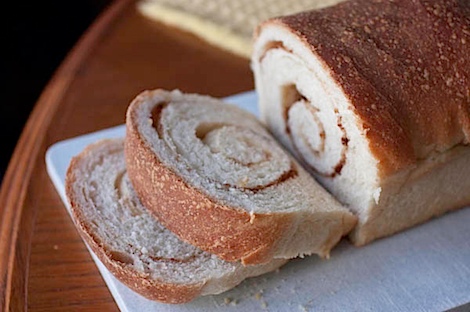 Of course, I had to have a slice.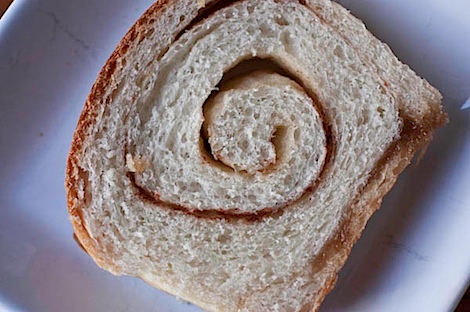 This tender, cinnamon-swirl bread is one of my favorites by her. It's so soft and just melts in your mouth. I'd share a recipe, but you have to have the starter and you have to have someone give the starter to you!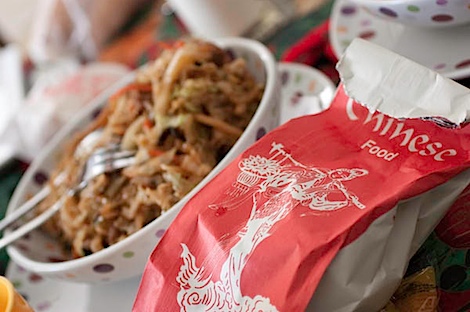 My dad and sis went out to get those famous rye bagels for hubby and I to take home. They picked up Chinese take-out on their way home.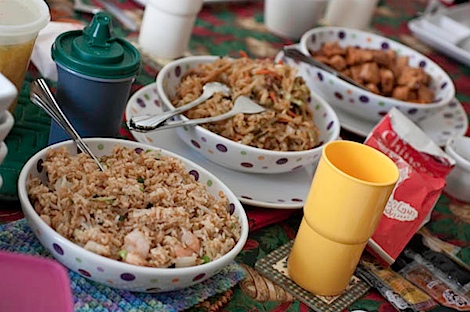 My mom also whipped up some delicious teriyaki chicken to accompany the meal.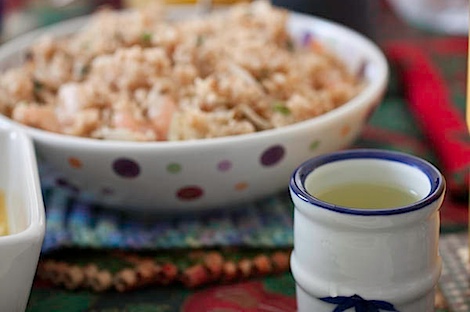 Hot green tea was perfect with everything.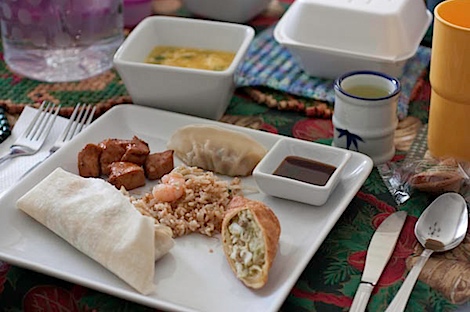 I had a bit of everything – mu shu pork, shrimp fried rice, egg roll, chicken teriyaki, dumpling, egg drop soup.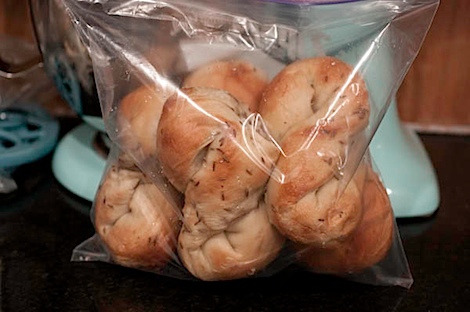 Hubby and I took over 2 dozen rye bagels home! Thank goodness these things freeze well. We eat them pretty fast, but not that fast.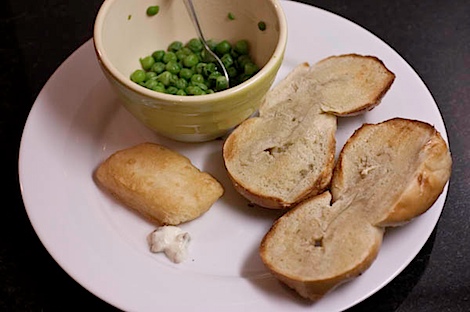 Of course, I had to dig into one of the bagels for dinner…while they're fresh baked and stuff.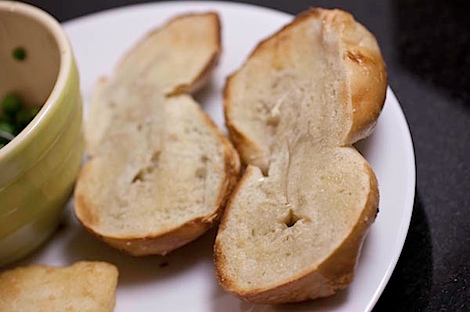 Deeelish!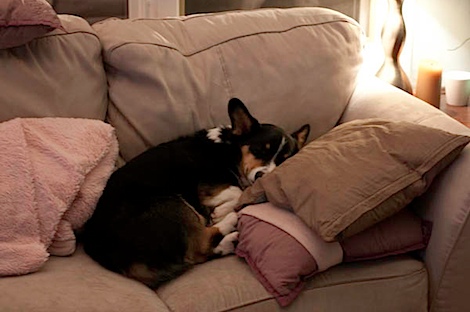 Bailey is pretty tired from all the frolicking in the snow yesterday in our little winter wonderland. We're save and sound back at the Chic house, but I think we've got another little road trip headed our way tomorrow.
What did you dream about when you were a kid? Were you one of the classic wedding planners or Barbie collectors?