I was soooo not ready to go back to work today! hehehe Where did the holiday go?!
I stayed up a little too late on the computer last night, per the usual, and woke up in a bit of a fog that stayed with me most of the day.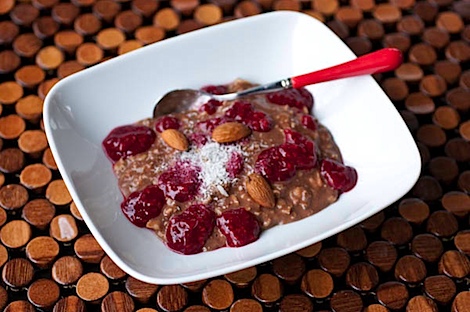 Breakfast helped me wake up. That and hot coffee. Mmm.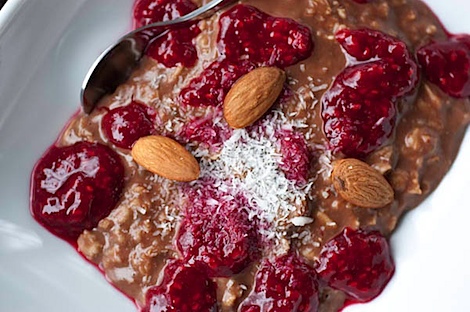 I put the leftover raspberry sauce from yesterday's pancake breakfast on top of oatmeal.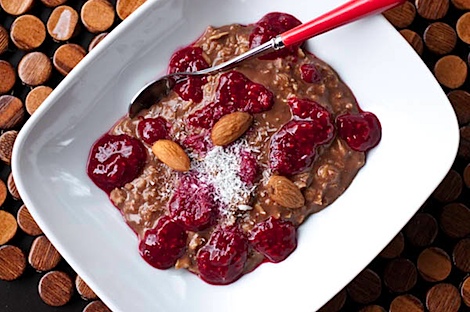 I was going for the classic combo of berries and chocolate and put some cocoa powder in my oats whilst cooking them stovetop.
Have you ever noticed how much cheaper almonds are when you buy them whole? I think I need to start buying almonds not already chopped more. The only trouble is that I'm usually so groggy in the mornings, I'm too lazy to actually chop them up. hehe Details, details. 😉
***
Have I ever mentioned that I have a desk, 9-to-5 style job? Today, like most days, I sat in my tiny cubicle from about 9:30am-6:00pm sans breaks. I even ate lunch at my desk…another bad work habit. Not seeing sunlight or getting fresh air probably doesn't help me snap out of a fog. Those are two reasons I love to work from my house, though I still don't always get as much fresh air as I could. I'd like to work on building better breaks into my work days. Sitting at a desk all day cannot be healthy for you!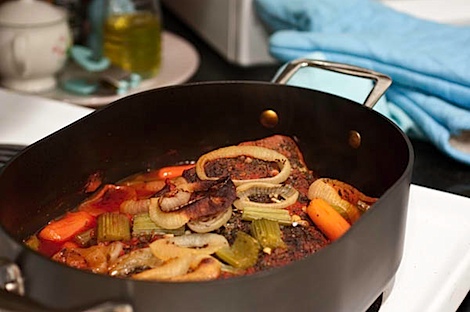 Anywho, I bought a lovely grass-fed beef brisket this weekend and had planned to make it Sunday night, but decided to wait till today. This would have been a better idea if I weren't working till 6pm and the brisket didn't take 3 hours to cook. lol But, I made it work. I typically eat pretty lately, anyways, though I do try to shoot for meals before 9pm.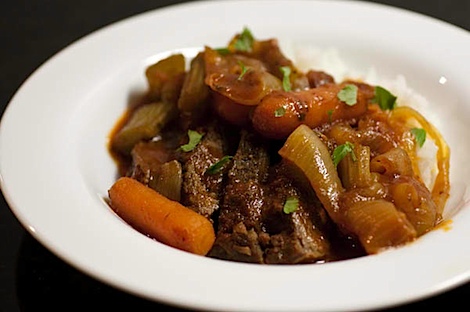 I made a family favorite – Ina's Beef Brisket. The recipe is straightforward in a style that almost reminds me of the simplicity of a crock pot meal. You pretty much just put everything into a roasting pan and bake. The brisket comes out super tender and the veggies become super soft. I like to entertain with this dish because it looks and sounds impressive, but is caveman-easy.
Anywho, I just served the brisket with some simple rice. I was going to go brown rice till I realized that we were out! So, white rice it was. I grew up eating white rice in my family thanks to my Filipina mom, but I've opted for brown rice over the years. But I usually have white on hand for emergencies. lol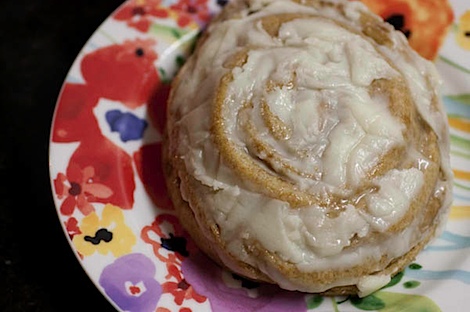 And after dinner, I ate an entire GIANT Great Harvest cinnamon roll all by my lonesome. 😉 Nommy noms!
Are you a 9-to-5-er? What are your typical work hours?