Today was full of challenges for Eat In Month for me.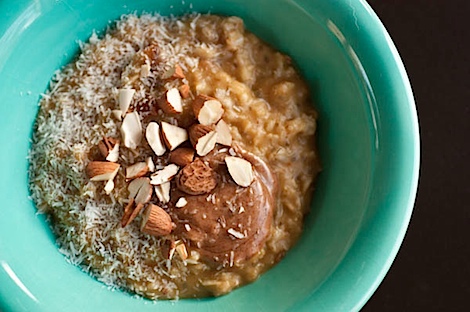 I woke up a bit later than expected, but I couldn't get breakfast on my way to work, so I made oatmeal instead and figured I'd just skip lunch. I usually work through it anyways. lol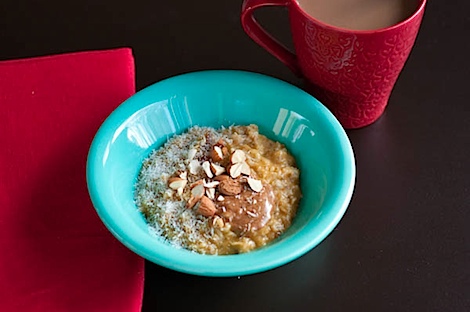 I made pumpkin oats with rice milk this morning.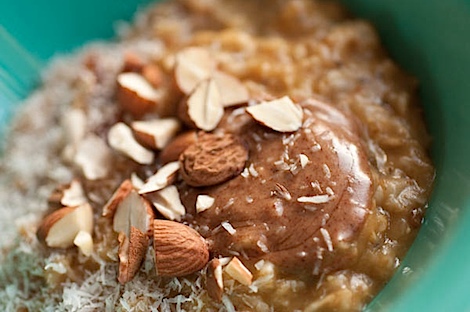 With a lovely spoonful of homemade almond butter on top. Mmm.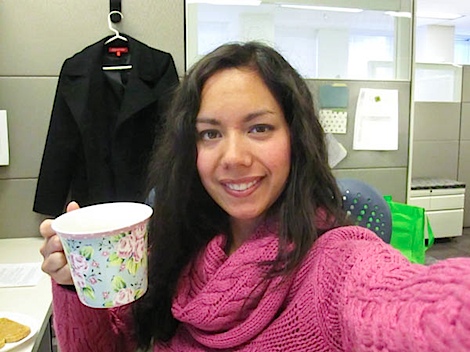 Once I got to work, I desperately wanted Starbucks. I was dragging a bit. But, instead I used the hot water at work to make some nice green tea. I won't lie and say the tea was way better. I'm used to my Starbucks Mondays and will be happy to reinstate them once Eat In Month is over. On the bright side, I did however manage to save just over $3 by not getting coffee out. 🙂
For lunch I had more pot roast leftovers. Later – PB WW toast.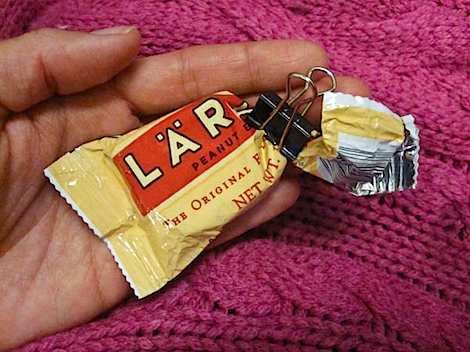 Half a Cashew Larabar.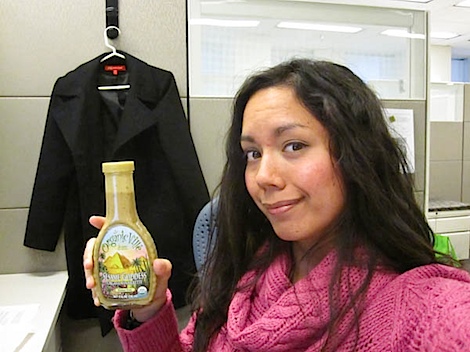 As an afternoon snack I had the salad I had prepared for extra veg. I also broke into a new salad dressing.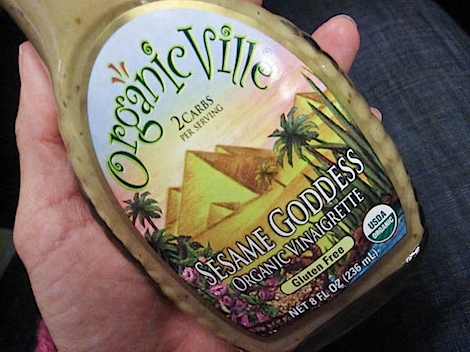 Organicville Sesame Goddess Organic Vinaigrette.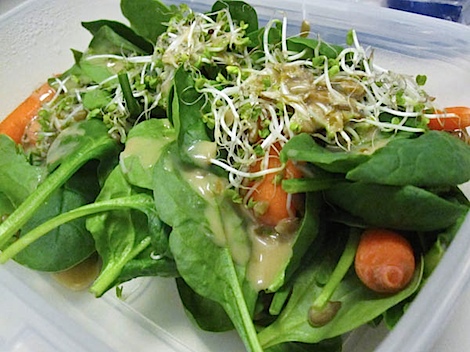 The dressing was a nice change up from the usual balsamic I have. In the salad: baby spinach, baby carrots, sprouts, and sunflower seeds.
Enter my next EIM challenge – dinner. I was meeting a friend at 7pm to watch a movie. I couldn't leave work any earlier than 5:30pm today. I had 2 choices – rush home, rush through cooking and eat quickly before the movie. Or wait until much later to eat dinner. I decided on the first option and called hubby for reinforcements. I chose shrimp, squash, and cous cous (taking a queue from my post on quick-cooking grains) – all quick cooking food items. Hubby had the shrimp peeled and ready to go when I got home, so I was able to whip up this dinner in just under 15 minutes.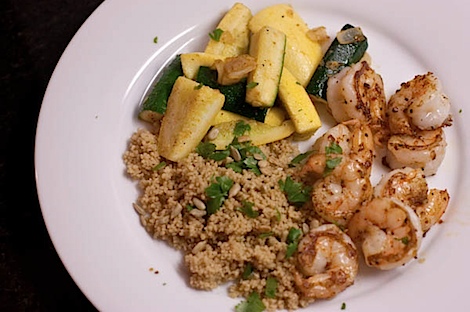 I kept things simple and cooked the shrimp with some grill seasoning. I sauteed squash and zucchini with onion and a drizzle of vegetable broth for flavor.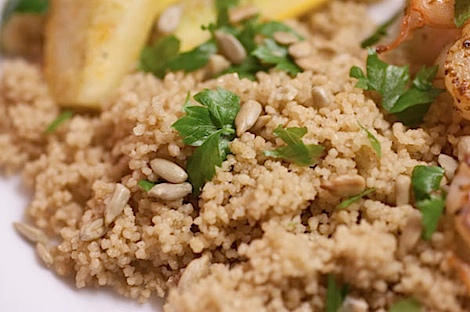 I jazzed up the whole wheat cous cous with some fresh parsley and sunflower seeds. They didn't add much flavor, but they did add texture and made the side seem a little more special.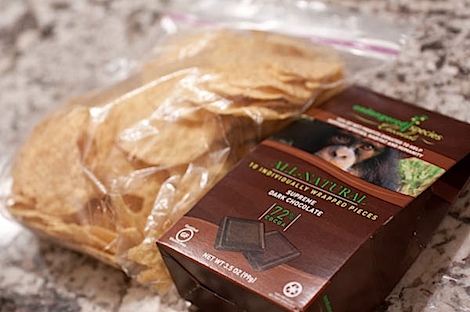 I packed some movie snacks – tortilla chips and dark chocolate. We didn't end up eating either because the movie was pretty…stunning?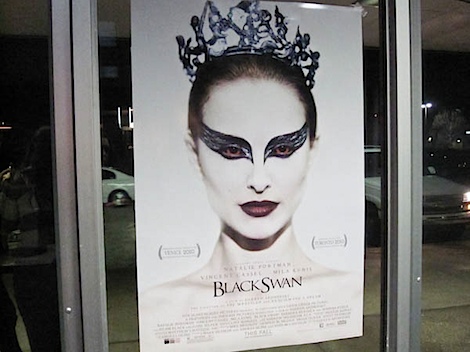 We saw Black Swan. There are few movies that can make you so uncomfortable or nervous, make your hands sweat, and make you fold your arms. Few movies have so much power or get so into your head. Black Swan was one of them. I think my friend and I were quite literally stunned by the end.
I debated whether I should tell you guys more about how the movie affected me, but figured…I already tell a lot of personal information here, so why not. I think I was shocked when I left the theater and got in my car, but on my way home, I couldn't help but burst into tears. Nina's character hit too close to home to me on a few different levels. No, I didn't ever turn into a giant swan with wings. Rather, I think if you've ever seriously trained and been passionate for a sport, you may be able to relate to Nina's character on some level, too.
As some of you know, I trained as a figure skater for roughly 10 years. Skating was my life – it was everything for a long time. At some point in my training, I was just like sheltered little Nina taking things so seriously, training too hard, wanting to be so perfect. At the most, I skated 6 days a week and twice a day on 2 of the days. I was eating, drinking, breathing and sleeping skating. When other skaters would show up 10 minutes before a session, I would show up an hour or more ahead and do off-ice strength training and jumping. And I'd stay an hour afterwards, too. I remember practicing particular moves or programs or jumps over and over and over again until they were perfect. Of course, they never were "perfect". I was so hard on myself…just like Nina. I always wanted to be better and I was my biggest competitor. Since I had (have) stage fright, I rarely did skating competitions. Rather, I competed with myself every day, always striving to be better than I was the day before. That drive and that passion were so strong in Black Swan, I couldn't help but be reminded of everything from my skating days – ups, downs, frustrations, failures, feelings, successes, and passion of it all. It's really hard to explain unless you've lived it – to know what it's like to throw so much of yourself into something.
There's more, too, but maybe we'll chat about it another day? RIght now you guys probably think I'm just being dramatic because I'm probably the only person who cried because of Black Swan. lol
The other movies that have made me cry are more typical – Titanic, My Girl, Romeo and Juliet, Marley and Me, Up.
What about you – what movie(s) made you cry?