Hiyas friends! I hope you all had a wonderful weekend!
I have a couple fun recipes to share, because I made one of the best breakfasts I've had in awhile today – Multigrain pancakes with raspberry sauce!
(and in case you don't usually make it to the end of the post, be sure to check out the link at the bottom of the post for my Black Swan Discussion group)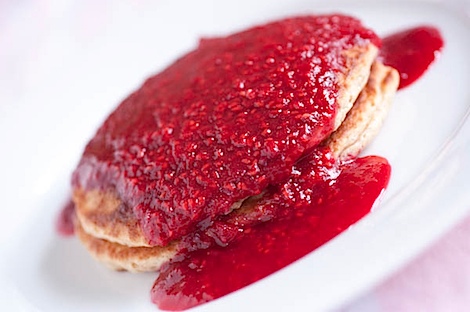 Oh yes, these are keepers for sure!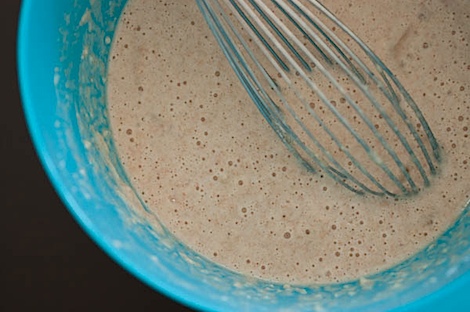 The batter starts out a bit liquidy.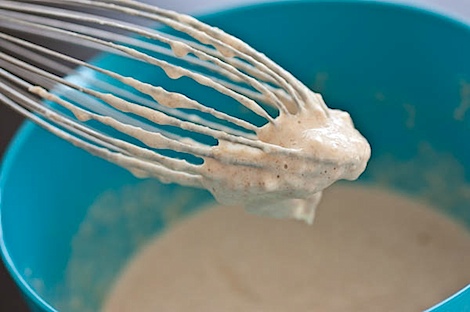 But, if you let it sit for a few minutes, it thickens up.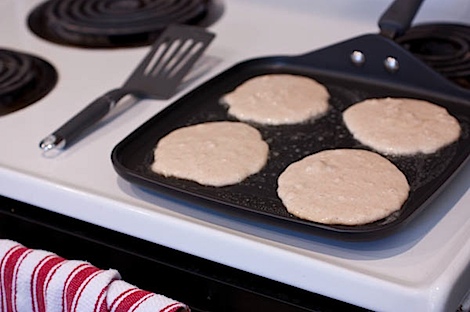 We got to test out our new griddle pan this morning. I stopped making pancakes for awhile because I was frustrated by making them in a small non-stick pan – they were just taking too long!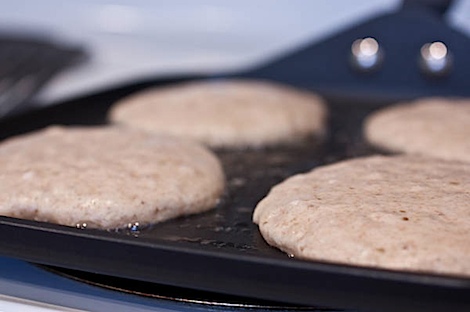 Thanks to the new griddle, things are moving along much faster.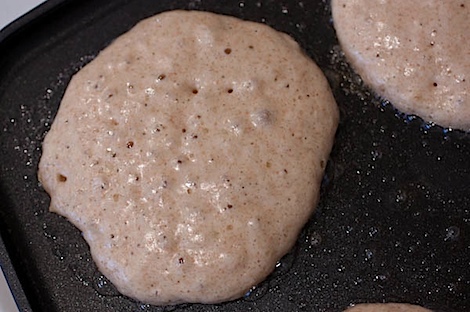 Wait till you see the bubbles before you flip the pancakes if you don't want squishy centers.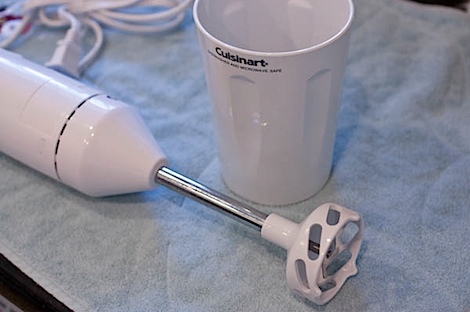 I decided to use my immersion blender to make the sauce today, but any blender type tool (stand blender, food processor) will work.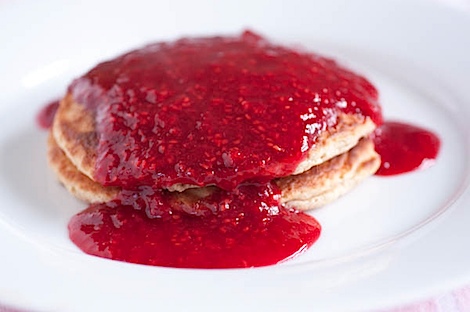 The best part of the sauce is…well, there are a couple good things: it's a fruit serving (depending on how much you serve, of course), and it's not as sweet as maple syrup would be (I think maple syrup on pancakes is often too sweet).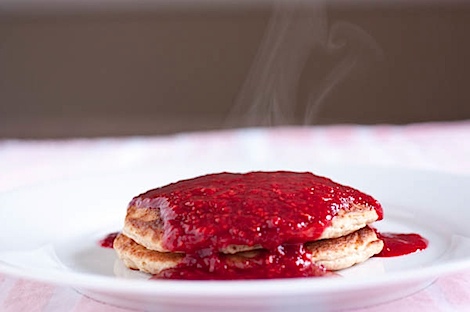 Check out the steam!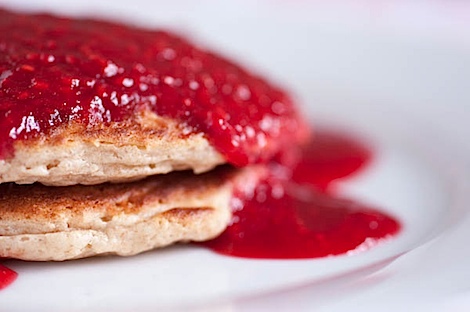 Check out that sauce! Mmm…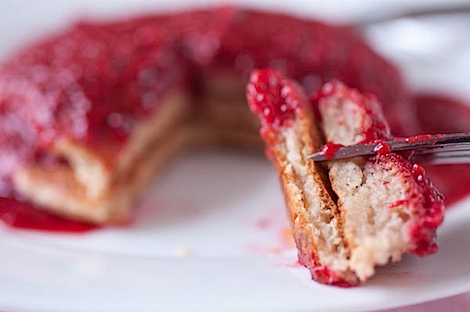 Multigrain Pancake Recipe
For years I used boxed mix for pancakes. I don't know why…I guess I just grew up eating it that way. But, by making your pancakes from scratch, you can control all the ingredients you use and sub in healthier items like whole grain flours. This multigrain pancake recipe uses all purpose flour, but also 2 whole grains: whole wheat and spelt. The spelt helps keep the pancakes light and fluffy, though you could probably substitute another flour or more of the all purpose or whole wheat. Be careful not to mix to yield fluffy pancakes. The batter will be a bit lumpy, and that's ok. 🙂
The flavor secret is the combination of vanilla and almond extract. You would be ok if you used just one, but use both for the best flavor.
Serve with the delicious raspberry sauce below or your favorite pancake topping.
*Vegetarian (contains egg)*
Serves 2
Ingredients:
1/2 cup all purpose flour
1/4 cup whole wheat pastry flour
1/4 cup spelt flour
2 teaspoon baking powder
1/2 teaspoon salt
1 cup milk
1 egg
2 tablespoons melted butter, cooled but still in liquid form
1/2 tablespoon sugar
1 teaspoon vanilla extract
1 teaspoon almond extract
Directions:
In a medium bowl, whisk together dry ingredients: all purpose flour, whole wheat pastry flour, spelt flour, baking powder, and salt.
In a separate medium bowl, whisk together wet ingredients: milk, egg, melted butter, sugar vanilla extract, and almond extract.
Gently whisk dry ingredients into wet ingredients until just combined. Be careful to not overmix. The batter will be lumpy.
Let pancake rest 5-10 minutes. Meanwhile, pre-heat a griddle or large pan over medium low heat.
Melt a dab of butter on the griddle/pan, pour pancake batter onto pan. Let cook till bubbles show on top of pancakes. (Bottoms should be golden brown). Flip pancakes and cook till bottoms are golden brown.
Optional step: If you're cooking in batches, you can place pancakes on a baking sheet in the oven on warm/lowest setting (around 200 degrees F, depending on your oven).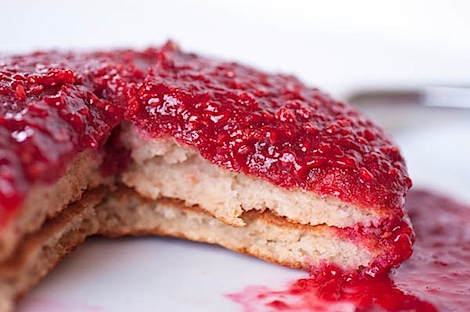 Easy Raspberry Sauce
Adapted from Ellie Krieger's Strawberry Sauce
Craving fruits in winter? This is a great sauce to make when raspberries are not in season, because it is easily made with frozen raspberries. Also, this sauce is just lightly sweet, which pairs nicely with the tangy raspberries. If you like your sauce more on the sweet side, just add maple syrup to your liking. Ooh and while I love the flavor of lemon, you may not care as much for it. Feel free to reduce the amount of lemon juice used.
*Vegetarian, Vegan, Gluten-Free*
Serves 2
Ingredients:
1 1/4 cup frozen (or fresh) raspberries
3 tablespoons maple syrup
juice of half a lemon
Directions:
Combine ingredients in a small pot over medium low heat.
When raspberries are no longer frozen, use an immersion blender to puree the sauce.
Heat till warmed through.
***
I don't know if you live in the South (or if this madness even happens anywhere else!), but we got word it's supposed to snow tomorrow. Whenever the South gets a winter weather report of snow, ice, or a combination of the two, rest assured the entire town will go the grocery store to buy milk, eggs, and bread. I'm not sure why, but they do. I ended up going to the grocery store, but in talking to my checkout person found out I lucked out and went during a lull. Yes! I am not a fan of grocery stores that are packed with people franticly shopping for a snow storm (snow storm = any snow or ice in the South…lol).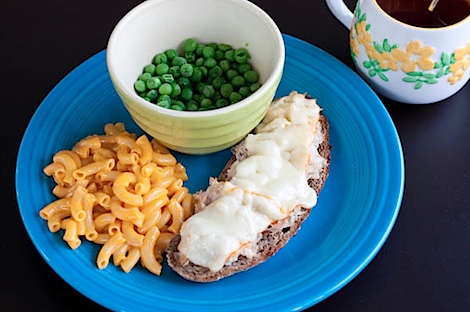 I made a quick lunch today – turkey melt over Great Harvest flax oat bran, Annie's mac and cheese, and organic peas.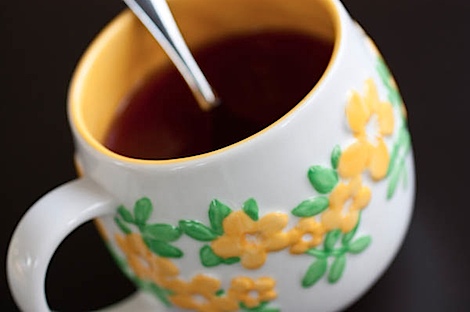 And to cancel out the nasty, cold weather outside, I had a nice mug of Celestial Seasonings berry zinger! I love CS's zinger teas!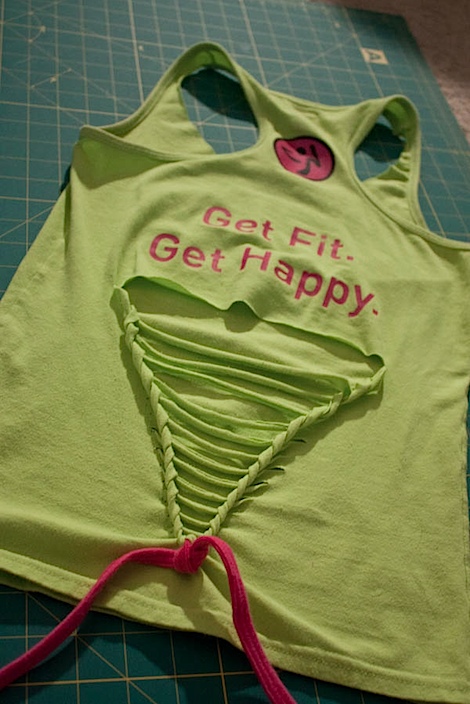 I also managed to cut a new Zumba top today. I've been looking at my gear and the more I wear the plain tank tops, the more I dislike them. My favorite tops are the ones that are cut, so I'm going to work on cutting more of them. 🙂 I took a lot of photos of the cutting process of this, so I'll post that soon.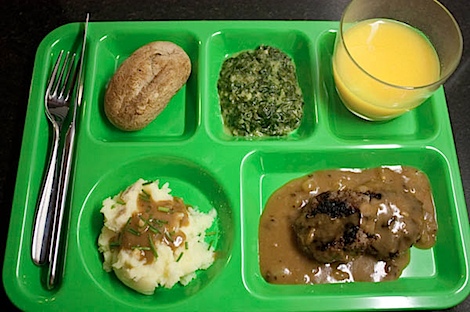 For dinner, I made a favorite that I've been cooking for the last few years – Rachael Ray's 30 minute meal – Salisbury Steak with Wild Mushroom Gravy, Smashed Potatoes with garlic and Herb Cheese and Chives, Creamed Spinach. I just love it.
I enjoy the recipes and serving this dinner out of these cute TV trays I found at Target a few years back. Now this is my kind of TV dinner!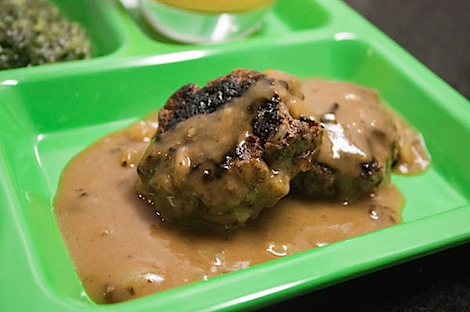 I typically only follow the directions for the Salisbury steak, though, and I only sometimes add the mushrooms. These are the best Salisbury steaks I've ever had, and they're so simple to make! I usually don't follow RR's suggestion to make such big patties. I find the small ones cook faster and are less likely to be pink on the inside and burnt on the outside (I think that happened the first time I made them. hehe).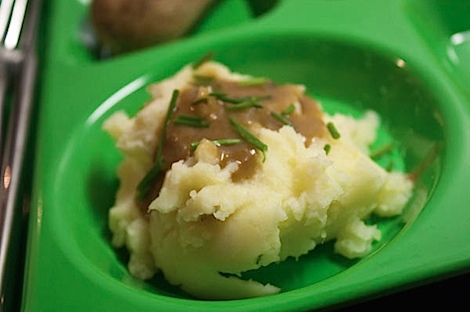 I'll make regular ole mashed potatoes, typically. I did add some chives as the recipe suggests, but that was mainly because I like chives on potatoes and I have a chive plant in my kitchen.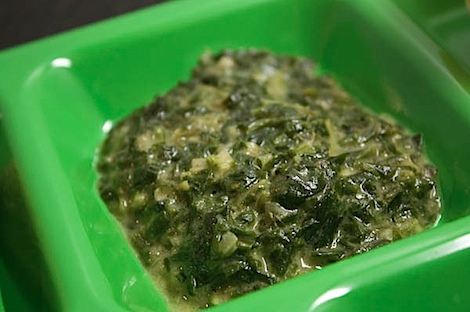 I made Trader Joe's frozen creamed spinach (a purchase after one of those infamous samples! They get me every time!).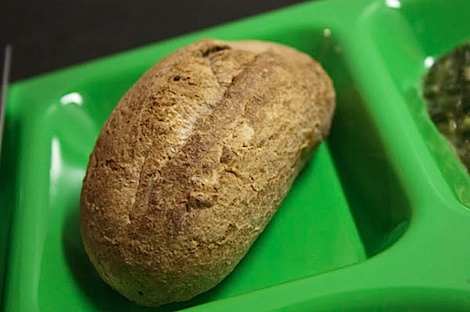 Plus an Alexia frozen WW roll. I love frozen bread. It always tastes fresh-baked!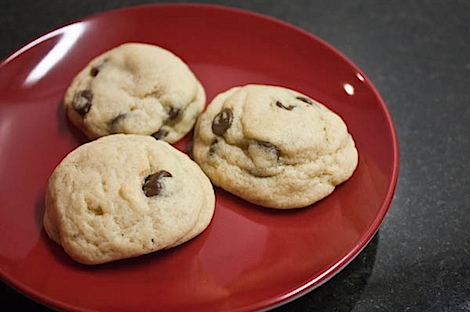 Ooh and I couldn't resist baking some of my famous chocolate chip cookie dough balls tonight. These will taste delicious as I watch the snow falling tomorrow afternoon. Oh yea!
***
Attention Black Swan fans! I started a Discussion on my Facebook group (spoiler alert) to talk about Black Swan. I wasn't the only one who wanted to talk more about the movie, so I created a place where we could talk through our various interpretations and questions. Click here to view the discussion, but beware, there are spoilers in the discussion!
***
What's your favorite pancake topping?