After our skating adventure at Sugar Mountain, we headed out in search of sweets and hot beverages.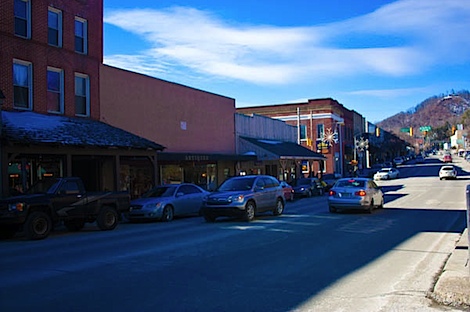 Michelle took us to downtown Boone, NC.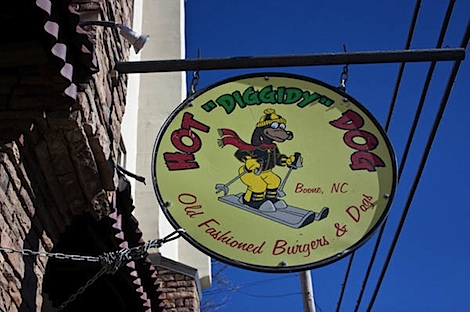 This place looked interesting.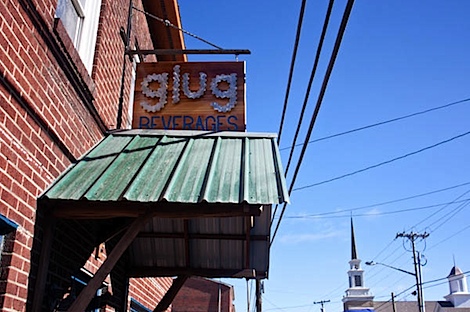 And the sign of this place was cool.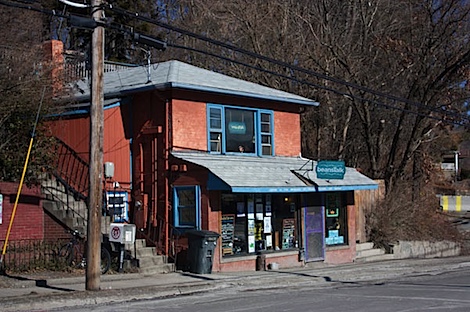 But we were really in search of something more like BeanStalk – a local coffeeshop.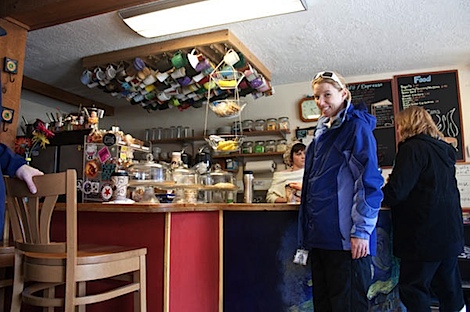 The place had the look and feel of a space loved by the local college kids – very cozy and eclectically fun.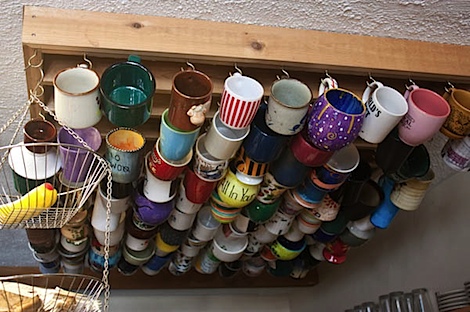 I loved their mug collection. It kind of reminded me of mine – a random assortment of color ceramic coffee holders. I was hoping to get a cool mug to use, but I think they save them for their regulars. I got a disposable cup.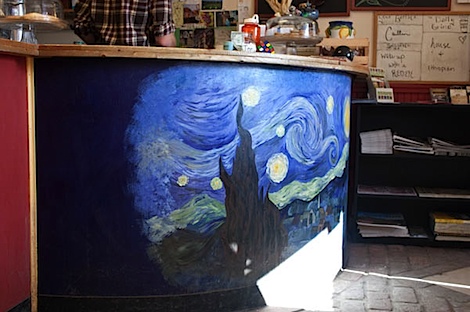 I really liked how they had Starry Night painted on the side of their countertop.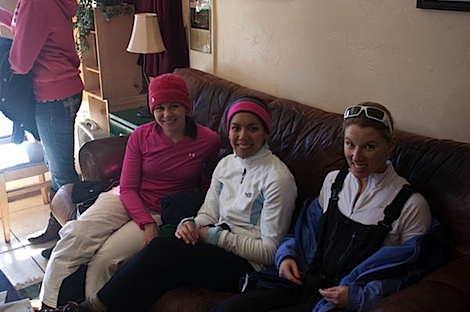 The space was really small and intimate on the inside, but we found a spot for the 3 girls (Michelle, me, Jen) and a chair for hubby off to the side.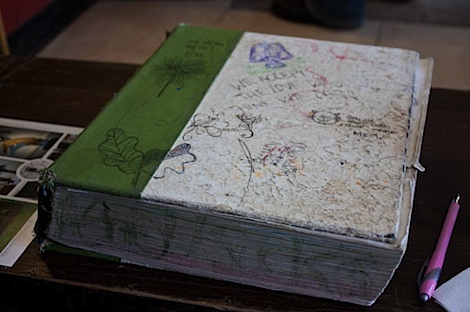 I was especially happy we got the spot we did because we found – THE BOOK! Ok, I don't think they call it "The Book" at the coffeeshop, but it's the book I was referring to in my previous post.
The book used to be completely blank on the inside, but people are welcomed to write and draw on the books pages, and over time, the pages have begun to fill up with quirky notes and drawings. It reminded me a lot of Post Secret.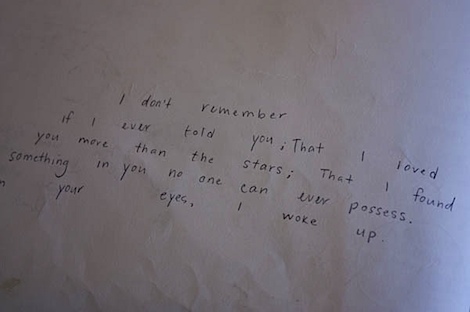 This was the first page I found and the first note I read. Loved it!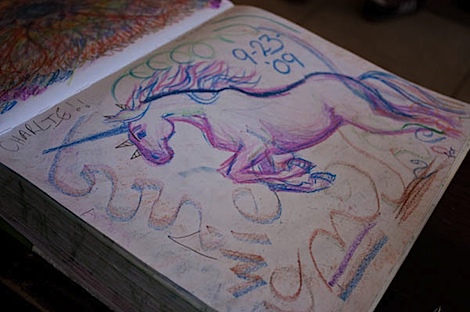 I also really enjoyed the pretty unicorn drawing – the colors reminded me of My Little Pony.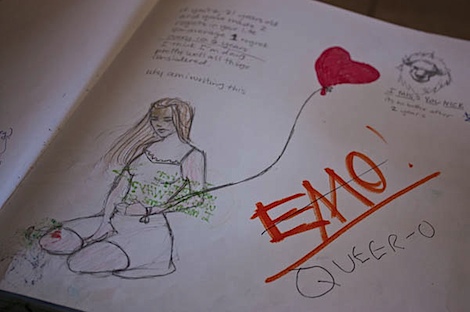 I turned this heart balloon into…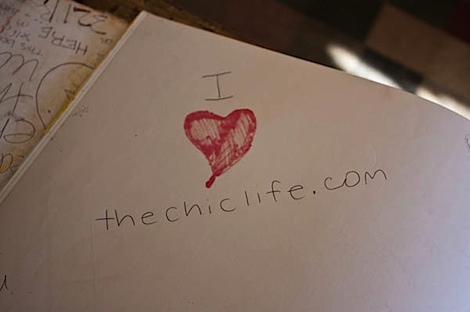 …and TCL shout out. 😛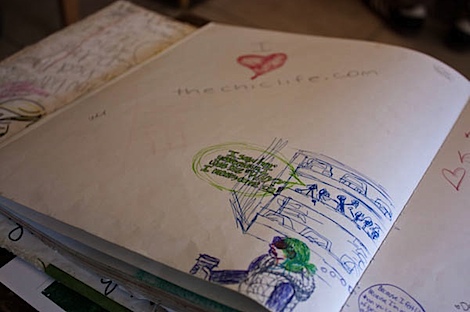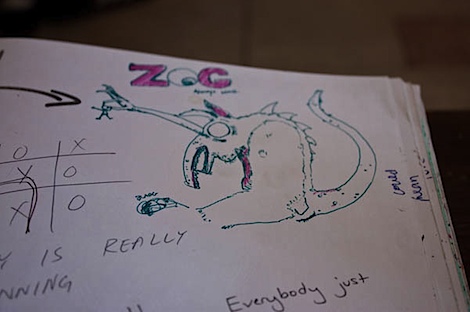 The Zog.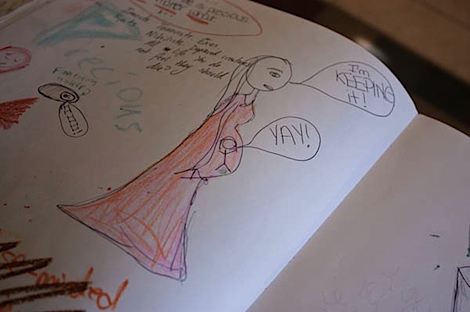 Happy Baby.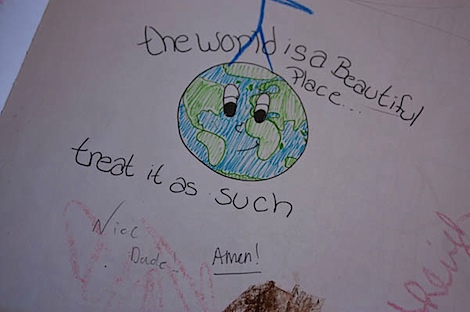 I especially enjoyed how people wrote back and forth to each other, like on this earth love drawing.
A man at the coffeeshop (I think the owner?) told us that the coolest story he'd seen in the 3 books they'd gone through was about a guy who anonymously wrote a note about how he was waiting for the school year to end so he could propose to his girlfriend because he loved her so much. Apparently, the girlfriend found the note, recognized his handwriting and wrote back that he didn't have to wait. Anywho, they ended up getting married and lived happily ever after. Aww 🙂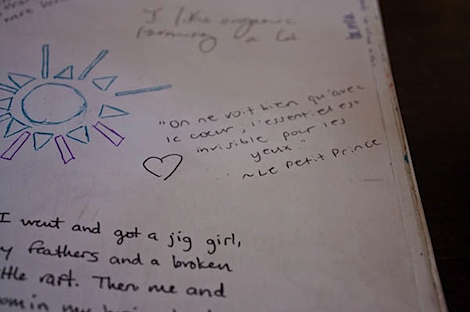 I had to leave two of my favorite quotes:
"On ne voit bien qu'avec le coeur; l'essentiel est invisible pour les yeux." ~Le Petit Prince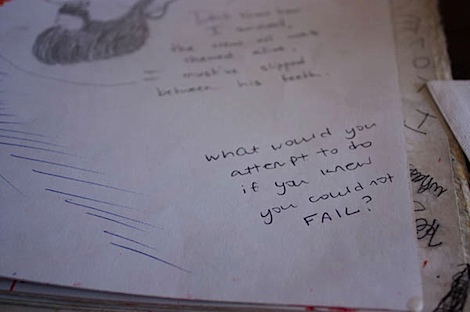 And my all-time favorite (which many of you have probably seen at the bottom of my template):
"What would you attempt to do if you knew you could not fail?"
I think I could have looked at that book all day…it was so fascinating!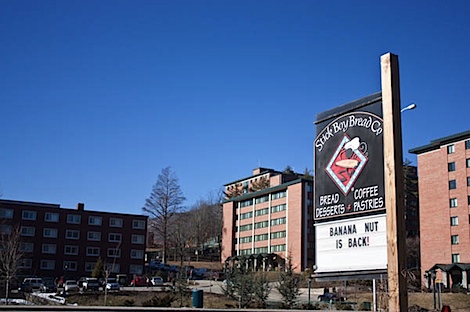 After the coffeeshop, we hit up a local bakery in search of sweets. We visited Stick Boy Bread Company.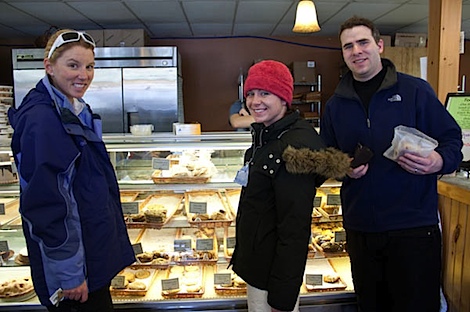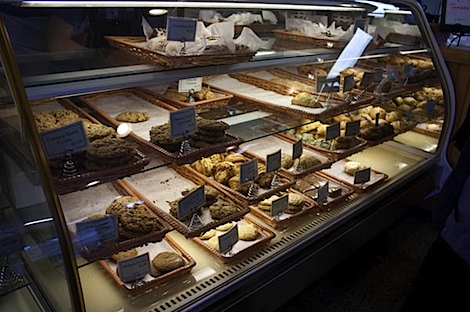 Yummy display case.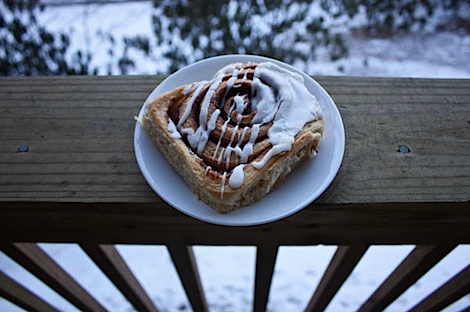 I took a cinnamon roll back to enjoy. Yum!
After a quick pit stop at the cabin and once the other boys got home, we all headed out to hit up the Mast General stores – yes, both of them.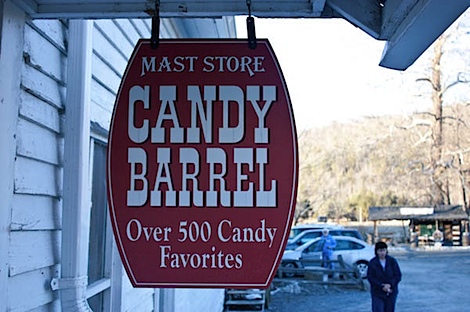 First up – the Candy Barrel!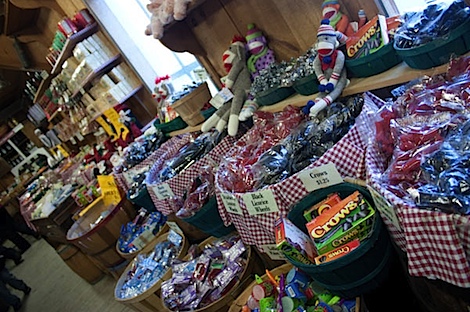 Hellooooo sweet tooth heaven!
I love bottled Coke!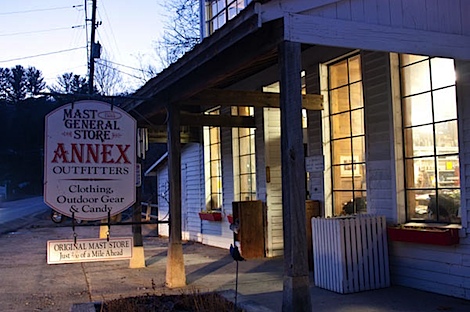 We also visited the Annex store just down the street.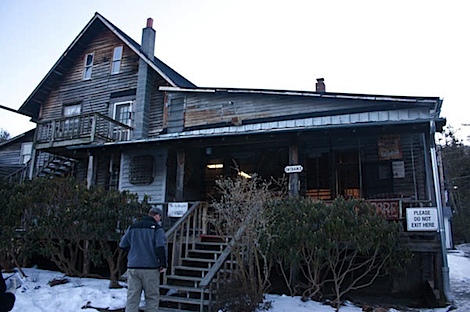 And I got a new plate a new bowl!! Woohoo! Can't wait to use them and share photos!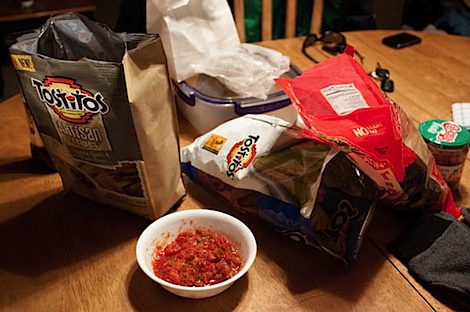 Back at the cabin, we snacked on chips and salsa while Jen made our Saturday night dinner.
See, you can go on vacation and still eat in!
Enchiladas!
Jen made yummy black bean, zucchini, and pineapple enchiladas! The pineapple was so unexpected, but a nice touch. We all loved the warm pineapple.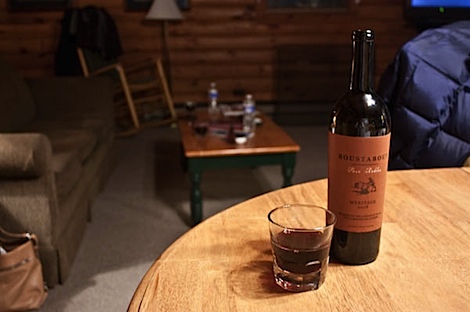 And hubby and I brought a bottle of wine from our wine rack to share while we all watched The Town. We all LOVED this wine and Jeff figured out that it's only $5.99 at Trader Joe's. Woohoo!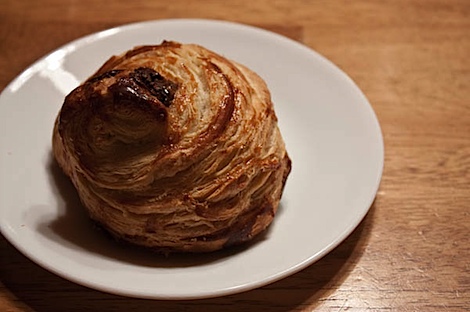 Oh and I had baked good #2 – a chocolate croissant! It was no French croissant (it's shaped totally different!), but it was nice and tasty.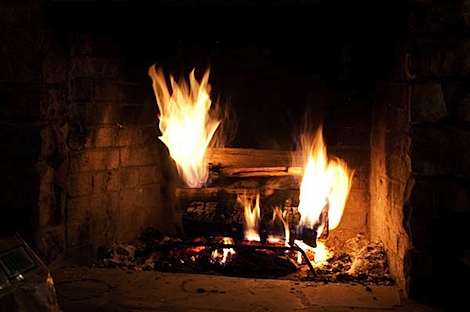 And we enjoyed one last cabin fire-lit evening. Is anything more cozy than a fire? Maybe hot cocoa? lol
Do you camp? Do you prefer tents or cabins? I'm a cabin girl for suuuuure!