Did you miss any posts from my weekend trip to the NC mountains?
Here are some links to this weekend's posts:
Our last day of the trip was a short one as we had to be out of the cabin by 10am, so we basically woke up, got ready for the day, packed up, and took off.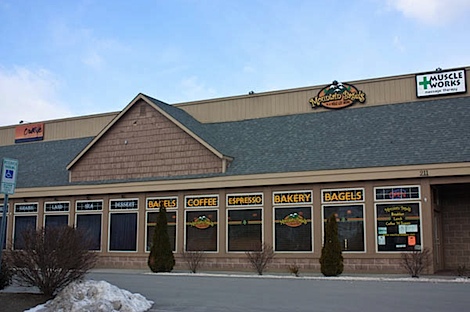 We left the cabin, but we made a pit stop in Boone, NC before heading home.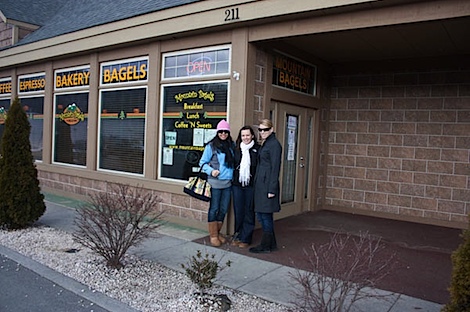 Michelle and Ben told us about a fabulous little bagel shop called Mountain Bagels – a place they said they like to visit when they're in town.
I cheated on Eat In Month, but considering we did lunches and dinners in, I wasn't too worried about it. It wasn't so much that we went to Mountain Bagels because we were feeling lazy, but more so because we wanted to experience the restaurant while we were in town. I didn't want to miss the opportunity this local gem.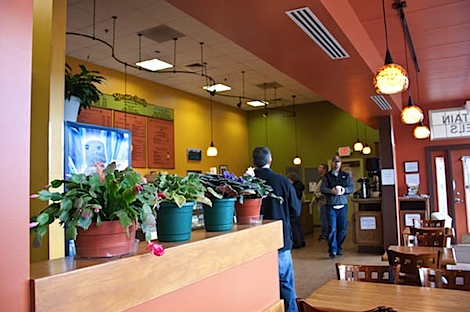 The inside was bright and cheerful.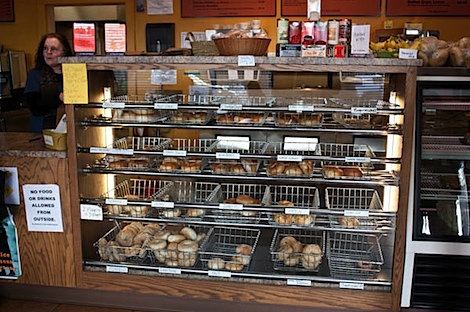 The bagel selection was nice and varied. I saw flavors I've never heard of before – Tomato Basil, Everything Pumpernickel, Honey Oat, and a couple others.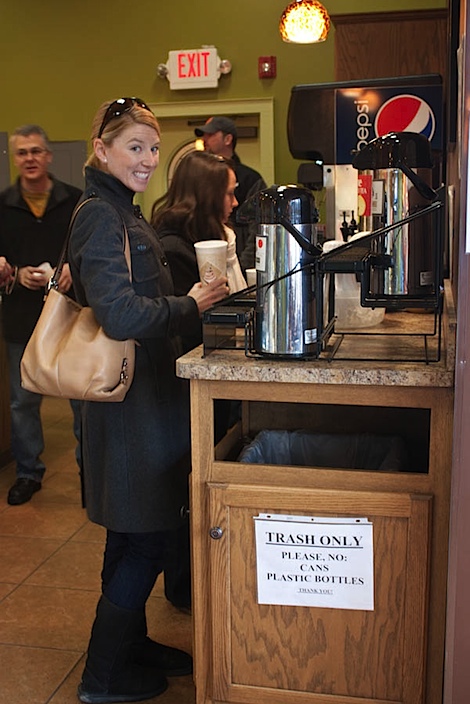 We were all really excited about the COFFEE because we didn't brew any at the cabin and it was late in the morning by the time we hit up the bagel shop. I really liked the Mountain Bagel brew – it was light and smooth – just the way I like my breakfast brews.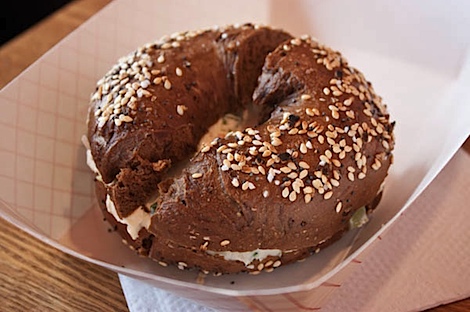 I decided to get the Pumpernickel Everything bagel. It was amazing – so flavorful! I loved the texture, too. You could tell they are made from scratch and with care.
This was, I believe, my first ever Everything bagel. To be honest, they've always scared me before. I usually keep my bagel selection kind of simple, so all the toppings on everything bagels sounded overwhelming. I actually really enjoyed the flavor. YUM!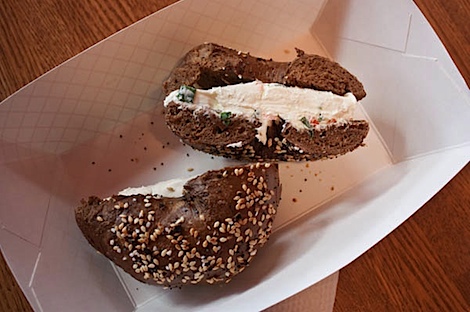 I had my bagel toasted and topped with veggie cream cheese. Mountain Bagels makes their own cream cheese, too! The cream cheese was really tasty and had nicely sized pieces of vegetables (celery, carrots, green onion) throughout. I especially liked the crisp bites of celery.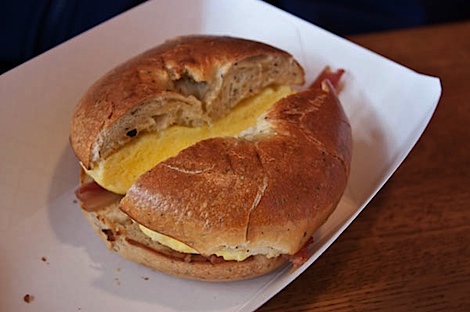 Hubby opted for a bacon and egg bagel, though I forgot what flavor bagel he ordered. I believe he got the jalapeno cheddar.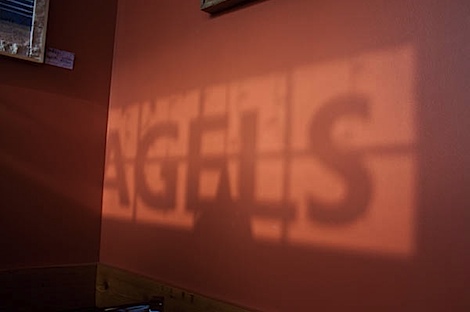 If you're ever in the Sugar Mountain / Boone, NC area, I highly recommend a visit to this cute little bagel shop. Elie, the owner, couldn't have been nicer and besides supporting a locally owned business with a charming staff, you'll be able to enjoy real quality baking. Mountain Bagels also bakes pastries from scratch, including chocolate croissants that Michelle raved about.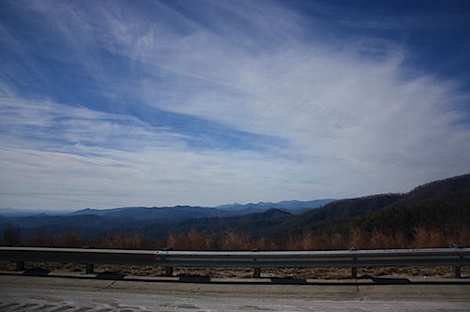 After breakfast, we all road tripped it back home. One of my favorite things about visiting the mountains is enjoying the scenic views. Luckily, I am not usually driving because it would be really unsafe to take in the views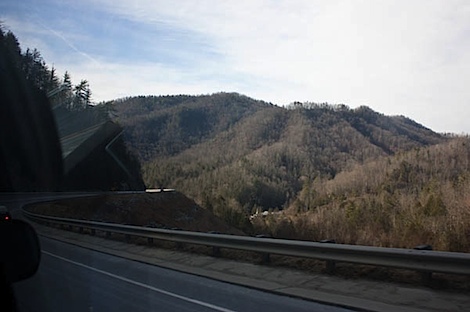 Hello rolling mountains!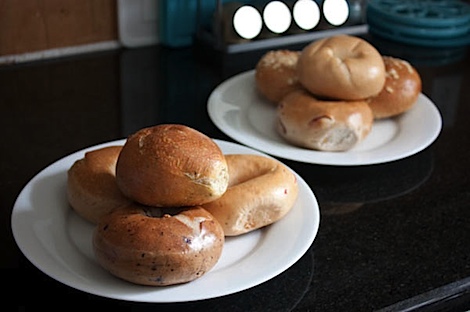 Hubby and I loved Mountain Bagels so much, we took 8 bagels home with us – 7 for us to enjoy later and 1 for my sister.
We decided to go ahead and use bagels in our lunch as soon as we got home.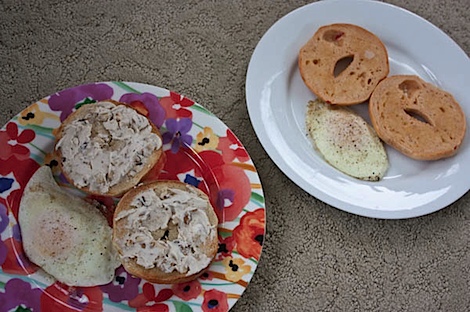 Organic, cage-free eggs with toasted bagels.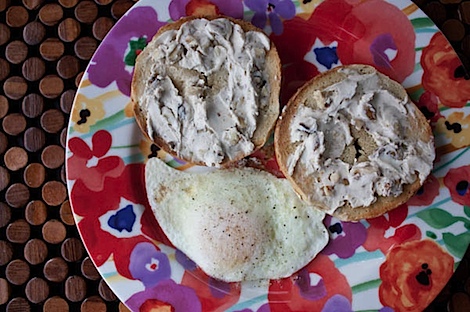 Hubby ate the Tomato Basil and I had Honey Oat with Honey Nut Cream Cheese. It was lovely!
Later in the day, we picked up Bailey from my sister. Thanks Sis for taking such good care of Bailey!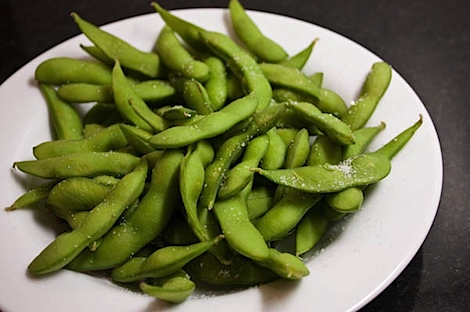 We had plans of going to the grocery store that night, but started feeling lazy. Luckily, our pantry is well-stocked and I was able to put something yummy together. I made edamame as a snack while my tofu roasted away.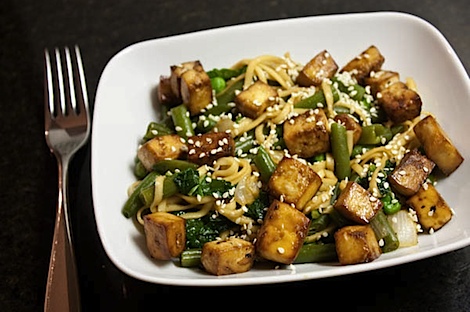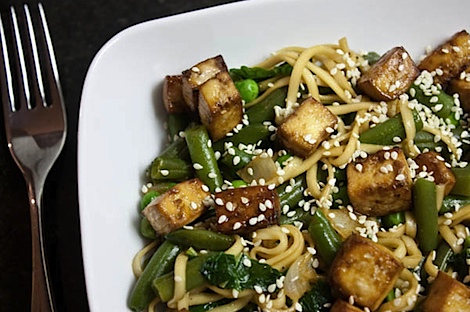 And I made a slightly altered version of my 3, 2, 1 Vegetarian Noodles, but with roasted tofu, for an easy and tasty dinner.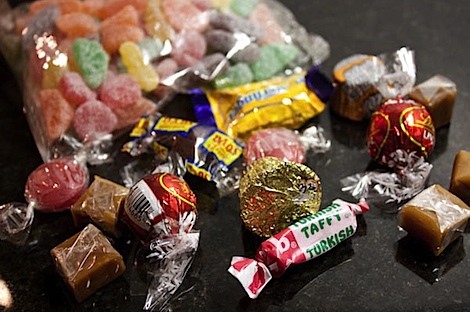 Dessert was candy from our candy shopping spree! I only had a few pieces. Phew! I forgot just how sweet candy is! Maybe I'll make some Not So Sweet candy, next? lol 😉
Do you eat bagels? What's your favorite flavor?