I hope everyone is enjoying a great holiday weekend so far. I'm currently at my parents house enjoying some QT with the fam. Last week was so crazy that I'm just now catching up on posts and what not…and here's a goodie.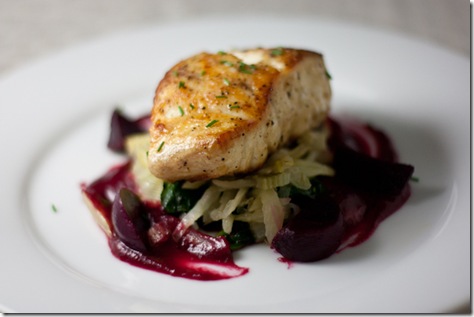 Does this look familiar?
Thanks to Chef Jamie (and Courtney) giving me a couple leftovers from the fabulous farm-to-table dinner, I was able to do something kind of awesome. I re-created the entree (as best I could) from the dinner so hubby could enjoy it, too.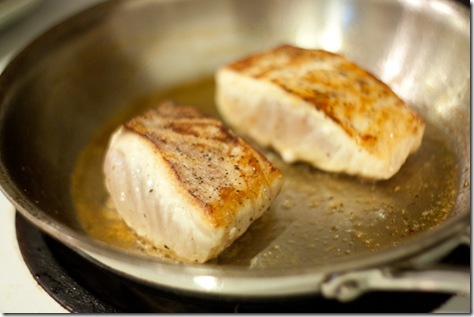 Hubby picked up a beautiful piece of grouper from local fish market Clean Catch. I'd never cooked with grouper before (I actually rarely cook fish and am not very comfortable with using it), but I felt like being a little daring. Also luckily for me, my inner food-geek had come out at the farm-to-table dinner, and I had asked Chef Jamie all kinds of questions about the preparation of all the food. Also luckily for me, Chef Jamie kindly answered my many curious questions. 🙂
I learned that the grouper had first been pan-seared…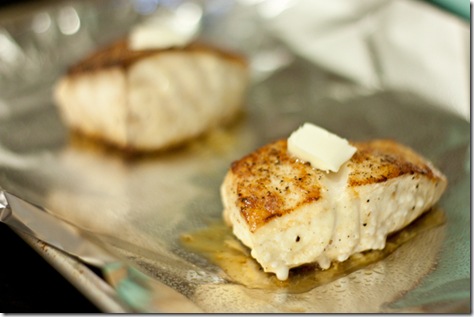 …then finished in the oven. I saw him put a dab of butter on the fish at some point, so I added a little to mine in the last couple minutes of cooking in the oven.
For the bottom layer of the dish, I placed sautéed garlic-baby spinach.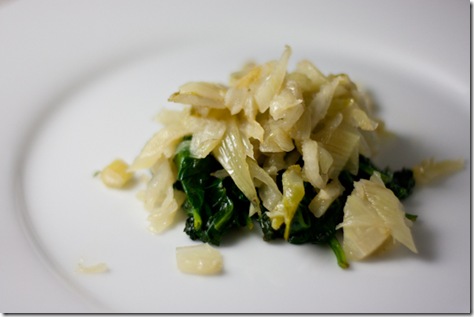 I topped the spinach with braised fennel (one of my gifted leftovers)…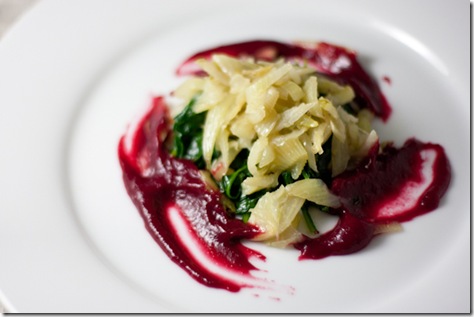 …added beet emulsion around the plate (my second gift – it looked much better the way Courtney did it! lol)…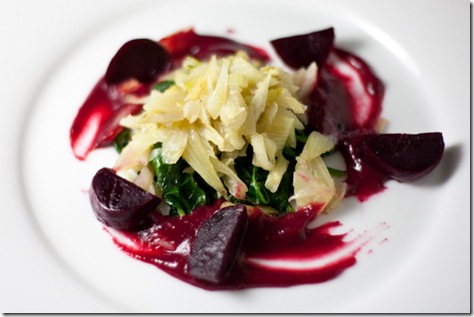 …added beets (the third gifted leftover)…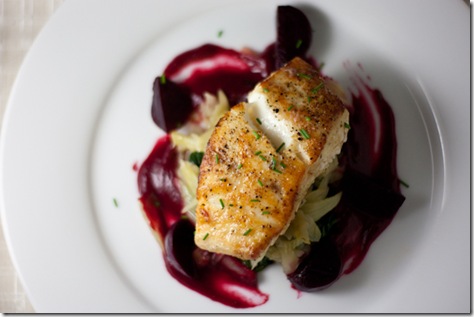 …and finally the grouper. Chopped chives from my garden served as the final garnish.
Gorgeous, right? I would have never thought to put all these flavors together, but they went together beautifully!
Hubby was so happy to be able to enjoy such a delicious meal, while I was just proud at successfully cooking grouper for the first time.
Thank you again to Jamie and Courtney!! 🙂
Do you cook often with fish/seafood? Why or why not?