Like most Americans, when the Fourth of July rolls around, my foodie-mind usually thinks of one thing – grilling-out. Desserts are often an afterthought. Seriously, I can't even remember what sweet I made last year, if anything (ok, just checked my blog archives and we made peach cobbler)! But this year, things were different. While I've known we'll probably grill out something on Monday, my mind was fixated on something new – making a patriotic-themed dessert: this Fourth of July Cupcakes recipe.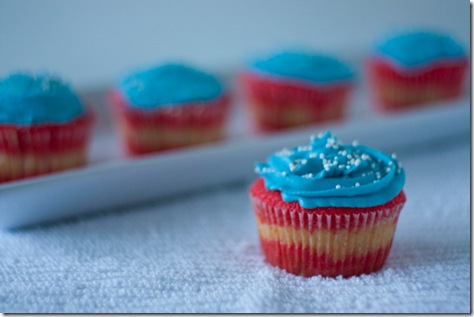 And after seeing these awesome rainbow cupcakes by Baking Bites, I knew exactly what I wanted to do – a layered cupcake with red, white, and blue colors for the holiday.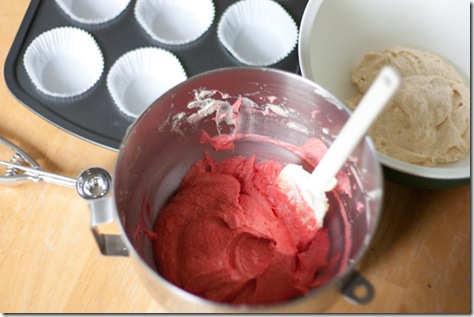 Luckily for me, my sister helped me tackle the project. We started by making vanilla cupcake batter for 12 cupcakes. Then, we poured about 1/3 of the batter into a separate bowl to serve as the "white". To the remaining batter, we added gel coloring in "red" to tint the batter till we were happy with the color. The batter looked kind of pink, but turned out a deeper red after we baked it.
We used small ice cream/sorbet scoops to fill the cupcake papers with the first layer of red.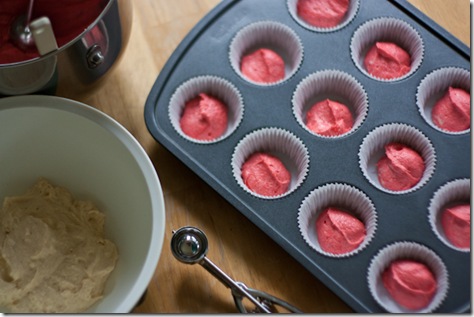 The distribution doesn't have to be perfect. We just eyeballed our measurements (and actually our bottom red layer was thicker than our top…oops! 😛 ).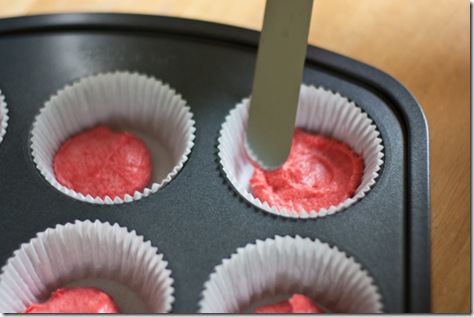 Sis used an off-set spatula to smooth out each layer. This step isn't necessary, but if you don't flatten out each layer, your layers will be a little wonky-looking.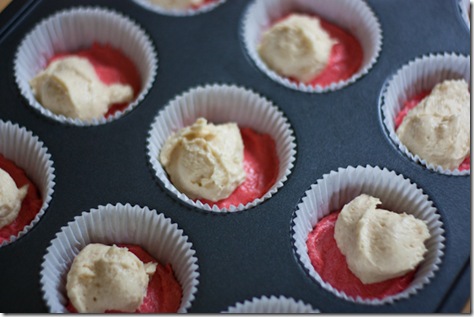 Next, we added the white batter, flattening each layer out again.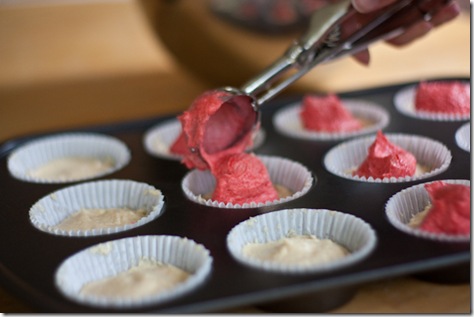 And then the final layer of red.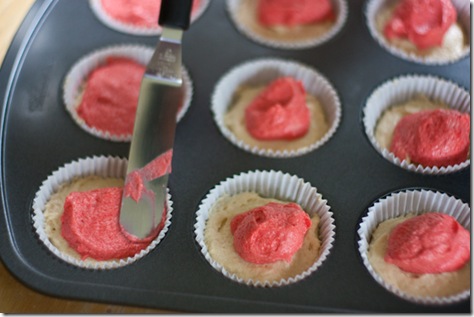 Allllmost there.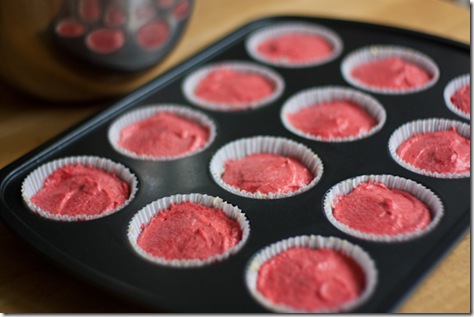 Soon enough, the cupcakes looked like regular ole cupcakes.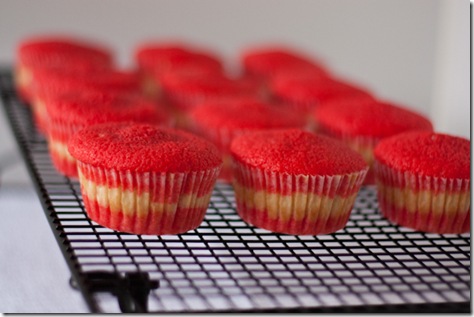 But once we took them out of the muffin tins, we saw the difference. Check out those stripes! The cupcake layers weren't in perfect lines, but I thought they looked great.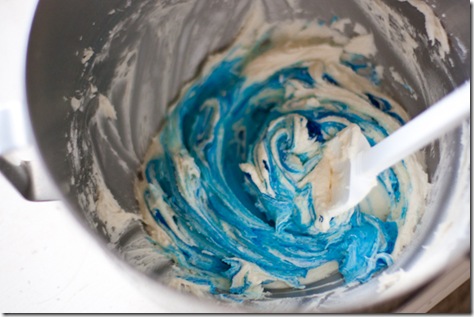 Next up, we tinted the buttercream frosting with more gel coloring in blue.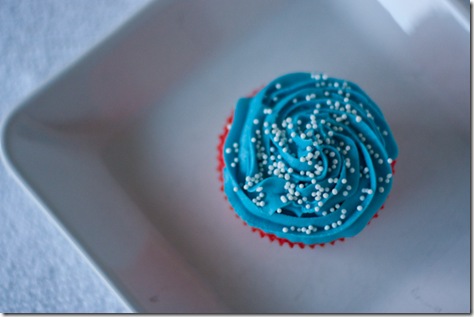 White sprinkles completed the patriotic look (and look kind of like stars, high in the sky no?)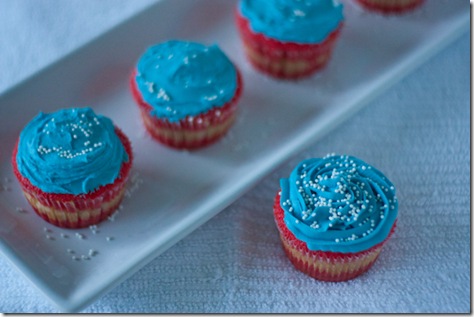 Oh, and as for the frosting, you can do fancy piping like the one in the front…
…or you can just spread frosting on old-school style like mom did. I think either way looks pretty good, though the latter is much easier and doesn't require fancy tools.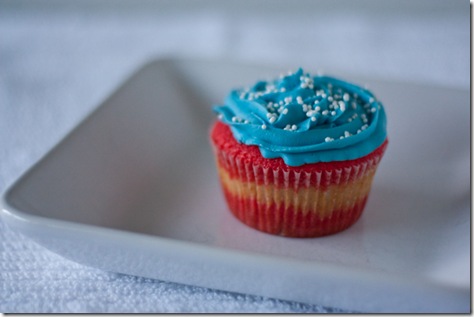 Though, sometimes fancy tools are worth it. You can get 12 disposable bags for about $4. The coupler is about $1, and the point is usually about $2-3. And you can find the tools and the gel dye at Michael's.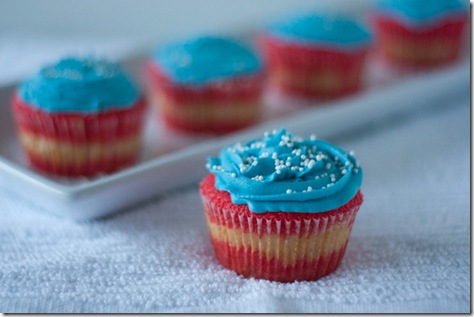 Anywho, the frosting style is totally up to you! 😉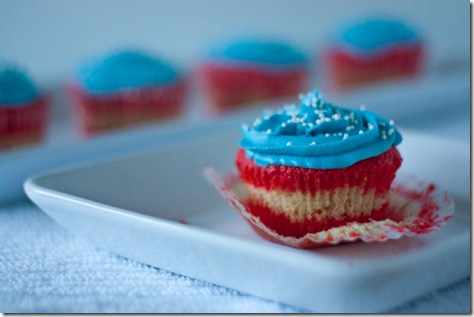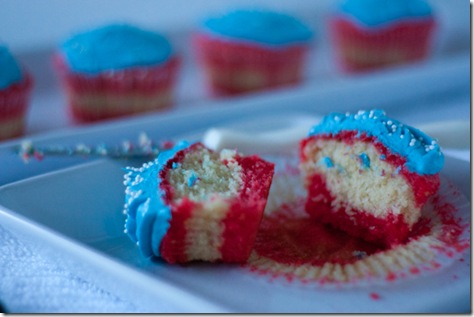 Print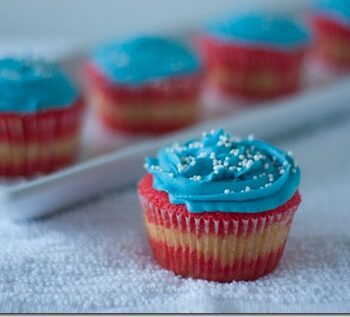 Fourth of July Cupcakes Recipe
Author:

Prep Time:

15 mins

Cook Time:

20 mins

Total Time:

35 mins

Yield:

1

2

1

x
---
Description
These Independence Day themed cupcakes are sure to brighten up your next patriotic picnic, cook-out, or dinner party. They're just as easy as baking regular cupcakes, but your guests will so impressed and never know your secret.
Be sure to check out the photos on this post for extra tips.
---
Cupcakes Ingredients
1 1/2 cups

all purpose flour

1 1/2 teaspoons

baking powder

1/2 teaspoon

salt

1/2 cup

(

1

stick) butter, unsalted, room temperature

3/4 cup

granulated sugar

2

eggs, large

1 1/2 teaspoons

vanilla extract

1/2 cup

milk
red gel coloring, to color preference, about 1/4 teaspoon
Frosting Ingredients
1/2 cup

(

2

sticks) butter, unsalted, room temperature

2 cup

powdered/confectioner's sugar

1 teaspoon

vanilla extract
blue gel coloring, to color preference, about 1/8 teaspoon
---
Instructions
Cupcakes Steps
Preheat oven to 350 degrees F. Line a 12-cup muffin/cupcake tin with cupcake papers.
Combine flour, baking powder, and salt together in a large bowl and whisk to combine.
Combine butter and sugar in a large bowl and beat until light and creamed, about 2-3 minutes. Add first egg and stir at medium/high speed to combine well. Add second egg and stir at medium/high speed to combine well again. Stir in vanilla extract. Note: I did this step in my stand mixer (Kitchen Aide), so the next steps were extra easy, but a hand mixer or even whisking by hand will work.
Starting and ending with the flour mixture, alternate mixing in the flour mixture and milk. Mix until just combined, careful to not over-mix (all flour should be incorporated). Note: I just left my mixer running on low speed so I didn't have to mess with the mixer settings.
Scrape down sides of bowl with a spatula and mix again to combine, as needed.
Reserve 1/3 of the cupcake batter in a separate bowl. To the other 2/3 of the batter, mix in red gel coloring until batter is tinted to your liking, careful to incorporate gel but not over-mix.
Evenly distribute 1/3 of red batter among cupcake cups. Optional – use an offset spatula to spread batter to a flat, even level.
Evenly distribute the white batter among cupcake cups, using offset spatula to even layer, if desired.
Repeat step 7 with the remaining red batter.
Bake 18-22 minutes, until cupcake is cooked through (a tooth pick inserted in the center comes out clean).
Place cupcake tin on a cooling rack. Note: Sis says to leave cupcakes in the pan while they cool so they don't deflate.
Allow cupcakes to cool to room temperature before frosting.
Frost with Vanilla Buttercream Frosting, recipe follows, and top with sprinkles. Enjoy!
Frosting Steps
Combine butter and 1 cup of sugar in a large bowl. Slowly stir until sugar is incorporated. Note: I used a stand mixer to make this frosting, because it's much simpler that way, but a handheld mixer (or heck, probably some good ole fashioned elbow grease) should do the trick.
Add 1/2 cup of sugar and stir until incorporated. Repeat with last of sugar. Add vanilla and stir until incorporated.
Increase speed and beat mixture until it becomes light and fluffy, about 2-3 minutes.
Optional color step (if you're coloring your frosting): Stop mixing. Add gel coloring, adding a little at a time and mixing into the frosting until evenly distributed. Repeat until frosting is tinted to your liking.
---
Recipe Card powered by
Are you celebrating the Fourth on Monday? What type of holiday eats are you more interested in: sweet or savory?