So, I read a tweet the other day from blog buddy Susan of the Great Balancing Act that surprised me:

Peanut butter? A carcinogen-containing food? Who knew. Perhaps this is common knowledge for most of you, but this was the first time I'd heard about this.
So, what is a carcinogen exactly? According to merriam-webster.com, the definition of a carcinogen is "a substance or agent causing cancer."
Whoa…heavy stuff. I wanted to learn more about this to see if I should be concerned, so I looked for articles about the topic online. I learned that peanut butter itself isn't a carcinogen, but there is a mold that can grow on peanuts that produces aflatoxin, which is a carcinogen. I also learned that there are ways to supposedly kill the toxin and that aflatoxin-free peanut butters exist. Read on for more…
This article (click) by Dr. Weil was pretty informative, though overall it seemed like Dr. Weil didn't think the carcinogen levels of peanut butter were too threatening when eaten in moderation. I was thrown off a bit by this line since I usually think of health food store options as being…well…healthier:
"A few years ago, Consumers Union looked into the question of aflatoxins in peanut butter and found that the amounts detectable varied from brand to brand. The lowest amounts were found in the big supermarket brands such as Peter Pan, Jif and Skippy. The highest levels were found in peanut butter ground fresh in health food stores."
And I actually found this statement from the Dr. Weil article most interesting (since I'm an almond butter lover):
"I still prefer almond butter and cashew butter, because they have a better fatty acid profile."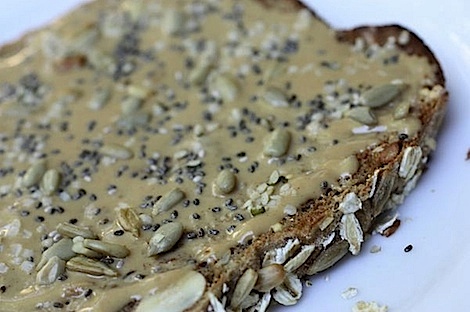 But back to the peanut butter discussion, according to this article (click) on discovery.com, you can actually enjoy peanut butter sans toxins if you just refrigerate it.
Here's a good snippet from the article in relation to the snippet above from Dr. Weil:
"…don't think that switching to the overly processed, non-organic version of peanut butter will save you because those peanuts are treated with a host of pesticides that seep right through that thin skin."
This article (click) from OrganicAuthority.com provides the advice I'll probably end up taking:
"The bottom line when it comes to peanut butter and your health: Buy organic to prevent pesticide contamination. Refrigerate your jar to prevent fungal growth. And if you're particularly concerned about aflatoxins, buy from top-notch natural brands like Arrowhead Mills, which claim to be completely aflatoxin-free."
Anywho, these are just three articles from what could be a very large number. Have you heard anything about peanut butter and carcinogens that I've missed? Please share your info, links, etc. in a comment.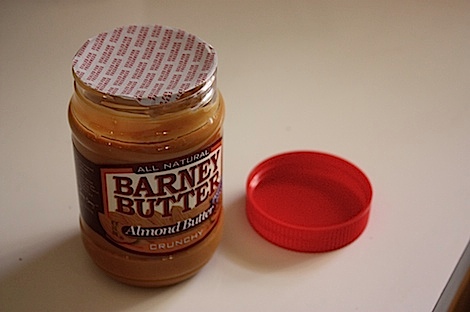 Either way, I think I'll stick with almond butter most of the time (I do like peanut butter and other nut butters every once in awhile) . I know almond butter is really trendy now, but I actually just prefer the taste of almond butter over other nut butters. But, if you've never tried almond butter before (or if you tried it once and hated it), it's worth me mentioning that not all almond butters are made the same. I've tasted some that were flavorless, bland, and basically horrible, so don't give up after trying just one.
My personal favorite almond butter is Barney Butter. It's expensive, but worth it to me for the deep-roasted flavor that just tastes so much better than others I've tried. I recently picked up some Justin's Maple Almond Butter that I'm really enjoying (it's great for the Not-So-Sweet fans out there). I usually try to purchase both on sale, and I've seen the Justin's brand at Target!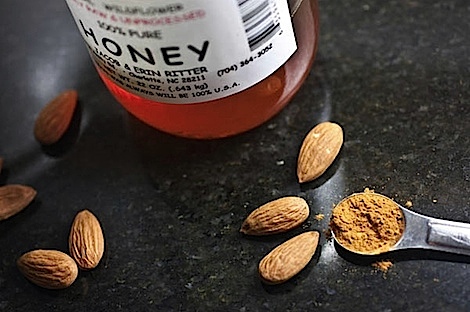 Or course, I also really like making my own almond butter. 😉 Click here for my Honey-Roasted Cinnamon Wink Almond Butter recipe.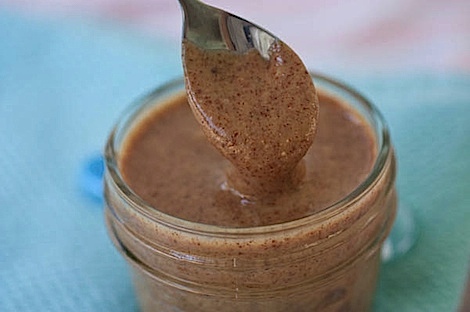 Reader Question: What do you think? Peanut butter: yay or nay? Does the carcinogen issue scare you away from peanut butter? Do you think you'll change how you store your peanut butter? Do tell!