Firstly, I wanted to say thanks to everyone for your thoughtful comments on the peanut butter post the other day. Those comments were some of the longest and most interesting recently, and I had a great time reading and responding to them. One of the comments even had me editing the post for clarity (thanks Rachael!). Click here to view the post.
***
I recently ordered this gray leopard blouse (saw it in the store recently, but it's sold out online) on sale from oldnavy.com. Even though we were just running errands on Saturday, I decided to take it out for a spin. The material is flowy, but not all that soft. However, overall, I think it's pretty comfortable, and I like that it's machine-washable and dryable.
I originally thought to wear this top with a pair of skinny black jeans, but that seemed too safe. My overall style tends to be on the simple/safe side, and though I don't think there's anything wrong with being simple, I'm currently working on being more a little more experimental every once in awhile. So, I decided to pair the shirt with some khaki shorts. Ooh, I know…so "daring", but the shorts aren't something I'd normally wear with this top. Not sure how I feel about the combo yet, but I'll keep playing.
By the way, Hubby urged me to do most of my photos sans sunglasses. He said I looked like the terminator with them on. Nice. 😛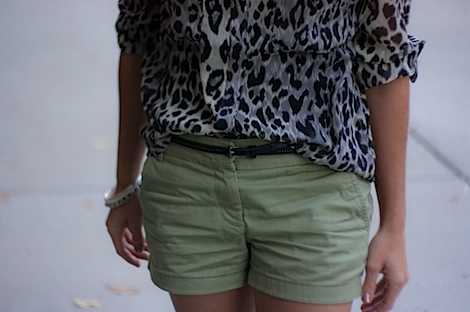 Ensemble:
Leopard print blouse: Old Navy
Layering tank top: The Limited
Shorts: J Crew
Suede booties: ASOS
Studded belt: J Crew
Bracelets: local boutique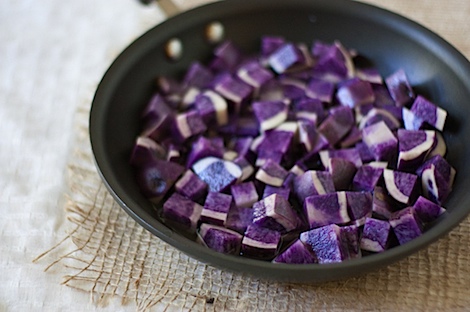 In cooking news, I purchased some gorgeous purple potatoes from the store the other day and decided to turn them into breakfast potatoes this morning to go with an omelet. I tried out a new method for preparing my Stuff-Your-Face Breakfast Potatoes that would use one less pot and would be simpler overall to prepare. It was pretty much a fail and got a little messy, but I somehow managed to salvage the potatoes enough to make them edible. As for the omelet…it was pretty much my first time trying to make a real omelet. I usually just make scrambles. I watched a video on how to make the "perfect" omelet as I was making the omelet (I know, I should have watched it first)…only to get halfway through to learn that I was supposed to broil the omelet in the pan, which wouldn't work for me since the pan I was using wasn't oven-safe. Doh! The omelet was a near-fail but ended up being pretty tasty (though not photogenic). Ahh…kitchen fun on a Sunday. Hopefully, some of you have omelet-making tips for me that I can use next time. 😉
Reader question #1: Do you wear shorts with blouses?
Reader question #2: Have you had any recent kitchen failures you want to share?
Reader question #3: What are your tips for making the perfect omelet?