The Limited's New Look
I was recently honored to be invited to the grand opening of a local The Limited store. Not only did I get to attend the store opening, I saw the ribbon cutting, got a tour of the new shop look, and interviewed the CEO. The CEO guys!
(FYI – I was not paid or compensated for this post. I was invited to attend the store opening and interview the CEO, and this post contains my thoughts from those experiences. I was given 2 gift cards to give away to TCL readers, but I was not required to blog about the opening in exchange. Ok, enough boring-talk…on to the fun!)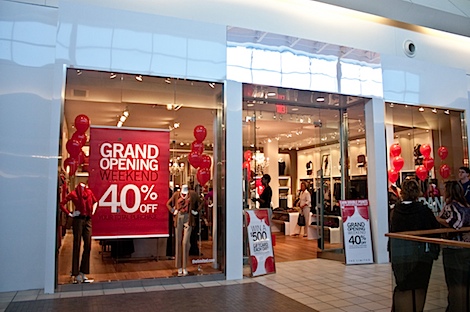 Not sure if you've ever heard of The Limited, but I've been shopping there since I could fit into the clothes. Me and The Limited go waaaay back.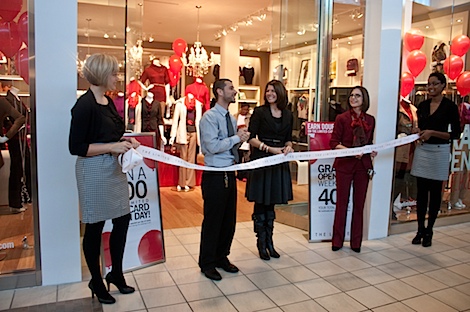 Anywho, we got things kicked off with a ribbon cutting (btw – can you tell which one is the CEO?).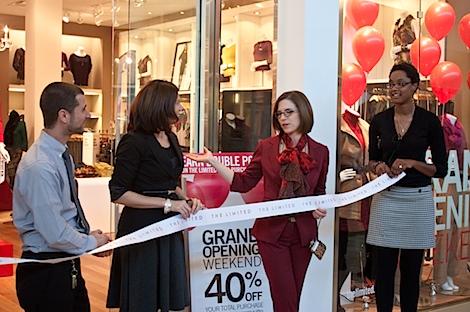 With a real ribbon…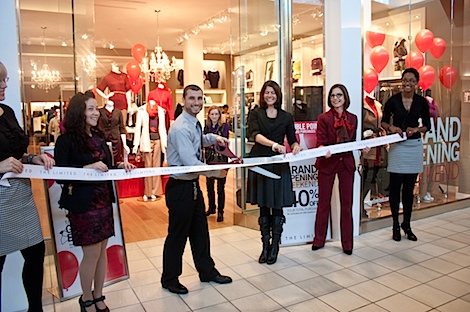 …and real (really big) scissors!
i was scheduled to do an interview with the CEO, Linda Heasley, around lunch, but since I was early, the store general manager, Michael, took me around the store to check out The Limited's new look.
The brand has made over its showroom with a more boutique-style feel.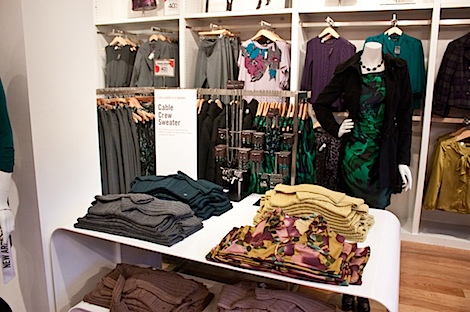 Our tour started at the front of the store where Michael explained they put the most fashion-forward and latest styles on display, along with accessory options and mannequins in full ensembles to give you outfit/styling ideas.
This area will be most frequently updated to stay on-trend and keep fresh options available to shoppers.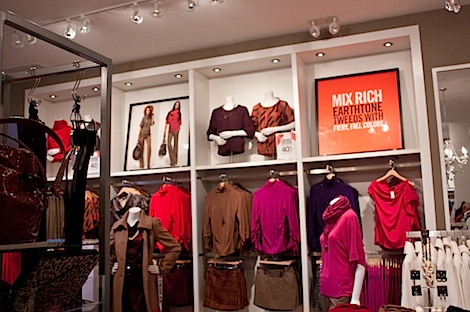 Besides the actual clothes, accessories, and mannequins, there was a lot of awesome PR material – photos with outfits and signs with fashion tips.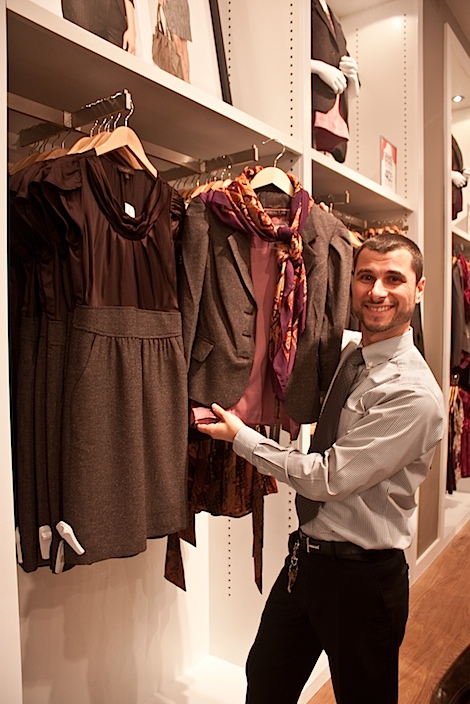 Most of the suit options were in the middle of the store. Michael explained that they want to provide lots of options for the busy working girl/woman so she can easily go from work to play. The Limited customer is busy with a full life and the brand wants to make that life easier on her so she can focus on her life instead of worrying about her clothes. And the clothes are trendy while still being work-appropriate.
Here's an example of a dress that goes from day to night. The blazer next to it ups the ante for the daytime, business look, while the the dress alone would work for after-dinner drinks. Remove the blazer, do a quick change of accessories, and you're ready to go!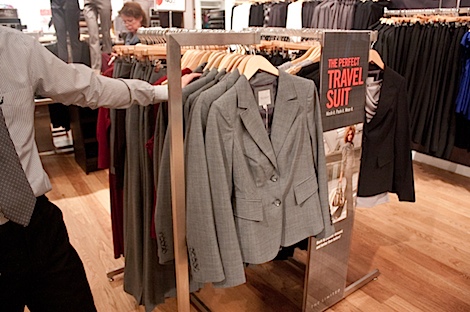 And check out this travel suit – anti-wrinkle, ya'll! It's been awhile since I've had to fly for work, but there was a time where I needed to go straight from the plane to the office…this type of suit could come in handy.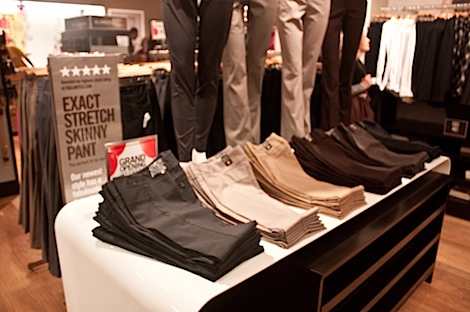 They had tons of bottom options – various sizes with different lengths.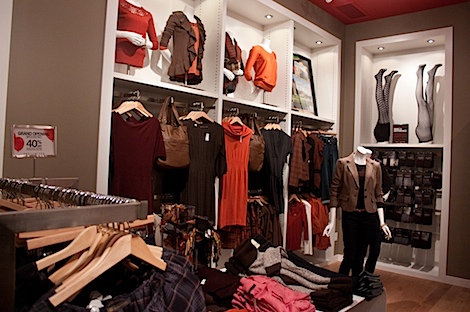 And the clothes in the back are (if I remember correctly) inspired by trips The Limited team has recently taken. The colors and fabrics are the key take-aways.
***
Overall, I was really impressed with not only The Limited but the friendly and helpful team behind the product. They seem to genuinely want their customer to be happy and have a great experience shopping with The Limited. And I love how The Limited clothes and accessories are geared towards the young working woman like me! The have a lot of options for the young, fashion-forward working girl, and they love to create simple solutions for us working women. For example, they have several sets of bottoms and blazers made from the same material. Why? So you can mix and match your pieces, even if you purchase items across different years. I can't wait for you guys to read the interview I did with the CEO – I think that will help tell the store a bit more.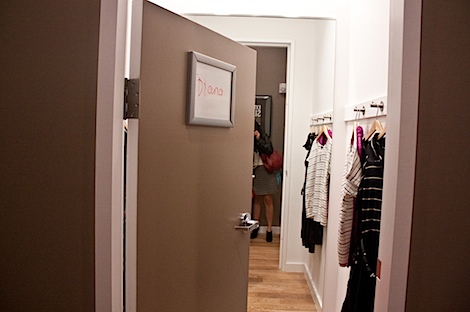 Of course, I had to try on some of the new clothes at The Limited while I was there.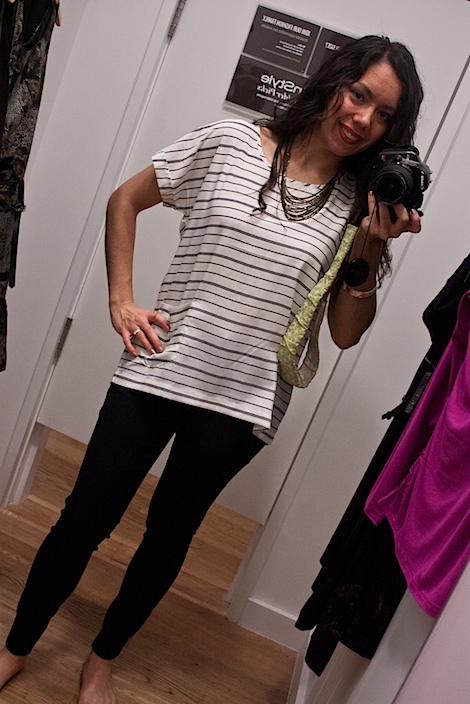 I really liked this top, but it reminded me a bit of something I already have, and I'm trying to be more selective about what makes it into my closet.
They did have a 40% off sale going on in honor of the new store opening, so I picked up a thing or two.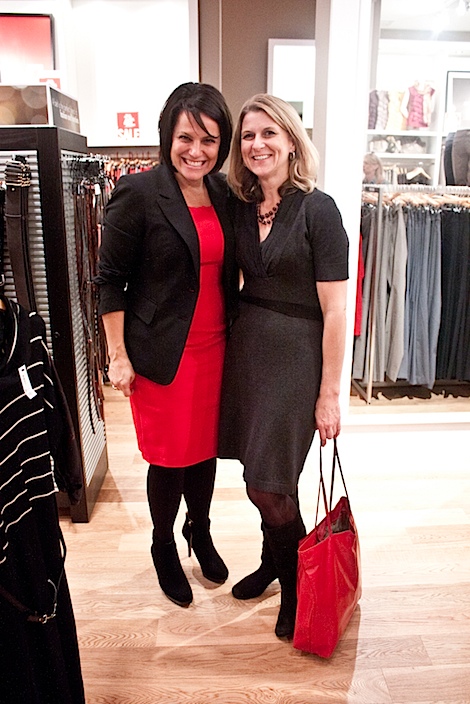 I had fun chatting with these ladies – Marci Milito (The Limited's director of PR – you may be chatting with her if you're contacting the Limited via Facebook or Twitter) and Michelle Hubacher (with a local PR company who helped organize this event). Did I mention Michelle is a blog reader? Too cool! Hi Michelle! 🙂
Win a $50 gift card to The Limited
Michelle and The Limited hooked me up with two $50 gift cards, and while it was tempting to spend them at the opening day of the new The Limited shop, I saved them to give away to you guys!
There are 2 easy ways to enter (tell me what you'd buy and share the URL to that item):
Blog entry: Leave a comment on *this post* with the URL to The Limited item you'd like to buy if you win the $50 gift card (psst – click here to go to The Limited's web site)
Facebook entry: Leave a comment on my Facebook wall (click) post where I ask you, "What would you buy with a $50 gift card to The Limited?" with a URL to the item you'd like to purchase.
The rules:
You can enter until 10pm ET next Wednesday 11/23/11
US only
Up to 2 entries per person: 1 entry on this blog post and 1 entry on my Facebook wall
Winner will be randomly selected (1 from this blog post and 1 from my Facebook wall)
If winner doesn't respond within 1 week of posting winner information, I will select a new winner
Ready? Steady? Go!
And be sure to come back soon for my interview with The Limited CEO!