In hubby's family, Santa brings not only the presents, but the tree, too! So, we spent Christmas Eve decorating their Christmas tree for hubby's sister's kiddos.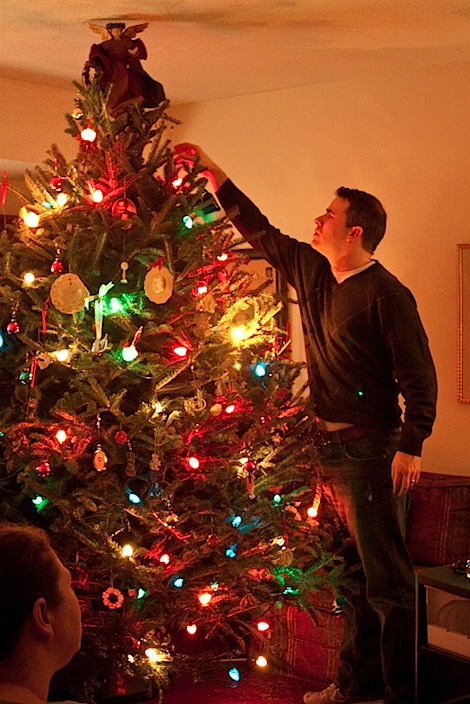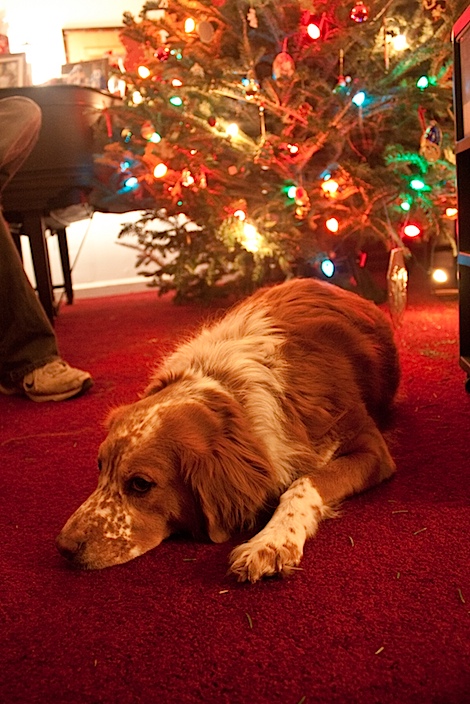 I caught hubby's bro's dog sitting still for once.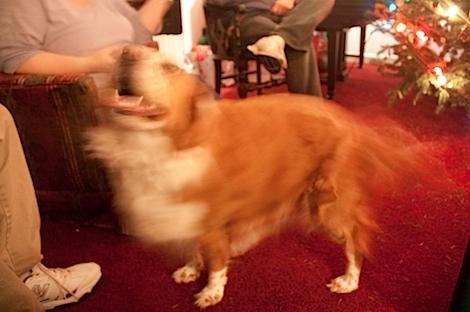 Normally, she wags from head to toe and looks more like this. 😆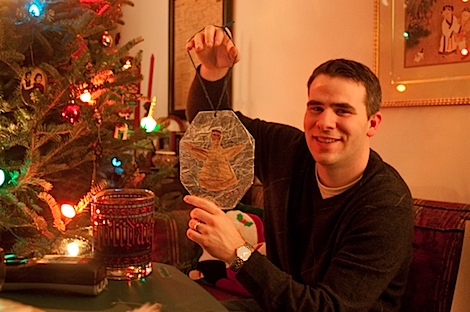 Many of the ornaments on the tree were handmade by hubby, his brother, and his sister from when they were kids. It was fun to see their creations from the past.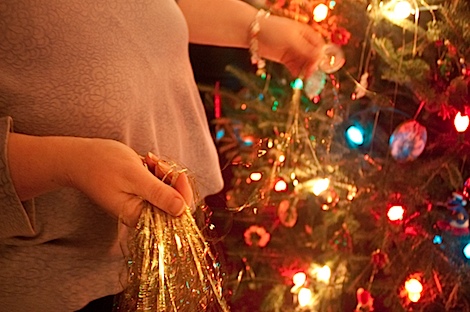 And the finishing touch – tinsel!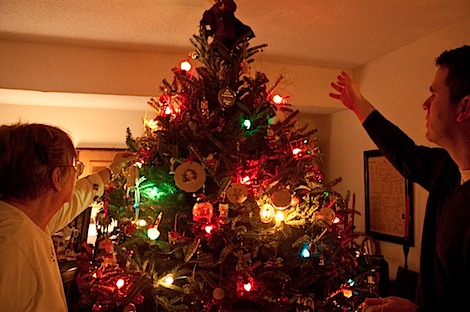 Lots and lots of gold tinsel.
And with the tree decorated, we hit the sack. Zzzzzzzzzz…
***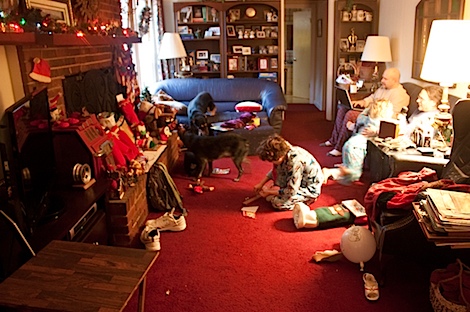 By the time we got up on Christmas morning, the kids had already opened their stockings and were playing with the new toys Santa brought them.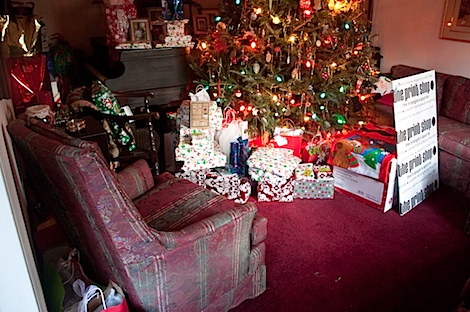 And Santa's sleigh must have been really heavy last night with all of these presents!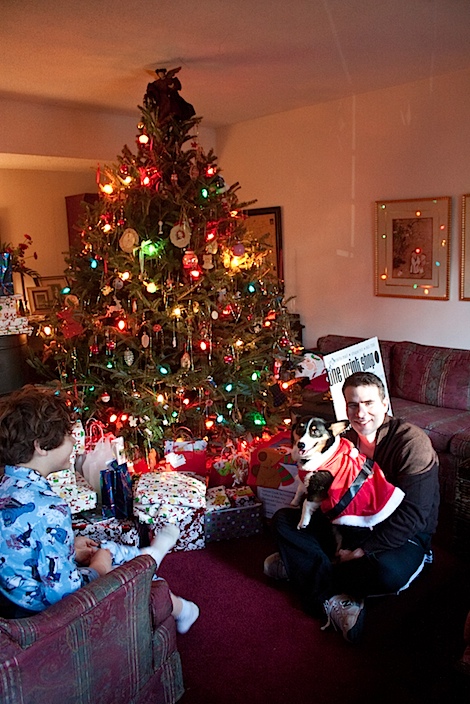 After a couple photos in front of the tree…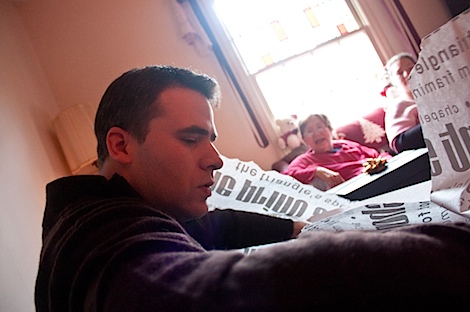 …it was time to start opening presents.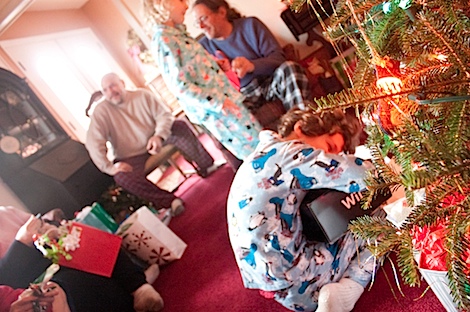 Someone especially loved their new Wii. So cute!
The only thing I didn't capture on my camera was when the whole Christmas tree toppled over while we were in the middle of opening presents! It was scary at first, but luckily, no one was hurt, and nothing major was broken. The fall broke a couple ornaments, but most of them survived, which was great since many are sentimental and one-of-a-kind. No doubt, this will turn into a long-lasting family story. I can hear it now…"Remember that time our Christmas tree fell over?" Yup, making memories I tell ya!
Anywho, after a quick clean-up, we continued the present-opening party.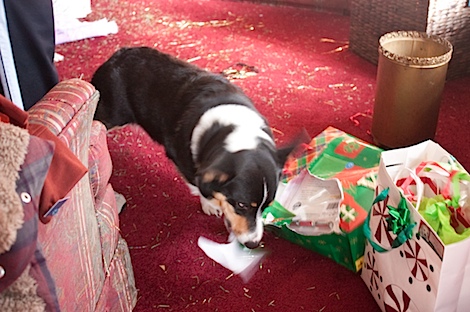 Someone else was pretty excited about their gifts. Bailey ripped right through his gift bag to get to the contents: a retractable leash with a flashlight, a new "baby" (wonder how long this one will last lol), and treats!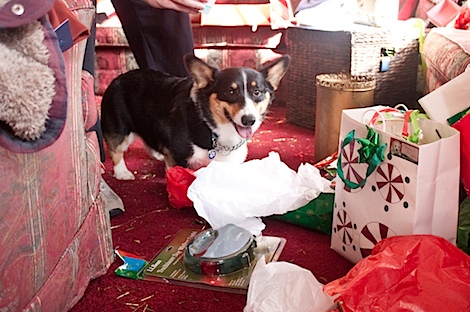 Happy corgi.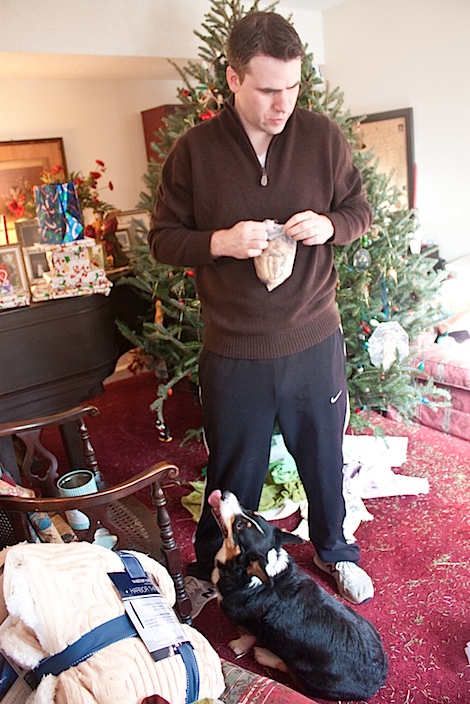 …especially after enjoying one of his new peanut butter treats!
***
By the way, I know I've been a bit MIA, but things have just been really crazy lately. It's been much easier for me to post on Facebook, twitter, and Instagram (username: thechiclife), so be sure to follow me there! I'm currently loving Instagram because it's so fun to share my life in photos!
***
Merry Christmas and Happy Holidays!