I'm thinking of starting a new series for my fellow workers out there to feature meal ideas you can put together after a long work day. You know the one – when you pulled another 10 hour/no-lunch-break kinda day or when you maybe just have a slew of meetings. I'm talking about having the type of day that leaves you feeling like a zombie but still wanting something (anything!) to eat that tastes good, is (maybe? hopefully?) good for you, and most importantly – doesn't take a lot of time and/or effort.
While I prefer things to be made as much from scratch as possible in general, sometimes it's better to use some pre-prepped foods than to eat out or order take-out. The meals I'd like to feature would be sort of semi-homemade but TCL-style, which means I'll take help from the store, but I'll do it as close to the source and with as natural as possible ingredients/products. And since I actually did work 10 hours today with only a 30 minute break, the only name my zombie-brain can come up with for this new series is "Work Day." I know…so genius. But the overall concept is an easy meal after a long work day using as natural as possible ingredients. Any other name ideas for the series?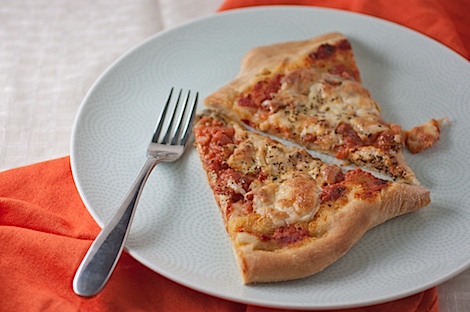 I had a craving for pizza today, and hubby agreed it sounded like a good idea, so I asked him to pick up ingredients to make pizza at the house (since I was working late):
Gotta love a short shopping list.
Anywho, pizza night is definitely not a revolutionary idea, but I thought I'd share some photos/tips from tonight's dinner anyways to show you how I make mine…and if nothing else, as a meal idea for my fellow Eat in Month-ers. I'd also like to gather some tips from some of my most knowledgeable friends – you guys! 😉
I'm not very good at making pizzas at home, but especially since we're doing Eat in Month, I had no choice but to suck it up and try. I've never actually made a pizza entirely from scratch, though I have bookmarked a couple pizza dough recipes. I'd also like to try to make a sauce from scratch, but homemade pizza dough and sauce were not happening after my long work day. So, we took some help from the store.
A couple tips on ingredients:
Dough: You can get little-processed pizza dough if you know where to go: many grocery stores sell freshly made pizza dough. Trader Joe's has a nice one for only about $2. And sometimes your local pizza shop will sell you a ball of their dough if you don't mind making the extra tip and/or paying a little more.
Sauce: Many stores have special pizza sauce: some of them even have grocery-store-prepped sauce with the dough in a refrigerated section. I know hubby got both the dough and sauce for tonight's pizza from the same section near the cheese counter.
Cheese: We used to use shredded, but we've recently started using buffalo mozzarella. Both are good options.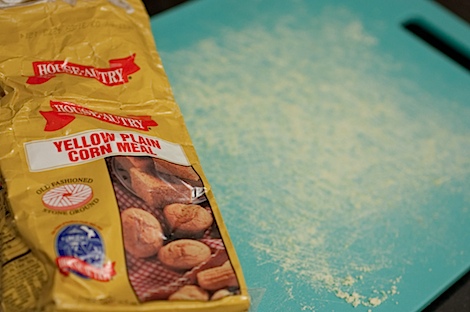 I love using corn meal to help keep the dough from sticking to things.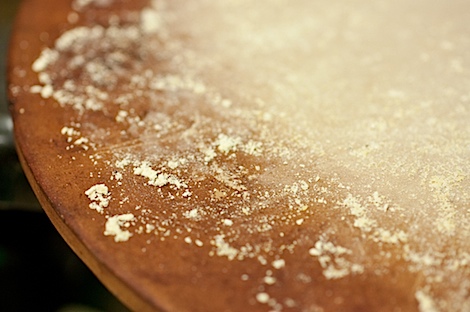 I also like using a baking stone. I think it helps to bake the stone before you put the pizza on it to help get the bottom crispy and help ensure it cooks through (early runs at homemade pizza yielded raw centers). If the pre-baked stone trick doesn't work, you could also try baking the crust by itself before adding toppings.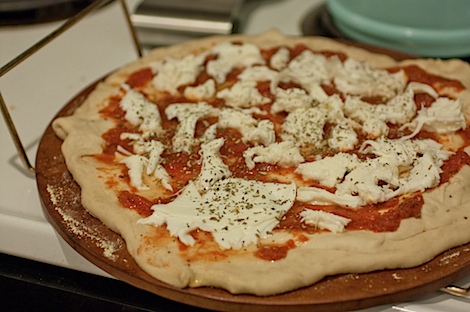 I literally just spread some corn meal on this baking stone, baked it for about 10 minutes in the oven, added the dough (which I stretched out with my hands – I didn't feel like getting the rolling pin dirty), smeared on some marinara sauce, added cheese, added seasonings, and baked.
The pizza seasoning definitely helps add flavor. Oh, and be sure to check out the dough package for baking tips since they can vary from type to type. If you get dough from your local pizza shop, you can try asking them for tips.
By the way, do you like my crooked crust? lol. I kind of like how homemade things can take on a wonky kind of look.
I added a quick spinach salad with green bell pepper, tomatoes, balsamic vinegar, and extra virgin olive for a veg serving.
As for the pizza…the center was cooked through (woohoo!), and though it wasn't nearly as good as our fave local pizza shop, it hit the spot.
What are your tips for making a quick pizza at home?