Before I get into this post, I have to ask…did you see on twitter or Facebook that The Chic Life got a mini make-over? That's right! It's so exciting! If you're reading from a feed, you can click here to visit and see for yourself. Hope you like it!
***
Here's an idea for a side dish or vegetarian entrée perfect for the fall season…or even a new twist on a Thanksgiving side…
Autumn Quinoa & Brussels Sprouts
Tender, sautéed, shredded brussels sprouts with quinoa, dried cranberries, and toasted pecans.
I had a salad once with a little bit of quinoa mixed in. It was fun take on a classic starter, and I was curious to see if I could apply the same concept to shredded brussels sprouts, which I love. I was going to do a basic garlic version, but when I realized I had the pecans and cranberries on hand, I decided to make it fall-inspired instead. Maybe I'll do the garlic version next?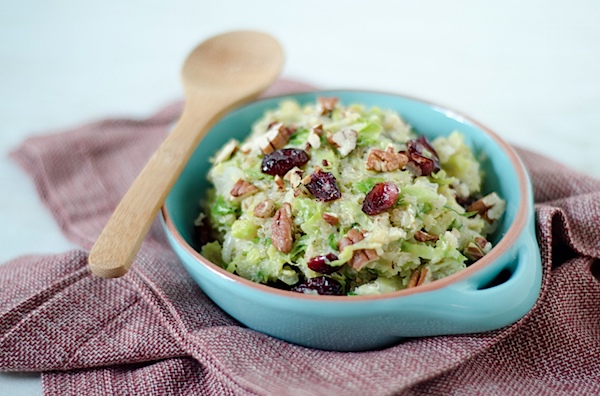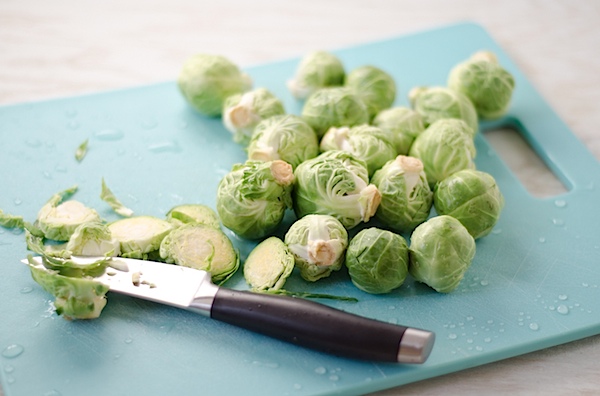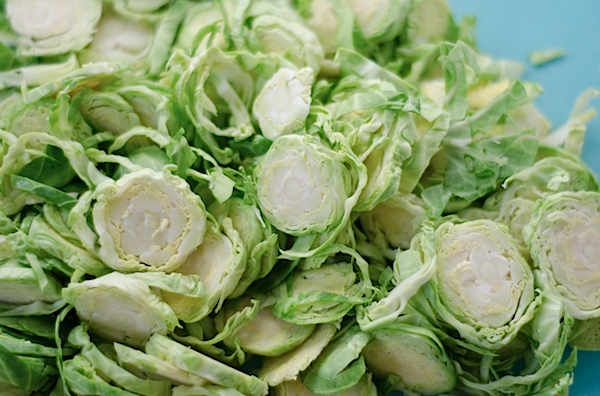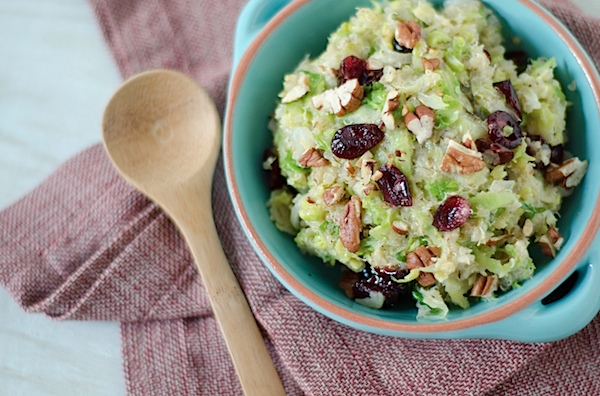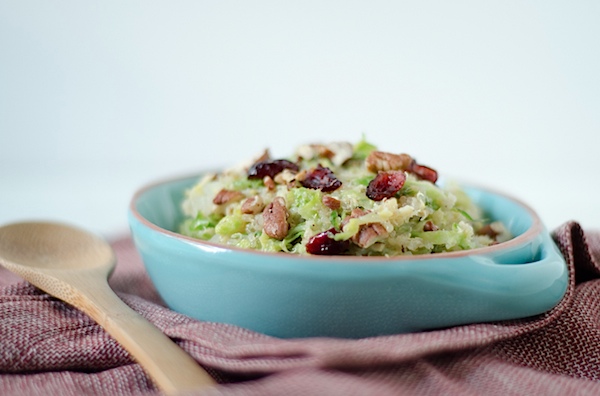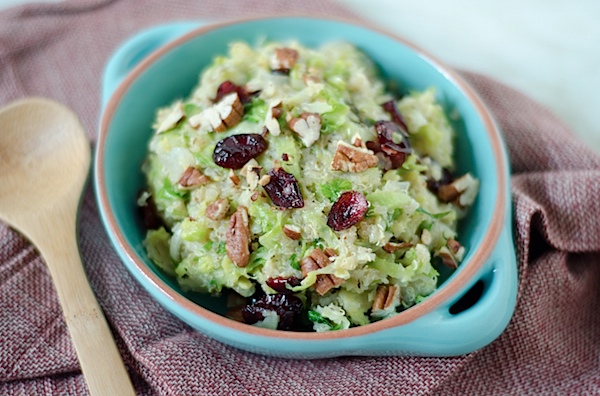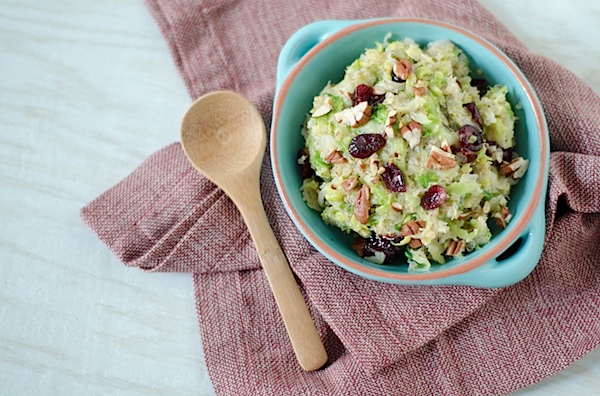 Autumn Quinoa & Brussels Sprouts
It's a veggie! It's a starch! It's…Autumn Quinoa & Brussels Sprouts…with cranberries and toasted pecans. This is a great side dish or vegetarian entrée for fall or even a Thanksgiving dinner or potluck. Use broth/stock of choice for a more flavorful result. Add extra nuts for extra texture and toasty goodness.
Prep time: 10 minutes
Cook time: 30-35 minutes
Total time: 40-45 minutes
Yields: approximately 4 cups
*Vegetarian, Vegan options*
Ingredients:
1 cup quinoa, rinsed
3 cups broth/stock of choice or water
1/4 teaspoon salt, plus additional for seasoning
1/4 teaspoon dried thyme
1 tablespoon extra virgin olive oil
1 shallot, chopped small
16 ounces (1 pound) brussels sprouts, cleaned, outer leaves removed, shredded (see photo above for example of brussels sprouts sliced thin – use fingers to shred)
1/2 cup raw pecans, chopped (I guess you could use already-toasted nuts if you're feeling lazy and want to skip step #2 below)
1/2 cranberries
pepper, as needed for seasoning
Directions:
Combine quinoa and broth/stock in a medium/large pot over medium heat and bring to a boil. Reduce heat to simmer, cover, and cook about 25-30 minutes or until tender.
Meanwhile, heat a small pan over medium low heat. Add pecans and cook until toasted, stirring frequently, about 5 minutes or until fragrant and golden. When done, move to a separate bowl (otherwise, they'll continue cooking from residual heat).
Heat a large pan over medium heat. Add extra virgin olive oil and shallot and cook till shallot is fragrant, about 60 seconds. Add brussels sprouts (and a sprinkling of salt and pepper) and cook till tender, about 3-4 minutes, stirring occasionally. Add quinoa, cranberries, and pecans and stir till evenly mixed. Taste test and season with salt and pepper, as needed.
Serve & enjoy!
***
Pinspiration: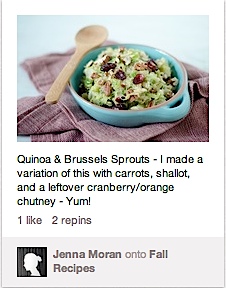 Pin by Jenna with a nice variation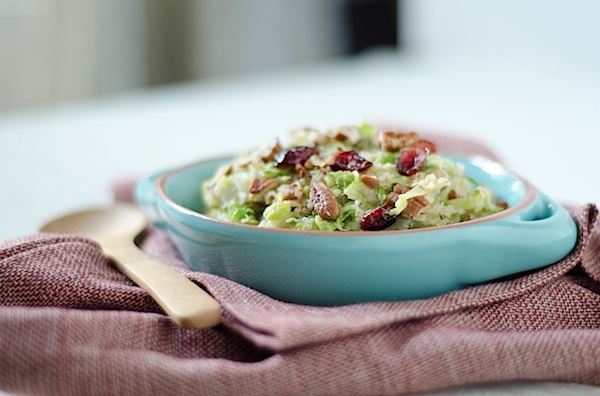 Let me know how you like the recipe if you try it out!
Please consider clicking the Facebook Like button on this post to share the TCL. Thanks for stopping by!
Reader question: What festive side dishes are you planning to make this fall and/or Thanksgiving?