Whether you're a fan of tofu, vegan, or just want to experiment with a healthier pumpkin pie, this recipe is for you…
Tofu Pumpkin Pie
The result is just as tasty as "regular pumpkin pie," though the texture of the pie I actually baked was a bit on the soft side. I've listed suggestions in the recipe below (see optional ingredients) to help firm it up, if you want. It also seems like a lot of pumpkin pie recipes I've seen call for 3/4 to 1 cup of sugar, which seemed like a lot! So, I reduced it a little by using only 2/3 cup sweetener. I thought maple syrup would give it a good flavor, and it did. But, the liquid-y sweetener may have added to the soft texture. Consider using part of all of a dryer sweetener, like granulated sugar, using a portion brown sugar or adding molasses for a rich flavor.
By the way, my MIL said I could tell you guys that she really enjoyed this pie, even though she's not vegan. I think it's a good sign when you can get your omnivore friends and family to enjoy vegan eats.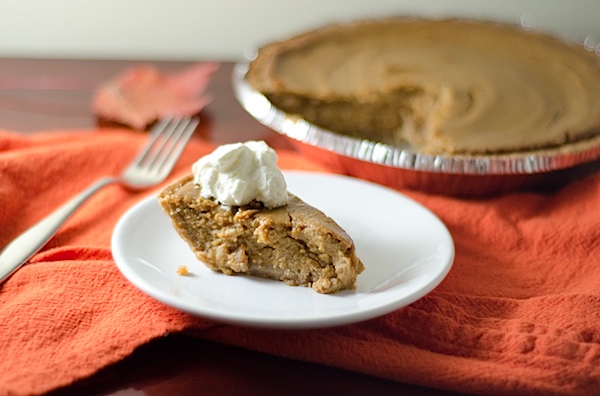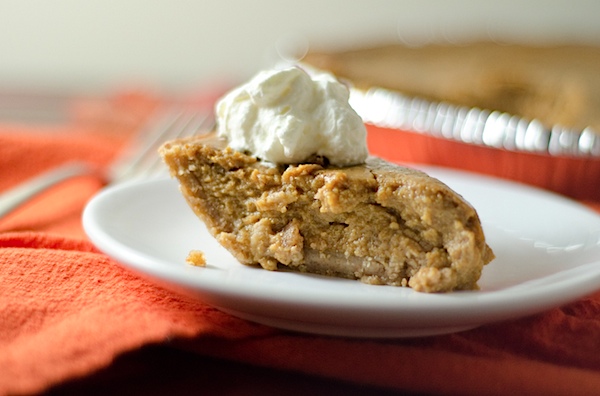 Tofu Pumpkin Pie
Here's a healthier pumpkin pie recipe that is also vegan (so long as you use a vegan pie crust, of course). The texture is a bit on the wet side, which may be impacted by my use of maple syrup as the sweetener of choice. I'd normally experiment with the recipe variation suggestions before posting them. But, in the interest of getting it up in time for Thanksgiving, and since my family still loved the pie, soft texture and all, I figured it was okay. Feel free to try sugar for the sweetener or add some corn starch (or flour) to firm up the pie. If you experiment with the sweetener or try adding corn starch, let me know how it goes in a comment!
Prep time: 5 minutes
Bake time: 60-65 minutes
Total time: 65-70 minutes (plus time to chill the pie in the fridge – I let mine chill overnight)
Yields: 1 pie
*Vegetarian, Vegan if you use a vegan pie crust and vegan whipped cream)
Ingredients:
1 15-ounce can canned pumpkin (NOT pumpkin pie filling)
1 12.3-ounce box firm silken tofu, drained (I used morinaga brand – in the International aisle, not refrigerated)
2/3 cup maple syrup (or sub 1/3 cup sugar and 1/3 cup brown sugar or 2/3 cup sugar + 1 teaspoon molasses – see note above)
2 tablespoons corn starch (or flour), optional (see note above)
3 teaspoon pumpkin pie seasoning
1 teaspoon vanilla extract
1/2 teaspoon salt
1 9 inch prepared pie crust (I used a ready-to-fill all natural pie crust)
whipped cream, optional, to serve with the pie (I made some with a hand held mixer and heavy whipping cream, but there are some good vegan options out there)
Directions:
Pre-heat oven to 350 degrees F
Combine pumpkin, tofu, maple syrup, corn starch (if using), pumpkin pie seasoning, and salt in a food processor. Process until evenly combined. Note: you can also hand whisk the ingredients, but the tofu may be a bit lumpy.
Pour into pie crust, spread evenly, and bake for approximately 60-65 minutes or until set (when a toothpick inserted into the pie comes out almost clean).
Let cool and place in refrigerator to set or keep till ready to serve. Note: I made mine the day before our Thanksgiving celebration to save time on the big day for other preparations.
Serve with whipped cream. Enjoy!
Reader question: What are the must-have Thanksgiving desserts on your family's table?