Since we were hosting our first Thanksgiving ever at our house, my approach was to keep things simple. Simple eats, simple (simpler?) decor. I started our table decorations with a mustard yellow table runner that I got on sale awhile back and added orange, harvest-themed place settings that I scored at Williams Sonoma a few years ago for 80% off. I added in four coordinating napkins and four red-toned napkins (all also on sale). Those were all the decorations I had on hand, so I next had to figure out what to purchase to put on the table.
I considered doing a fun centerpiece, but our family likes to keep the food where we can get to it easily – right on the table. Not to mention, the serving dishes are often passed around and land in different places, so I didn't want things getting in the way. Additionally, if I've learned anything from enjoying Thanksgiving with my family and hubby's family, it's that fancy table decorations are not required for a successful feast. Now, don't get the message confused. If you're into fancy, beautiful, elaborate centerpieces, I think that's great. What I'm saying is that if you're not into getting all Martha Stewart on your table, that's great, too.
I decided to go for a minimalist look with vases, candles, and split peas (you'll see). It's not the most unique or revolutionary idea, but I did try to take measurements and list shopping info (pricing, stores) to help you out.
Supplies for Affordable & Easy Thanksgiving/Fall Table Decorations
Here's what I used:
2 hurricane-style vases (with bottoms, not just sides) @ $7.99 each at Michael's – 8″ tall with 5 1/2″ diameter mouth (your newspaper may have a 40% off coupon you could use on one of these)
2 candes @ $3.50 each at Michael's – 6″ tall with 2 1/2″ diameter
orange split peas (or lentils) – I used 4 cups, but you could add more (I wouldn't recommend less, though) or even alternate colors – we got ours from some bulk bins, but you could also try the aisle with beans in your local grocery store
leaves – free
I considered doing a larger vase setup in the center but ultimately decided to let the turkey be the star and take center stage.
How-To Set Up Your Thanksgiving / Fall Tabletop Decorations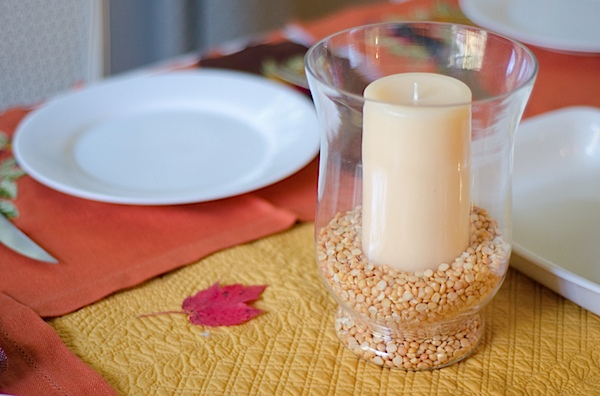 How-To: I first put these together by filling the bottoms of the vases with some split peas, adding the candle, and then pouring the rest of the split peas around the sides. But, the easier way ended up being to just put all the split peas in the vase and twist and push down on the candle to get it into wedged into the split peas.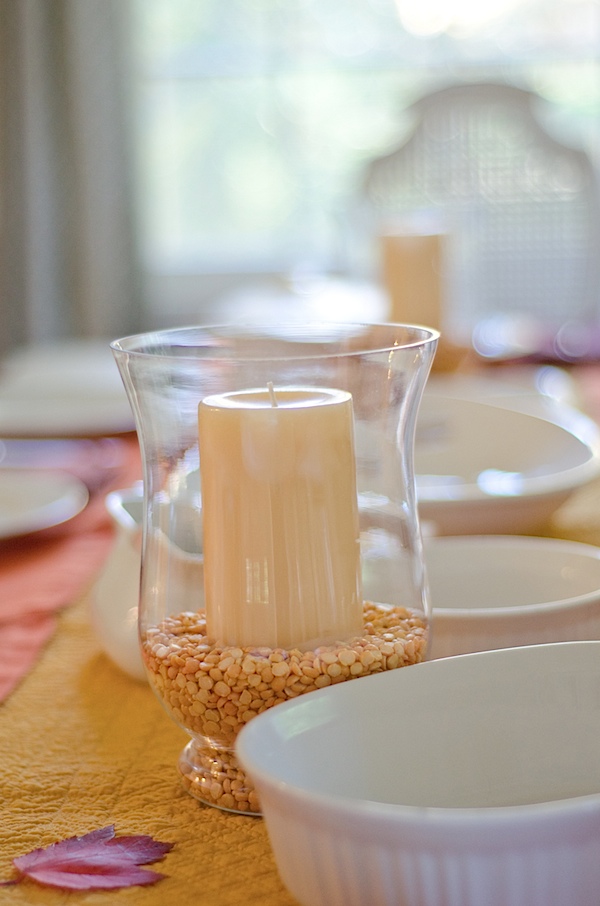 Tip: Be sure to place the vases side by side when you put them together so you can get the candles at the same height before placing them where you want on the table.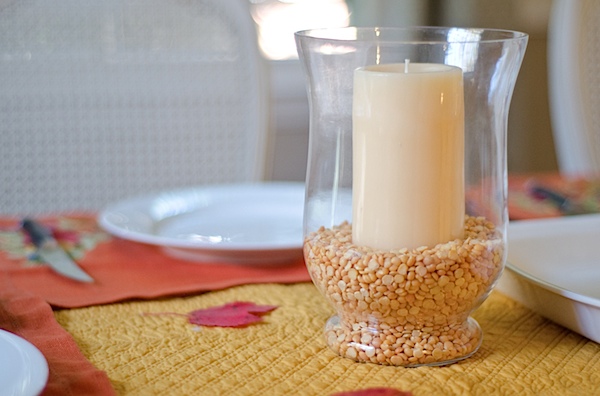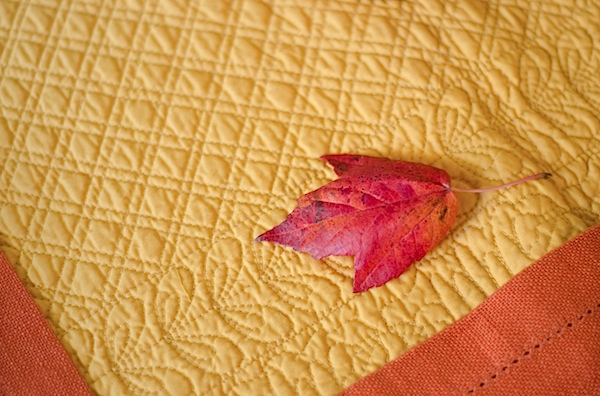 Free Thanksgiving / Fall Decorations
Use nature to your advantage and grab some fall leaves from outside to use on your tabletop.
There are so many beautiful variations of fall leaves available at this time of year. Pick some that will pop out against your table, runner, or tablecloth. I grabbed a handful of leaves with my Zumba friends after class on Saturday morning and picked out which ones I wanted to go on the table.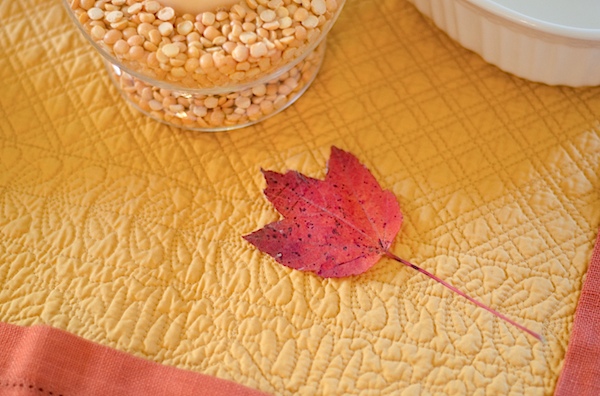 The best thing about using leaves over some other ideas I had is that the leaves are flat and wont' get in the way of the variation dishes of food. It's all about the eats, people.
Quick & Easy Thanksgiving / Fall Decorations!
And one of my favorite things about this year's decorations is that it was so fast to put together. It only took me a couple minutes to lay out the runner, place settings, and napkins. The vases took about the same to put together, and it was maybe a minute to spread the leaves out on the table. Simple, fast, affordable. Yes!
***
Here's the full table from our Thanksgiving celebration…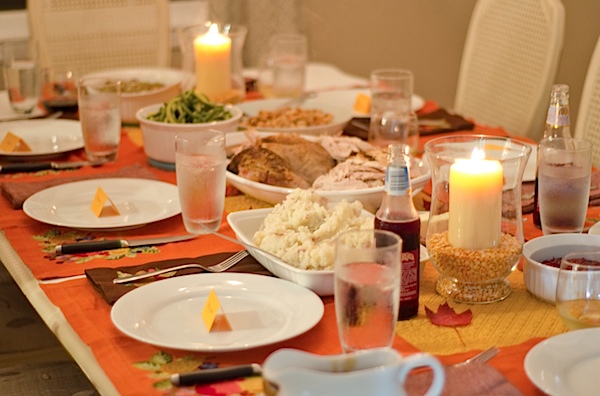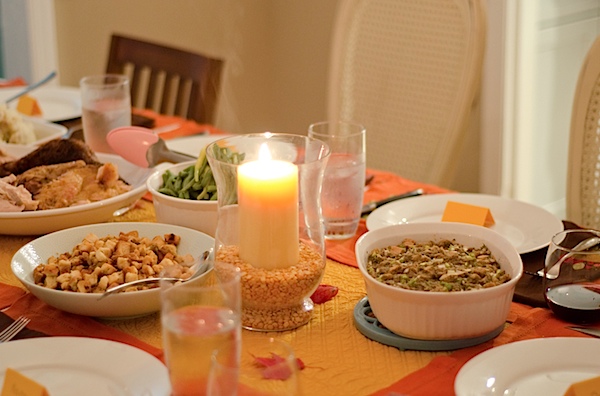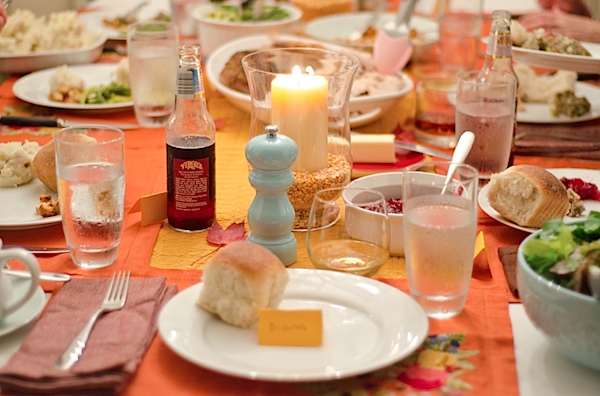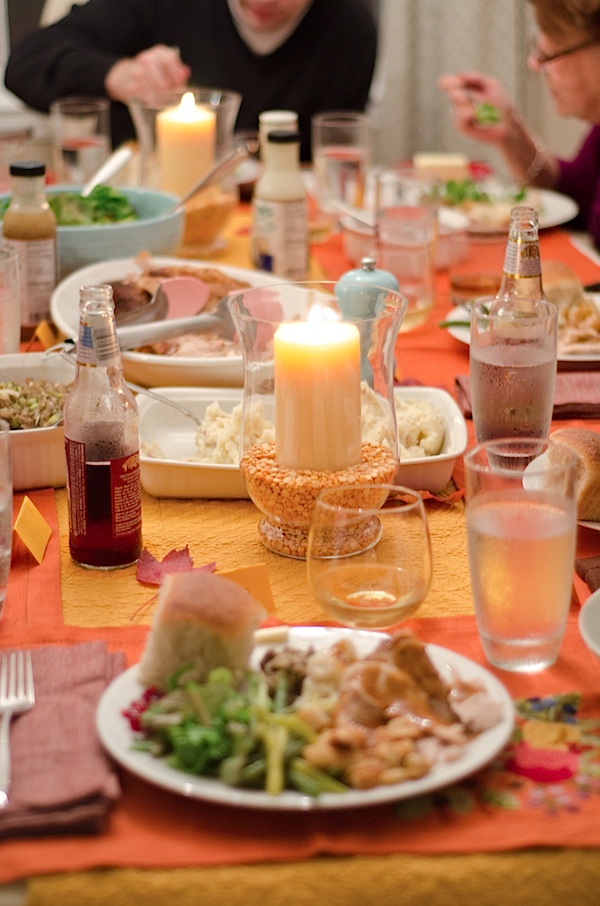 Click here to read about our Thanksgiving celebration 2012 part 1 and click here for part 2.
Thanks for reading!
***
Reader questions: Do you do elaborate or simple Thanksgiving/fall table decorations? How do you style your table?