The conference day breakfast may have been light, but Food Blog Forum and Disney had a real treat up their sleeves for our lunch – Disney Kid's Cuisine! That's right, we got to sample some of the best dishes off the kid menus from all around Disney World – from Epcot to the Animal Kingdom Lodge. Not only did they bring the kid-friendly food to us with various stations set up in one of the Grand Floridian conference rooms, but they brought the chefs, too!
By the way, if you're catching up, you can check out my previous posts here: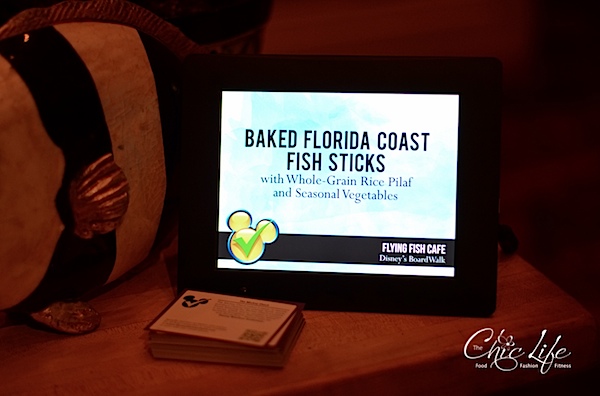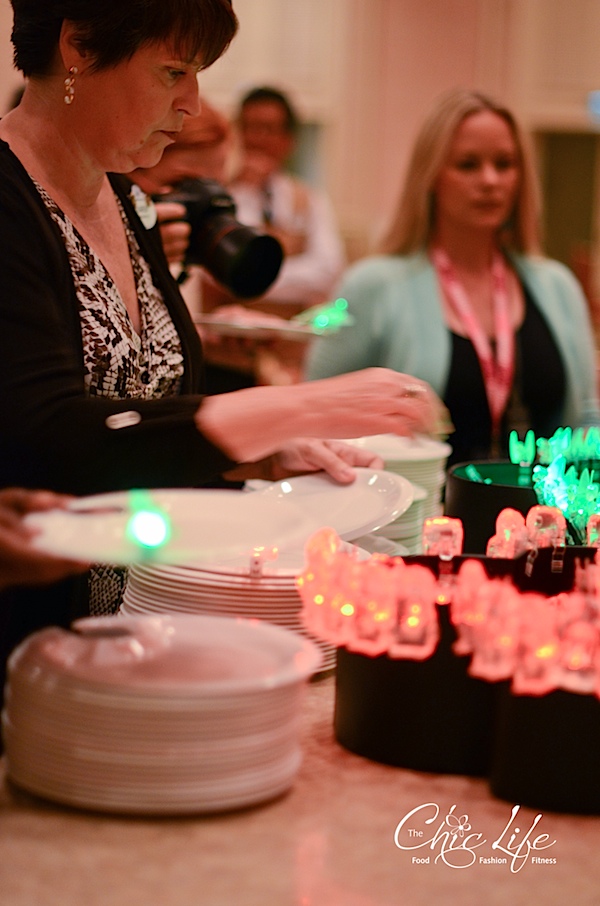 We gathered in the hallway, excitedly waiting for the doors to open. As soon as they did, we rushed into the conference room where we were given tasting plates with blinking decorations. I got a green tinker bell and headed to the left.
I decided to post the photos from lunch in the order they looked best for the post, rather than the order I ate the related food. I'll explain along the way…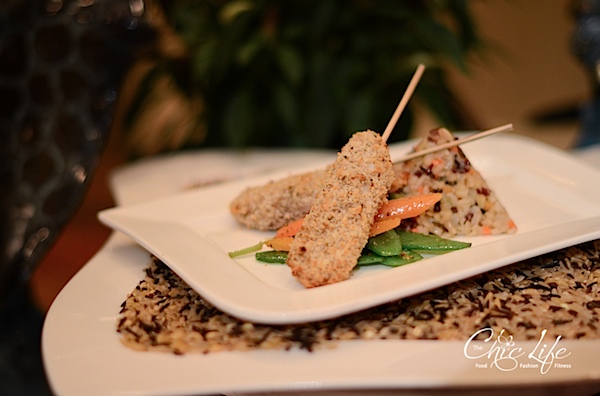 I tried these baked Florida coast fish sticks after eating the cheese soup and macaroni and cheese, so at first, the flavors were lost on me. I think the saltiness of the cheesy dishes prior kept me from really tasting all the subtle flavors of this dish. Luckily, I was slowing down on my eating since I was also chatting with fellow food bloggers, so I ended up inadvertently taking my time with this one. As I slowed down, I really started tasting the fish and the breading, which were delicious together. This one may have been my favorite of the lunch, mostly because of the fish. I also enjoyed the crisp-tender seasonal vegetables, and I liked how they snuck carrots into the whole-grain rice pilaf.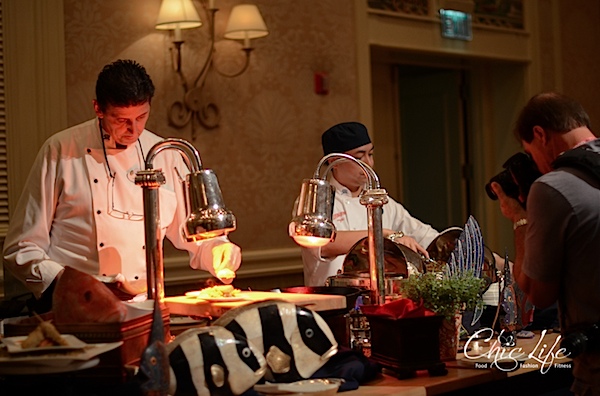 The fish stick dish was presented by the Flying Fish Cafe at Disney's Boardwalk. Chef – Tim Keating, Manager – Stig Jacobsen.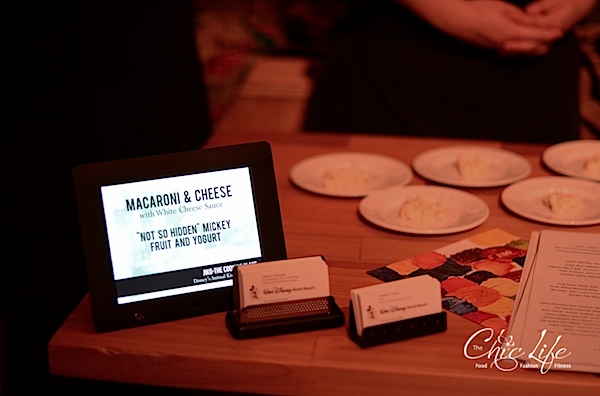 I'd like to say the mac and cheese was another favorite, and it was…but all the food was really so good, they were all favorites in different ways. And you can't really go wrong with mac and cheese, can you? This mac and cheese was made with a white cheese sauce, which was a fun and tasty twist. I easily ate this one right up.
The mac and cheese came from Jiko – The Cooking Place at Disney's Animal Kingdom Lodge. Chef: Jonathon O'Brien, Manager: Victoria Thompson.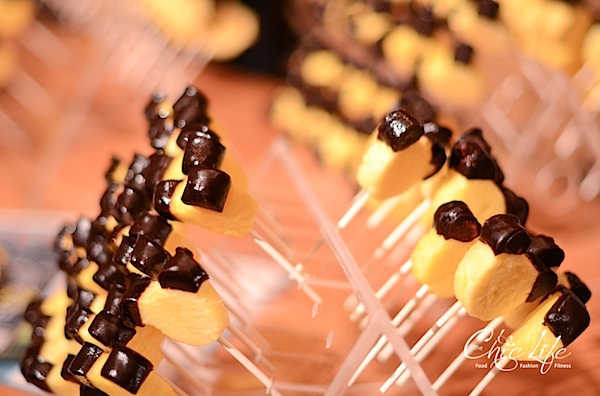 They also had pineapple-chocolate Mickey Mouse pops at this table, which made for a light early-dessert-bite.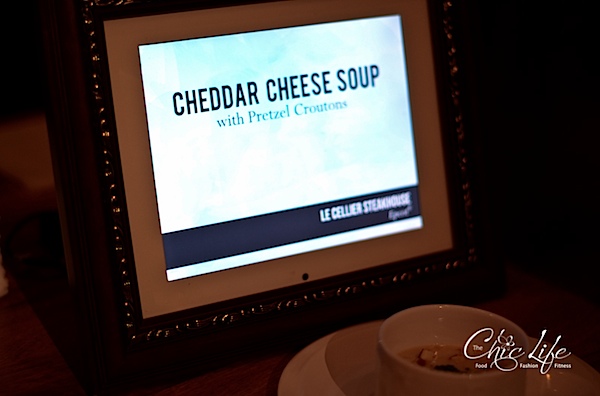 The cheddar cheese soup was one of the dishes I was looking forward to least, though I was determined to try each dish at lunch. In my head, I imagined it to be something like a big bowl of thick, orange cheese dip. In reality, this soup was light, creamy, and just fantastic. The soup was also a favorite with many of the food bloggers at my table. The toppings of pretzel croutons and (I believe) green onions added great texture.
Le Cellier Steakhouse from Epcot presented the cheddar cheese soup. Chef: Jay Derby, Manager: Rick Decicco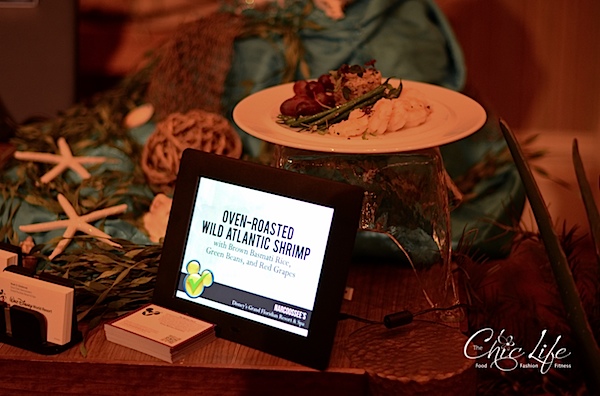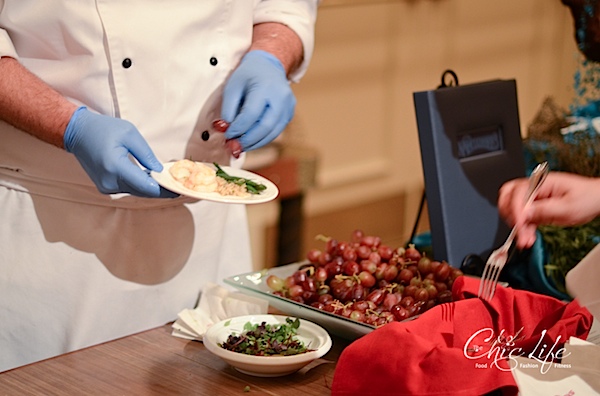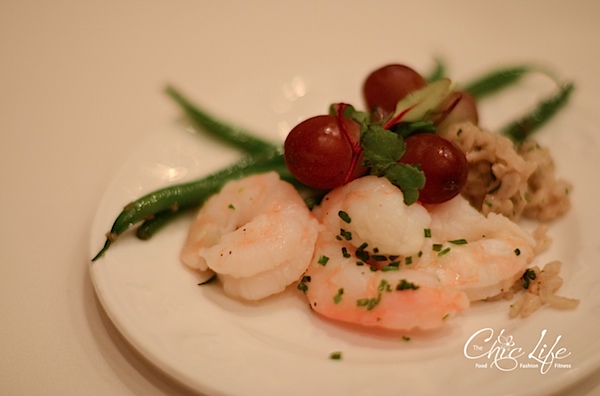 One of the lightest dishes was the oven-roasted Atlantic shrimp with brown basmati rice, green beans, and red grapes, which was a great combination of savory and sweet. I liked how this dish had a trio of my favorite meal components – a lean protein, a whole grain, and vegetables, plus a bonus of fresh fruit!
This shrimp dish was from Narcoosee's at the Grand Floridian Resort & Spa. Chef: Noah Estabrook, Manager: Brian Ruppe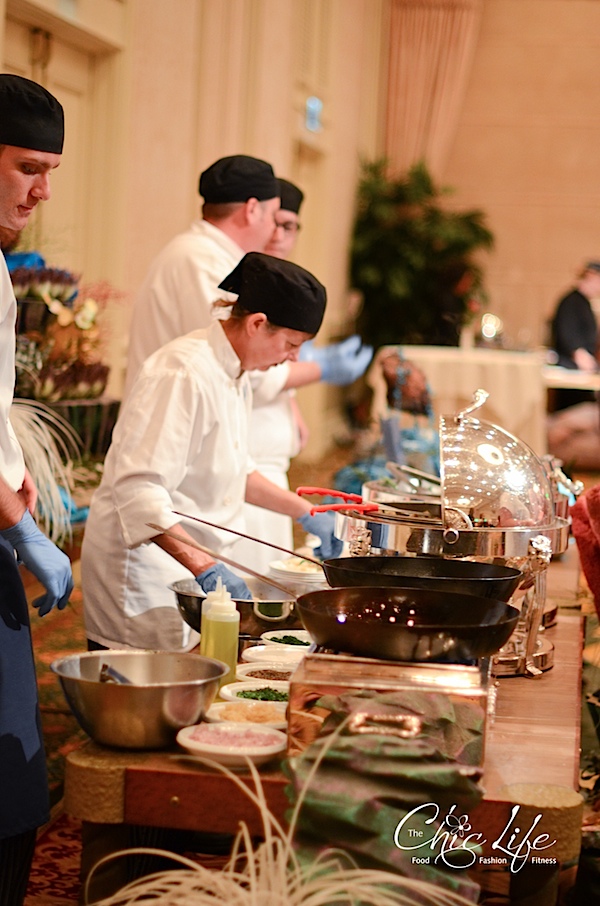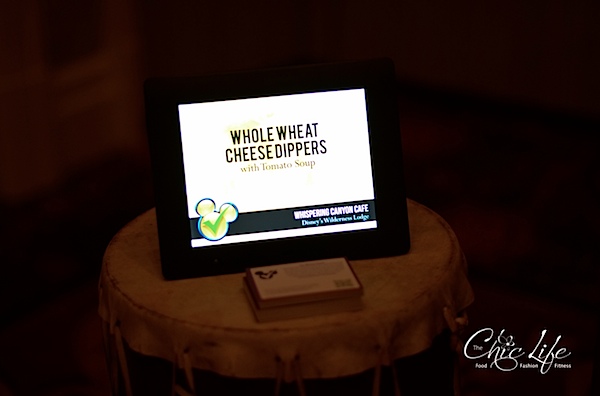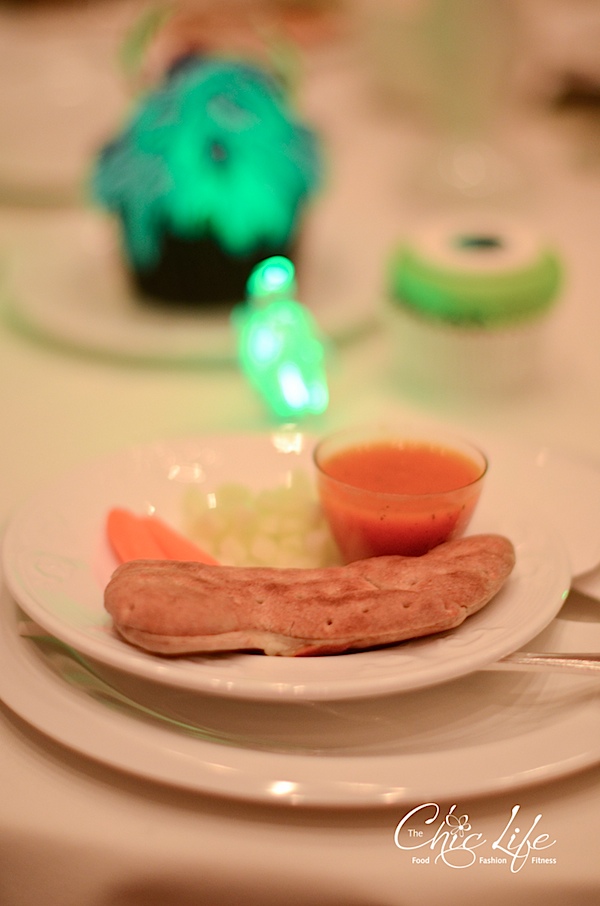 The multigrain grilled cheese dippers with tomato soup sounded simple enough…so simple, in fact, that I didn't think much about them as I was perusing the list of eats. Of course, I got a plate to sample, and the grilled cheese part was pretty good but the soup! Wow! The soup caught me off guard with how good it was. I mean, it was "just" tomato soup, ya know? But this was special tomato soup. My friend Aly told me the soup was really good, but I didn't realize how good till I was slurping down my mini cup. As I blog, I find myself wondering if this recipe is available in one of the many Disney cookbooks out there. Does anyone know? Anywho, I also appreciated that this plate came with some fresh fruits and veggies – great for the kiddos and adults, alike.
The dippers and soup were presented by Whispering Canyon Café of Disney's Wilderness Lodge. Chef: Philippe Cuenin, Manager: Allyson Schleider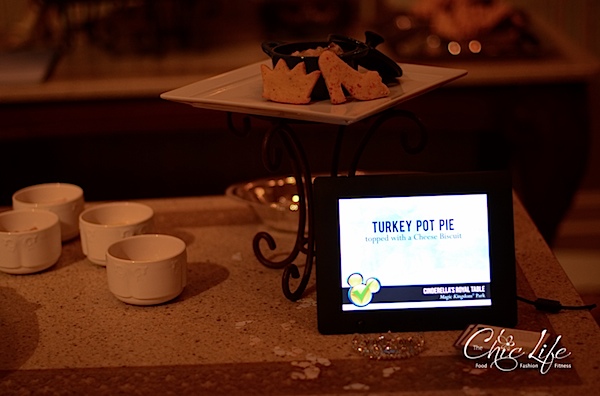 I'm a big pot pie fan, so I was looking forward to trying the turkey pot pie. Not only was this one lighter than most versions I've tried in the past, it was also free of (I believe) 7 allergens, including dairy and gluten. I liked how the cheese biscuit toppers were shaped to fit the theme of the restaurant.
The pot pie came from Cinderella's Royal Table at the Magic Kingdom park. Chef: Charles Dolson, Manager: Kenny Myers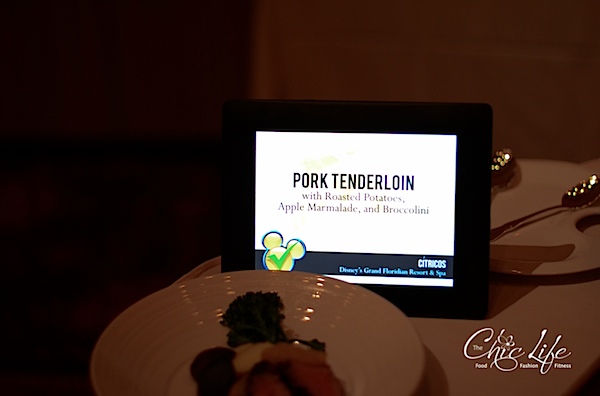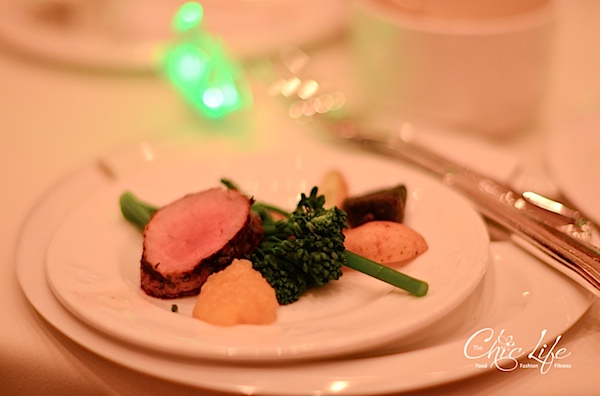 The pork tenderloin with roasted potatoes, apple marmalade, and broccolini was another hit at my table. Broccolini is probably my current favorite vegetable, so I was really happy to see it on one of the plates at lunch. This dish seemed like a pretty sophisticated kid's meal and one adults would also enjoy. Can we order off of the kid-menus? Seriously though, the pork was super tender, and I liked how the potatoes and vegetables weren't over-cooked. I know I say that a lot, but crisp-tender, just-right-cooked vegetables are big with me. Brownie points!
Citricos from Disney's Grand Floridian Resort & Spa shared this dish. Chef: Phillip Ponticelli, Manager: Keith Gimbel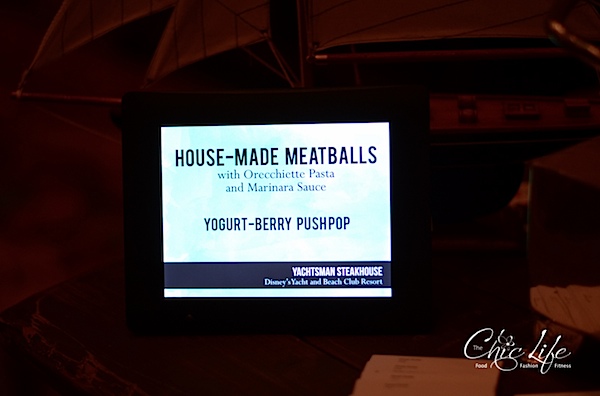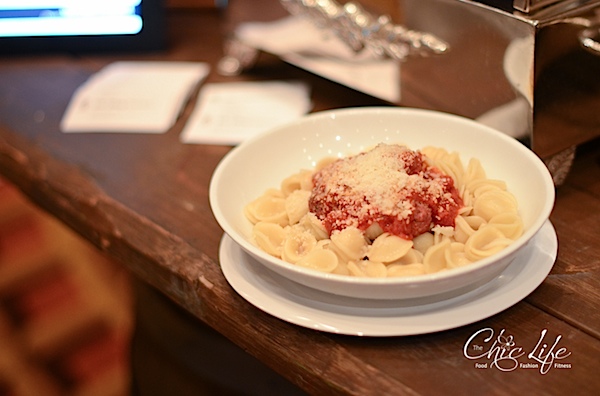 The house-made meatballs with orecchiette pasta and marinara sauce was one of the last dishes I tried, so I asked some of my table mates about it before trying it myself. One said it tasted sort of like Chef Boyardee. I was intrigued, so I grabbed a small bowl to taste, myself. And you know what? It did taste sort of like Chef Boyardee…but much fresher and all-around better. I said it tasted "like my childhood." This pasta dish is surely a favorite with the kiddos – pasta, meatballs, red sauce – what's not to like?
You can find the meatballs and pasta at the Yachtsman Steakhouse at Disney's Yacht & Beach Club Resort. Chef: Daniel Sicilia, Manager: George Sachs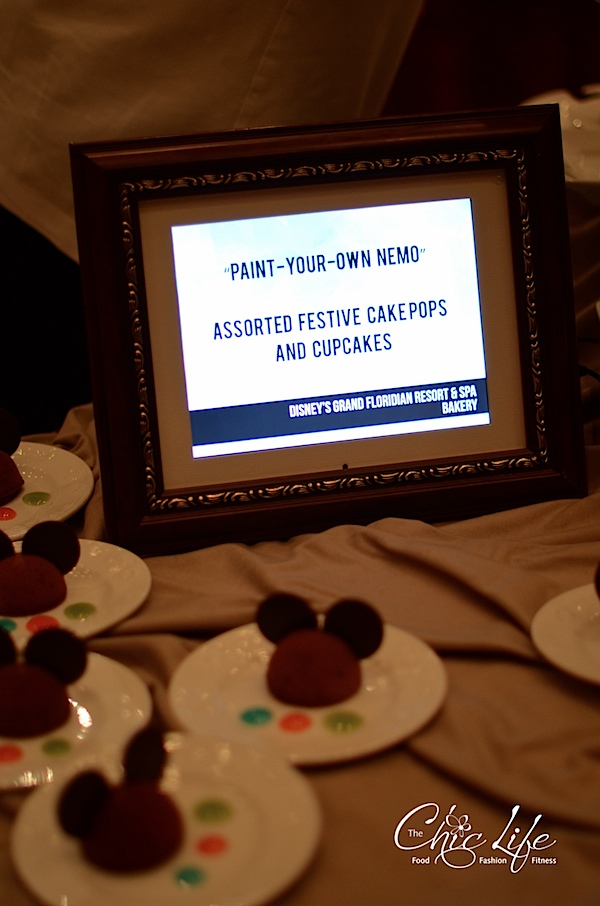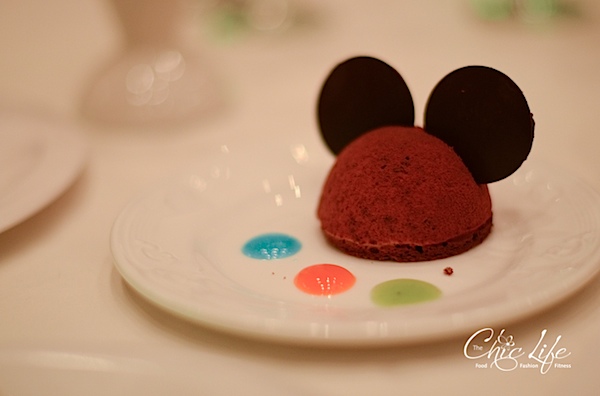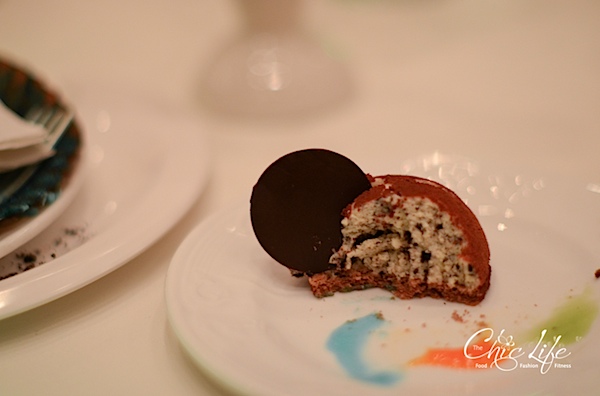 I was pretty full by the time I made it through all the previous dishes, but after passing the dessert table a few times whilst grabbing the savory plates, I spotted a couple things I knew I couldn't leave behind. The Mickey Mouse chocolate-bomb-looking dessert was one of them. This one had chocolate discs for Mickey ears and looked quite rich. The inside was actually light and fluffy and almost mousse-like. We guessed the center to be cookies and cream, but we're not sure. It was delicious either way, and my full stomach appreciated the lightness of this treat.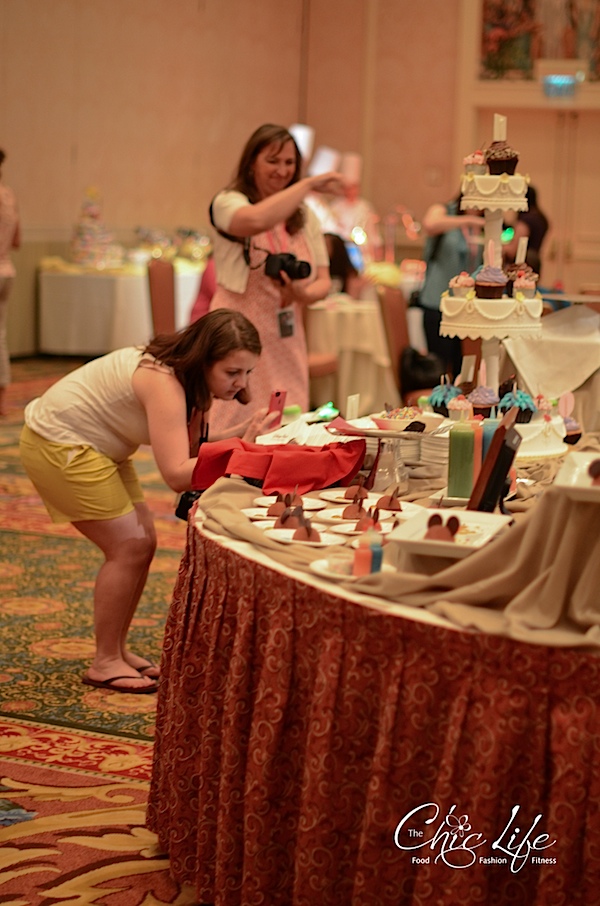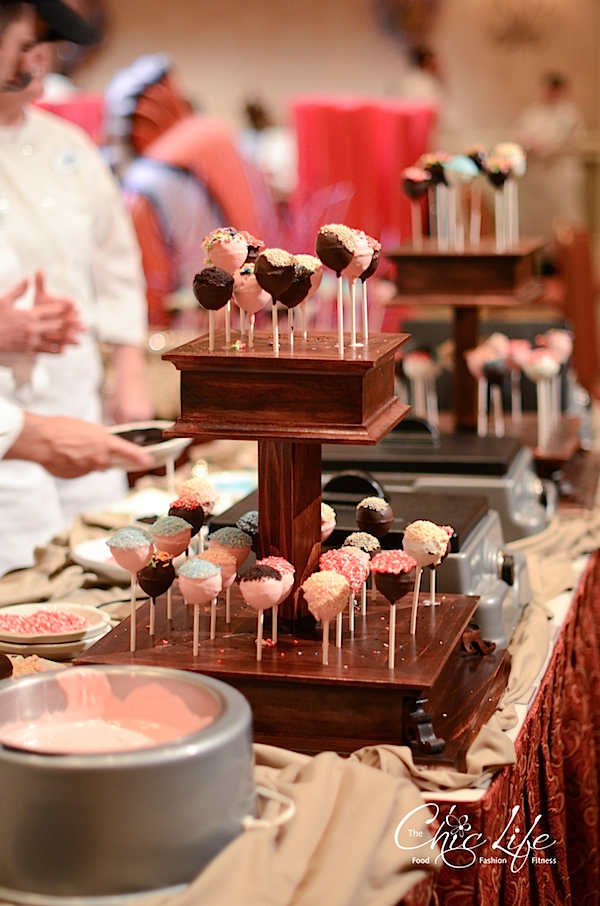 I'm actually not a big fan of cake pops, and I only had so much space left in my stomach, so I skipped this part of the dessert table even though it was interactive and looked like a fun dessert.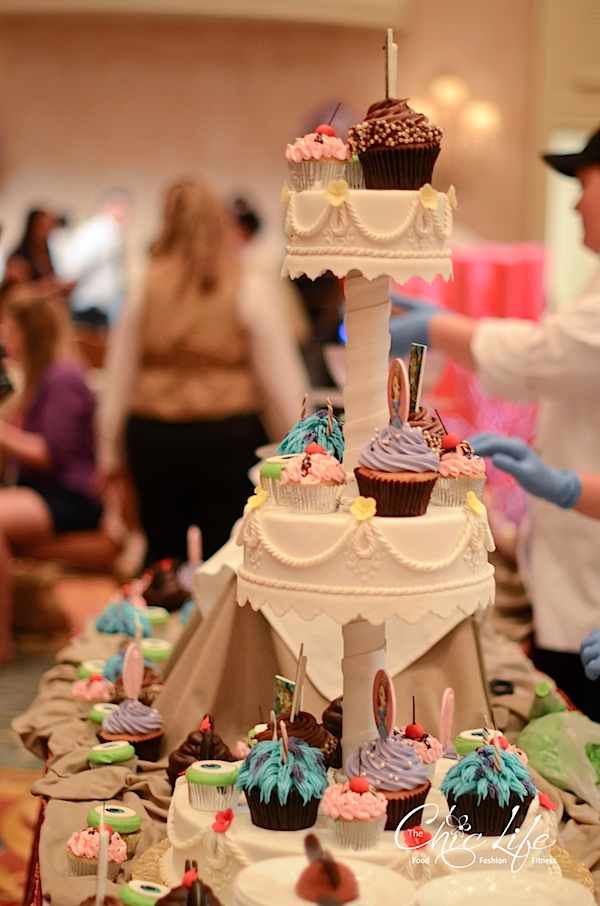 But, you guys know I'm a cake-for-dessert kind of girl, so I hit up the cupcakes in search of "the one".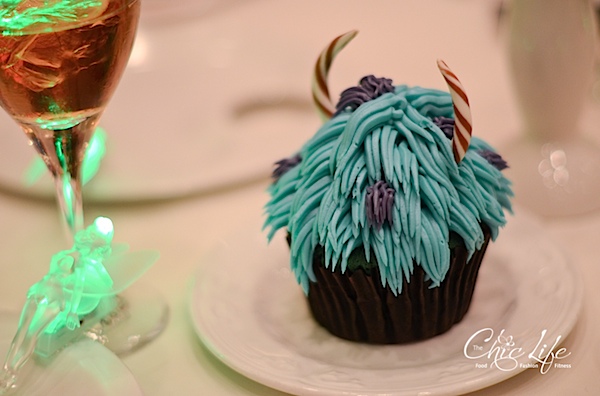 The turquoise in the frosting of this Monster's Inc. cupcake caught my eye, but it looked like way too much frosting for me. Plus, it was also almost twice as big as a normal cupcake. My eyes said yes, but my stomach said no.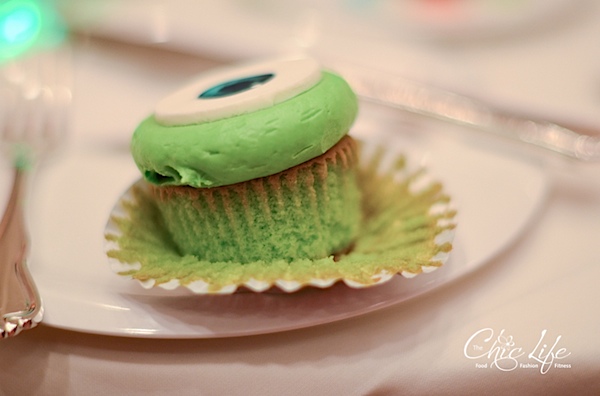 I decided on this green monster eye cupcake – vanilla cake with vanilla frosting. It was SO good! The cake was moist and the frosting was a just-right buttercream. Yum! I would love to have another one of these to munch on while I edit this post.
The desserts were from Disney's Grand Floridian Resort & Spa from pastry chef: Erich Herbitschek
***
How fun was this lunch?! I can't believe they were able to pull all those chefs and teams from around Disney World to share their kid cuisine with us food bloggers. It was definitely one of the highlights of my trip. Thank you, Disney, for sharing your kids-eats with us!
Next up – hubby and I head to Epcot for dinner and make a quick stop into the Magic Kingdom!