Well, we're half way done with the Eat in Month 2014 Challenge (though it's not too late to join)! How are you holding up? I must admit, this year has been really tough. I'm not sure if it's this hard every year, and I just forget, but it sure seems harder than normal. I'm really missing some of my favorite restaurants where I often get lunch or a quick post-Zumba dinner. The good news is that I've already noted some things to keep my habits in check for the rest of the year.
What I've learned/noted so far:
Spice up simple lunches with extra features – my go-to lunch is a turkey sandwich, but paired with a tasty snack (like those kettle salt and vinegar chips I can't stop eating at the moment) or some locally made hot garlic, probiotic pickles by Pickleville, the whole meal is more enjoyable. Add in fun twists or a couple, small upgrades to treat yourself.
toasted turkey and cheese sandwich > turkey and cheese sandwich (find a toaster oven!)
Plan ahead – eating at a local restaurant is okay if you can afford it and you enjoy it, but you shouldn't just do it as a crutch if you're feeling lazy or don't have anything to eat at home.
Eat your greens – cook extra vegetables throughout the week and portion into individual servings to grab and go with lunch.
What have you learned, noted, or thought about with this challenge?
***
January 8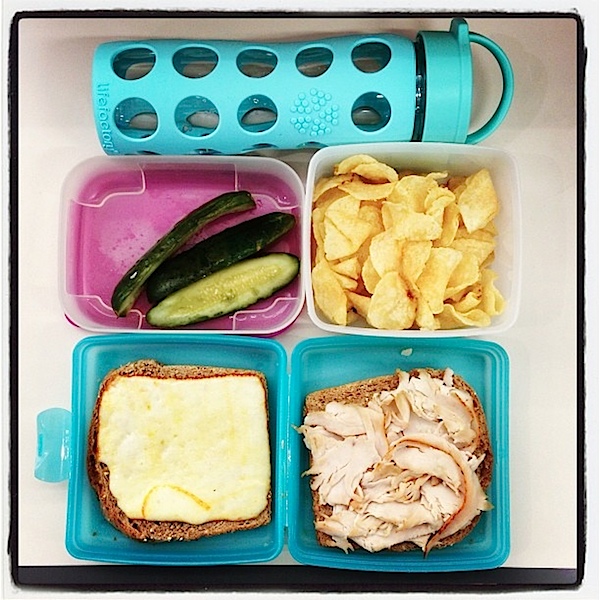 As I mentioned above lunch was much better with some of my favorite chips and locally made pickles. The only thing that would have made this better is maybe a piece of delicious chocolate. Finding a toaster oven at the office has been a big win, since I think they make the sandwiches taste so much better.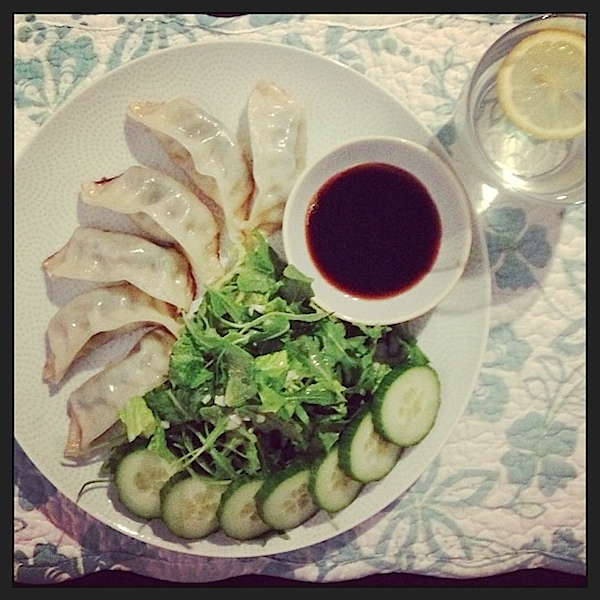 I was feeling really tired from my 9-to-5 and teaching Zumba, so I took a bit of help from the freezer and made these Trader Joe's vegetable pot stickers with an arugula salad with fresh sliced cucumber. While I was at Trader Joe's this week, I got a bag of organic lemons, and I used one to make a quick lemon vinaigrette, which I really enjoyed. I even had an extra slice of lemon for my water.
January 9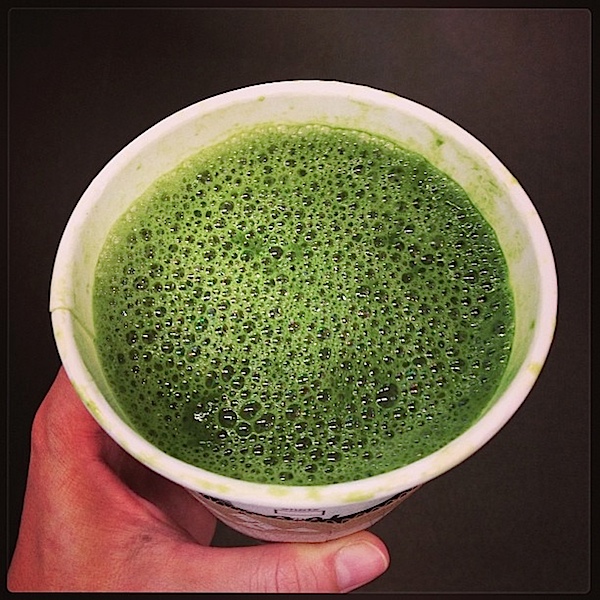 For some challenge years, I don't eat anything that doesn't come from my house. This year, I've decided that I can go to Starbucks once per week. I was having a particularly long morning on the 9th and got my new usual – the green tea latte with half classic syrup.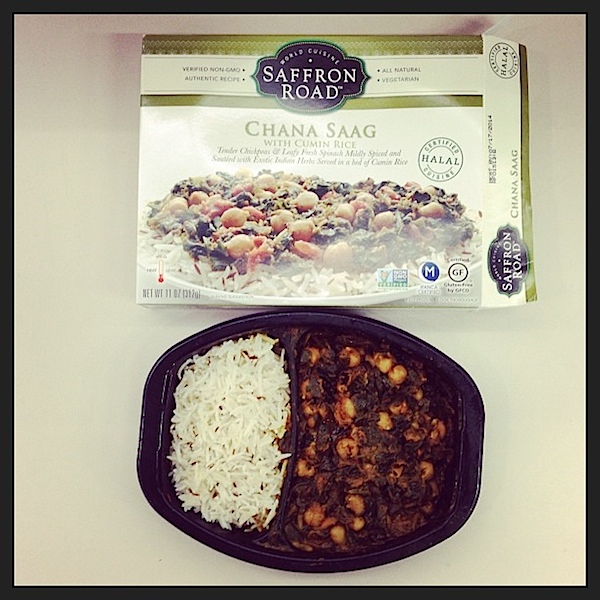 For lunch, I tried a new frozen meal – Chana Saag by Saffron Road. I really like how the company pays a lot of attention to quality of ingredients and sourcing, which you can read about more on the Saffron Road web site. The lunch was really tasty, and I've already purchased a new one for a rainy day.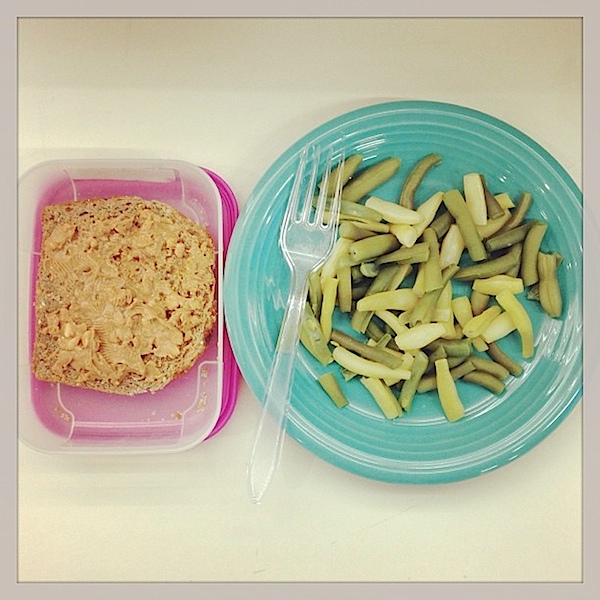 The only downside to frozen meals is that they don't seem to keep my hungry. So, I had some coconut peanut butter toast and green beans later in the day.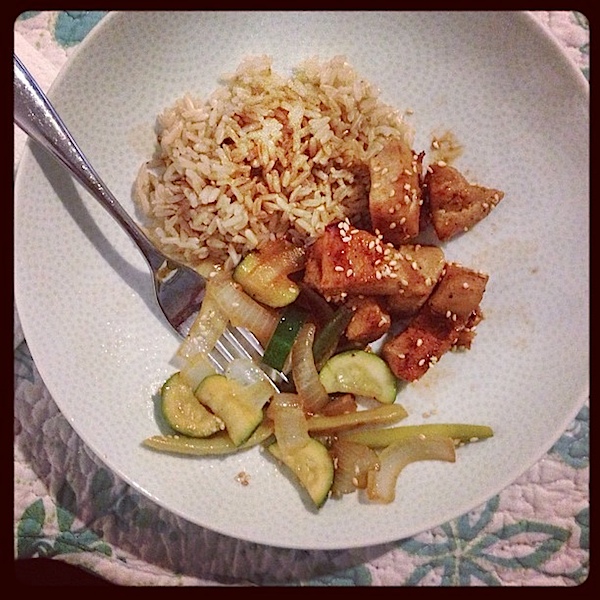 For dinner, I made a big stir fry, making sure I had enough for leftovers.
January 10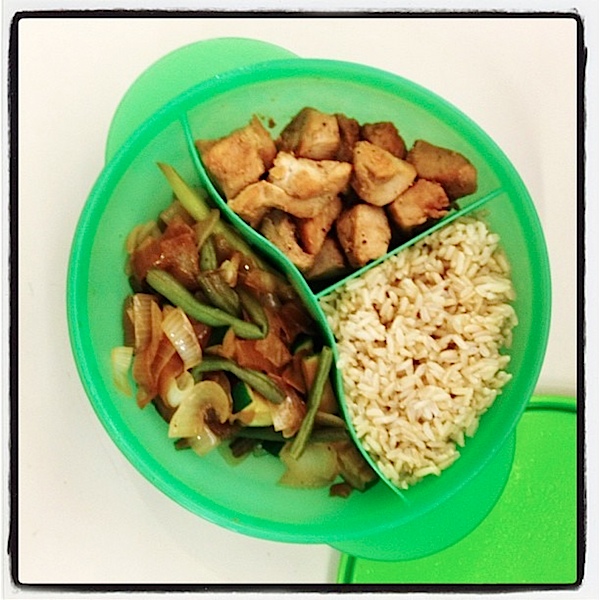 I normally don't love leftovers. I find that chicken tastes weird when it's reheated in a microwave. But, this meal re-heated fairly nicely. I actually really enjoyed it and would do it again in the future. I especially liked how, unlike when I eat out (with most restaurants), I can control the quality of my chicken.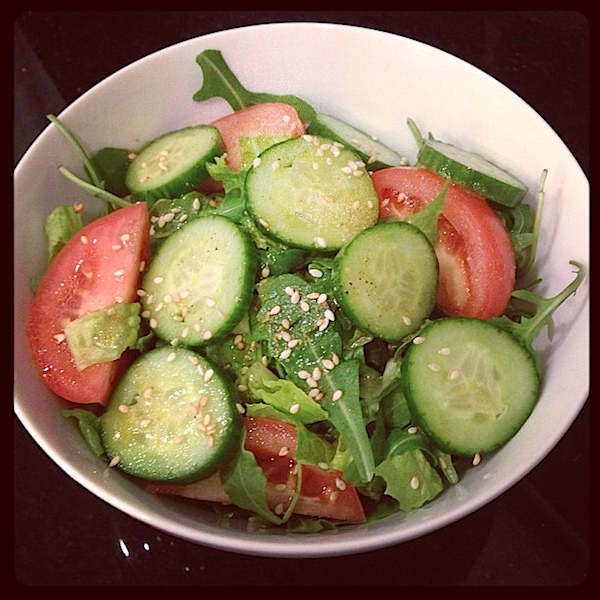 For dinner, we started with salads and then…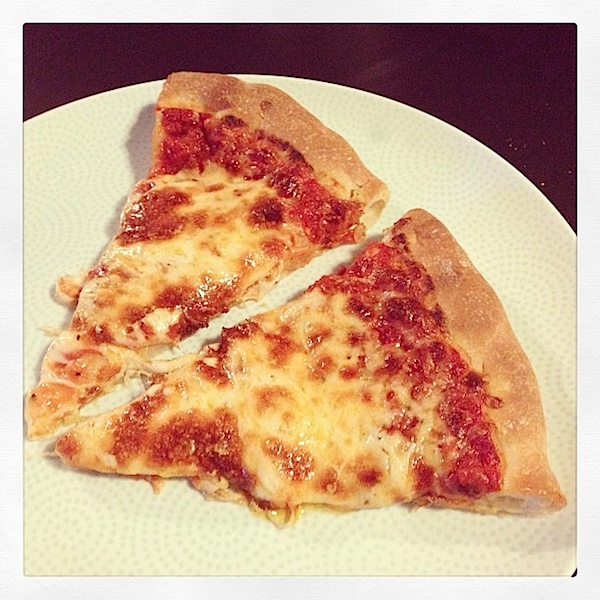 …we made pizza! We got ingredients from Pasta & Provisions – they have the best dough, sauce, and cheese. The cheese is really key. It just melts so much better than the stuff at the grocery store. We enjoyed this whilst catching up on the end of Sherlock season 2! We're so hooked. Didn't season 3 just start?
January 11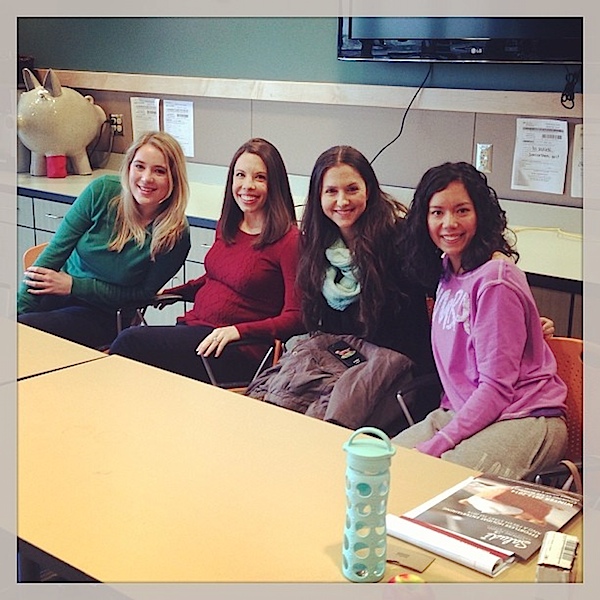 On Saturday, I spoke on a panel of local bloggers at Whole Foods for their health fair along with Lauren (who writes for Food Babe), Brittany, and Lori. We had a great discussion, and it was so nice catching up with my blog friends and meeting Shannon who organized the event. And since I was there, I stocked up on some groceries for #eatinmonth and picked up this…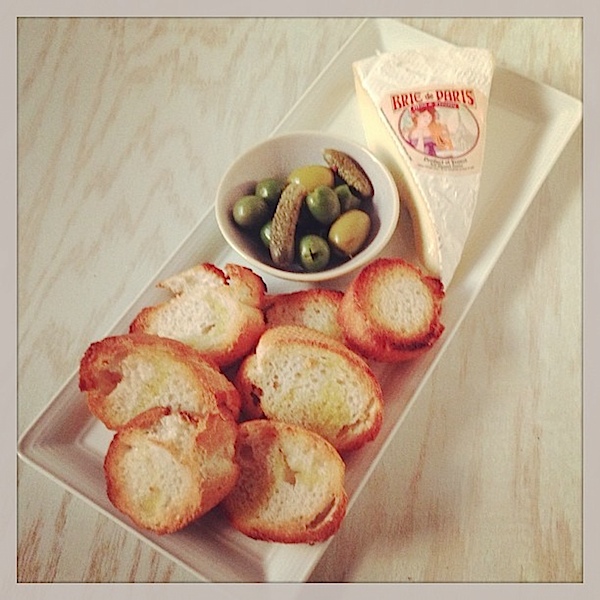 …delicious light lunch of toasted baguette slices with brie and olives.
January 12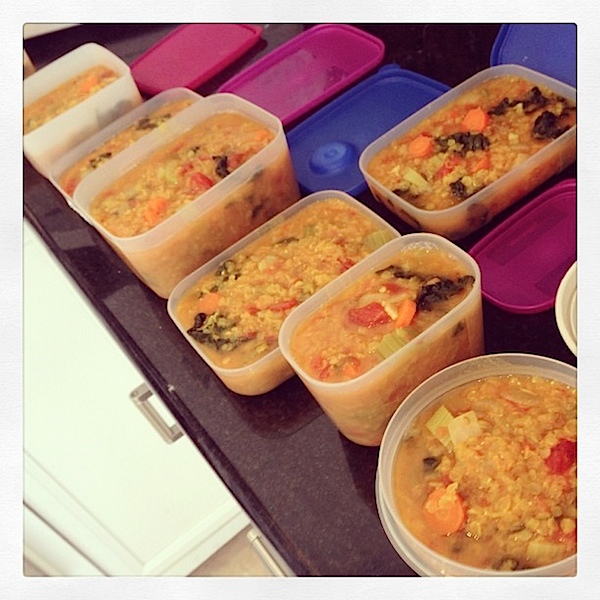 On Sunday, I did a boat load of cooking. One thing I made was a double batch of my Spiced Red Lentil, Tomato, and Kale soup so I'd have plenty to freeze for later.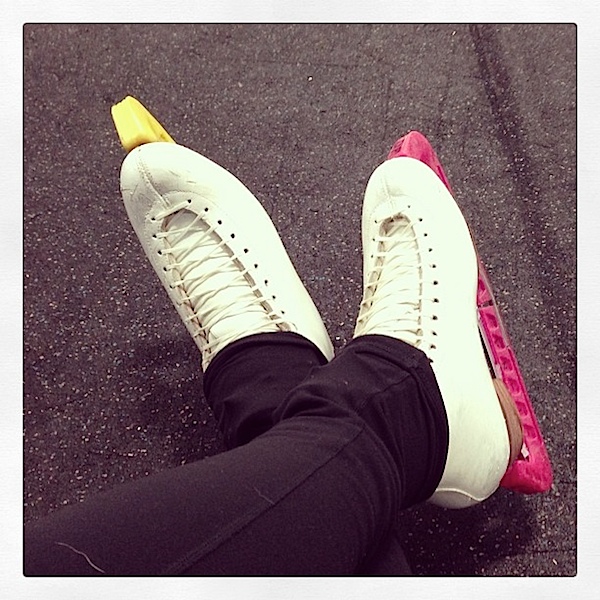 And I took a break in the middle of the day to go ice skating after watching the US Nationals ladies long programs the night before. Seeing all the beautiful skating made me miss all the skating I used to do and had me googling adult competitions at midnight. While I won't be competing any time soon, I figured I could at least hit up a local rink and skate around a bit. I'm extremely rusty, but I had a great time. Boy, were my legs hurting the next day, though!
January 13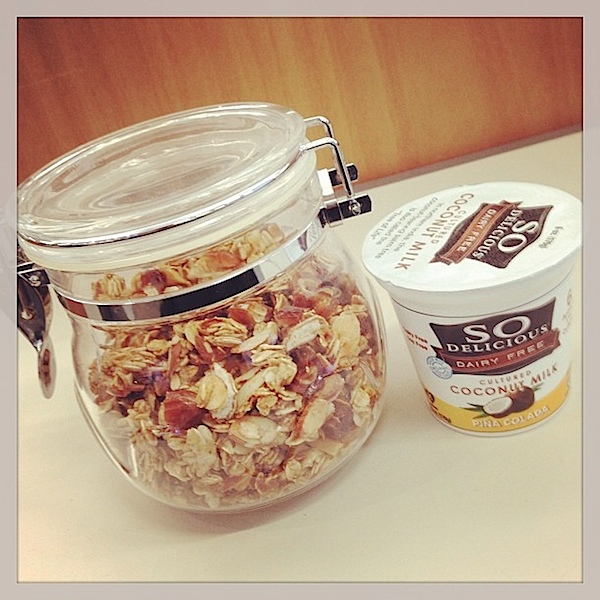 One of the best things I made on Sunday was a new oil-free granola recipe. I can't wait to share it with you, but I do have this granola recipe already blogged if you can't wait. Anywho, that stuff was like crack! Healthy-crack, of course. I enjoyed the granola all week with coconut milk yogurt. I eat dairy, but I love the way coconut milk tastes, and the yogurt was really good. I did learn that I don't like the Trader Joe's one as much as the So Delicious, though, because the TJ's one is kind of lumpy, while the latter is nice and smooth.
January 14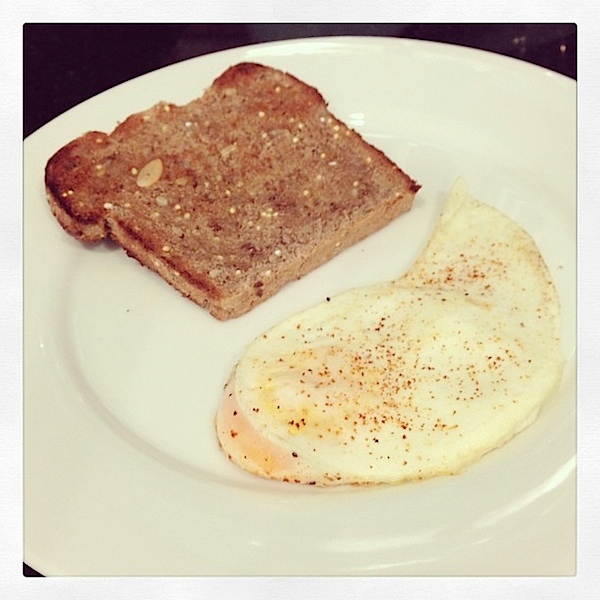 And thanks to a trip to Great Harvest on Saturday, we had more whole grain bread so I could have my current favorite breakfast: buttered toast with a fried egg. Though, after eating that granola the rest of the week, there could be a nice favorite making it's way to the top!
***
Is anyone else excited for the winter Olympics to start? I feel like I've fallen out of it ever since Michelle Kwan stopped competing, but the US Nationals has re-inspired me! I'm pulling for the two US underdogs – Polina and Jason Brown. Have you heard of them yet? Polina came in second at her first ever senior level competition, and she's just adorable. Her programs were really beautiful, and I thought she really pulled you into her skating. I can't wait to see how she does in the Olympics.
And you may have heard of Jason's program already since it went a little viral:
FIrst of all, this program is so impressive. Although he doesn't do any quadruples, it's still full of challenging jumps and moves in addition to being highly entertaining. One of the things that really jumped out at me was the entrance to some of his jumps since some were pretty complex. And the best thing is watching at the end when he sees his scores and is so surprised. It's just so cute.
Go Jason and Polina!