Hey Guys!
I thought I'd share a little bit more about the results of the latest Green Jeans sale I participated in – the 2014 spring SouthPark event. I'll start with some highlights from my experience as a shopper and end with my seller results.
Green Jeans Shopping Scores
Here are some of the great finds I purchased…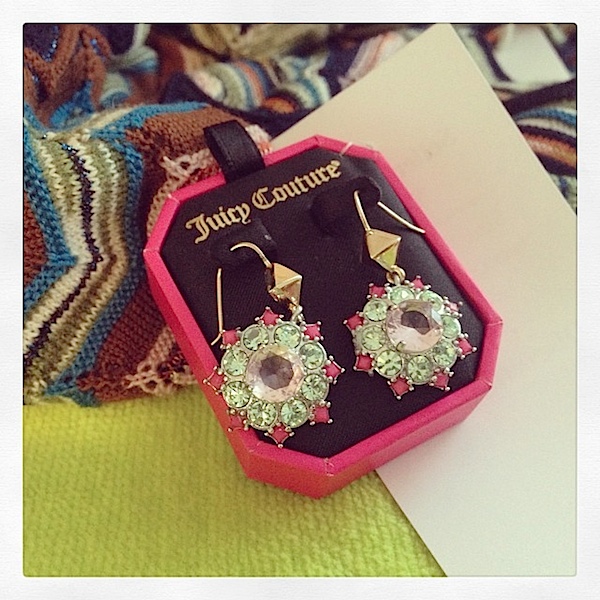 I spotted these sparklies when I was volunteering in the designer section. I managed to resist them at first, but once I was able to purchase them for half off ($8) on the second day, I had to get them. They're a little on the heavy side for me, but I was willing to take a risk for such a low price.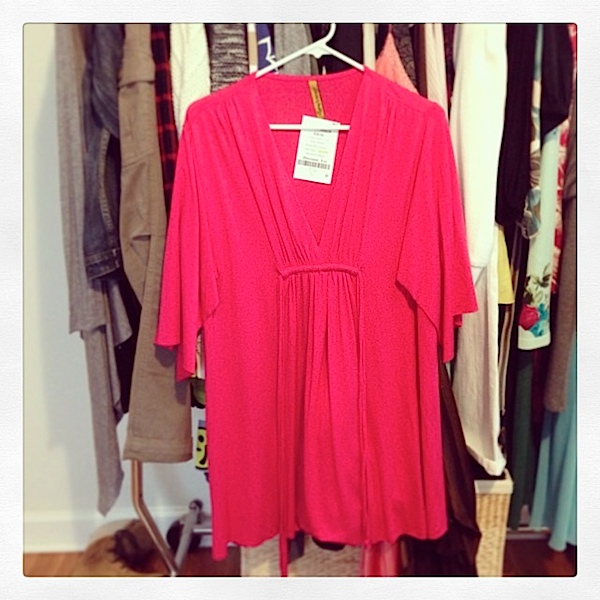 I saw this bright pink Rachel Pally dress when I was helping break down the room. It was on a rack that was marked to be donated and literally right in front of my face as I was helping move the rack. Since this one was only $14.25 (the price tag said the retail is $198!), I thought even if it doesn't work as a dress, I can use it as a beach or pool cover-up.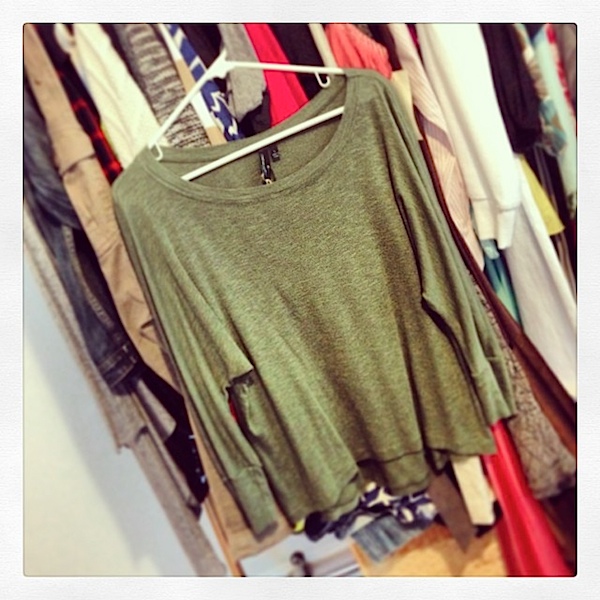 Here's another find from my last day of volunteering. Someone put this army green top on the return rack after trying it on, and it caught my eye. I'm a sucker for over-sized t-shirts. This Cynthia Rowley shirt was only $2.50 since it was half off day, so I quickly added it to the rack for holds to purchase after my shift.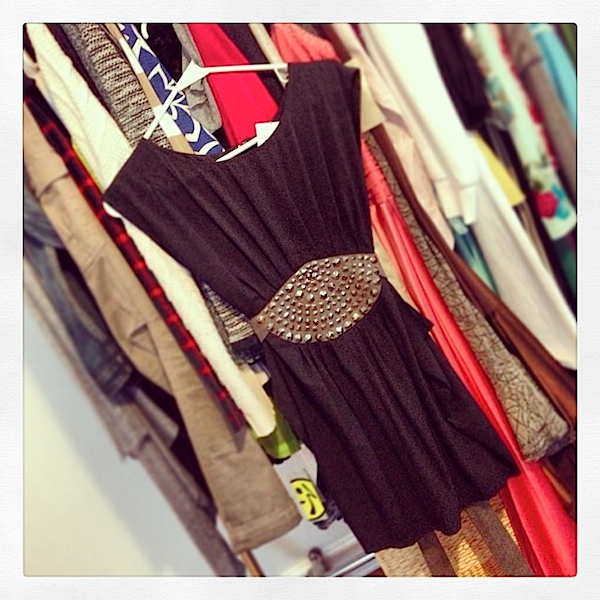 This black Ya Los Angeles dress with a studded "belt" was a try-on-just-for-fun item. But, once it was on, I really liked it. I noticed the dress had an interesting cut at the hips that jutted out just a bit in a way that I found really unique. The half off price of only $12.75 definitely made the sale worthwhile for me. I'm thinking it will be fun to wear on a date night.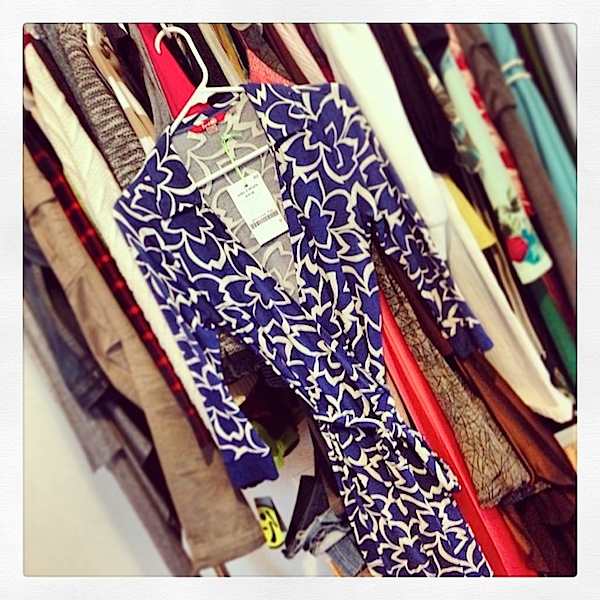 Here's one of the few things I purchased "full price." One of the other volunteers handed me this pretty patterned wrap dress to try on, and I just loved it. It's a Boden, and it was only $19.50. I can't wait to wear this to work this summer! The purchase inspired me to order the catalog, which came just a couple days later. The style is a little preppy for what I'm wearing these days, but I may find something cute to wear to work.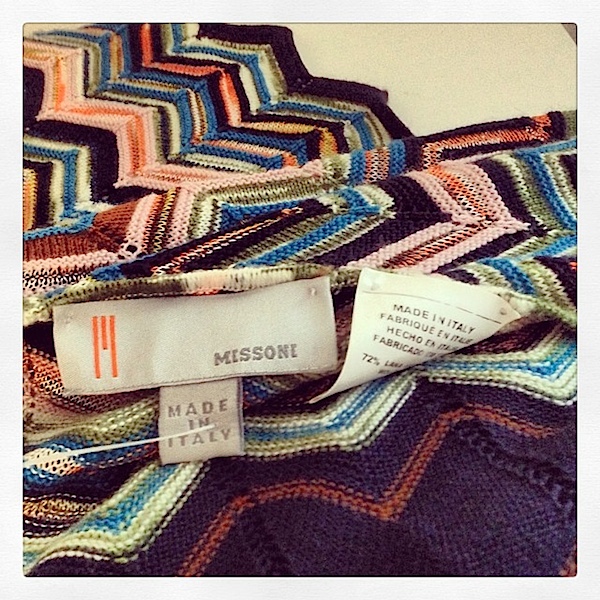 And here's another item I waited to go half off before I pounced – a beautiful zig-zag Missoni shawl. Missoni! I scored this for only $35! Woohoo!
I purchased a couple other great items, but I thought I'd just share a couple of the stand outs.
***
Green Jeans Sales Results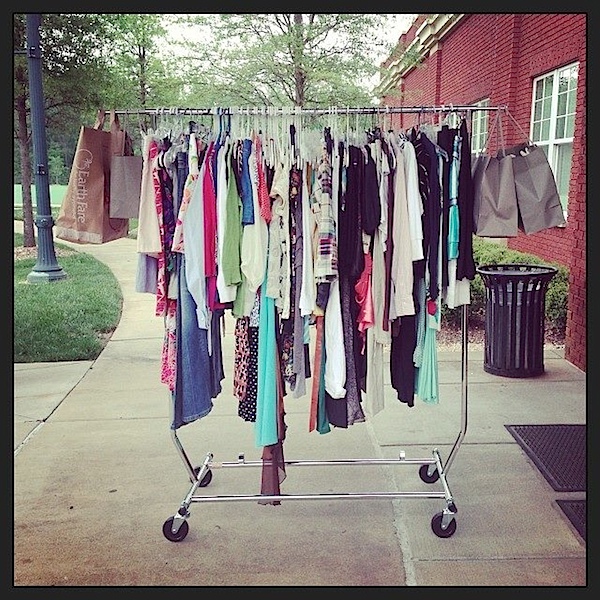 I don't think I've shared much information on my consignor results in the past, but I thought some of you (especially you Charlotteans!) may find it interesting.
Here are my results selling at the spring 2014 Green Jeans event:
Of all the items I took to the consignor drop off, 8 weren't accepted to the sale.
I had 114 items in the sale (between hanging items, shoes, belts, scarves, etc.).
After the sale, 5 items were returned as not-sellable (items can get marked during the sale if they're found to be too worn, have defects, etc.).
I sold 24 items with a consignor percentage of 75% (thanks to all those volunteer shifts).
All in all, I made $291.56 and more space in my house!
I got really geeky with my sales info this time around. I copied it all and pasted it into a spreadsheet where I could create all kinds of pivot charts and reports. I found that I sold items that had been transferred from almost every past sale (I've done 5 total now). This happens almost every time I sell with GJ, which is why I always do the pick-up and transfer the items to the next sale. The kink with this strategy is that you have to bring all that stuff back to your house and hold onto it. Since I have an extra closet, this isn't a problem for me currently. I also calculated average price per item by category, number of items sold by day, and number of items sold by category…among other things I won't bore you with.
I had another great Green Jeans sale! I only wish I had participated in the Lake Norman one, too, because I probably would have made closer to $500 total! Ahh…at least there is plenty of time to prepare for the fall sales!
***
Have you had any luck consigning at a shopping event or local consignment shop?
Anyone else doing a major spring clean purge of their closets? Don't forget to check out my 3 rules for closet purging if and when you do!
Thanks for reading!