We went to Durham this past weekend to visit my MIL for Mother's Day. We had plans to eat in to celebrate. The boys were in charge of picking up food. Wanting to contribute something (other than a purse I picked out for my MIL at the Green Jeans Sale), I decided to do what I do best – find dessert.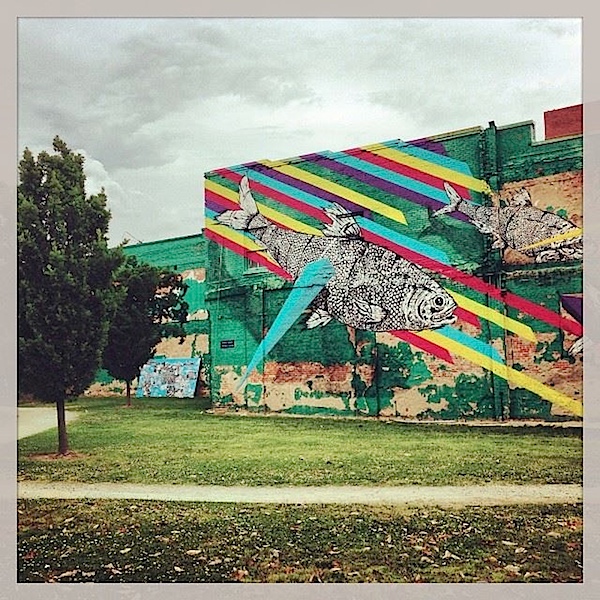 My friend Ben suggested Scratch Bakery in downtown Durham. So, I headed to the downtown area, parked my car, and went on a bit of a dessert adventure.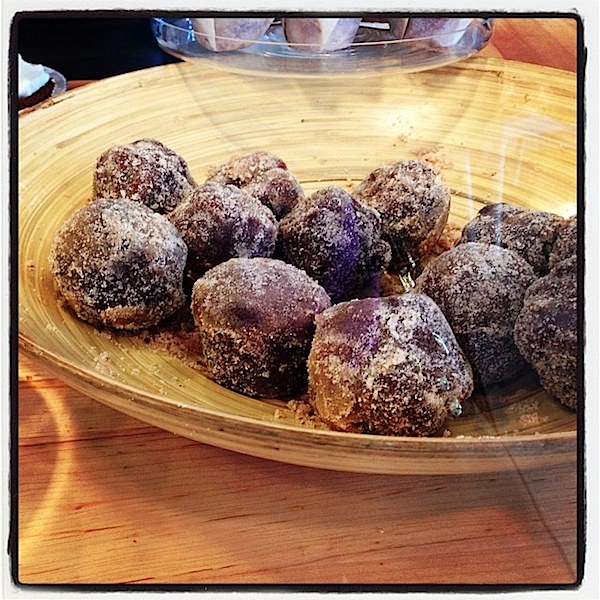 Ben mentioned that Scratch had something special – doughnut muffins. I was surprised to see any left since I went 30 minutes before closing, around 2:30pm. I happily scooped up some to take back to the house. But, I wasn't done there. I thought the doughnut muffins could be more of a snack. I also picked up some cake (see later photo). But, I wanted more. Scratch was sold out of many items, so I decided to get a variety of desserts from multiple places.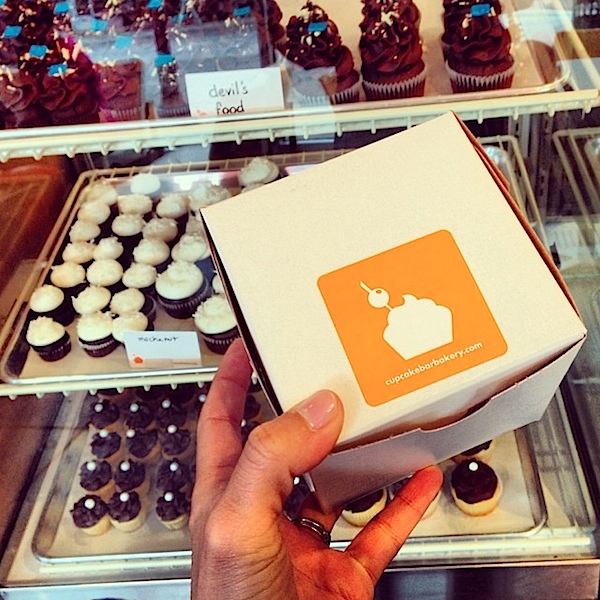 I went on to get cupcakes from The Cupcake Bar. Many of the cupcakes were decorated with graduation flair since there were many college graduations that weekend. I was sad there were no Mother's Day themed cupcakes but glad the shop stayed open pretty late. I ended up hitting up this spot after a pit stop at…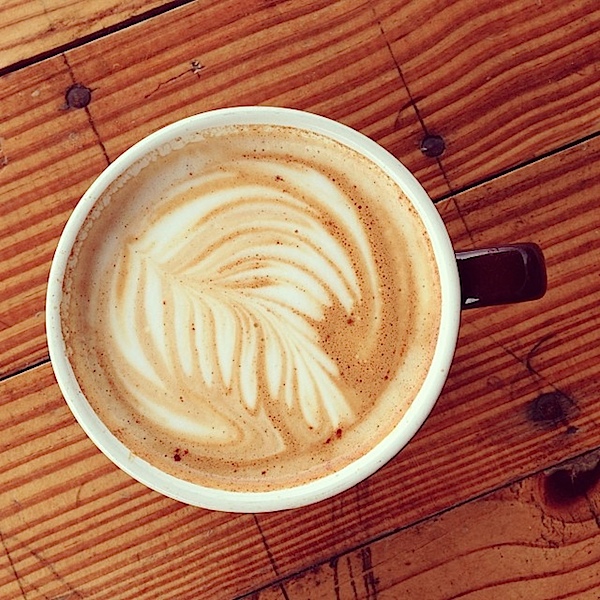 …Cocoa Cinnamon. It's been over a year since I first visited this cool little coffee shop, so I was excited to make a return trip. This coffee shop was just outside of the downtown area, so it was an easy two minute car ride from where I was. I was a little nervous about finding somewhere to park and then somewhere to sit since the lot and building are on the small side. But, I lucked out and got a space since someone was leaving just as I pulled up. And though the inside of Cocoa Cinnamon is a bit small, they have quite a bit of outdoor seating. I was ready to share a table with a stranger, but I found an open table in the front.
I ordered the See-line Woman – a latte made with molasses. It was delicious! I love how Cocoa Cinnamon has several unique coffee offerings. I happily sipped on my latte whilst working on a blog post for an Easy Spiced Oven-Fried Chicken Recipe. I got to sit outside and enjoy the fresh air, though I wasn't sure how long that would last. Most of the day, I toted around a Northface jacket (couldn't find an umbrella!) since the sky (and weather report) threatened rain. Towards the end of my coffee break, I started hearing thunder. Though it didn't start raining, it was enough to at least have me thinking it was time to head home.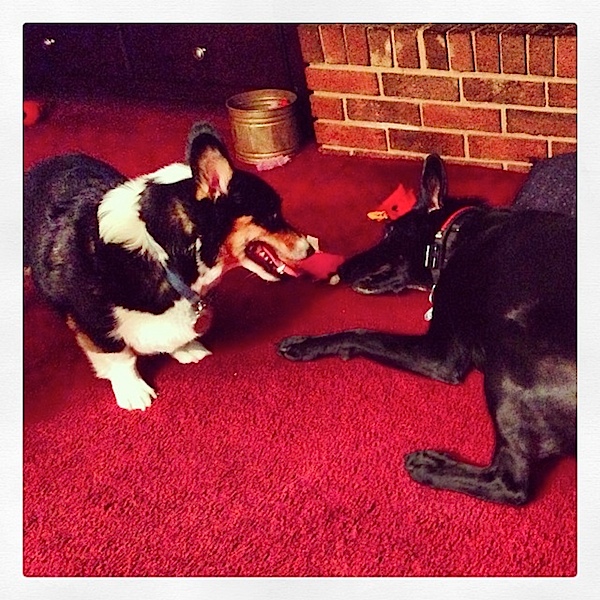 The dogs had a pretty good time this weekend, too, and were playing when I got back. Bailey and Chessie played with a new tug-of-war toy, and that was funny to watch. Chessie is goofy and seems to just like the act of playing. Bailey, on the other hand, wants to WIN! He kept pulling the toy away from Chessie and keeping it from her. Silly boy!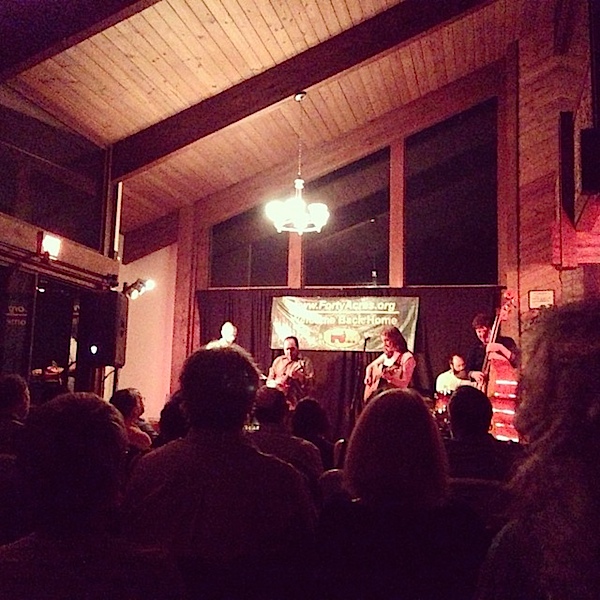 My BIL took us all to a small concert to see The Honeycutters on Saturday night. They are based in Asheville, NC, and they are an original country roots band. Country isn't my favorite genre, but I really like some styles and select artists. I really liked The Honeycutters' music and ended up getting a CD to take home. I guess some people may think I just like Pitbull and Britney since I'm a Zumba instructor, but I like a lot of different types of music. Sometimes, these smaller bands are harder to find, so you need a good reference with the inside scoop, like my BIL.
Here's a video (see above) in case you'd like to hear one of the songs I really liked from the show – Mr. Cody.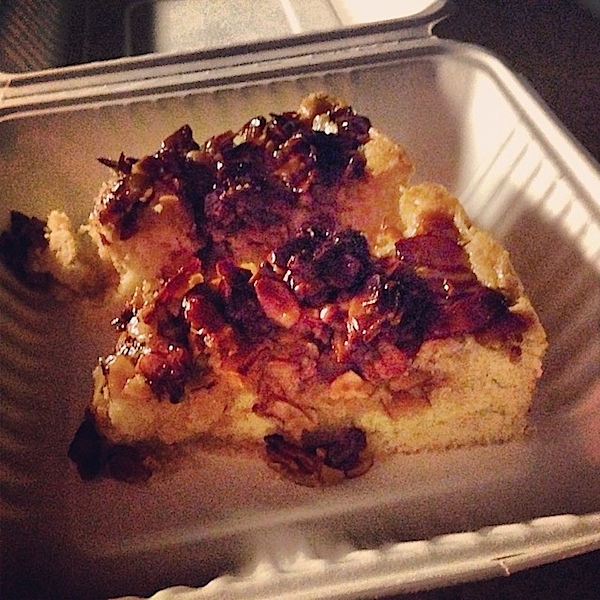 And we may or may not have dug into that other Scratch Bakery treat – honey almond cake – after the show. Yum! I loved the slightly sticky almond topping. It had a bit of the savory-sweet thing going on with honey and salt, which added great balance.
We gave hubby's mom her purse on Sunday, and she loved it. Woohoo! It was a navy blue Carolina Herrera bucket-style purse with a long strap and gold details. I hope she gets lots of great use out of it.
We had another great trip to Durham and a wonderful weekend!
Hope you're all having a great week! Thanks for stopping by!