So, I'm a little late sharing the photos for this subscription box, but I really wanted to share it with you because a) it's one of my new favorite things and b) there's one product I'm sort of in love with. Here are photos and info for the Boxycharm July 2015 Unboxed.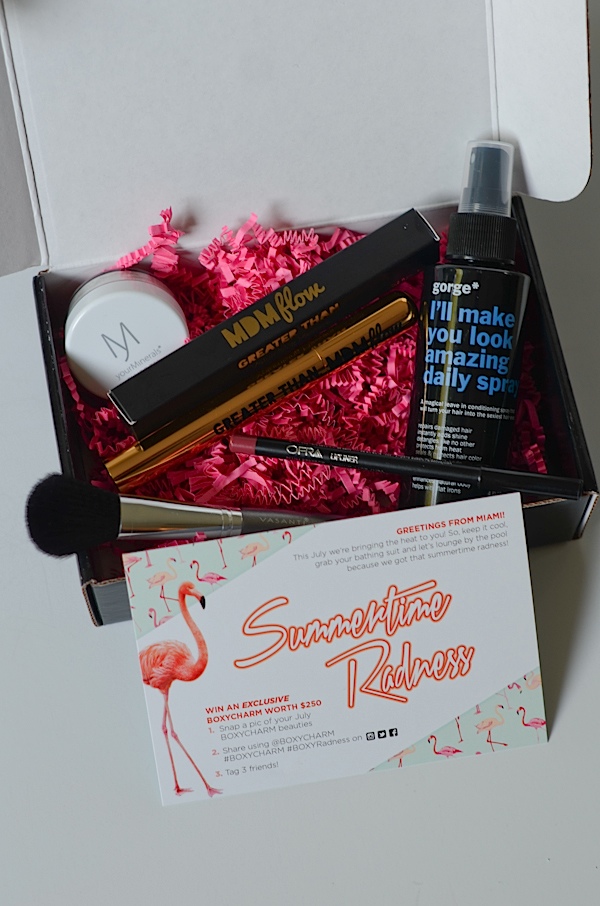 Me and Subscription Boxes
As you know, I'm not much of a subscription box person. I'll try one out here and there, but I'm really picky about it. For the most part, I'm also not super into makeup/beauty products. Though, I did go a little crazy during the last fall/winter Sephora VIB discount period. The one thing that really doesn't interest me is samples. I know a lot of people go crazy for samples, but I only like to get samples when it's something I'm requesting or something I'm evaluating for purchase. Because of this, Birchbox and Ipsy aren't really my thing.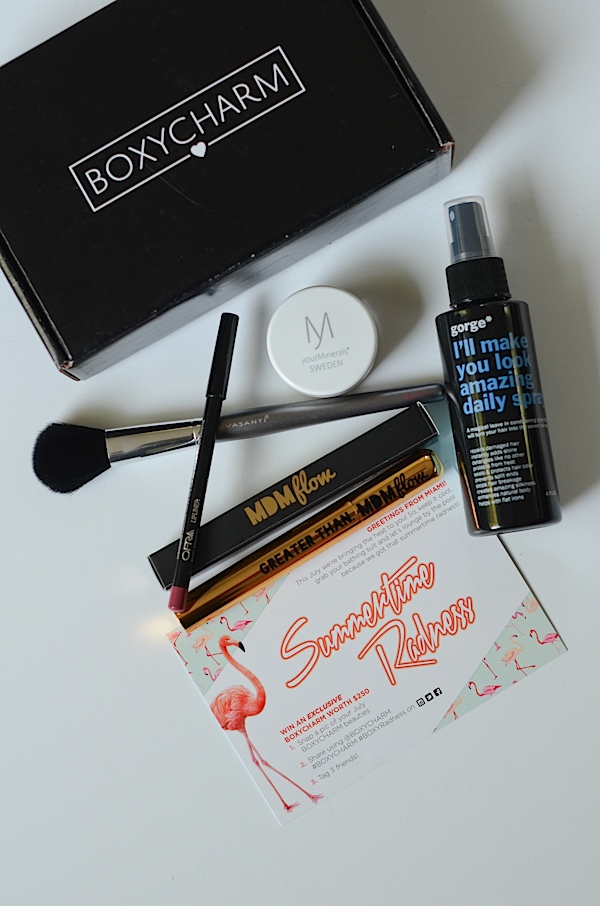 What I do like, however, are full-sized products. And what I like even more is a good deal. Enter Boxycharm. I learned about this subscription like a lot of people – by watching the KathleenLights Boxycharm Unboxing videos. I literally went on a video spree and watched about ten (maybe more?) unboxing videos. What is it about unboxing videos that is so interesting? Is it just me? Anywho, I realized watching the videos that I would have been happy with pretty much any of the boxes she had received. If you like ten out of ten boxes of something, chances are good you just like that company's style. I decided it was worth parting with $21/month to try Boxycharm out for myself.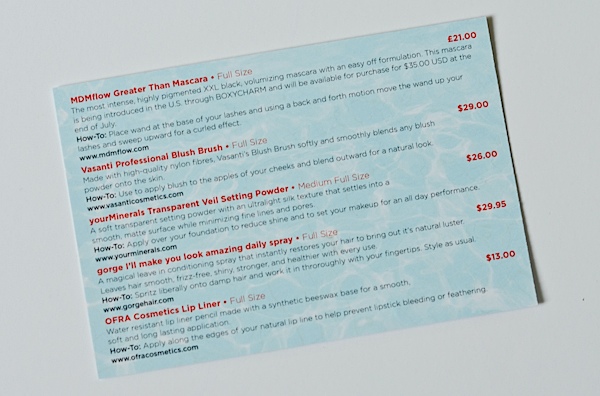 The July 2015 box was my first, and it was a good one. I'll post details for each product at the end of this post, but you can see photos of each item throughout this post.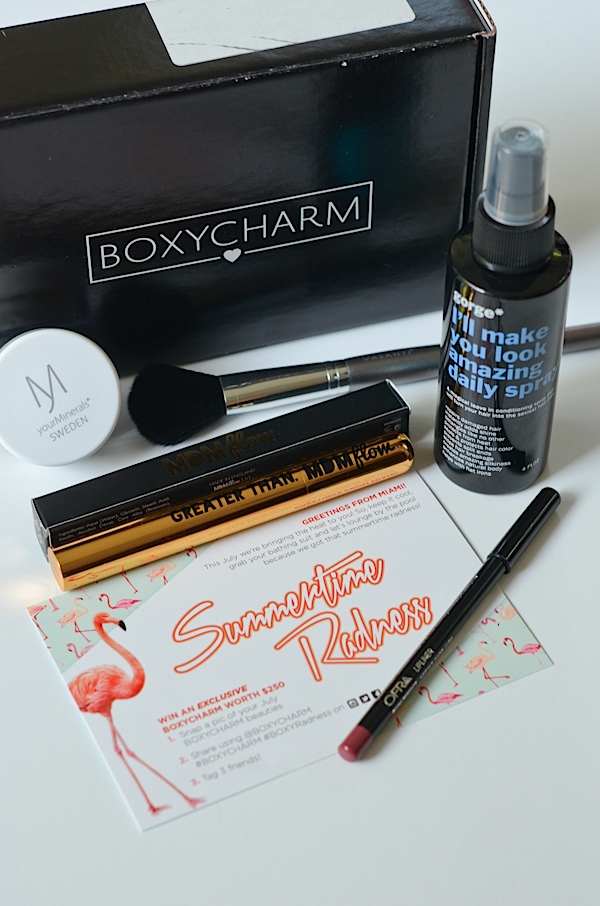 Why I Like Boxycharm
Reasons I like Boxycharm from my experience with two boxes (and research – mostly observed in KL's videos) so far:
Full-sized products (or very large samples) totaling well over the cost of the box (did I mention I like a good deal?)
A nice mix of high and low brands (mostly higher from what I've seen)
Reputable brands used (from well-known to ones I jive with upon further research)
A nice mix of products – from skincare to makeup to tools
A detailed product card with info, how-to-use instructions, and prices (yes, actual prices!)
Timely customer service response (I sent an email and received a detailed reply the next day)
Nice referral program (open to everyone, not just bloggers, etc.)
Sometimes – bonus coupons – to save on products/brands featured in the box
Good newsletters (they offer more coupons or will provide additional details, when needed, about your current box)
Ability to cancel any time (I easily found the cancel button from my account page – I've heard some services hide this or make it difficult to find)
Ability to save more by buying one year at a time (it's $231, so you basically get one box for free if you pay up front for the year)
Cost of the box includes shipping (some sub boxes are a little tricky IMO by charging shipping separately)
Reasons I don't like Boxycharm: I haven't really found any reasons to not like this beauty subscription box yet. I haven't loved every single product in the boxes I've received so far, but I've liked enough to make it worth my $21.One of the good things is that if you like only one or two of the box's products, you may still have spent less on the total box than the product(s). And you can usually gift something you don't like to a friend. Or, I've heard you can donate it, even if used, to some places. Still planning to research that last option further.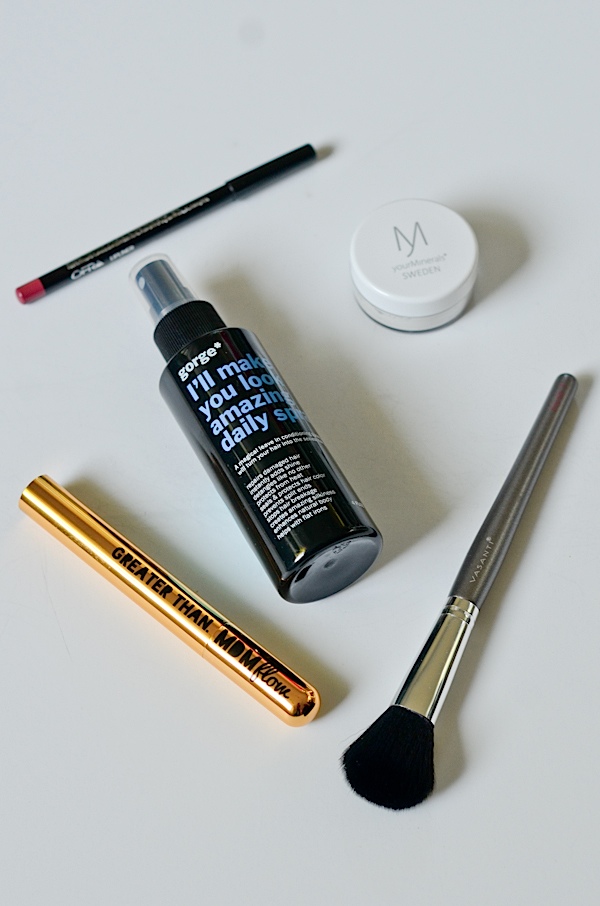 The July 2015 Boxycharm Unboxed
Theme: Summertime Radness
MDMflow Greater Than Mascara (Full Size) 21 pounds
I ran the price of this MDMflow Greater Than Mascara through a currency conversion online (Google), and it says 21 pounds is currently equivalent to $32.61 USD. This has to be the most beautiful mascara packaging I've ever seen. And Boxycharm actually sent an extra newsletter with additional details about how to prepare the mascara for use. According to the newsletter, "MDMflow has advised that the 'Greater Than Mascara' utilizes a cutting edge packaging design which prevents ingress of air into the mascara tube. Due to this special feature, it is necessary to prime the mascara wand for use before first application." The instructions were short and easy to follow. This sounds like a cool feature to keep the mascara from drying out.
I've had good results using this mascara. I was able to get two coats on very easily and it doesn't really clump up. I don't have to pump the wand to get the product on it evenly. I only need to wipe off a little extra mascara from the very tip. I would probably not re-purchase this product, though. Mostly because I don't really wear mascara and also because of the expensive price. I'll update this post if I change my mind after using this mascara more. So far, so good, though!
Vasanti Professional Blush Brush (Full Size) $29
This Vasanti Professional Blush Brush is made with nylon fibers, which I've been told is good for sensitive skin. Do any beauty experts out there know? Either way, it's super soft, and I love using it. I've actually stopped using my other two blush brushes in favor of this one, because I like the way it applies blush. I'm sure I'll go back to the other blush brushes at some point, but I haven't wanted to yet. I would repurchase this…and even consider other Vasanti brushes.
yourMinerals Transparent Veil Setting Powder (Medium-Full Size) $26
This yourMinerals Transparent Veil Setting Powder is SO soft. It feels like…powdered sugar? I'm pretty basic with my make-up, so I don't really use setting powders. I tried this for work one day to see if it would help absorb some of the oil on my face since my skin can get pretty shiny as early as lunch time. It didn't seem to make a difference, but I did read a review that it helps reduce pores. I'll have to give it a try to see if that's true for me. For now, this isn't really a product I see myself using much, so I wouldn't repurchase this. I am looking forward to playing with it more to see if it grows on me, and I'll update this post if I have more info later.
gorge I'll make you look amazing daily spray (Full Size) $29.95
This gorge I'll make you look amazing daily spray is my absolute favorite product from the box. I love to spray this in my hair before I blow dry it straight. I don't use it when I style my hair curly. It's almost a bonus to me that this spray is supposed to protect, repair, and overall help out your hair. I mostly love using it because of the amazing scent. It smells like a tropical vacation. Have I mentioned how much I love the smell of coconut? Seriously, though…I've been looking into getting more heat protectant products for my hair, so this product being in my Boxycharm was definitely timely. I would absolutely repurchase this over and over again. It's a product I've been looking for, and the scent makes me look forward to using it This may become a staple hair product. It was also a nice perk that we got a coupon on our product for 20% off later. This product made the entire box worth the purchase.
OFRA Cosmetics Lip Liner (Full Size) $13
I haven't had a chance to really use this lip liner yet because the color looked like something I'd prefer to use in the fall. I like brighter colors in warmer months. Anywho, I think this color is really timely because it reminds me a lot of the 90's brown lip color that is currently trending. I can't say that I'm upset about that. I really loved the color back then, and I think I'm going to have fun wearing it again this time around. I tested the liner on my hand, and it seemed a little dry. But, I usually put lip gloss over my lipliners and lipsticks, so we'll see how it wears together. The verdict is still out on this product and whether I'd get it again. I am looking forward to trying it more in the next several weeks.
Cost vs Value Summary
Cost of Box: $21 (which includes shipping)
Value of Box: $130.56 ($109.56 in savings)
My Boxycharm Referral Link
If you're interested in signing up for Boxycharm, too, I'd love for you to consider using my referral link (click). If you sign up with this code, I'll get a small credit, which I can use to get more Boxycharm goodies.
Related Links
Hope you found this post helpful.
Click here to check out my August 2015 Boxycharm Unboxing and Review
Click here for my other Beauty posts
Here's a link to KathleenLights' Boxycharm July 2015 Unboxing video, which I really enjoyed watching.
***
Let me know if you'd like to see me do a Boxycharm video – maybe a video review or unboxing? Thanks for stopping by!