July was a more challenging month planning-wise. Which was not a good thing considering I was just entering my major season of travel. For some reason, this year started with a slow amount of travel, will move into a major period of travel, and I'm hoping will round out on a slightly more quiet note. That being said, I still had some good spreads in my Erin Condren LifePlanner for July 2016.
Note: Planner Decoration Supplies are available on Etsy unless otherwise noted. Click here for a list of my favorite supply spots.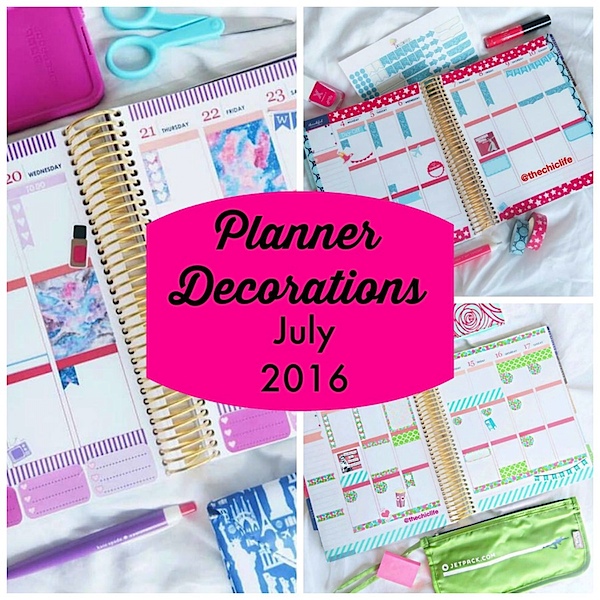 Planner Decorations July 2016 (Erin Condren Vertical)
July 2016 Monthly Layout
The challenge with using a planner is that you actually have to use it. I know that sounds simple, but don't we all sometimes try to buy a solution because we like the idea of it? But actually doing/using it is hard?
I don't have a photo to share of this month because I didn't prep it for the month. And then I didn't actively use it throughout July. While it may seem useless to back-fill, I find it quite helpful to do so. I like to get that big picture look at my life. And I do sometimes compare past months to future months. Maybe it's just me.
July 2016 Weekly Layouts
Weekly Layout: July 4-10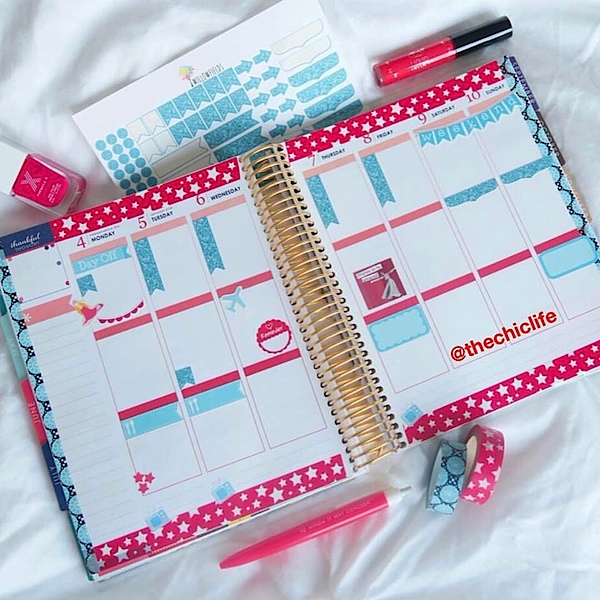 I had to go Red, White, and Blue for the week of the Fourth. This time, I added a little light turquoise for a fun color pop.
Planner Decoration Supplies:
Yoga girl by Oh Hey Sticker Co
Stars by Nicole Hutch Designs
Tiny TV stickers by Lillie Henry
Food banners and half boxes by Planner Chick
Turquoise glitter sticker set by Willowfields
Funny retro sticker by Planner Penny
Reminder sticker by Libbie & Co
Weekly Layout: July 11-17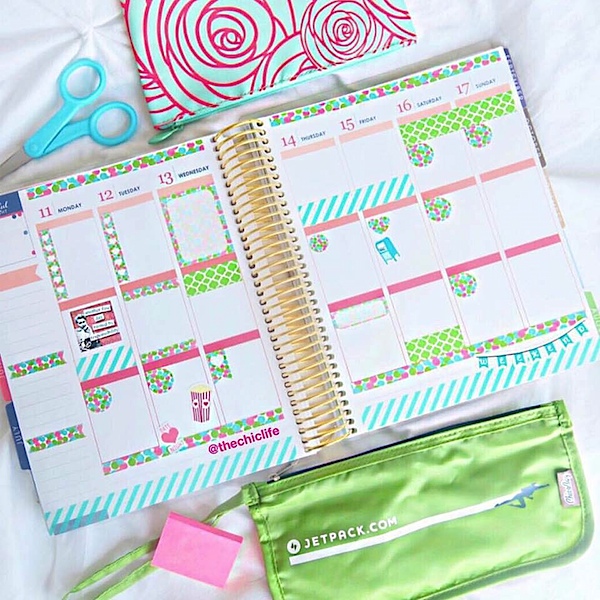 I was still working my way through a huge sticker kit by Obsessed with Cute. Now I'm wondering…did I buy multiple kits or was it really this big? I've used it in so many other spreads! And I still have stickers left! It's so interesting to me how some kits are so gigantic, while others are tiny. Good to have options either way!
Planner Decoration Supplies:
Colorful kit stickers by Obsessed with Cute
Funny retro sticker by Planner Penny
Weekend Banner by It's Planning Time
Date Night sticker by Made by Elissa
Weekly Layout: July 18-24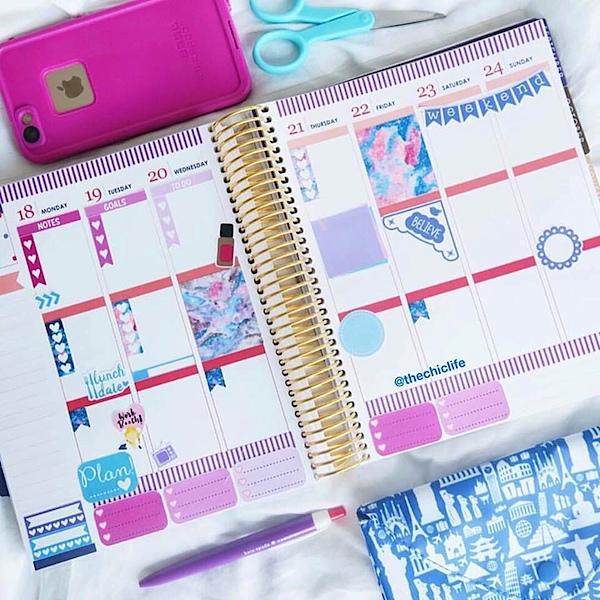 I really loved the color scheme of this week. I should use this purple-pink color more often. Sweet Kawaii does a ton of cute stickers in this color. It's a little more unique, so I feel like I don't see it in as many shops.
Planner Decoration Supplies:
Weekend banner by Nicole Hutch Designs
Britney B sticker by Oh Hey Sticker Co
Plan sticker by It's Planning Time
TV sticker by Lillie Henry.
Heart checklist boxes by Sweet Kawaii Design
Sticky note box by Planner Chick
More Planner Posts
Before: Click here for June 2016 Planner Decorations
After: Click here for August 2016 Planner Decorations (coming soon!)
Click here for my other Planner posts
Thanks for stopping by!