I haven't done a Boxycharm post in awhile, but the November 2016 box was pretty fab, and I thought I'd take a quick moment to share. In the past, I waited until I'd tried each of the products to blog about my box. But, I've found that I don't get to testing all of the items as quickly as I'd like. So I thought I'd try something new: a mix of reviews and simply sharing the contents of the box.
Boxycharm November 2016 Contents
Marula Pure Marula Oil (full size) $58
As someone with acne-prone skin, anything with "oil" in the name/description/etc. scares me a bit. The card claims this oil is appropriate for all skin types. And from further online research, I've read that this can really help dry skin and also has anti-aging properties in addition to being okay for those with acne. So, while this isn't something I'd probably purchase to try, I'll give it a shot since it was in my box. There are a ton of reviews for this on Sephora's web site if you'd like to hear what others think about it.
Studio Makeup Eyeshadow Palette (full size) $49.95
I have to admit, I didn't like this palette when I first opened it. I did some quick swatches of the shadows on my hand, and they didn't seem super pigmented. I've been so spoiled by my Kat Von D palette. Anywho, after watching Kathleen Light's November 2016 Boxycharm unboxing video and seeing her eye look, I decided to try it on. The results happily surprised me. You can see what it looks like in the photo below. Overall, this is a fun cool-toned palette to have in the collection.
Bellapierre Kiss Proof Lip Creme (full size) $20
I have the same feedback as Kathleen on this lip creme. My lips kept getting stuck-ish together while I had this on. I'm really more of a lip gloss kind of girl, so lipsticks are tough for me in general. I really don't like feeling like I'm wearing makeup, so I'm not sure I'm going to be using this one very much because it was so distracting. I thought this would have a standard lipstick taste, but it actually tastes like berries, which is a pro. It's just not enough to warrant me using this lip product when I already have so many others to use. It did stay on pretty well, so it could be good as a go-to when I want to have lip color but not worry about retouching much. I put this on to meet friends for shopping, and after eating lunch, drinking tea, and spending the afternoon with them, there was a fair amount still on by the end of the day. Not too shabby.
Crown Brush C513 Pro Detail Crease (full size) $12.99
I haven't had a chance to test this brush out because I'd like to wash it first, and I pretty much just opened my box. And it's not the type of brush I'd use on a regular basis. It's a pretty pointy brush, so I'm thinking it will be useful for crease detailing. Kathleen mentions using it for a cut crease in her video. But since I don't even know what that is, I probably won't be trying that one any time soon. I could see it being useful for a smokey eye look to apply or blend out shadow close to the lid.
Makeup Geek Blush Powder (full size) $10
I really loved this blush color. It's a nice, soft pink that doesn't draw too much attention. I thought it looked really good with the other makeup colors in the box. But I also think it's a subtle shade that would look good with almost any eye or lipstick look. This blush came as a metal round meant for a Z-palette. Luckily, I got such a palette in a previous Boxycharm. So I just added this to the other colors.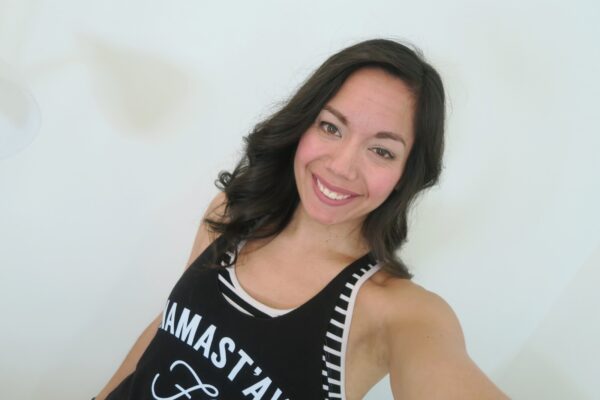 Wearing My Boxycharm
Here's what the makeup looked like on. I was able to get a nice, neutral look out of the eye shadow palette, blush, and liquid lipstick. The colors of the eye shadow palette are fairly light, so I think it will be most useful for daytime looks. Though you could add depth with darker colors from other palettes or single shadows really easily if you want to take it day-to-night. I used a mix of the berry tones for the crease and one of the brighter colors for my lid so it had a slightly berry look while still being overall neutral.
Boxycharm Value
This box was one of the highest in value so far at $150.94! Can't believe it only cost me $21.
Boxycharm Referral Link
If you found this post helpful, I'd love for you to use my referral link to sign up. I'll get a little credit if you do. But you can always sign up directly through their site.
Click here for my other Boxycharm posts
Click here for my other subscription box posts
Thanks for stopping by!