Hi friends! Here's the third planner I'm currently using. This is the ban.do 13 month planner, and it's currently on sale – dets below). I'm still a serious Erin Condren fan girl, but these ban.do planners have been calling my name. So I figured, why not get another planner. While I may not need this for regular life tracking, I've been doing a lot more work and planning related to my blogs, and I've been running out of space in my main planner (the Erin Condren vertical LifePlanner) for this. So, in this post, I'm sharing ban.do Planner Decorations: Week of August 20, 2018.
Note: this post contains affiliate links. If you make a purchase using one of these links, I may make a small commission at no extra charge to you. Please feel free to reach out if you have any questions.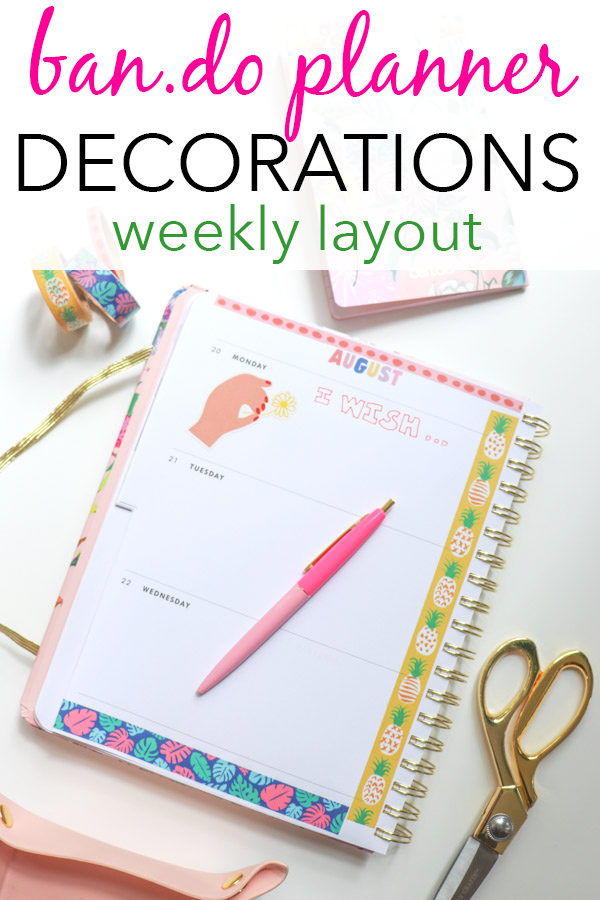 ban.do Planners – Save 25%
This is the ban.do 13 month large (it comes in multiple sizes) paper planner. I purchased mine at Paper Source where it's currently on sale, though I don't see this pattern online. This super cool holographic one is, though! Planners are currently 25% off at ban.do's main site.
ban.do Planner Decorations – Weekly Layout – Week of August 20, 2018
For my first time decorating the weekly layout of my beautiful new ban.do planner, I kept things super simple. While the Erin Condren seems more customizable in terms of themes, the ban.do planner screams COLOR and FUN to me. So, I opted to use some of my most colorful new tropical washi tape that I picked up at Paper Source on a recent planner supplies shopping spree.
Since I have a lot of planning to do, and I wanted to leave as much space as possible in the boxes, I kept the washi tape on the borders and edges. These three patterns were selected from the washi tape kit. Even though the decorations themselves are quite simple, I love how much more colorful the whole page looks.
And one great thing about the ban.do planner is that it comes with three sheets of super fun stickers. I'd classify them as more decorative than functional, but they definitely add energy and personality to your planner pages.
I added the little hand holding a flower to the top. It reminded me of when you pluck one of those little balls of whispy whatever-they-ares and blow them all off to make a wish. I'm using this section to set some positive intentions for what I'm hoping to achieve with The Chic Life and Diana Starts. Positive mindset always. More on this tomorrow so check back for tomorrow's post.
Oh, and I'm planning to do a full review of this new ban.do planner, but I want to get get a good feel for it by using it a bit longer first.
More Planner Fun
Looking for more decoration ideas. I've posted my decorations since 2015 here.
Check out my latest planner posts here
And I'm updating my Pinterest planner boards like crazy, including a new group board I recently joined:
***
Thanks so much for reading this post about ban.do Planner Decorations: Week of August 20, 2018. Hope you liked it.
Which planner do you prefer: Erin Condren or ban.do? Or something else?