Hi planner friends! So I have SO MANY planner videos coming your way very soon. Starting with two new Plan with Me videos. This first one is a Plan with Me: Christmas Washi Tape Only in my weekly vertical Erin Condren LifePlanner 2018. The next one will be without stickers OR washi tape. Woop!
Note: This post contains affiliate links. If you make a purchase from one of these links, I may make a small commission at no extra charge to you. This helps me offer all this fabulous free content! Feel free to reach out if you have any questions.
*VIDEO* Plan with Me – Watch Me Decorate My Planner with Just Washi Tape
Click here to watch the video if the above player doesn't work.
Christmas Week in my LifePlanner 2018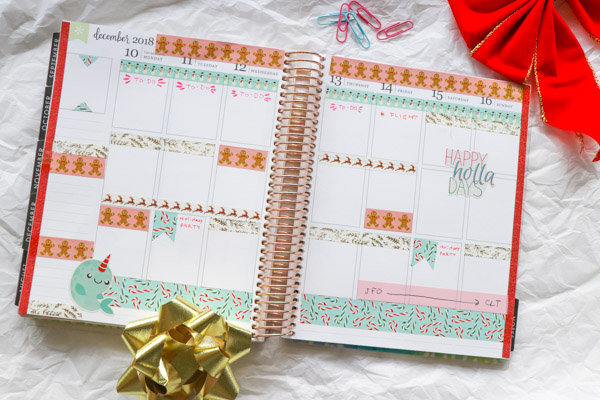 You'll notice there are actually two stickers (the narwhal and the Happy Holla Days quote) in this spread. And that's because I originally took photos for this on my other camera. Which I left in SF before traveling home for the holidays. Luckily, I had my planner and another camera with me. But I had already added these two stickers to show you how I like doing mostly washi tape with a couple stickers to make the layout pop.
I don't know why, but adding a couple stickers here and there really bring the spread together for me.
Once I get back to my photos, I'll try to update this post so you can see the difference.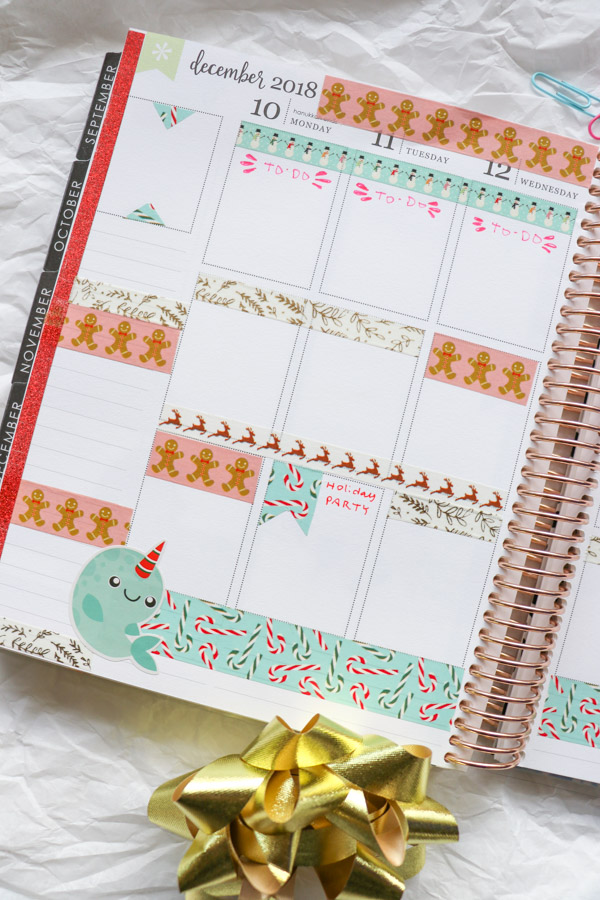 Here's a closer look at the left hand side. I loved this mix of different washi tape colors, sizes, and styles. And there's plenty of space to write still.
I made the banner "stickers" with washi tape and put the extra triangles in the top left box, which I'll use for a grateful thought for the week.
Most of the details on this layout are in the video, but I'm covering some highlights here.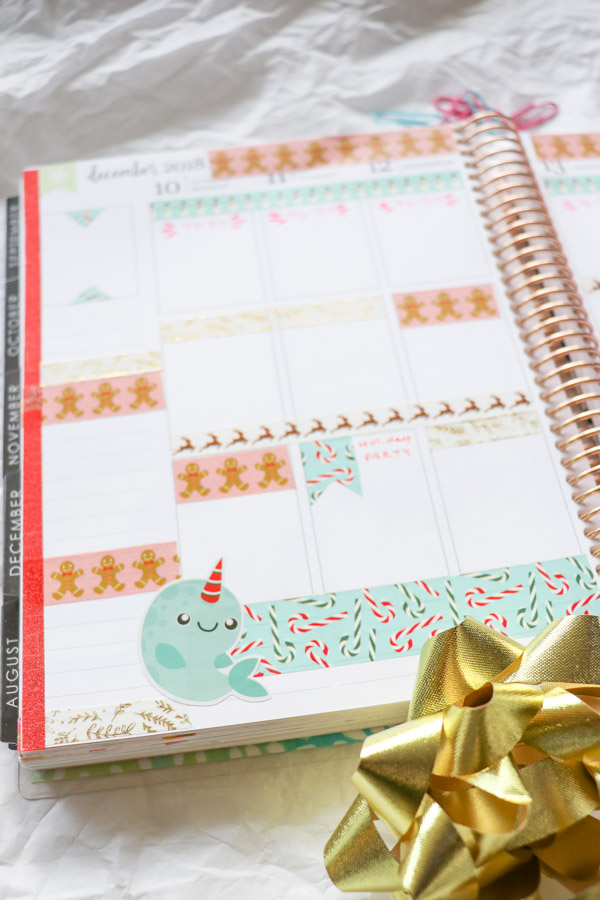 Love this cute little narwhal sticker.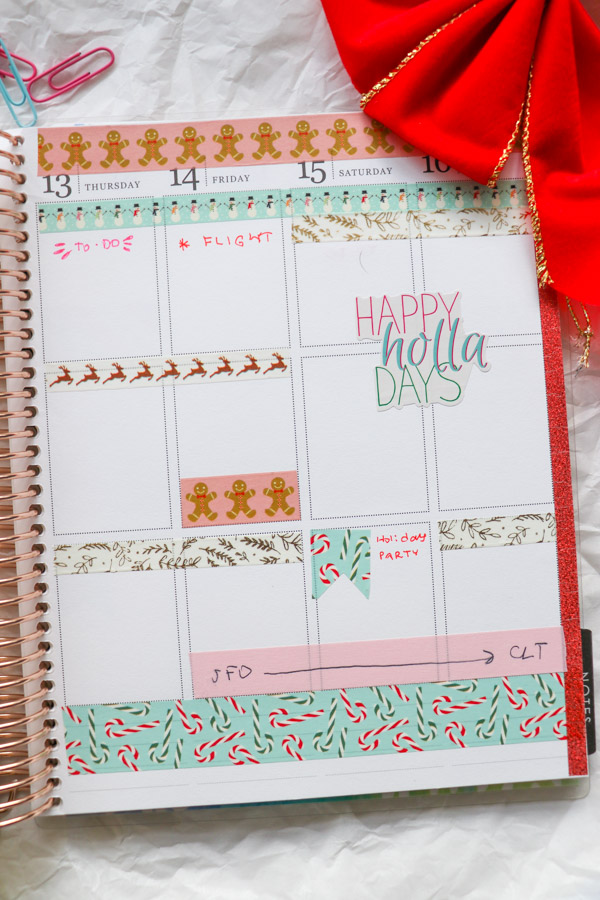 Here's the right side. This side features a strip of washi tape representing a duration of time. This is something I'm covering in an upcoming video with tips on how to use washi tape in your planner. Be sure to subscribe on YouTube or via newsletter to see it when I publish it.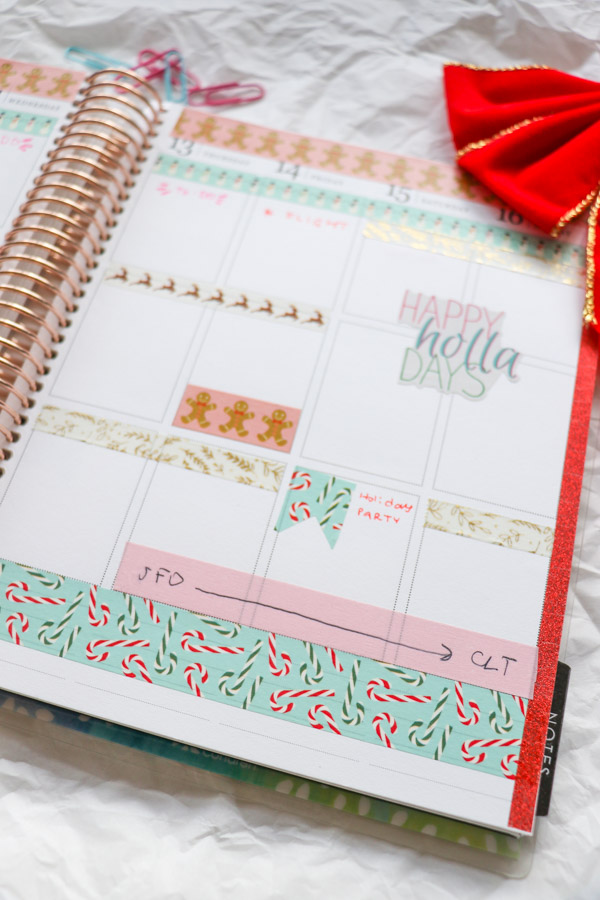 Planner Supplies Used in this Video/Layout
♥ Planner used – Erin Condren LifePlanner (coupon below)
♥ Main Christmas washi tape set used
♥ Set of 3 Christmas washi tapes
♥ Color pen set
♥ Gold Scissors
♥ My Usual (smaller) Scissors
SAVE $10 ON YOUR FIRST ERIN CONDREN
♥ Erin Condren (my referral link) (use this, and we'll both get $10!)
More Planner Tips and Ideas
How to Decorate Your Planner with Washi Tape
How to Make Text Stand Out in Your Planner (used on the To-Do lists in this layout)
Ultimate Planner Supplies List
***
Thanks for reading and watching my Plan with Me: Christmas Washi Tape Only. Hope you enjoyed it! Happy Holidays!