Hi planner friends! I wanted to try something totally new, so in this video / blog post, I'm decorating my planner but without your normal planner supplies. That's right – no washi tape, no stickers. No Etsy! Here's my Plan with Me: Christmas No Washi Tape, No Stickers in my Erin Condren 2018.
Note: This post contains affiliate links. If you make a purchase from one of these, I may make a small commission at no extra charge to you. Affiliate links help me create awesome free content like this post and video! Reach out any time if you have any questions. 
*VIDEO* Plan With Me – No Etsy, No Stickers, No Washi Tape – No problem!
Click here to watch the video if the above player doesn't work.
Planner Christmas Decorations 2018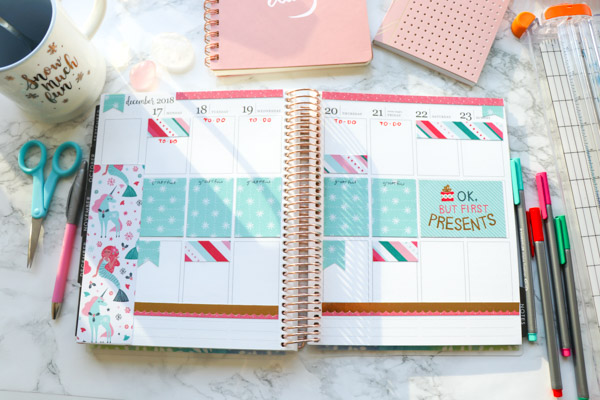 Here's a pretty layout I did in my Erin Condren LifePlanner Vertical weekly layout for December 2018. This was done without any washi tape or stickers. How? The answer is – scrapbook paper!
So simple and fun!
Decorating My Planner with Scrapbook Paper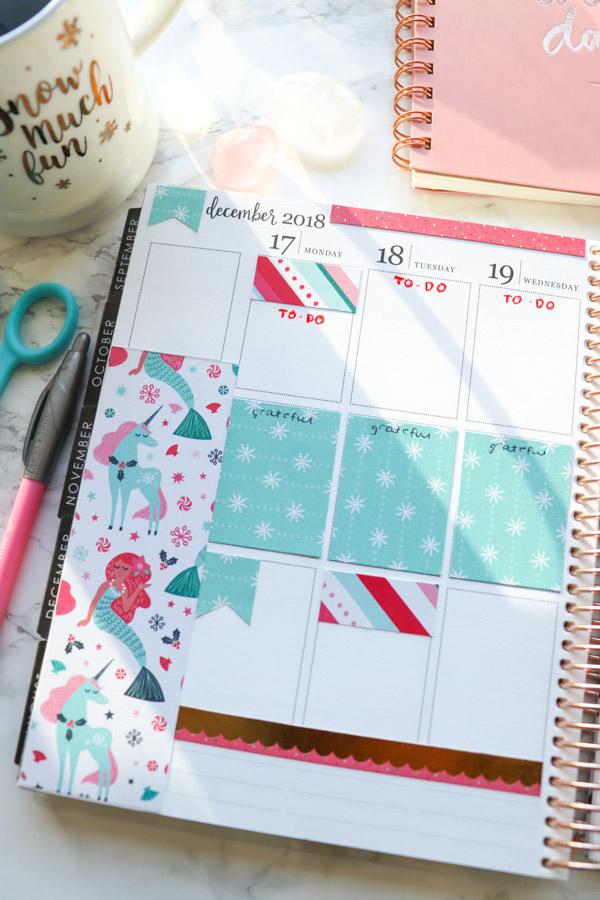 For this layout, I tried to mirror what I usually do with washi tape and stickers but with only paper. Luckily, there were many great pages in the set of scrapbook paper I picked up at Michael's. And I absolutely loved the color scheme.
The mermaids and unicorns were my main focal point for the week, and I used colors from this throughout the rest of the layout.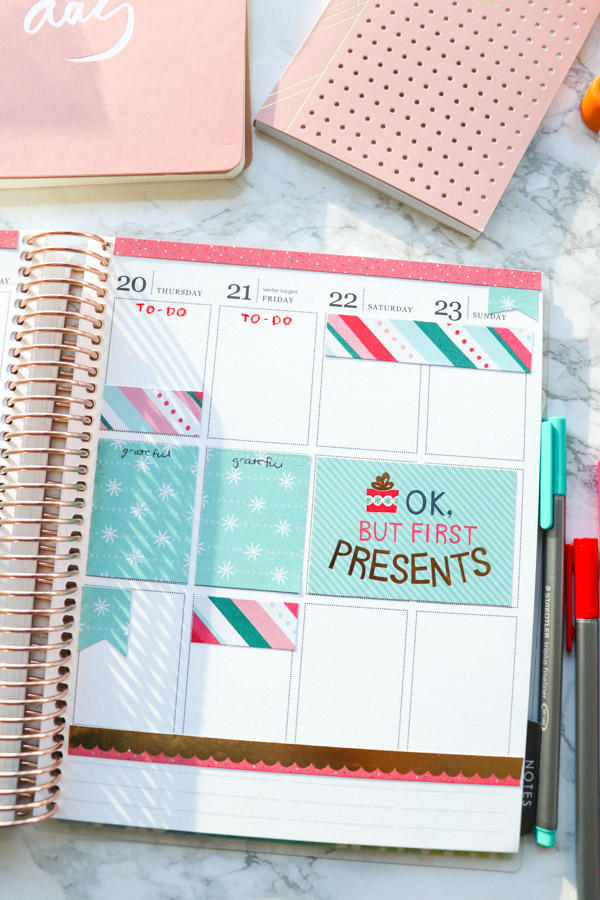 I was even able to make my own banner "stickers" using the scrapbook paper.
They key to getting straight lines was a 12-inch paper trimmer. As a craft lover, it was sort of fun to use. Haha.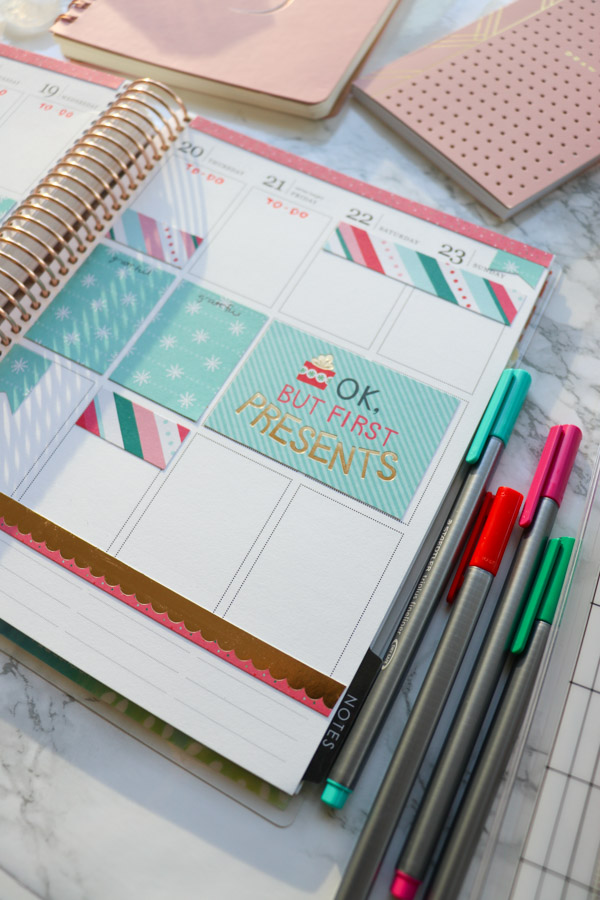 This "Ok, But First Presents" cut out was a playful addition. It didn't quite fit in the two weekend boxes, but those types of minor things don't bother me.
The only two things I didn't love about this style of planning was:
The glue was a little messy. I may try a glue runner instead.
The paper is a bit thick. It takes up more space and makes writing a little less even on the opposite sides.
But overall, it was great to have yet another way to decorate my planner. There are so many cool styles of scrapbook paper out there, which means even more ways to decorate and organize your planner!
Planner Supplies
♥ Planner used – Erin Condren LifePlanner
♥ Scrapbook paper is from Michael's, but I couldn't find it online
♥ Fiskar's paper trimmer (12-inch)
♥ Elmer's repositionable glue stick
♥ Color pen set
♥ My Usual (smaller) Scissors
More Planner Decorations and Ideas
New to Using a Planner? Start Here
Planner Decoration Ideas (decorations since 2015)
***
Thanks for reading and watching this Plan with Me: Christmas No Washi Tape, No Stickers. Hope you enjoyed it!
Happy holidays!
Want to share these tips with friends? Here's a graphic you can send them using a share button or Pinterest!