When it comes to enjoying the holiday season, I love participating fully and freely in all the festivities while still keeping my foundational healthy lifestyle going. I don't think it's about eating all the holiday foods OR being healthy. It's about enjoying holiday foods and activities AND being healthy. And on this page, I'm sharing my favorite Healthy Holiday Kitchen and Pantry Favorites to help you with just this on the home front.
📌 Be sure to bookmark/save this page because I'll be updating it as I discover new Healthy Holiday Kitchen and Pantry Favorites!
Note: This page contains affiliate links. If you make a purchase from one of these links, I may make a small commission at no extra charge to you. Thank you for your support!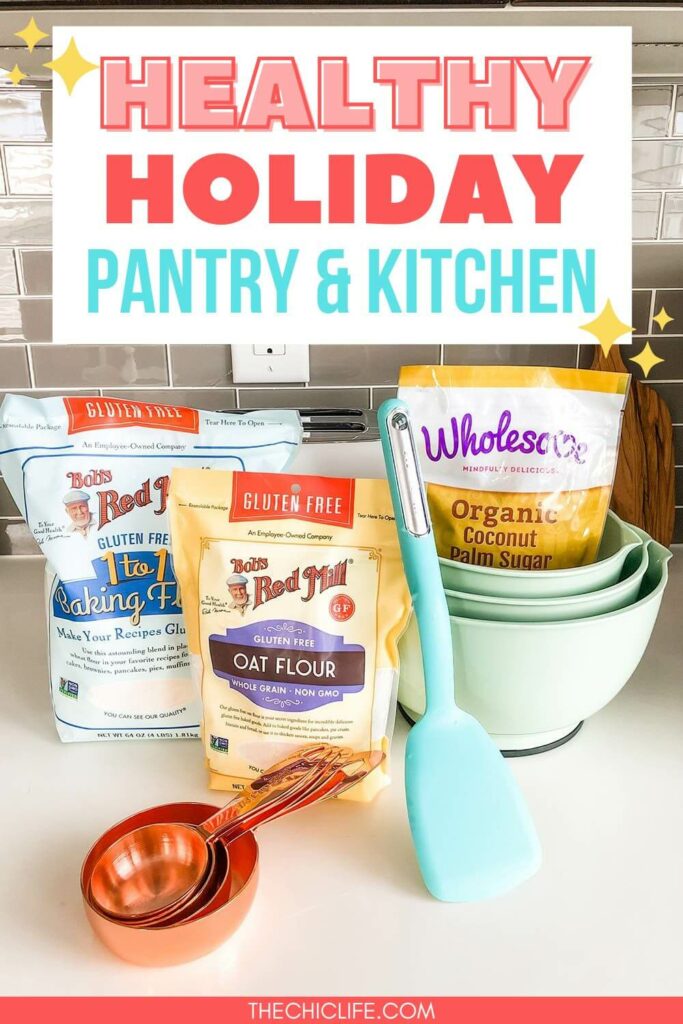 Healthy Holiday Kitchen and Pantry Favorites
When it comes to living a healthy lifestyle, I truly believe you can have your cake AND eat it too! And when it comes to the holiday season, having a well-stocked pantry and your favorite tools and what not on hand can help.
Here are my healthy holiday kitchen and pantry favorites for cooking and baking.
Healthy Holiday Pantry Favorites
Whilst I'm a health coach through IIN and not a doctor or registered dietitian, I do have pantry / ingredient favorites that I've collected over my many years of research. These align to my healthy values of aiming to eat foods as close to the source as possible, avoiding processed foods as much as possible, and going for health-boosting options where it doesn't negatively impact the final product.
Basically, I want all the flavor, without the unnecessary ingredients, and WITH the nutrients wherever possible!
Sweeteners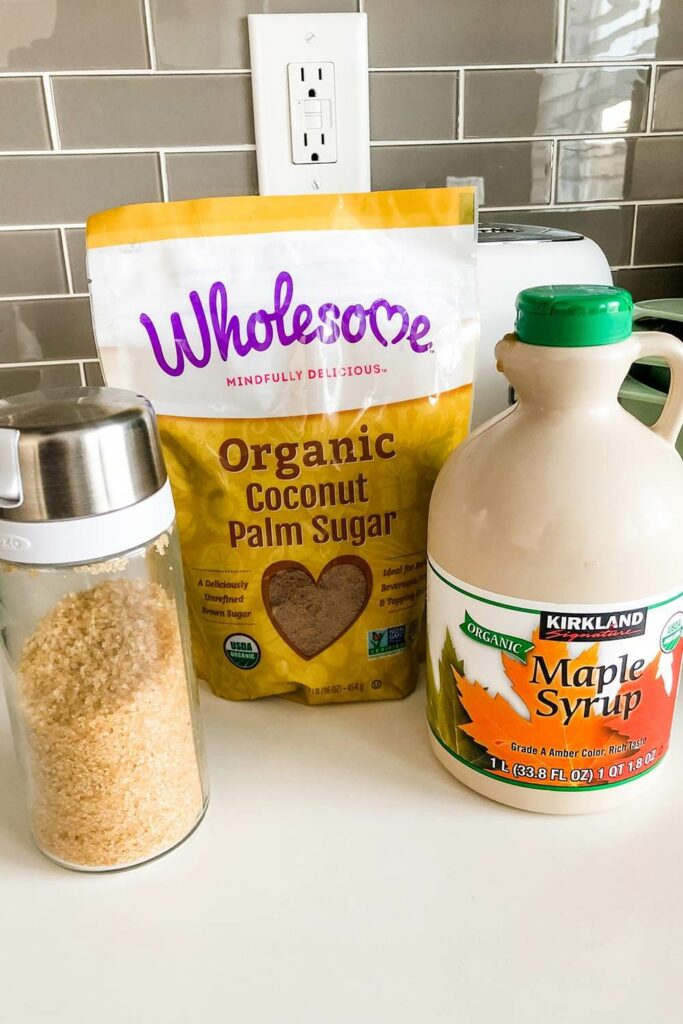 From my research, one sweetener isn't significantly "healthier" than the other. For the most part, sugar no matter the type, impacts the body in almost the same way. For most natural sweeteners, though I'd like to be able to say they're more nutritious, the trace nutrients in the more natural options aren't high enough to add significant nutrition.
Still, in my opinion, these sweeteners are "healthier" because they are as closer to whole foods than a highly processed white sugar (which can sometimes be bleached with animal bones – yuck!).
Here are my favorite healthy sweeteners:
Maple Syrup: a fave for baking, cooking, and even mixing into drinks – made from condensed maple tree sap
Coconut Sugar: a fave especially for baking – made from dehydrated coconut flower nectar
Honey: a fave for cooking, baking, and sweetening drinks – from bees
Raw Sugar: a someone less processed version of white sugar (depending on what kind of sugar you get – there are many varieties)
Fruit:

Bananas: my fave smoothie sweetener but also useful for baking
Dates: great for sweetening smoothies, drinks, oatmeal, and baked goods
Flours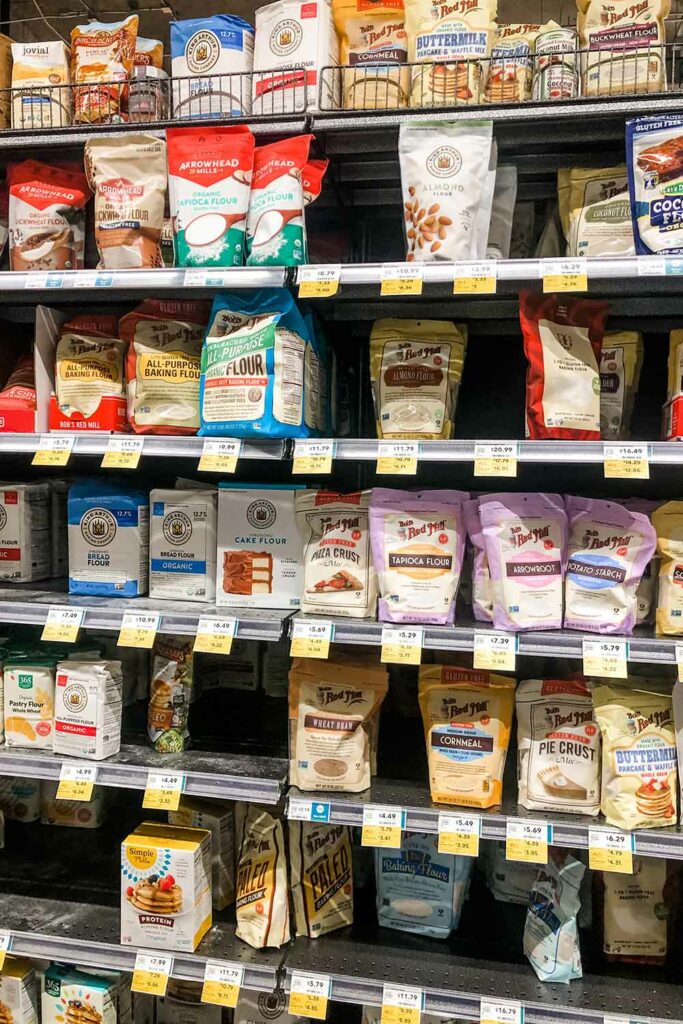 I've been experimenting with whole grain flours since 2010, and I've definitely collected some faves. In recent years, I've started playing more with gluten-free options since I found out I have a gluten sensitivity. These are the flours I bake with regularly.
Some flours are definitely easier to work with than others. Some are a 1:1 replacement with traditional white flour while others have to be formulated completely differently.
My favorite healthy flours:
Unbleached White Flour: a slightly less processed version of all purpose flour
Whole Wheat Flour: the whole grain version of all purpose flour
Spelt Flour: an ancient grain version of all purpose flour
Oat Flour: basically pulverized oats – a whole grain replacement for all purpose flour – can be used mostly 1:1 (naturally gluten free)
Almond Flour: basically ground almonds – is NOT 1:1 so use recipes designed specifically for almond flour
1:1 Gluten-Free Baking Flour: a gluten-free replacement for all purpose (I like Bob's Red Mill 1:1 Flour Blend)
Please note on the gluten-free flours: these flour are naturally gluten-free, however you should check the labels of the products you're purchasing since not all brands guarantee a given item is GF.
Other Ingredients
Egg Replacement:

Flaxseed Meal: my go-to egg replacer for baked goods
Chia Seeds: another option, but not my fave because if you use whole chia seeds, the texture is not smooth – and I don't typically have pre-ground chia seeds
Bob's Red Mill Egg Replacer (gluten-free): another great option that I sometimes use
Natural Food Dyed Products
Natural sprinkles:
Alternative Colors:

Blue-Green: Spirulina, E3 Live
Red/Pink: Beet Powder, Dragonfruit Powder
Yellow: Turmeric
Healthy Holiday Baking Supplies and Tools
Baking Supplies
When I got into ditching processed foods, I really started to evaluate the ingredients in the foods and products I was using. One useful thing I decided to give up was non-stick spray because I didn't want to consume the propellant on the ingredient list.
Baking Tools
Especially since having limited storage space when I lived in NYC and SF, I'm VERY picky about the tools I bring into my kitchen. I don't have space (or time) for tools that don't work or give me stress. My tools need to work well and help me create as stress-free of a baking and cooking environment as possible. Bonus points for also looking chic and being fun to use!
Mixing bowls: this set by KitchenAid has a 4.8 out of almost 3k reviews, works well, is easy to clean, and comes in a chic pistachio color that looks gorgeous in the kitchen
Cookie scoops – set of 3: a scoop for every cookie project – this set beat out OXO and has a
Healthy Holiday Recipes
I've created a tag that will group together all of my holiday recipes in one place. This includes year-round holidays, so if you're looking for Thanksgiving, Christmas, etc. specifically, you may need to skip through.
You can also use the "search" option in my blog's sidebar to look for particular-themed recipes. Note: The search bar will display at the end of the post if you're on mobile due to the way the mobile theme adjusts to fit phone screens.
Click here to view more of my (mostly) Healthy Holiday Recipes
***
Thank you so much for checking out my Healthy Holiday Kitchen and Pantry Favorites. Hope you found some useful tools, tips, and what not. Stop by again soon!
📌 Be sure to bookmark/save this page because I'll be updating it as I discover new Healthy Holiday Kitchen and Pantry Favorites!