Hi friends! Here's the final recipe I'm sharing this year for your Thanksgiving leftovers. This is an updated version of a recipe I first shared back in 2009. At the time, I couldn't find a healthy version of one of my favorite Thanksgiving leftover recipes, turkey tetrazzini. So, I made a recipe. But, I remember it being a little dry and wanting to re-work the amounts. And after several years, I've finally revisited it. Here we have an updated Healthy Turkey Tetrazzini Recipe, clean eats style.
*VIDEO* 3 Healthy Thanksgiving / Holiday Leftover Recipe Ideas
Click here to view the video if the above player doesn't work.
Healthy Turkey Tetrazzini Recipe with Vegetables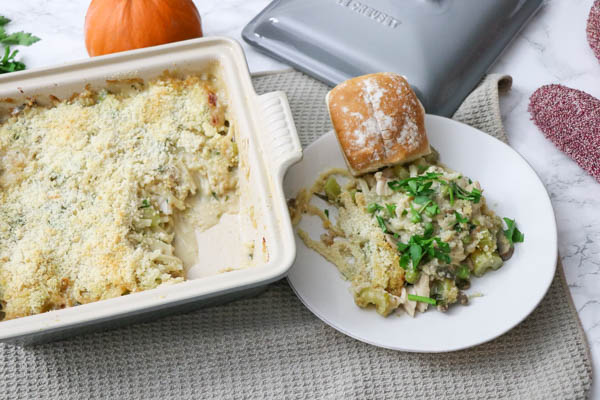 Healthy Turkey Tetrazzini Recipe Ingredients (No Canned Soup)
One way this Healthy Turkey Tetrazzini Recipe is healthier is by using real food ingredients. Whilst I do appreciate that the canned soup version is a classic, I've started shying away from many canned soups due to wanting to avoid the unnecessary added ingredients.
And because I like eating as close to the source as possible.
If you're into that style of eating too, this may be the perfect turkey tetrazzini recipe for you!
So this Healthy Turkey Tetrazzini Recipe is made without canned soup!
The ingredients are:
leftover cooked / roasted turkey
linguine pasta
avocado oil (or sub extra virgin olive oil or other oil of choice)
celery
onion
butter
mushrooms
flour
chicken broth (or stock)
cream
sherry wine
peas
parsley
panko bread crumbs
parmesan
nutmeg
salt
pepper
Nice, simple ingredients. Yes!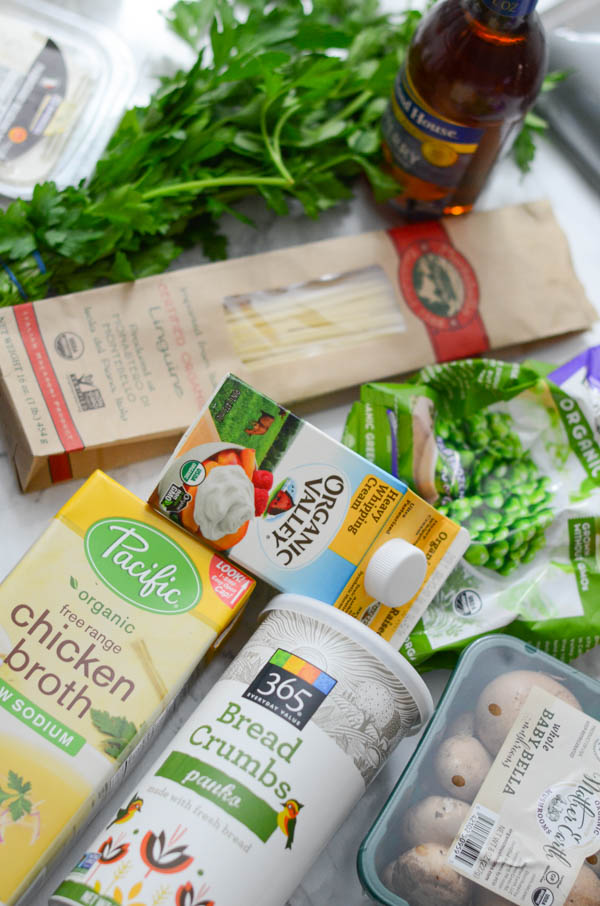 How This Healthy Turkey Tetrazzini Recipe is Healthier (Without Using Low-Fat Versions, Etc.)
I pretty much don't do low-fat, low-whatever anything. So the way I healthify my recipes is by keeping in the full fat versions but using a bit less.
Not sure about you, but sometimes the amounts of cream, butter, sugar, etc. can be overwhelming when a touch could potentially be enough.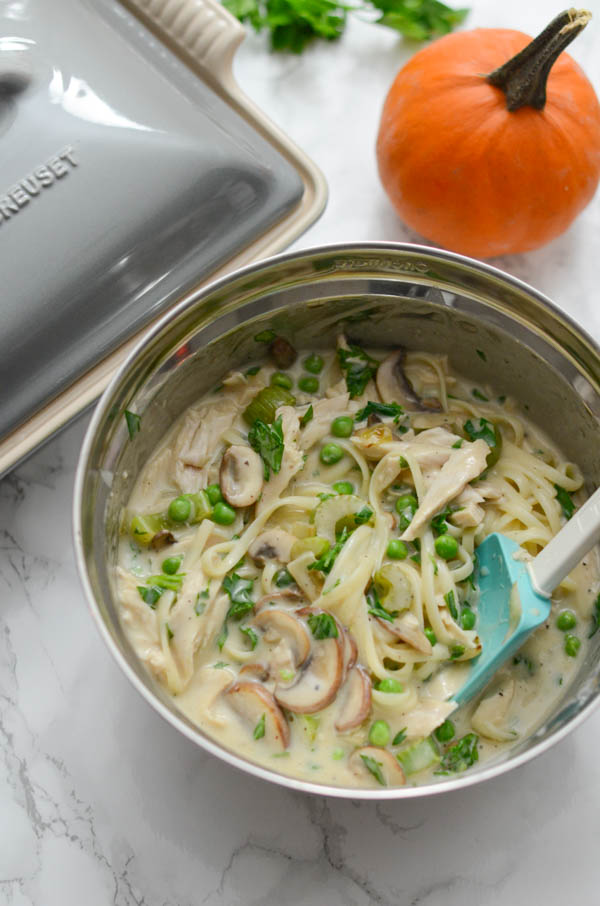 So yes, this Healthy Turkey Tetrazzini Recipe calls for butter and cream. And I used regular linguine because I couldn't find a whole grain version at the store (surprisingly enough). But I use less butter and cream. And you could always sub any style of pasta you prefer. Some of the ones made from lentils, legumes, etc. are really good! I mean, I do love that black bean pasta recipe. Mmm. I can hardly believe how easy it is considering how delicious it is. But back to this recipe…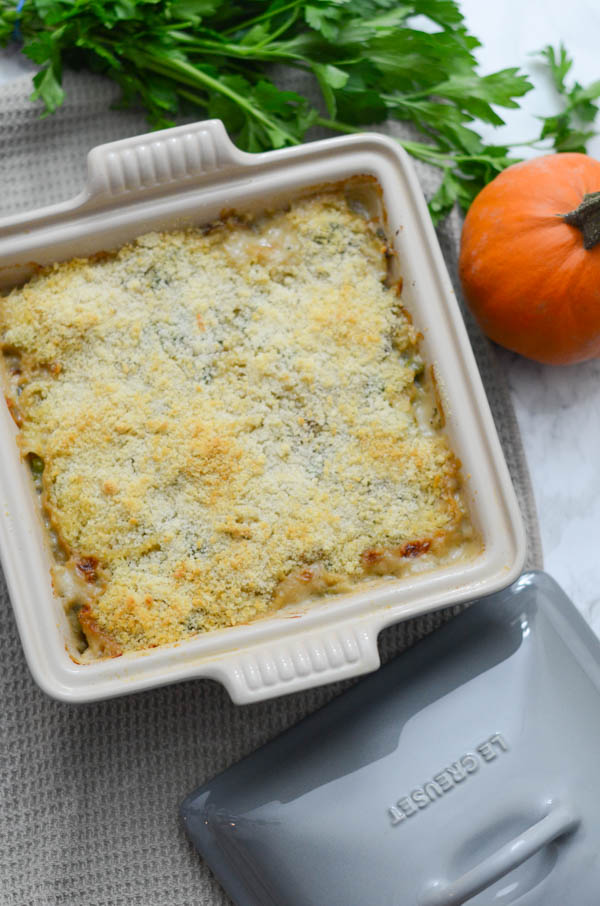 How This Healthy Turkey Tetrazzini Recipe is Healthier (By Adding More Vegetables)
The other way I health-ified this Healthy Turkey Tetrazzini Recipe is by bulking up on the veggies. The proportions of this recipe have a really strong amount of veg for the pasta and turkey. When I cooked the pasta, I was actually worried I wouldn't have enough. But when you mix everything together, it works.
Oh and quick note on the sauce: it's a bit on the liquidy side, but that's how I like my turkey tetrazzini. I'm not a fan when it's super dry inside. If you let it set for a bit after baking, it will thicken up. But yea, I thought the sauce amount was just right.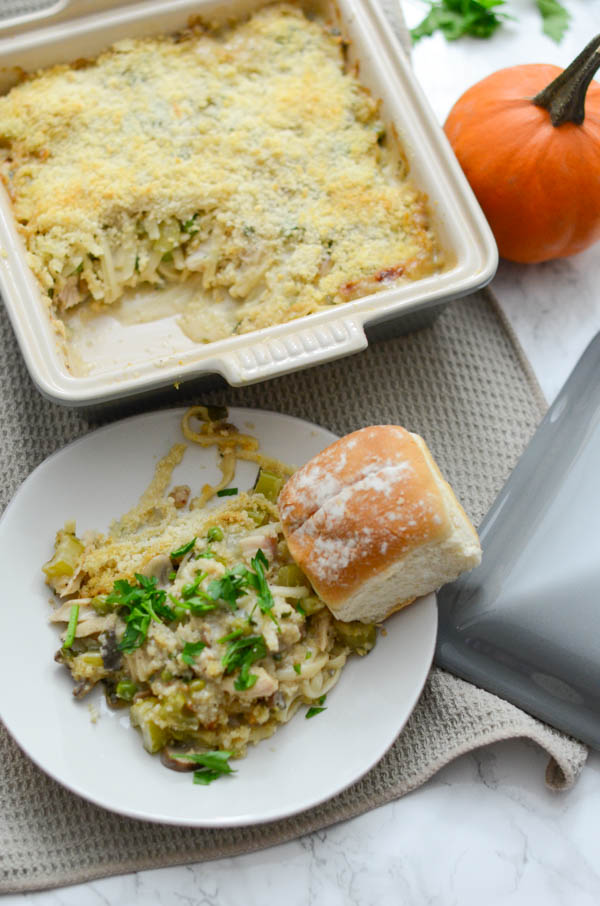 My dad did comment when watching the video that it was too liquidy though. Haha. So I guess maybe my version is non-traditional, but we knew that going in, right? Liquidy sauce? Vegetables??? What blasphemy is this? I'm not sure, but I think this Healthy Turkey Tetrazzini Recipe tastes delicious. Hehe.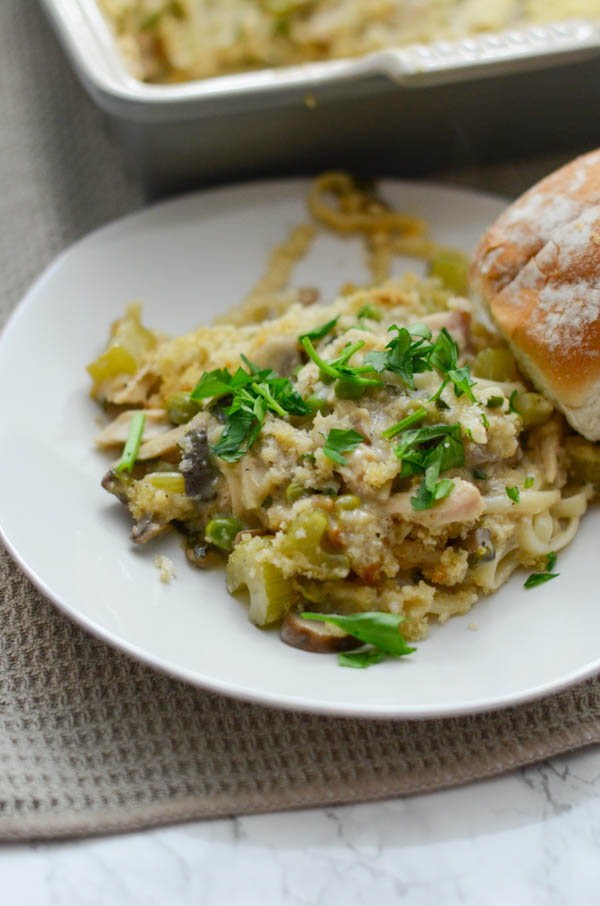 Print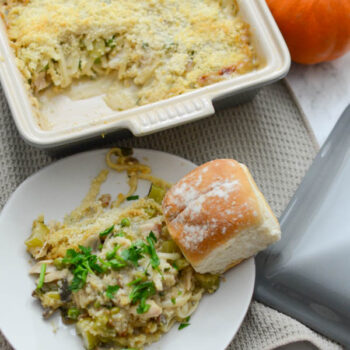 Healthy Turkey Tetrazzini Recipe | Thanksgiving Leftovers
Author:

Prep Time:

10 mins

Cook Time:

50 mins

Total Time:

1 hour

Yield:

4

1

x
---
3 ounces

dry linguine pasta

1 tablespoon

avocado oil, plus more to prep the casserole dish (or sub EVOO or oil of choice)

2

stalks celery, cleaned, chopped small

1

small onion, chopped

1 tablespoon

, plus 2 tablespoons butter

1

small package mushrooms, cleaned and sliced thin

2 tablespoons

flour

2 cups

chicken broth (or stock) – I like low-sodium

1/4 cup

cream

1/4 cup

sherry

2 cups

leftover turkey (dark and/or white meat) – chopped into bite sized pieces

1 cup

frozen peas

1/3 cup

fresh parsley, chopped

1/2 cup

panko bread crumbs

2 tablespoons

grated parmesan
dash nutmeg

1/2 teaspoon

salt, plus additional to taste

1/8 teaspoon

pepper, plus additional to taste
---
Instructions
Preheat oven to 350 degrees F and brush a 8×8" or 7 1/2" square casserole dish with about 1 teaspoon of oil.
Bring a large pot of water to a boil and cook linguine following package directions, except cook pasta about 1-2 minutes less than recommended time (it will finish cooking when the casserole bakes in the oven). When pasta is done, rinse with cool water to stop the cooking. Add pasta to a large mixing bowl.
Meanwhile, heat a sauté pan over medium heat. When ready, add onions and celery and cook till veggies are tender, about 5-7 minutes. Add veggies to large mixing bowl when done.
Meanwhile, heat a sauté pan over medium heat. Melt 1 tbsp butter in pan. Add mushrooms and cook till mushrooms are tender, about 6-7 minutes. Add veggies to a large mixing bowl when done.
In same pan as mushrooms were cooked in, melt 2 tbsp in pan. Add flour to pan and cook for 1-2 minutes. Whisk in chicken stock and bring to a boil. Reduce heat to simmer, add sherry, cream, nutmeg, salt and pepper (plus additional to taste), and cook till sauce is thick, about 5-10 minutes.
Add turkey, peas, and parsley to the mixing bowl, then add sauce. Stir all ingredients together and pour into the prepared casserole dish. Smooth top flat. Evenly distribute the breadcrumbs (add or reduce amount of breadcrumbs to your liking).
Grate parmesan over breadcrumbs. Optional: Add some extra bits of butter on top, spread out.
Bake casserole for 30-40 minutes or until sides are bubbly (the top may not brown unless you do optional step #7 so look for signs of bubbling rather than the browned top for doneness)
---
Notes
I make this every year with my Thanksgiving / holiday turkey leftovers. It's a family fave!
My sister doesn't like mushrooms, so sometimes I leave those out. The recipe works without them! But even though I'm not a huge mushroom fan myself, I prefer them in for flavor.
Keywords: holiday, family favorite, comfort food
Recipe Card powered by
More Thanksgiving Leftover Recipes
From the video:
Click here to get back to my 3 Healthy Thanksgiving Leftover Recipes (With Video) Post
More great ideas:
Hope you enjoy this Healthy Thanksgiving Leftovers Idea for a Healthy Turkey Tetrazzini Recipe. Also, be sure to check out the other recipes in the video at the start of this post. Cheers!
Thanks for reading!