Hi friends! So, my mom has been holding out on me! At last year's Thanksgiving, she rolled out a Filipino recipe I'd never seen before. After all this time, I thought I would have tried all of her recipes. Not that she knows every single Filipino recipe. But when I asked her about it, she was like…yea we used to eat this all the time. So casual about it too. And so I'm late to the party, but I don't mind. I'm just glad I was introduced to this delicious recipe at all. Because you know what? I flippin loved it! So, today I'm sharing my mom's Easy Ginataang Recipe. And in case the name seems not very descriptive, let's just call this a healthy sweet potato coconut milk dessert that can also be enjoyed as a snack.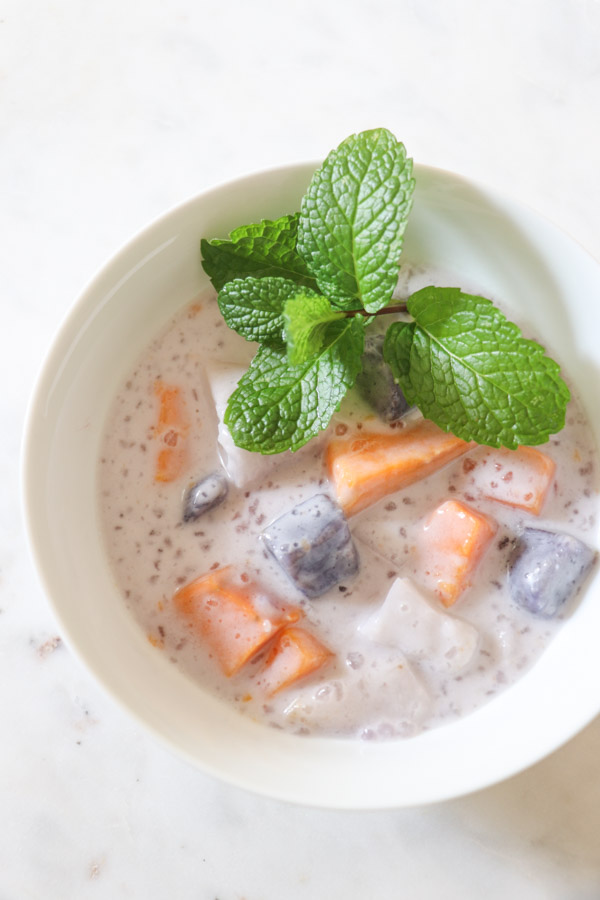 So the first time I saw this was at Thanksgiving 2018. My mom was mixing together a beautiful concoction in the slow cooker. Since I was under the weather, I wasn't involved with the cooking. And I was so surprised to see a colorful mixture or orange and purple in a white sauce. What could it be?! It. looked. magical.
Note: She only put it in the slow cooker to keep it warm. This is cooked stovetop.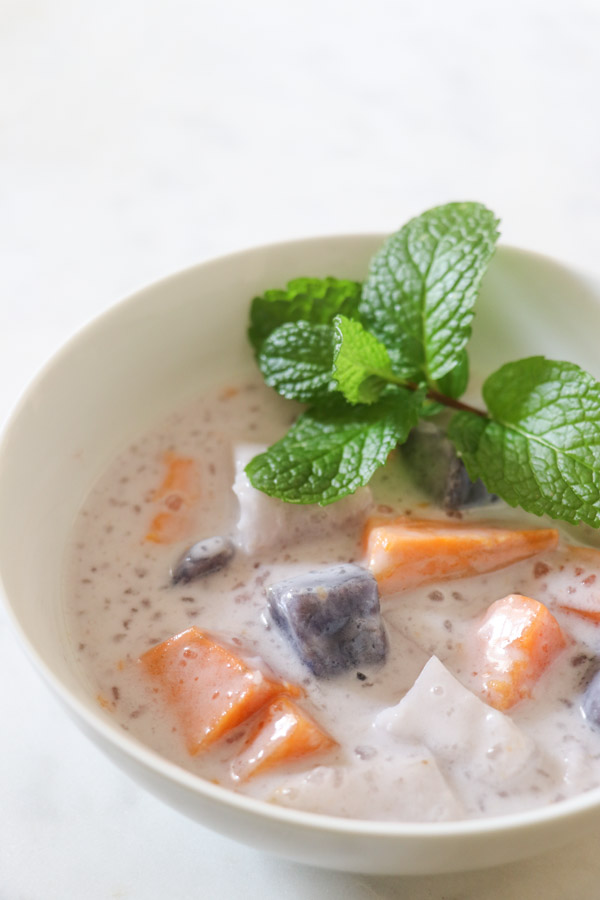 It turns out that my mom decided to whip up a batch of Ginataang. A recipe she said she ate a lot growing up in the Philippines.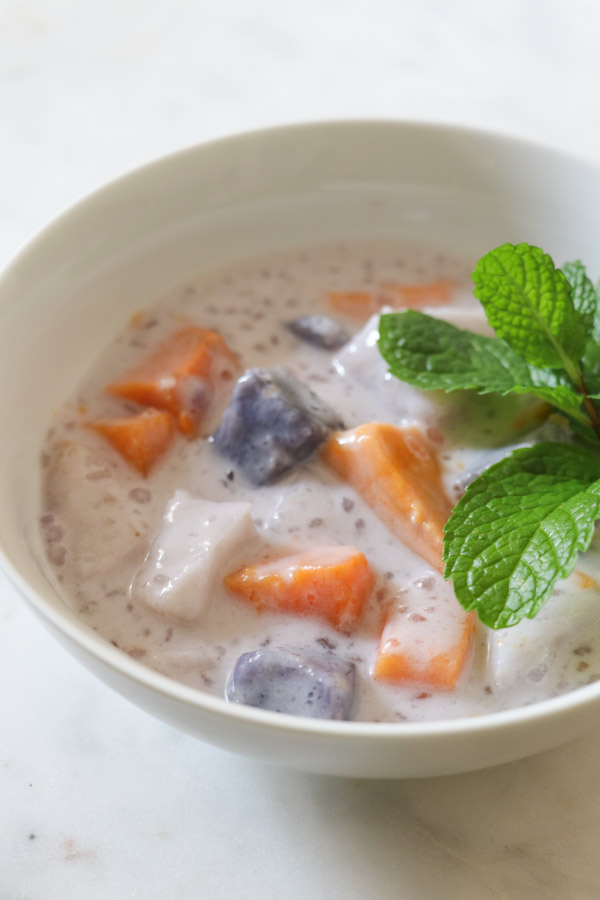 Healthy Filipino Dessert / Snack Recipe
And you know what…this bad boy is pretty darn healthy!
Why?
Because PLANTS > CONVENTIONAL DESSERTS
Whereas common desserts like cookies and cake are made with high amounts of butter, oil, and other pretty obviously not-so-healthy ingredients, this recipe is much healthier. With this clean eating dessert, you get servings of health-boosting sweet potatoes and taro root as the main portion of this dish. Consider this an exotic way to get you / your family / your friends to eat more of the superfood we know and love – the sweet potato. And the other ingredients are great for you too. Let's discuss some highlights…
Sweet Potatoes
Sweet potatoes are a great source of Vitamin A and antioxidants, among other health benefits.
But also included in this recipe are purple sweet potatoes. What's interesting here is, these have similar health benefits, but the purple version has anti-inflammatory benefits. According to The World's Healthiest Foods:
The purple-fleshed sweet potato anthocyanins—primarily peonidins and cyanidins—have important antioxidant properties and anti-inflammatory properties.
Woop! I've been on the hunt for more anti-inflammatory foods to include in my diet, so this is great!
Coconut Milk
And paired with coconut milk? Well, it's a match made in heaven. Coconuts are famous for being high in fat content. But in this case, it could be a benefit. According to The World's Healthiest Foods:
a minimum of 3-5 grams of fat per meal significantly increases our uptake of beta-carotene from sweet potatoes.
Of course fat content varies from can to can, but I'm going to be optimistic that the coconut milk is helping boost the nutritional benefits of the sweet potatoes.
Additionally, in my research, some sources said coconut milk is an anti-inflammatory milk. Who knew?!
Taro Root
According to Organic Authority, Taro Root Taro root "is also a great source of potassium, vitamin C, calcium, vitamin E, B vitamins, magnesium, manganese and copper."
Note: taro root is toxic raw, so be sure to cook it before eating!
Tapioca Pearls
Even the tapioca pearls are health boosting!  According to Organic Facts:
The health benefits of tapioca include its ability to aid in weight gain, increase circulation and red blood cell count, protect against birth defects, improve digestion, lower cholesterol, and prevent diabetes. It also helps improve the metabolic activities, maintain bone mineral density, prevent Alzheimer's disease, protect heart health, and maintain fluid balance within the body.
Check out the article for more details.
After researching the ingredients more, I'm even more impressed by this Easy Ginataang Recipe.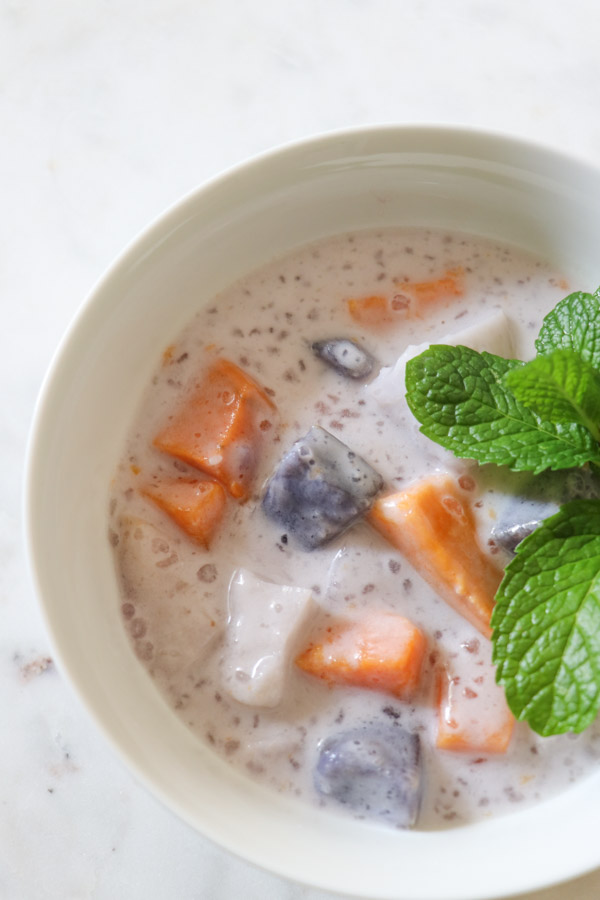 Plant Desserts > Conventional Desserts
And this is what I love so much about eating plenty of fruits and vegetables. They're always chock full of amazing health benefits. And I barely scratched the surface of what these ingredients are good for. Definitely continue googling if you find this stuff as fascinating as me.
I'm trying to keep this section short since this is about my mom's Easy Ginataang Recipe and not the health benefits of plants. Haha. But I wanted to highlight a bit in case you're into this like me.
And isn't it amazing that while there are few health benefits of chocolate chip cookies, this dessert recipe is made of multiple health boosting foods. And I'm always looking for an excuse to enjoy dessert. Who's with me?!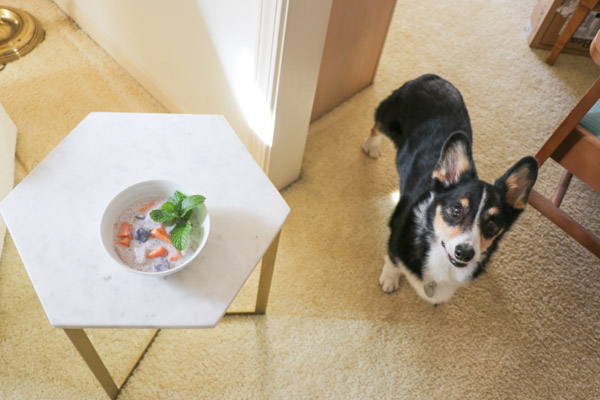 Shout out to my photography assistant, Bailey. He's always around to make sure my photoshoots are going well. And to see if I drop any food on the floor. Lol!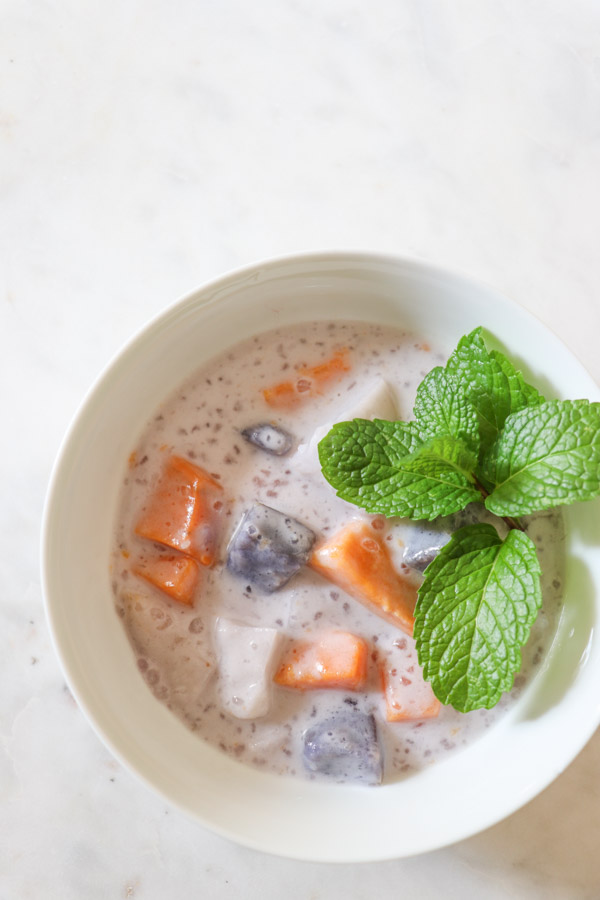 This is one beautiful bowl of tropical tastiness! I feel like you should really be sitting on a beach whilst eating this. But since I'm not that close to the beach, I guess the couch will do.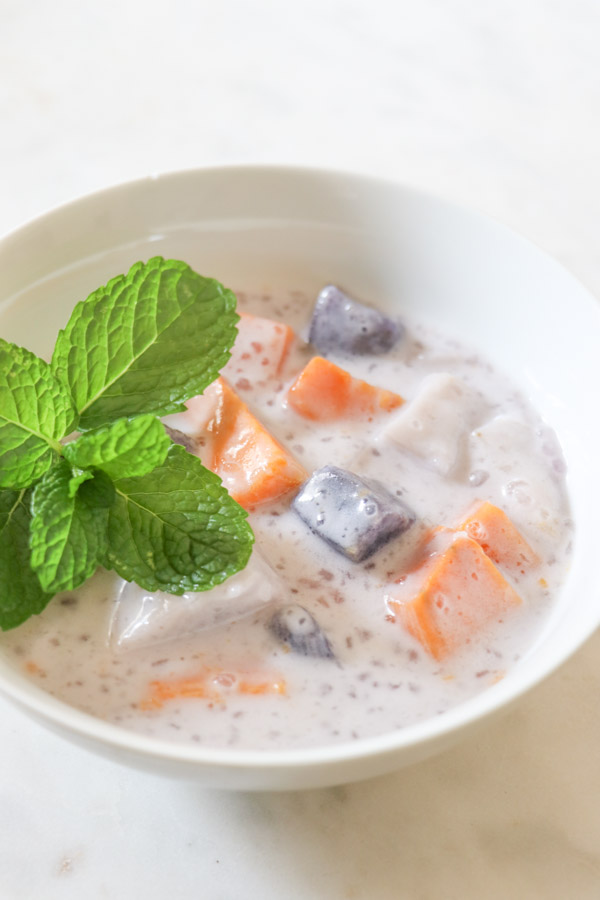 Print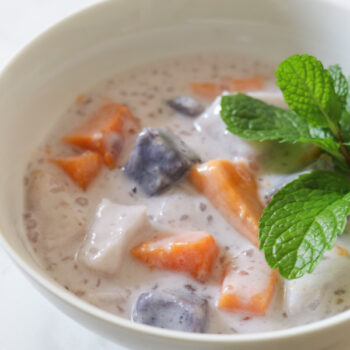 Easy Ginataang Recipe | Healthy Sweet Potato Coconut Milk Dessert / Snack
Author:

Prep Time:

10 mins

Cook Time:

15 mins

Total Time:

25 mins

Yield:

4

-6

1

x
---
Description
Ginataang is a delicious recipe made with sweet potatoes, purple sweet potatoes, taro root, and coconut milk. Plus the fun addition of tapioca pearls. We lightened up the amount of sugar that is typically used and I used raw sugar to make this a more clean eating style recipe.
---
1

medium-large sweet potato, peeled and diced bite-sized

2

small or 1 medium purple sweet potato(es), peeled and diced bite-sized

2

–

3

taro root, peeled and diced bite-sized

1

can coconut milk (or sub coconut cream for an even creamier consistency)

1

can's worth water (use can from coconut milk)

1/3 cup

raw sugar

2 tablespoons

cup quick-cooking tapioca granules
---
Instructions
In a medium pot or dutch oven, stir coconut milk, water, and sugar to combine. Turn heat to medium and bring to a boil. Continue stirring until the sugar dissolves.
Add potatoes and taro root, reduce heat to simmer. Stir occasionally.
After 6 minutes, add tapioca granules and stir to combine.
Continue cooking until potatoes are tender, stirring frequently, about 6-9 minutes more (12-15 total cook time).
Serve and enjoy!
---
Notes
Note: Keep the diced sweet potatoes and taro root in a bowl of water to keep them from turning brown.
Note on the coconut milk: If you use light coconut milk, you may need to use two cans instead of one can plus the water. Light coconut is already much less concentrated. But play around and adjust to your taste. 😉
Note on Taro Root: I read online that cutting raw taro root may irritate your skin. So you may want to use gloves while you prepare them.
Important on Taro Root: Raw taro root is toxic, so be sure to cook it before eating!
Recipe Card powered by
More Clean Eating Recipes to Love
Here's my mom's Filipino Pork Adobo Recipe
And for another healthy coconut treat, try this Coconut Chia Pudding with anti-inflammatory Blue Majik
Get more coconut goodness with this tasty Coconut Cake Batter Doughnuts recipe
And finally, a Coconut Milk Hot Chocolate – a tropical twist on a classic
***
Hope you enjoy this Easy Ginataang Recipe made with health boosting sweet potatoes, taro root, coconut milk, and tapioca granules. This one's going onto my repeat list asap!
Use this graphics to share this on Pinterest: