The house hubby's mom rented for our beach trip had a Sunday check-in, so we decided to go up a day early and stay at a hotel or B&B. Thanks to TripAdvisor, I found The Inn at Corolla Light, which was pet-friendly and right on the sound in the Outer Banks. I'm not sure if you've ever been to the Outer Banks, but there are apparently some parts that are easily over eight hours away from us by car. I also liked that this spot was right over six hours, which seems to be the shortest trip for an Outer Banks visit.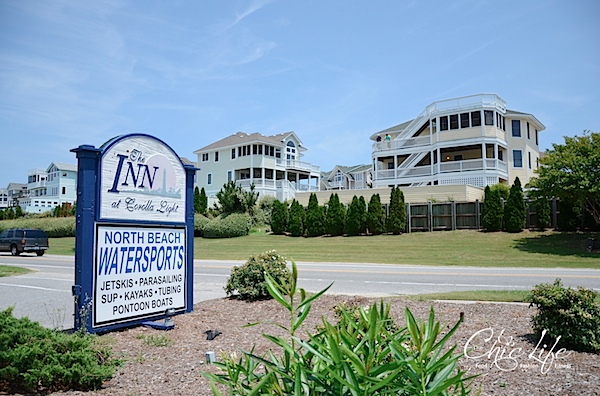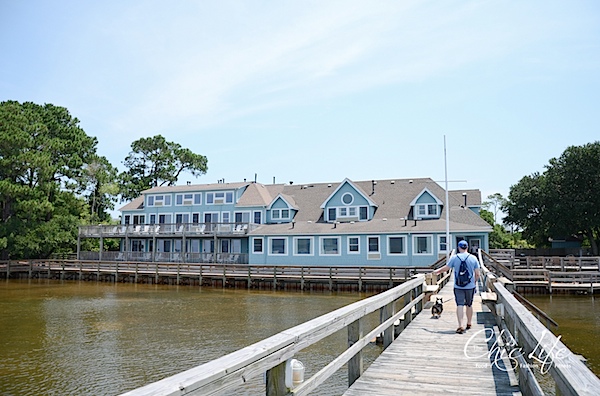 I picked this place because of the stellar reviews on TripAdvisor and the gorgeous sunset views right off the back of the B&B. As you saw on my other post, I unfortunately missed my photo op, but I'm still happy with the choice.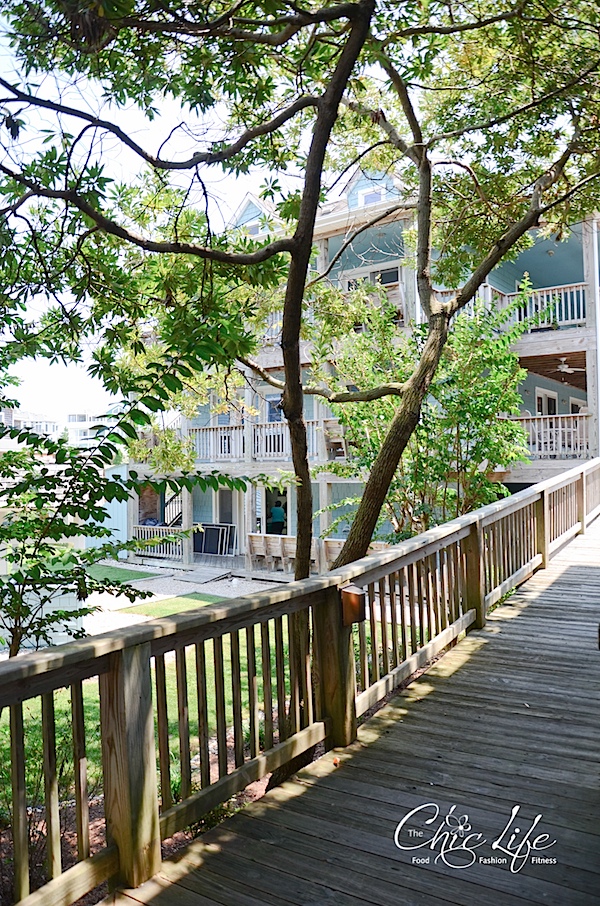 This B&B is deceptively large. I think there are as many as 50 rooms! I liked the wooden walkways throughout B&B.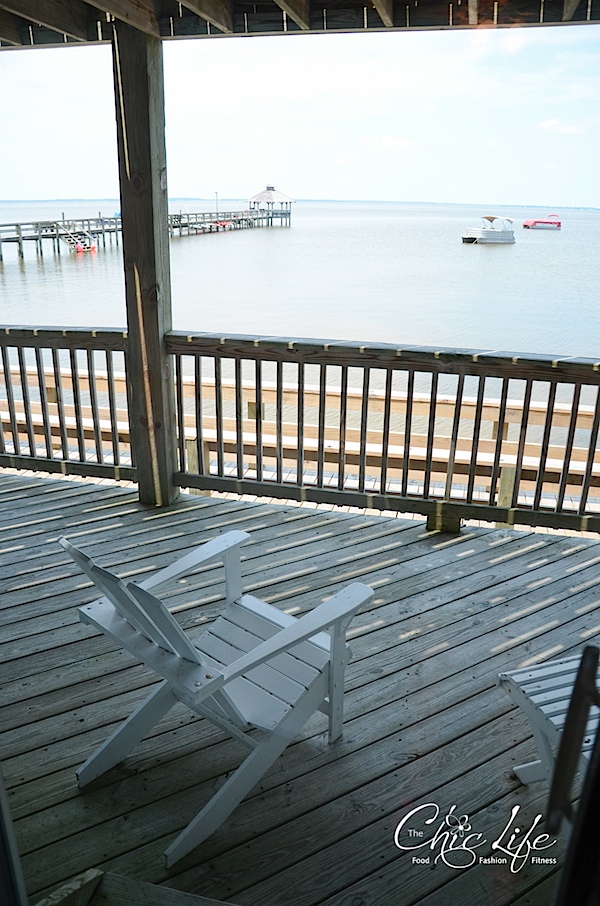 The Inn accommodated our late reservation and even gave us a free upgrade to a room with a view of the sound. If I was to come here again and spend more than one day, I'd strongly consider paying for the upgrade because the view of the sound is so nice and the porch is very relaxing.
As for the rooms, they were comfortable but could use some updating. With a porch like this (pictured above), I'd spend most of my time outside, though. The porch wasn't fully fenced in so I didn't let Bailey run around freely, but he did get to enjoy the porch, too. The free wi-fi was a nice perk.
My only disappointment with the Inn was breakfast. I'm no B&B expert, but based on my past experience, my bar was raised pretty high. The Inn at Corolla Light serves an adequate continental breakfast that I find to be on par with most chain hotels. They had all the usual suspects: some cereals, instant oatmeal, bread, bagels, hard boiled eggs, coffee, hot water, milk, yogurt, and sausages. I would have loved to see some scrambled eggs or other hot food options. It also would have been fabulous to see more locally produced items since there are many great small food producers and bakeries around the Outer Banks, but this is more of a personal preference. I will say, the lady who was in charge of breakfast was great. She was constantly moving throughout the breakfast area making sure things were clean and well-stocked. She kept the area pristine. I also really liked the room where breakfast was served. It was so open and bright.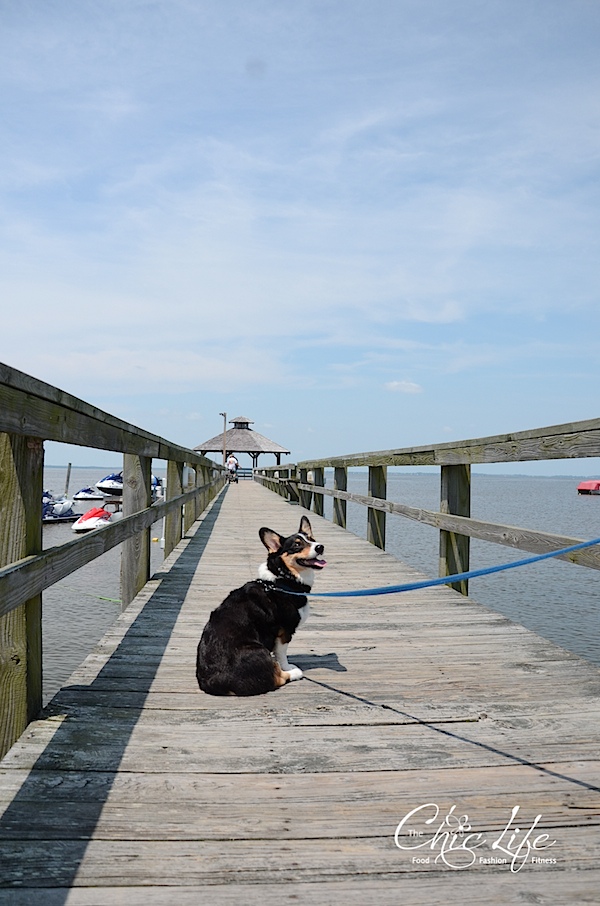 After breakfast, we took Bailey out to the gazebo at the end of the dock.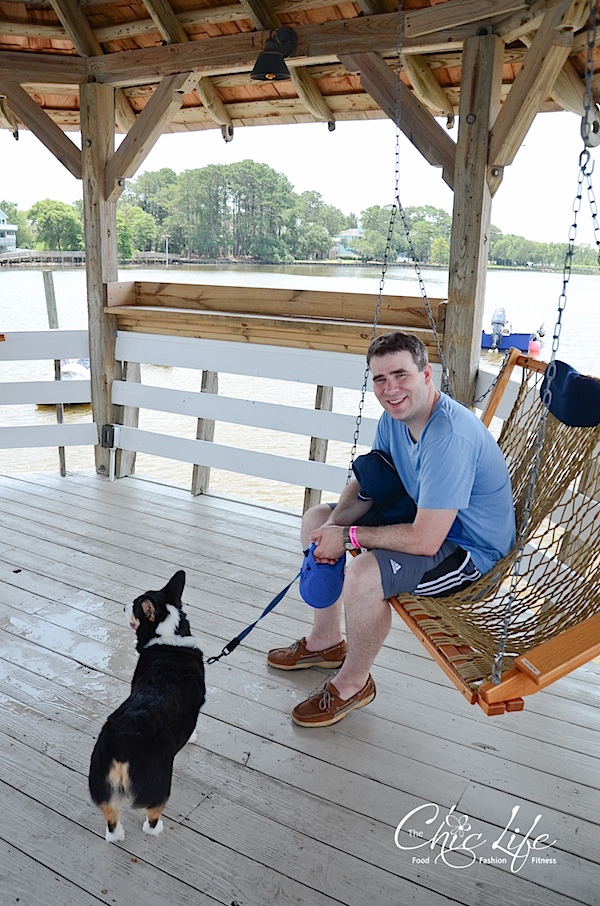 They have some hanging chairs out here.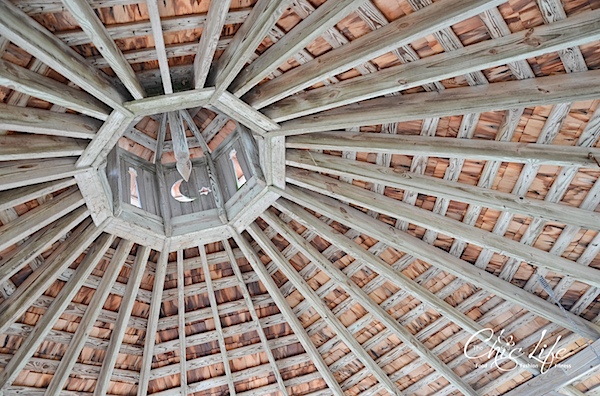 I believe the deck is shared with a water activity company that does parasailing, jet skis, etc. Hey, if you're into that, it couldn't be more convenient. They're literally at your back door at The Inn at Corolla Light!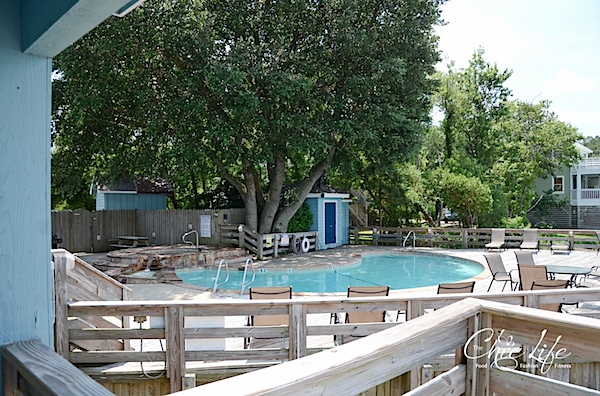 The pool also has a great view of the sound. Since our trip was so short, we didn't get to enjoy this.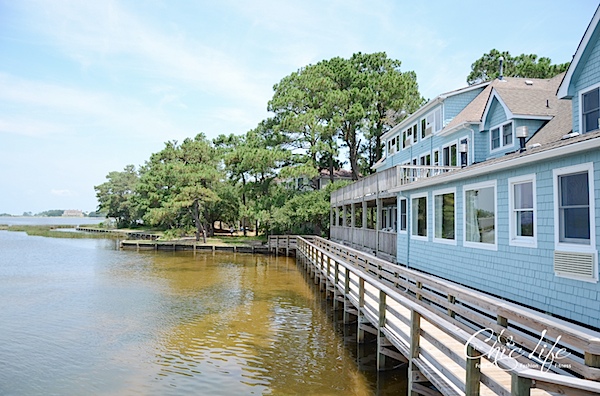 There's a nature path just off the back of the B&B, perfect for trail runners or anyone who wants to take a relaxing stroll by the water.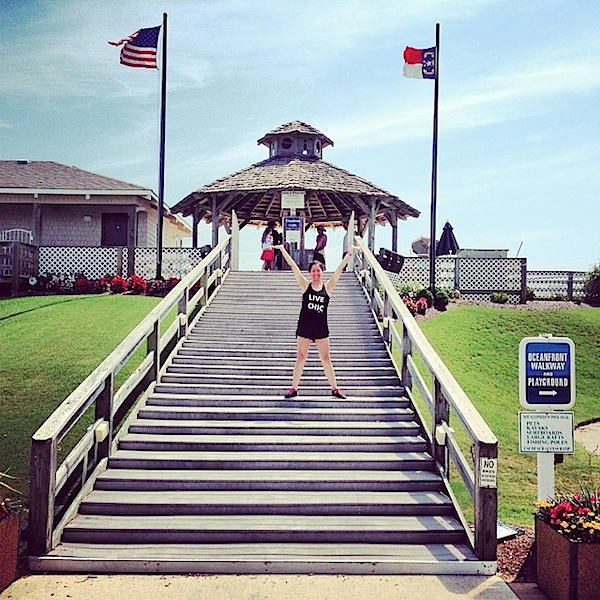 One of the best perks of The Inn at Corolla Light is that you get to use the amenities of the Corolla Light Resort. The Inn also has bikes you can use for free. We took a quick bike ride down to the beach access area of the Corolla Light Resort. I didn't realize there was so much to do there. They had a giant pool, restaurant, and gift shop. The resort was like a tiny village.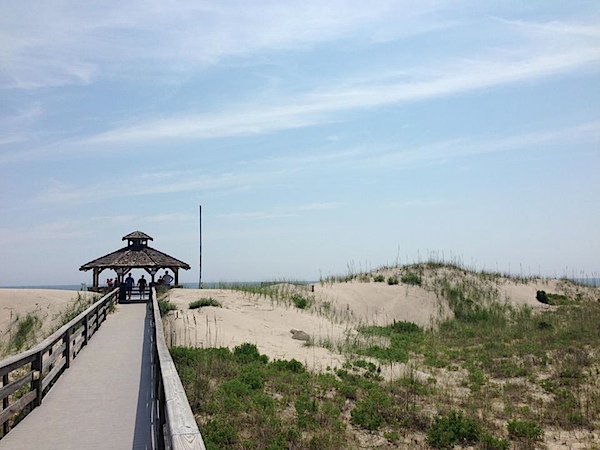 As we were chilling under the gazebo taking in the fresh beach breeze, we noticed a family who walked through the gazebo, turned around, and waved upwards. Turns out there's a camera streaming the beach attached to the front of the gazebo! Click here to view the live surf cam.
My Tips – The Inn at Corolla Light:
Personally, I think an upgrade to a sound view is worth it. I'd probably pay for it if we went back, as long as we were staying long enough to enjoy the view.
If you're okay with standard hotel breakfasts (like the buffets they have at most chains) then you'll be okay with breakfast. If you're a major foodie, you may want to consider eating out or bringing something with you.
The restaurants in Corolla close EARLY (before 9:30pm, depending on the time of year). Don't wait too long to eat, or you may be picking up a frozen meal at the grocery store to heat in your room. I'd recommend calling ahead to ensure they're still open. Since we checked in late, we almost missed dinner because all the restaurants we called were already closed. We managed to get pizza at The Tomato Patch, which was open a little later than the others.
Be sure to take advantage of the amenities at the Corolla Light Resort – they have a beach, pools (indoor and outdoor), exercise facility, and restaurants, and they're just down the road.
Before I end, I do want to say that the staff at the Inn at Corolla Light is one of the best I've seen. They were so friendly and accommodating throughout all of our interactions, from booking the room to renting the bikes, to check-out. We really felt well taken care of. Great job to the team!
***
Have you been to the Outer Banks? Where do you like to stay? Any recommendations?
Thanks for stopping by!
Something to work towards…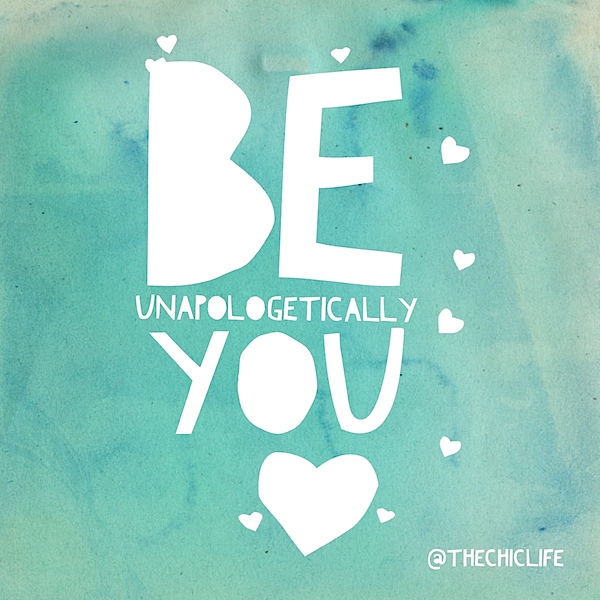 You are awesome. Remember to:
"Be unapologetically you"
Happy Monday!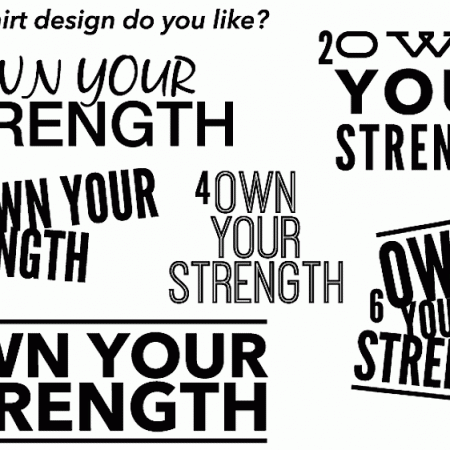 I'm very motivated by positive words and sayings, and I like to surround myself with them. That's part of the reason I really wanted to open a t-shirt shop. I don't always see the designs I want out there, so I figured…why not make them? I have a notebook of motivational sayings that I often…