It's been too long since I've posted any recipes or food photos, but I finally have some to share! I suppose this recipe is more geared towards future days of cooler weather (fall/winter), but I really enjoyed it anyways.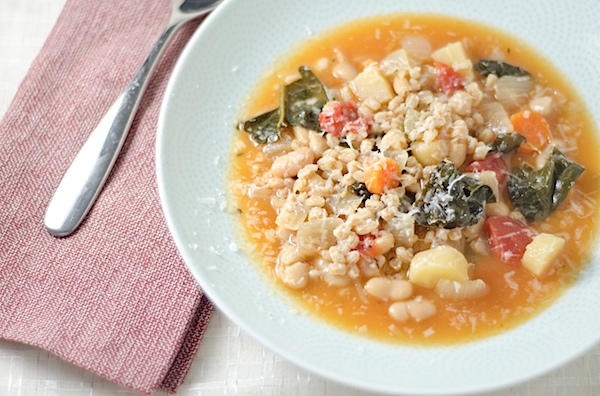 The weather in Charlotte has been rainy and cooler than normal over the last couple days, which not only has me starting to think about fall, but has me also craving soup.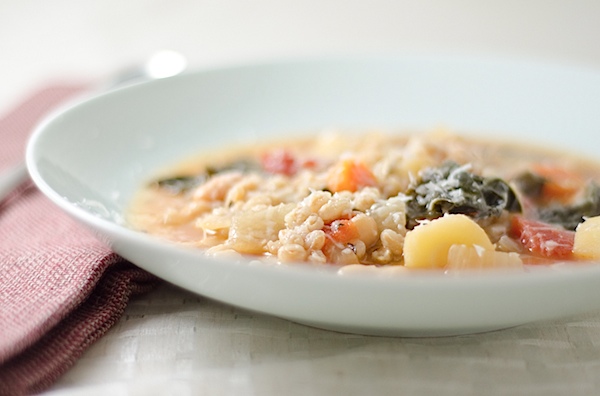 Since I've been having so much fun with farro over the last couple months, I decided to try it out in a soup. As it turns out, farro in soup is quite nice. It reminds me a bit of barley – tender with a chewy edge. So far, so good.
I actually considered adding beef to this, but I ultimately decided (mostly because I knew I was going to get home late-ish from work, and I didn't want to wait forever for stew-beef to cook) to make it vegetarian. Feel free to add roasted chicken if you want to see some meat in this recipe.
Instead, I worked one of my favorite vegetarian combos – a whole grain with beans. Plus, I added my most-recent, favorite soup ingredient – kale.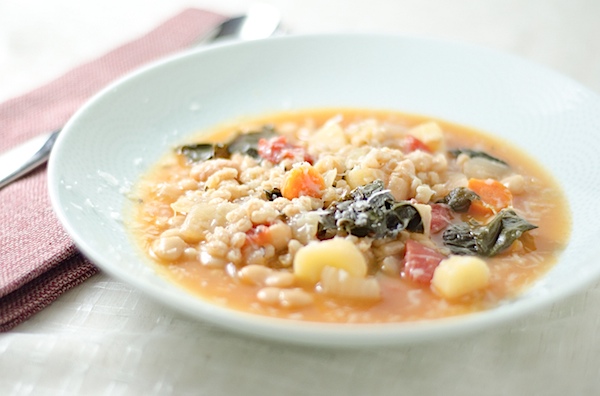 Vegetarian Italian Farro Soup
This easy soup is a piece of cake to put together. The combination of a hearty whole grain (farro) and cannellini beans helps keep you full sans meat, but feel free to add some if you'd like. I'd suggest tossing in some rotisserie chicken near the end of cooking, just to warm it through.
*Vegetarian, Vegan*
Total time: about 50 minutes
Serves: 6-8
Ingredients:
2 tablespoons extra virgin olive oil
1 medium onion, chopped
2 cloves garlic, chopped
2 carrots, cut into 1/4″ thick rounds
2 parsnips, cut into 1/4″ thick rounds/chunks (or sub extra carrots)
1 cup dry farro, rinsed
4 cups broth/stock of choice
1 14.5-ounce can diced tomatoes
1/2 teaspoon salt
1/4 teaspoon dried basil
1/4 teaspoon red pepper flakes
2 dry bay leaves
1 bunch kale, torn into bite-sized pieces
2-4 cups water, optional, as needed
1 large can cannellini beans, drained & rinsed
parmesan cheese, optional (omit for vegan)
fresh parsley, chopped, optional / garnish
Directions:
Heat oil in a large pot over medium heat. Add onions and garlic and cook until onions are translucent, stirring occasionally, about 5 minutes. While the onions and garlic saute, I did the "chop and drop" method to peel & cut my carrots and parsnip and add to the cooking veggies. Otherwise, you can add the carrots and parsnips with the onion.
Add farro, and stir till farro is coated in oil, about 1 minute.
Add broth/stock, tomatoes, salt, basil, red pepper flakes, and bay leaves. Bring to a boil. Cover and reduce to simmer. Cook for 20 minutes.
Add kale and water if needed (I added 1 cup here). Recover and cook 10 minutes.
Add beans and water if needed (I added another cup here). Recover and cook 10 minutes.
Check farro texture and soup flavor. Continue cooking, if needed, to get farro to your preferred texture. For soup flavor, taste-test and add salt and pepper, if needed, BUT head's up – go low on the salt. We're going to top the soup with fresh-grated parmesan, so you may not need as much salt if you're going to add cheese (especially since parmesan is so salty).
Serve and top with fresh-grated parmesan cheese and parsley.
Enjoy carefully – it's hot!
Tip: This soup should freeze well and re-heat great later.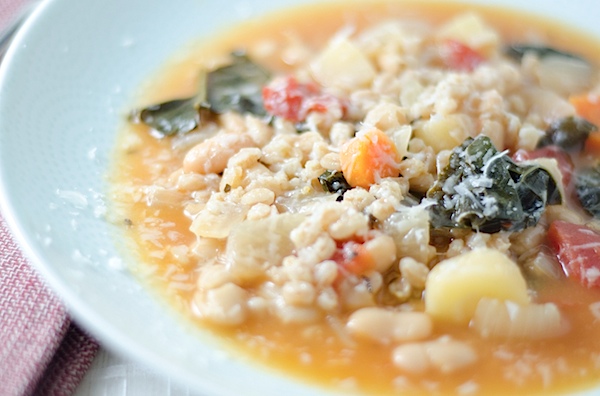 Happy cooking!
***
And I randomly ran into a blog reader and her family today at the grocery store when I was picking up ingredients for this very soup. Hello Rain (I hope I'm spelling that right) and family! It was so nice meeting you guys!

***
I have a new cake mini flavor and a new outfit post ready for blogging. Which one do you want to see next? We just played this game on my Facebook page, and the recipe one (thanks to Megan's alter ego…hehe).