I was hungry, but I didn't feel like cooking or getting take out. Actually, after all the recent traveling, I simply didn't have a lot of ingredients in the house to make much of anything. So, cooking just meant an extra stop for groceries. After working at the 9-to-5, teaching dance fitness, and doing a toning class, I was ready to eat and sleep. It was about 8:30pm when I decided to stop at Trader Joe's on the way home since they generally have some good ready-to-eat options. I was thinking a frozen dinner may be in my near future.
As I entered the store, though, I decided to stop by the prepared foods section (near the produce) when something caught my eye – fresh tortellini. The weather was nasty outside. A storm had rolled in while I was teaching dance class with a flash of lightening that was so bright it made me jump. Immediately after that, half the lights in the building went out causing me to worry we were about to lose power and end class early. Luckily, the power held, but the rainy weather was making me think of cozy comfort food in the form of soup. Good bye frozen dinner. Hello, Easy Tortellini Soup recipe. If only I knew how easy and tasty this would be, I would have made this sooner!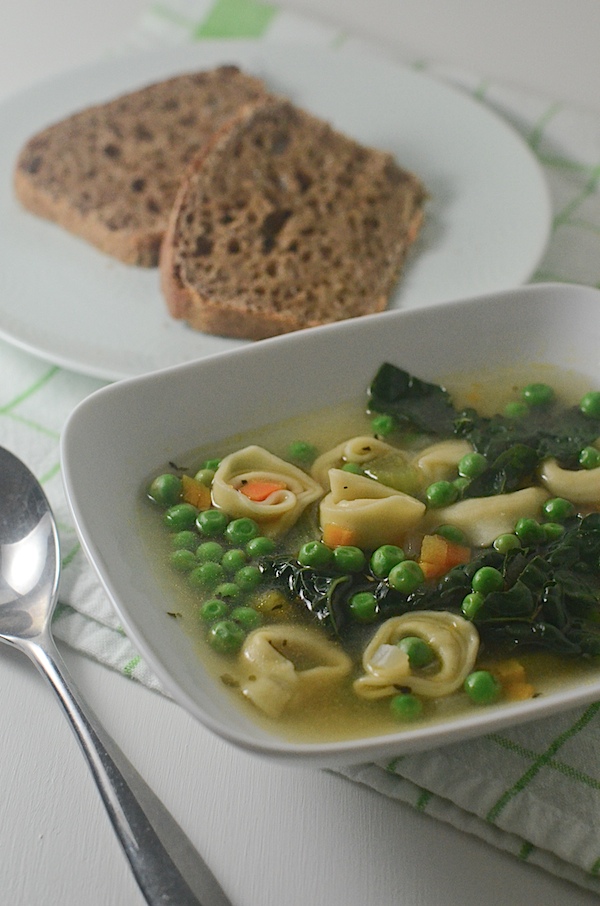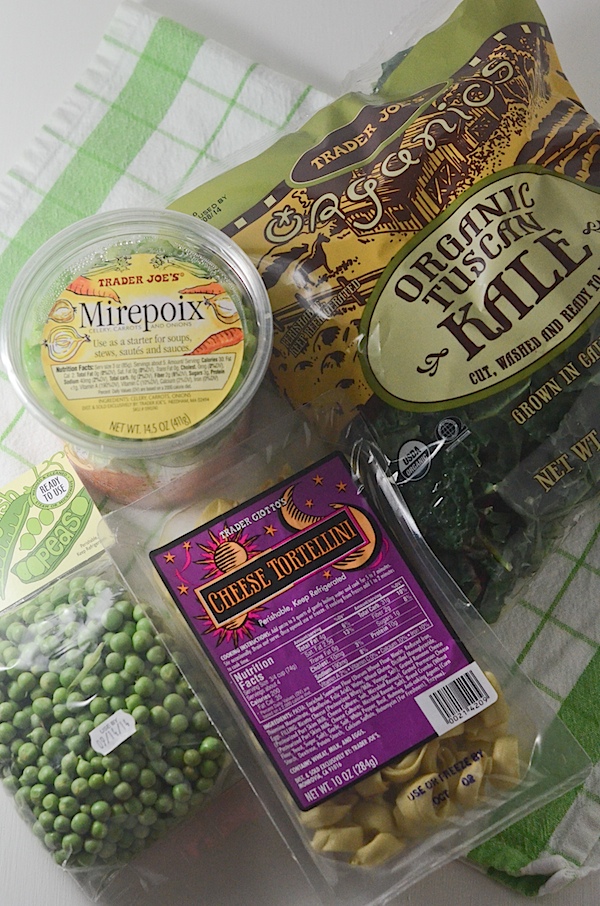 With the package of tortellini tucked away in my shopping basket, I moved down to the produce section. I found pretty much everything else I needed to make the easiest soup I've ever concocted there. I first found a package of mirepoix, which is my favorite soup base. This option contained onions, carrots, and celery all chopped fine. I also snagged a bag of washed and chopped kale and fresh English peas. Sure, I could have just put the mirepoix and pasta in this Easy Tortellini Soup recipe, but I wanted to amp up the health-factor with more vegetables. With all the pre-prepped ingredients, it seemed like a no-brainer.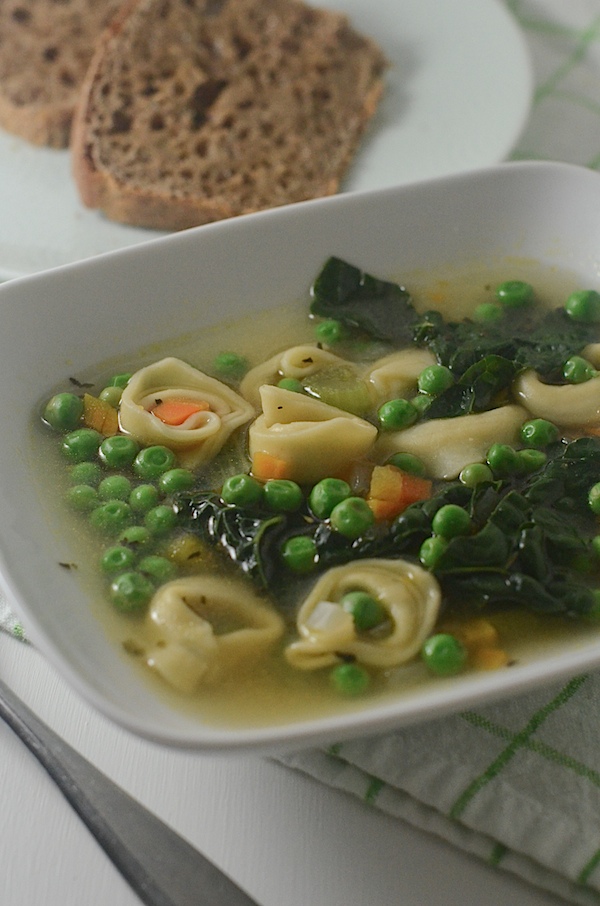 I was starting to get excited about dinner. I was going to have a tasty soup that required very little effort. No cutting board, no knife, no excess dishes to wash. And I only needed one pot and a big spoon to stir it all together.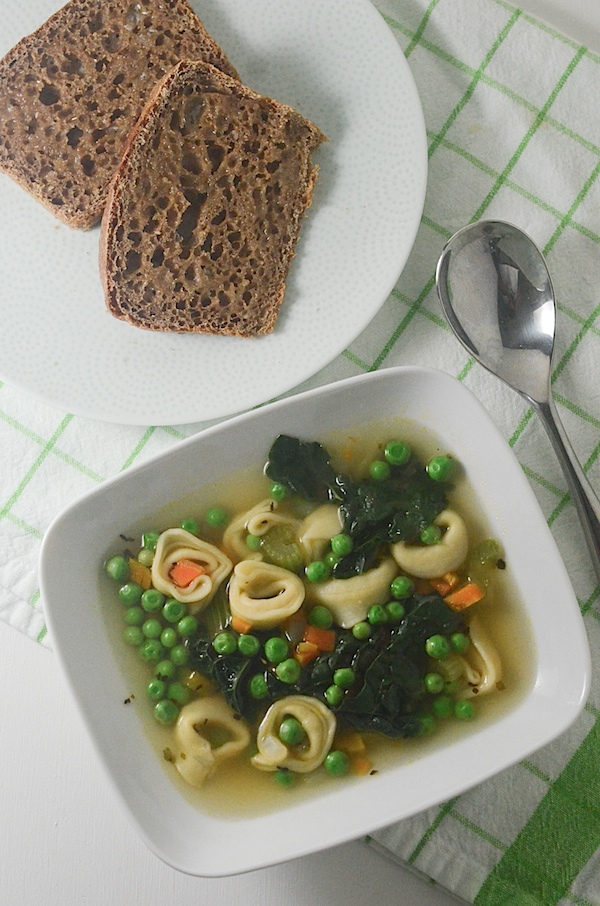 Not only was the tortellini soup pretty much the easiest soup recipe I've ever done, it was also ready so quickly! When you're cooking at the end of the day, you want something fast and simple, and I had the perfect solution simmering away on my stove. The added bonus was that it made enough for hubby to have some and for me to pack away several servings to freeze for future, even faster dinners. Woohoo!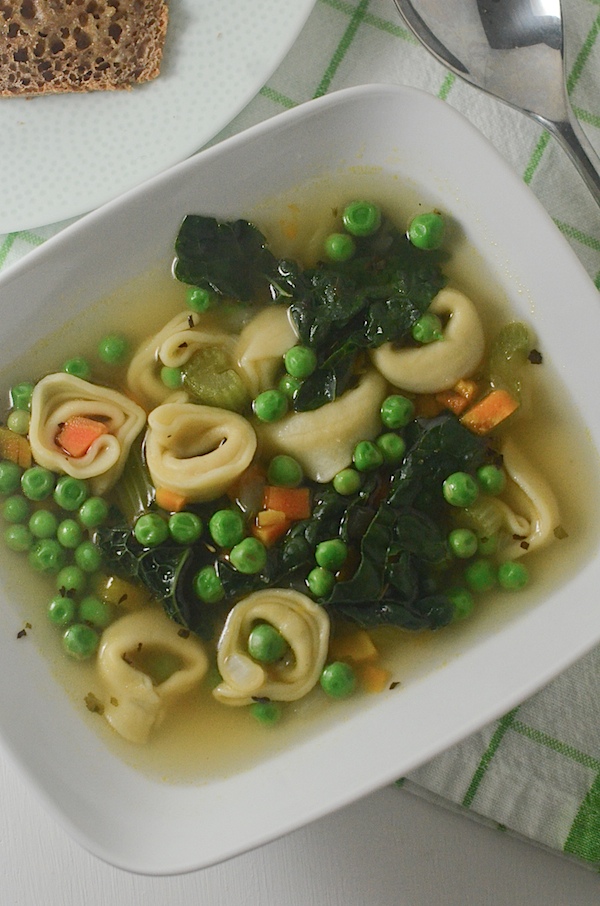 Print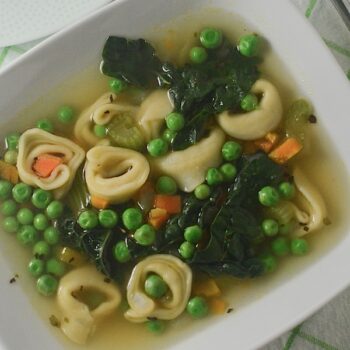 Easy Tortellini Soup Recipe
Author:

Cook Time:

30 mins

Total Time:

30 mins

Yield:

6

1

x

Category:

Entree

Cuisine:

American
---
Description
I also like to call this "Lazy Gal's Quick Tortellini Soup". Thanks to Trader Joe's you can have this soup ready in 30 minutes without having to break out a cutting board or break a sweat. There are so many great, pre-prepped veggies at TJ's, I was able to amp up the health factor by adding lots of greenery. I've also included notes for how to replicate some of the ingredients if you don't have a Trader Joe's nearby or if you just feel like making things fully from scratch.
*Vegetarian if you use vegetarian tortellini* *vegan if you use vegan tortellini*
---
1 tablespoon

olive oil

1

14.5-ounce container Trader Joe's Mirepoix (or sub 1 small onion,

2

–

3

stalks of celery, and 2 large carrots, chopped small)

1

32-ounce container vegetable broth (or sub broth of choice)

2 cups

of water, plus more as/if needed

1

bay leaf

1 teaspoon

dried basil

1/2 teaspoon

garlic powder (or sub

1 teaspoon

fresh garlic, chopped fine)

1/2 teaspoon

salt, plus more as needed to taste

1/4 teaspoon

black pepper, plus more as needed to taste

1/4 teaspoon

dried thyme

1/4 teaspoon

dried oregano

1

package tortellini of choice (I used cheese)

4 cups

chopped kale (I used about

half a

bag of ready-to-use tuscan kale from Trader Joe's)

1

package Trader Joe's fresh English peas (or sub

2 cups

frozen peas)
fresh or dried parsley, optional for garnish
---
Instructions
Heat a large pot over medium heat. Add olive oil. When the oil is heated, add the mirepoix and cook until the onions are translucent, about 5 minutes.
Stir in broth, water, bay leaf, basil, garlic powder, salt, pepper, thyme, and oregano. Bring to a boil.
Stir in tortellini and kale and cook following the cook time on the tortellini package.
Stir in peas and cook for 90 seconds, or until they're cooked and heated through. Taste test and add salt and/or pepper, as needed.
Serve in bowls and garnish with parsley, if using. Serve with whole grain toast or crackers.
---
Notes
Note 1: switching the tortellini flavor can change the flavor profile of this whole soup. Experiment and see which one you like best!
Note 2: This recipe should make roughly 6-8 servings. If you have leftovers, place them into individual storage containers and freeze them for an even easier, even faster dinner for another busy weeknight.
Recipe Card powered by
More Great Soup Recipes to Check Out
I hope you enjoy this Easy Tortellini Soup Recipe. Thanks for stopping by!
I'm always on the lookout for an easy and fast weeknight dinner. What do you usually make after a long day? I think I've asked about this before, but you guys always have new tips up your sleeves!
***
Here's a shareable graphic in case you want to share this with your friends or loved ones: