So I'm a little mad at myself for making a "low carb" recipe, because I'm not really into that. But, this recipe is accidentally low carb. And in case any of you guys are into it, I thought I'd call out that this is a low carb version of one of my classic faves, fried rice. Made out of resourcefulness, I got all MacGyver on a lightly stocked freezer/pantry while I was in between "homes" and threw together this Lazy Low Carb Fried Rice Recipe. Which is still made with rice by the way because…I like rice.
Anywho, I've had this recipe on heavy rotation. Long day at work? Make the fried rice. Don't feel like going to the store? Make the fried rice. Want to eat at home but don't feel like cooking? Make the fried rice. You get the point.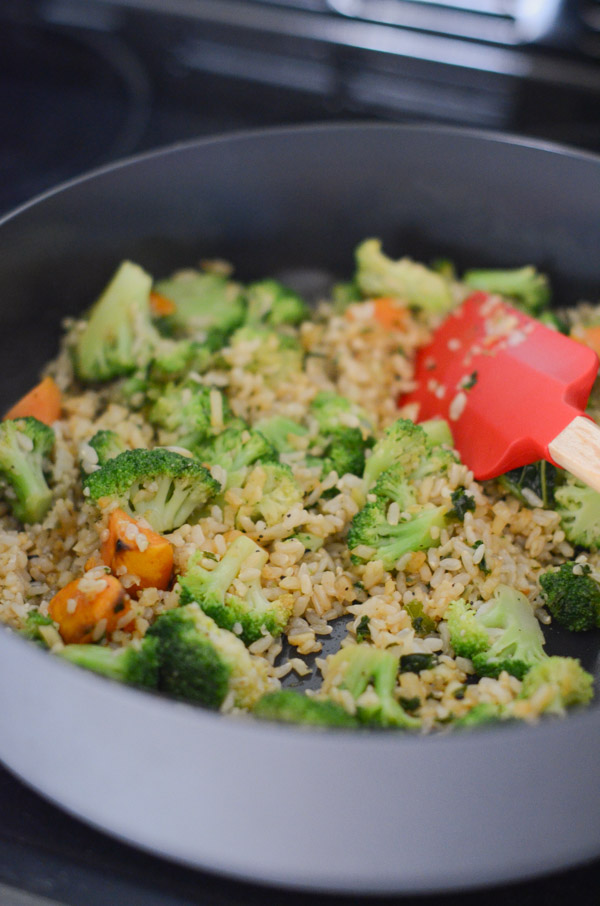 Skip the Grocery Store with This Recipe
So the key to this recipe and the reason I've been making it on the regular is because I can make it completely with ingredients from the freezer. Well, everything but the cooking oil and soy sauce. But those are pantry staples, too, so…yea. It's an easy pantry-meal. Perfect for those nights when you're too tired to go to the grocery store. Assuming you have a well-stocked pantry.
Though if you don't…more on this below…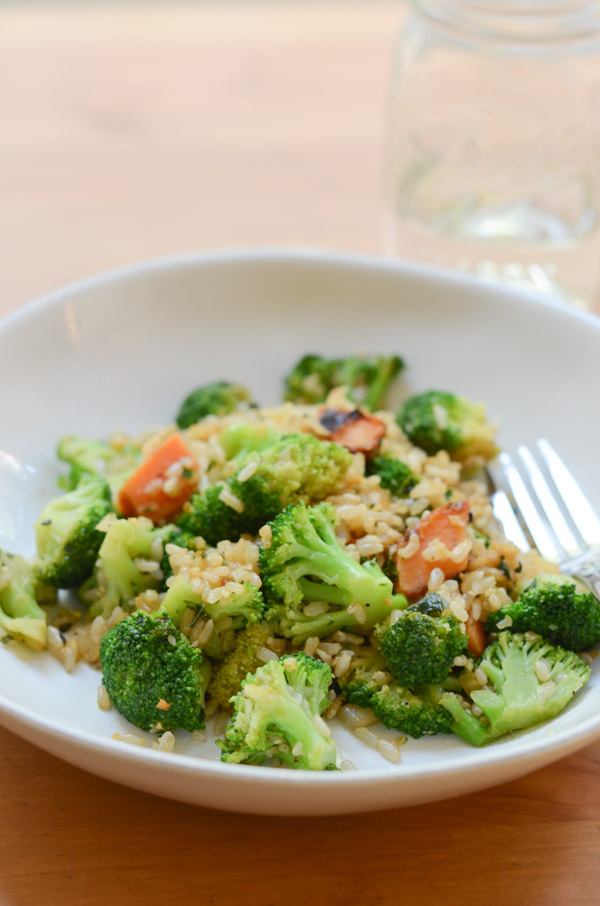 Get Groceries without Going to the Store
Not to mention that I bought all of these ingredients on Amazon Prime. Which means you can also make this when you literally don't want to go to the grocery store. Have the grocery store come to you! For those unfamiliar, you can now get groceries from Amazon or Whole Foods delivered for free using Amazon Prime. More on Amazon Prime another time, though. Back to the recipe!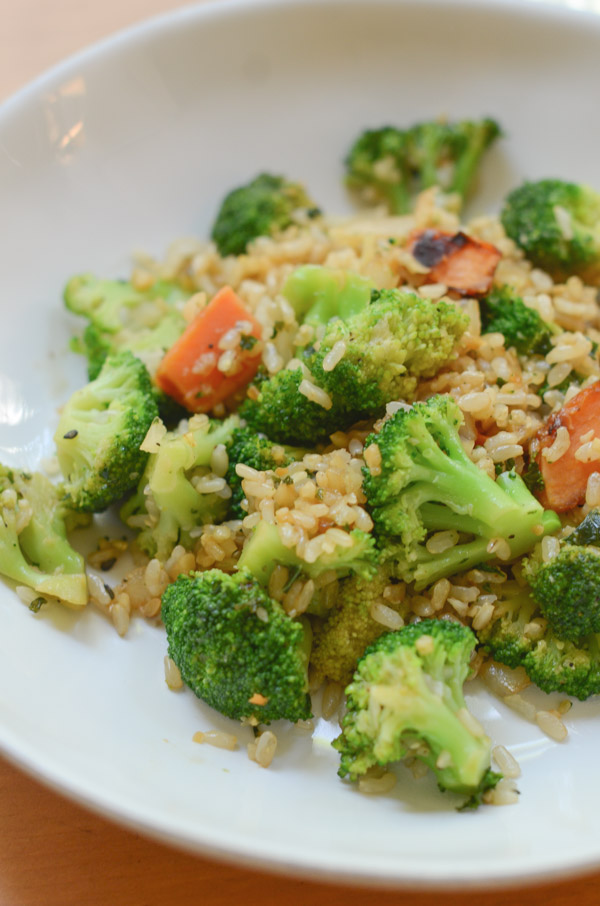 Low Carb Fried Rice with Rice?
So, what makes this low carb when there's still rice in the recipe? The trick is there's just less of it in the recipe. I take what I'd normally eat in a rice portion and use half rice and half cauliflower.
My original purpose for this recipe was to find a way to add more vegetables to my dinner. If you've watched my NYC vlogs, you'll know that I was eating veggie stir fries over brown rice all. the. time.
But No Egg? Yep, It's Vegan
Although I'm not vegan, I do frequently eat vegan meals. I wasn't intending for this one to be vegan. I just didn't have eggs. Lol! But to be honest, I've made this more times than I can count, and I never miss the egg. You can easily add it to this recipe if you'd like, but I don't think it needs it.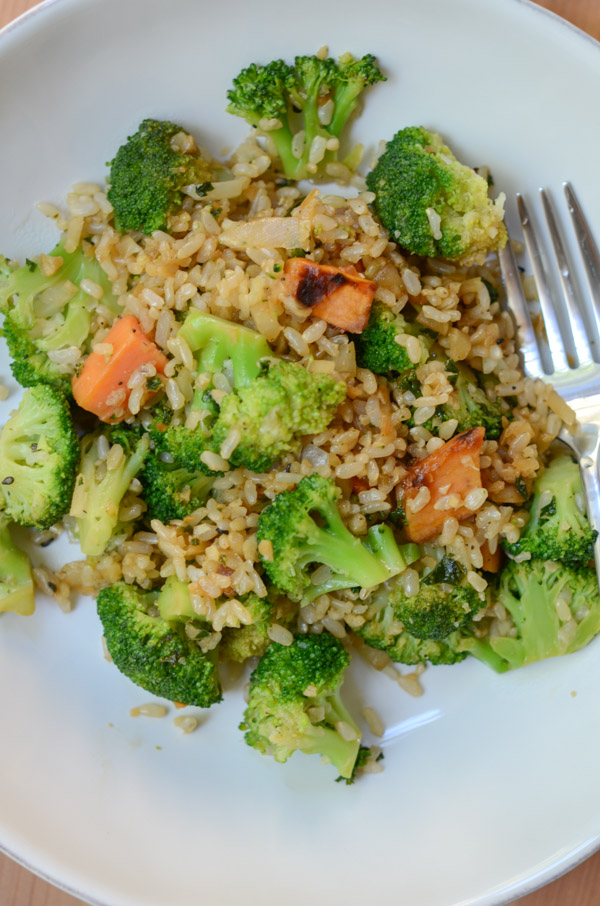 Cooking for Lazy People
But the really winning point of this recipe IMO is how truly lazy this is. Although I'm providing measurements below, I never actually measure this when I make it. It's extremely forgiving and you can easily tailor it to change the portions of the ingredients to your taste. You can switch ingredients in and out based on what you have on hand. It's pretty easy.
4 Key Ingredients
The only things you really need are: frozen rice, frozen cauliflower rice, other frozen veggies, and soy sauce.
Whole Foods has a couple nice riced cauliflower blends by Cascadian Farms. My go-to has cauliflower, sweet potato, and kale. But there's another one with bell pepper. Mmm! Extra veggies without extra effort. Me gusta.
Bonus Ingredients
Other things I often add…from the pantry, of course: sesame seeds, extra veggies, garlic powder, and pepper.
These are not required for the recipe, but I find they add flavor if you have them readily available.
Everything Seasoning?
Looking for a way to use that Everything Bagel seasoning you got at Trader Joe's? Since I was low on ingredients, I happened to notice that Trader Joe's Everything Bagel seasoning has the flavors I was looking for in my stir fry. So I used this instead of the other seasonings. Still with soy sauce though.
Lazy Cooking
So yea, after a long day of work, I pre-heat my pan, drop in some oil, and in the order of cooking time (adding ingredients with longer cooking times first), I add my vegetables and rice. As mentioned above, I never measure this. Then I season with spices first and soy sauce to finish.
If you can pour ingredients from freezer bags and stir, you can make this.
Ready in 10 Minutes or Less
Did I mention you can have this cooked in 10 minutes or less? Not too shabby, eh?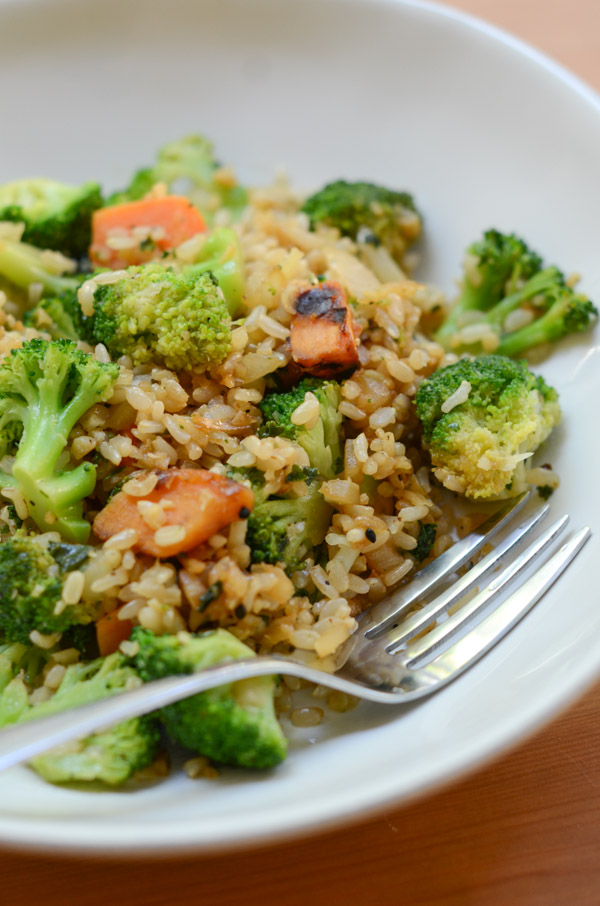 Print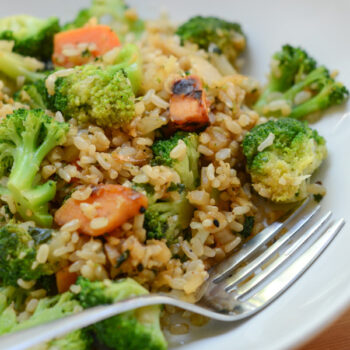 Lazy Low Carb Fried Rice Recipe (Still Made with Rice!)
Author:

Cook Time:

10 mins

Total Time:

10 mins

Yield:

1

1

x
---
Description
Have your cake and eat it too with this Lazy Low Carb Fried Rice Recipe (Still Made with Rice!). By cutting the rice in almost half, you can reduce your carbs while also upping your veggie intake. Great for those days when you're not getting your vegetable servings in earlier in the day.
---
1 teaspoon

canola oil

1 cup

frozen broccoli

1 cup

frozen riced Cauliflower

1 cup

frozen brown rice

1/2 cup

frozen edamame

1 teaspoon

sesame seeds
sprinkle garlic powder
sprinkle black pepper

1

–

3

teaspoons soy sauce
---
Instructions
Pre-heat oil in a large sauté pan. When pan is ready, add oil and broccoli. Cook for 8 minutes, stirring frequently. See Note regarding cook time.
With 6 minutes left, add the cauliflower. Continue to stir frequently.
With 5 minutes left, add the brown rice and edamame. Continue to stir frequently.
Stir in sesame seeds, garlic powder, and black pepper.
With 1 minute left, drizzle 1 teaspoon of soy sauce around the pan and stir until well combined. Add more soy sauce, to taste. Serve and enjoy.
---
Notes
Note: Cook times can vary between frozen vegetable products. Please check the cook times. I add them in the order of which takes longest and set a timer for that cook time. When the time left on the timer is equal to the cook time of the next vegetable, I add that in.
This recipe is for a smaller meal. You can change the portions of any ingredient fairly easily, including adding more to make this a more size-able meal. Make this recipe yours!
Recipe Card powered by
More Lazy Recipes That Taste Great and Are Healthy!
Easy Tortellini Soup Recipe (no chopping needed!)
More Healthy Recipes You'll Enjoy
Healthy Pumpkin Pie Oatmeal Recipe
Coconut Almond Chicken Recipe (Paleo and Gluten Free)
Spiced Pecan Cake Minis Recipe
***
Thanks for reading this post about this Lazy Low Carb Fried Rice Recipe (Still Made with Rice!). Hope you enjoy it if you make it. Cheers!
Here's a shareable graphic you can pin, post on Facebook, or otherwise share with your friends, family, and fellow healthy food lovers!